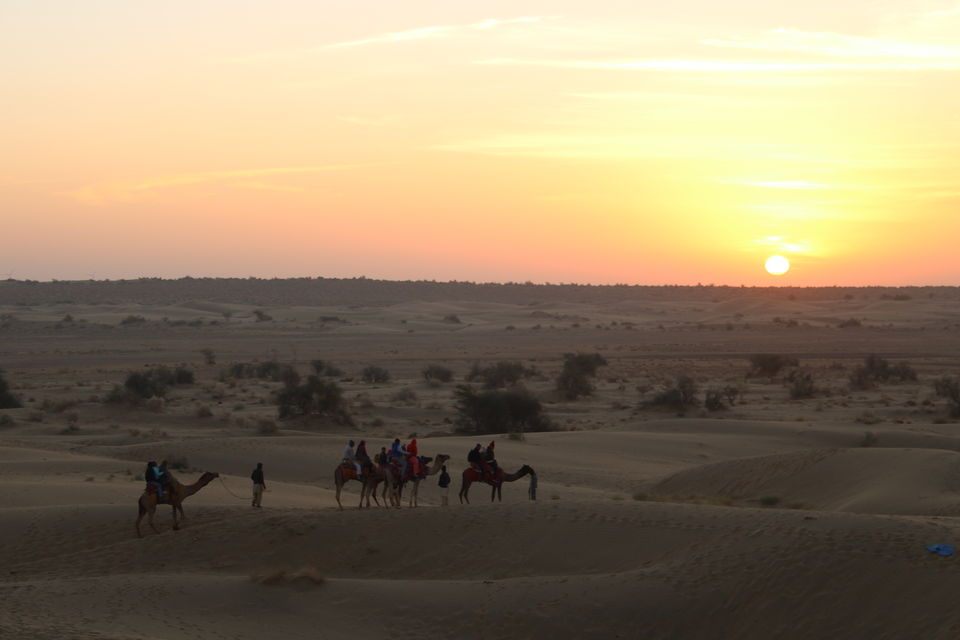 Come Christmas and New Year, everyone starts to scramble for a perfect destination for their much deserved vacation. Rajasthan often features as the top most option during this season. Likewise, we also planned our first (but surely not the last) visit to the Golden City of Jaisalmer in the last week of December 2018.
The largest district of Rajasthan, Jaisalmer is located in the heart of Thar desert. The architecture of this significant city is characterized by a special golden/yellow stone, something that is peculiar to this region. Trust me, the sheer beauty of the place and simplicity of locals will never cease to captivate your imagination.
People of Jaisalmer are completely reliant on tourism for their income as arid nature of the land leaves them with no alternate business opportunity. However, they have developed and promoted tourism very well, even though it is restricted to a few months because of inhospitable temperatures in summers. Foreigners flock this place, as a result you will see even a street hawker comfortably conversing in basic English. Please be ready to shell out at least 50% extra for every thing - accommodation, safari, food, etc., with December being the peak season.
Below is a day-wise itinerary that we followed, along with a visual glimpse:

Day 1 (Arrival in Jaisalmer and local sightseeing)
We reached early morning at the train station and directly checked into our hotel inside the Sonar Qila (Golden Fort).
Golden Fort is a city within the city and is one of the UNESCO World Heritage site. What differentiates it from the other forts in Rajasthan is that this structure is still inhabited. There are close to 95 accommodation options for tourists, approx. 1,500 houses with local population, number of souvenir stores and eateries. Staying inside the fort is an experience itself, although some may debate whether we are putting extra pressure on the foundation of this old structure. I would leave that choice up to you - but definitely there are ample number of residents of this fort relying on tourists to make their earnings in just one season to sustain themselves for the entire year.
We started our day by taking a stroll inside the fort. The first site that we visited was a complex of eight Jain temples. The temples are indeed an architectural marvel and would leave you spellbound at the intricacy of carvings and location within cobbled narrow streets. A must visit if you truly want to see why India was referred to as "sone ki chidiya" (a bird of gold).
Later we headed towards the outskirts of the city to visit Fossil park, Gadisar lake and Jaisalmer War Museum. Jaisalmer War Museum is located on the highway and houses some of the tanks/victory mementos that were captured during Indo-Pak war. Do visit this place just to pay homage to all the valiant defense personnel guarding us.
We then visited the three famous havelis (mansions), namely Patwon, Nathmal and Salem Singh. These havelis are again an architectural splendor and would provide you an insight into the lavish lifestyle of ministers of Rajput Dynasties. Patwon ki havelis are a cluster of five mansions belonging to five brothers. These are most extravagant and well kept structures out of all the havelis. We ended our day with a visit to King and Queen Palaces inside the fort complex.
For food, you can try eating at Cafe La Purezza (inside the fort) if you want to enjoy good food at a reasonable price amidst glistening city view. Do try street food such as Kachoris, chana jor garam, etc.