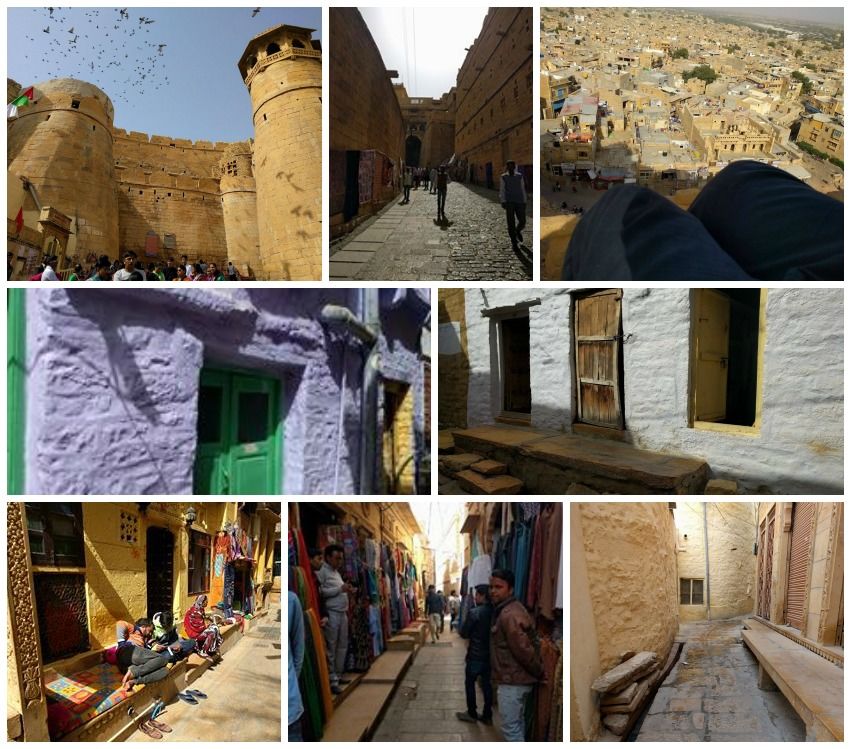 #SwipeRightToTravel
My top 5 of the trip
1. Lunch with the storyteller
Hungry, tired and looking for a place to relax at, I was wandering in this 860 years old Jaisalmer fort. There was something about this house with a small gate which was captivating. I found myself climbing up these straight stairs to an old woman eating food. She must have been over 80 years in age. I asked, 'Amma, khana milega? Thak gaya hu.' That beaming smile on her face recited a million stories that moment. For the next 2 hours, we talked about the fainting memories of her childhood, getting married at the age of 12. not being allowed to step out of house, the married life then among other conversations. I learnt how to cook gatte ki sabzi. The simplicity in her being and gratification she was carrying took away a lot of significance from my life that moment.
For a scrumptious meal and dadi ki kahaniyan, Vyas meal service is a must to go.
2. Gup-shup over a cup of tea
Right outside the Jaisalmer fort is a small tea stall named 'Jai Bajrang Bali'. On coming out of the fort, I thought to grab a cup of tea. Little did I know that it would take me back to the Indian independence, the times of the Nawabs and the struggles then. The chacha sitting next to me grabbing the tea along was the owner of the stall. Such a charmer, I must say! The love with which he initiated the conversation and the energy he shared while traversing me through his old times was mesmerizing. One can never know what would lead to time that stays.
The tea stall named "Jai Bajrang Bali' run by a muslim old man gives the best tea in the city. A lot more than the cup of tea is promised though.
3. Meeting the master enroller
I am sitting at the top of a dune waiting for the sun to set. An old man comes and sits next to me and starts telling me about the old India-Pakistan border, the pattern the wind makes on sand across, the Thar desert. I was too withdrawn to react to his want of taking me on a ride on his camel who he calls Shahrukh Khan. He continued sitting next to me for another 10min which moved something where I was. I looked up to his face guarding the sunlight when he said, "Chal na beta, ghuma kar launga". I couldn't stop myself and sat over Shahrukh Khan. The next 25 min took me through the life of an old man who lives in a Rajasthan village, has a wife, 5 daughters and 3 sons, takes people on camel rides during tourist season and grows bajra the rest of the months. His daughters were married to neighboring villages when they were 15 and his sons support him in work. It was certainly a ride to the past.
Camel safari with the beautiful setting sun on sand dunes; definitely a must do.
4. Into an abandoned and cursed village. Eerie much.
Wide dusty roads and sand stone houses on either side of roads, mostly ruins and some reconstructed, Kuldhara is an eerie village 16kms away from Jaisalmer. The village was established in 1291 by the Paliwal Brahmins, who were a very prosperous clan and were known for their business acumen and agricultural knowledge [They knew the technique of cultivating water intensive crops like wheat on a desert. They were well settled in those villages]. Why would they abandon their homes and that too overnight? One night on the day of Rakshabandhan in 1825 all the people in Kuldhara and nearby 83 villages vanished in dark (that is why some of the Paliwal Brahmins do not celebrate this festival). According to folklore, Salim Singh, the minister of the state, once visiting this village fell for the beautiful daughter of chieftain (Paliwal Brahmin) and wanted to marry her. The minister threatened the villagers that if they did not marry the girl to him, he would levy huge taxes. The chief of the village with those of other 83 adjoining villages decided to abandon and migrate elsewhere as against marrying the girl to Salim Singh. Nobody saw them leave nor did anyone figure where they went, they simply vanished. It is said to carry a curse of the villagers who migrated to other places. No one lives in Kuldhara, as well as its adjoining 83 villages, as these are believed to be cursed. The village now lies in ruins.
I saw a shadow looking object running in front of my eyes before someone patted me from back. Would have I said that had I visited there at night?
5. Afterall, zindagi na milegi dobara (as cliche` as it may sound)
The night under the stars sand bashing on a jeep at almost midnight, traveling across the golden city on bike and flying up in the air parasailing in the desert were definitely the best bets of the trip!
I think, let the pictures say here!
Other than these experiences, the world that Jaisalmer fort withholds, the colorful markets and the oh-so-yummilicious Rajasthani food (Ker sangri, gatte ki sabzi, dal baati choorma, kachouri), the havelis, the only govt. approved bhang shop in India and his makhmali lassi, Ghotua and Panchari laddoos at Dhanraj Ranmal Bhatia sweet shop, the largest wind farm in India crossing 1000MW of capacity and dal baati choorma at the 'Desert Boy's Dhani' with Rajasthani folk music and puppet show completed this long awaited trip to the Golden City.
Kuch tha khali shayad, jo mil gaya.
Train chalne vali hai. Fir aunga. Raju bhai aur Bhutte Khan ke sath ghoomne. Amma ke haath ki is baar ker sangri khane. Chacha ke sath do baatein aur baantne...
TAKEAWAY: For an instance, night safari at midnight at a new place, with the only 2 people I had never met before took me a minute to decide on. But, the times when I had no choice but to trust the human being in front of me, I have the most distinct and wonderful memories of the time. This was the parting thought I left Jaisalmer with.