Hampi, which was once the capital of Vijayanagara Empire, and now a UNESCO World Heritage Site has become one of the top picks for backpackers. Also being very close to IT hubs like Bangalore and Hyderabad it is a perfect weekend gateway for people who get bored from day to day head banging at their monitor and want to try something different from the repetitive cafes and pubs of the town ????.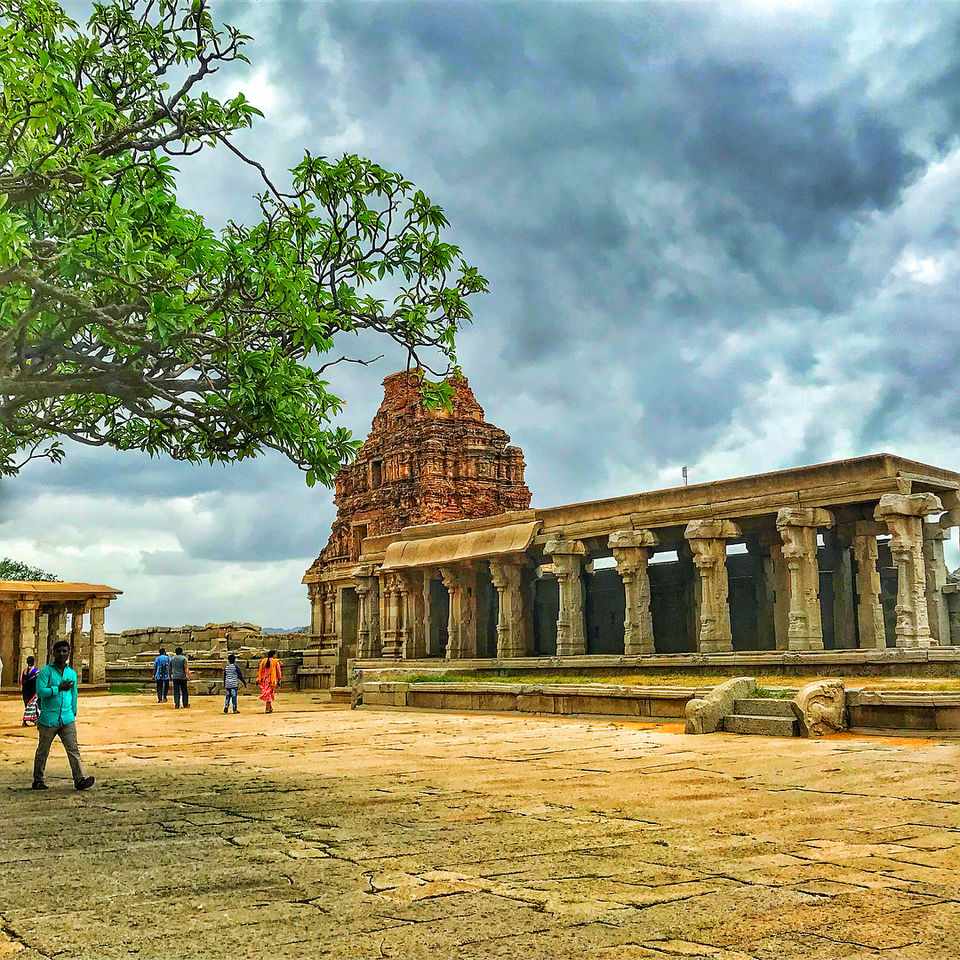 Hampi as I would like to explain is a magical place. Magical since it imparts both historic and hippie vibes, and does justice to both the sides of itself. Where on one hand the historic part of it will make you feel like you have come to a different era, on the other hand be ready to feel like a wildflower as you get indulged in the hippy vibes of Hampi . The rawness of these two polar apart faces of Hampi will make you fall in love with this place. The reckless Tungabhadra river divides Hampi into these two parts, one side of which is known as Hampi Bazar and have the temples and ruins of mammoth rocks which is spread in miles and the other side which is popularly know as "Hippie Island" gives you a laid-back feeling, in this area there are multiple cafes and shacks with the river view for you to just sit and relax.
How to reach Hampi : Hospet(~350Km from Bangalore, and ~385Km from Hyderabad) is the nearest railway station to Hampi. You can take a flight till Bangalore or Hyderabad and then can take an over night bus or train to Hospet. To reach Hampi from Hospet you will easily get local bus or auto.
Where to stay : Staying in Hampi is not going to be heavy on anyone's pocket for sure. There are lots of shacks and hostels available in the Hippie Island, which will cost you less than 500 INR per night. You can also consider staying in Hampi Bazar which might cost you a bit more.
How to roam in Hampi : Hire a scooter or bicycle and let the beauty of Hampi amaze you as you ride through the ruins of Hampi. The condition of road is decent and won't make it difficult for you to enjoy your journey. Don't forget to carry sun screen along with you. Although you can just take a seat in any cafe and enjoy the still in Hampi, but if you are here to give your feet a little work to do, I would suggest few places which you can visit :
1. Vijay Vitthal temple : Vitthal, after whom the temple is known, is a form of lord Vishnu and this temple is considered an architectural showpiece. One of the highlight of Vitthal temple is the iconic stone chariot. This stone chariot is one of the three famous stone chariots in India and has become top tourist attraction of Hampi.
2. Virupaksha Temple : This is the oldest temple in Hampi, and is dedicated to lord Shiva. The aerial view of this temple is mesmerising. Here you can meet Lakshmi, the temple elephant, who is well decorated and trained, you will have to be in queue for long to get blessings from her.
3. Lotus Mahal : It's a pleasant mix of Islamic and Hindu architectural styles, its construction resembles a half opened lotus bud. It is one of only few buildings in Hampi that had not been damaged during the siege of the empire. Lotus Mahal is very photogenic and one of the most photographed buildings of Hampi.
4. Elephant stable : This is a long building with a rectangular shape which was used to provide shelter for the royal elephants of the Vijayanagara Empire. It has 11 domed tall chambers and whole building is symmetric with respect to this central hall.
5. Queens bath : This was the private bathing chamber of the kings and the queens. It has big open rectangular pool surrounded by verandah with decorated balconies and windows which gives attractive look to the overall setup. Many families come here for picnic as it has a big garden at the outlet.
6. Hippie Island : Here you will get a bunch of cafes and shacks which has the mattress on the floor and low table set up. They also organise karaoke and live band nights. You can sit here for hours drinking beer, playing cards, reading books and talking about life. Just be here and do nothing!
7. Matanga Hill : It is the the highest hill in Hampi which gives amazing view of sunset and sunrise. You have to trek from the base to the hill top, which will give you some difficulty as you go up. The hill top gives the breathtaking view of the ruined city and the panoramic view of Tungabhadra river.
Things to do in Hampi :
Coracle ride
Trekking
Night camping
Yoga on the hill top
Cycling through the roads of Hampi
Sitting in cafes and chilling
Watching sunrise and sunset from top of the hill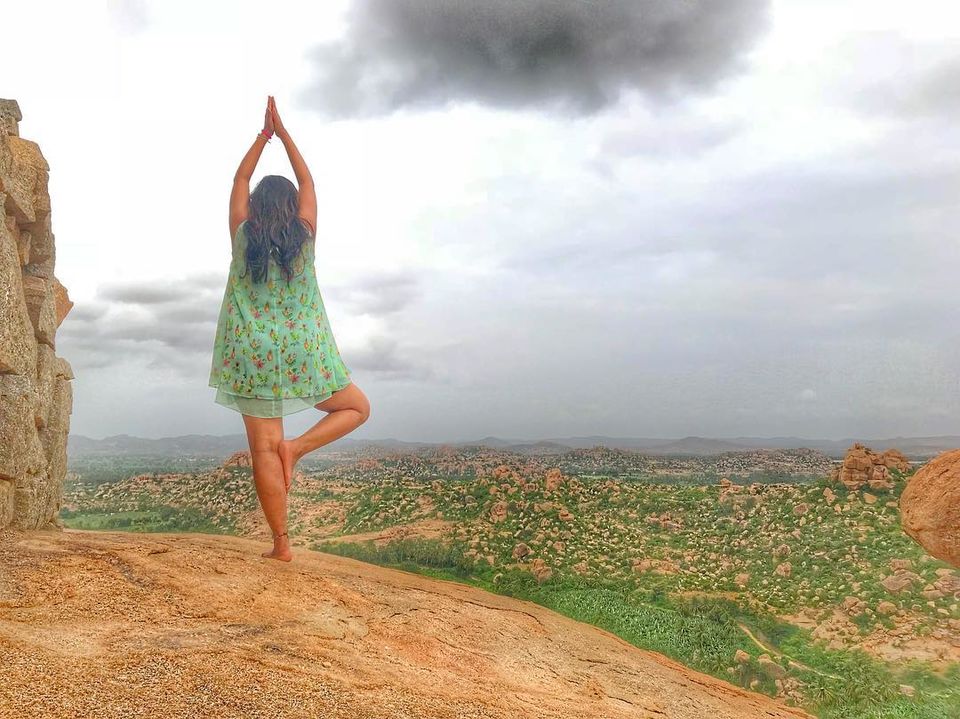 Places to eat :
Mango tree
Laughing buddha
Chill out cafe
Evergreen cafe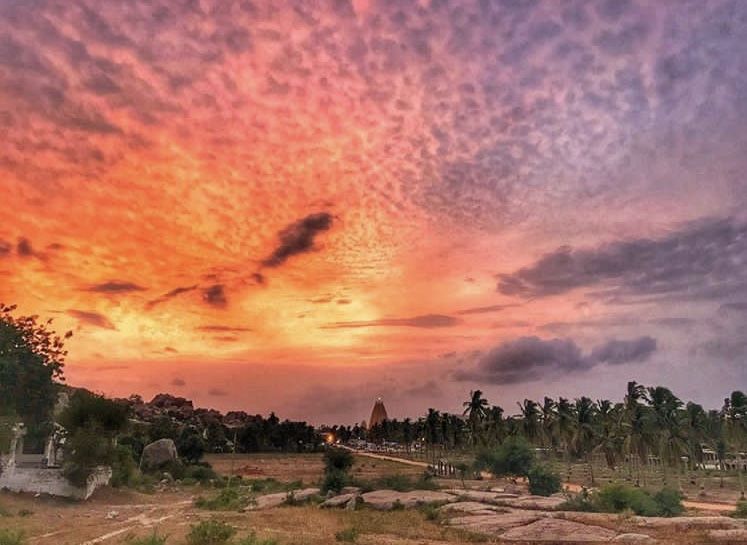 Hampi is one of its kind and has maintained its charm even with the eroding temples. If you love photography then Hampi will be more exciting for you as you can see the beauty of the ruins through your lenses and give it a different angle while you capture it. Hampi welcomed me pleasantly with its golden coloured history embedded in the ruins and the blue sky. I hope you too get wallowed in this Hampiness !!