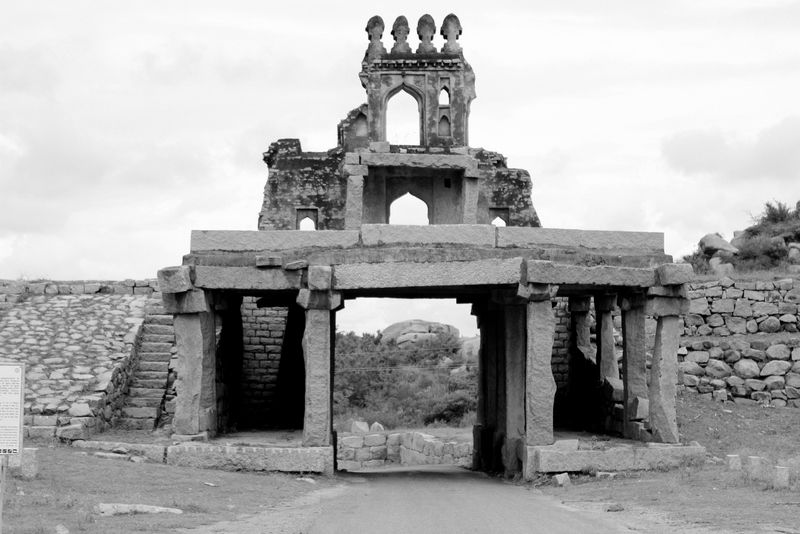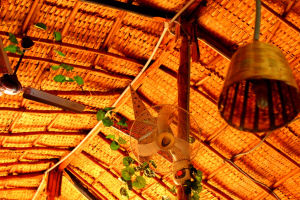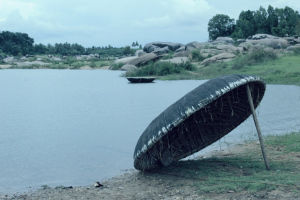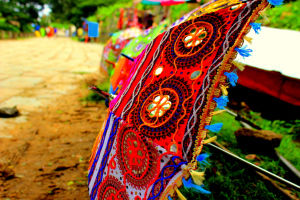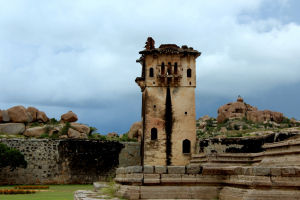 A multitude of emotions pervade you the moment you step into this city steeped in an era long gone by. It is a standing reflection of opposites; a city trying to come to terms with its rich cultural heritage which it is strongly fighting to preserve in contrast to the modern and the 'urbane' which is evident from the all pervasive tourism that engulfs you the moment you step into the city square. The tourism industry defines this ancient capital city of the Vijayanagar Empire – Right from kids selling the Archeological Survey help books to the ever mushrooming, cheap, affordable home-stays and guest houses to the restaurants and cafes catering to the international traveler junta thronging the city.
Nonetheless, it is these seemingly opposing contradictions striving to achieve a balance with each other that lend this city the ethereal character that it possesses. There is no way you cannot fall in love with the place.
This was my first solo trip and accorded me some very interesting conversations. I would totally recommend solo travel to people who haven't done it yet. It is truly liberating in its form and diverse in the way it offers you the company of strangers. Hence I think I will keep this post more on the people I met than the places I saw… More on the city and its attractions sometime later!
The first morning after settling down kicked off with a trek to the landmark Matanga Hill which provides the best bird-eye view of the main city complex and the nearby ruins. Waking up at 4.30, nothing could have prepared me for what the day had in store. The trek is short and easy though it got slightly slippery because of the rains; Driven by a surprising enthusiasm early in the morning, I made my way to the temple at the top. Sitting there, soaking in the sunrise, we (me and two other girls from Holland and Australia) chanced upon a priest (caretaker of that temple) practicing his morning yoga. Not wanting to disturb him, we sat quietly there till all I could hear was the 'sound of silence', the morning calm broken only by the sound of him playing the flute. This was followed by an invitation to a cup of coffee in his cave dwelling turning the experience into something quite surrealistic.
My normal self might have turned down the request but there was something about this quaint ol' town and his calm demeanor that could have inspired nothing else but a cup of coffee and some conversations. The yogi turned out to be a north Indian from Rajasthan and hence the conversations could flow with a common ground of language. I acted as a translator for the girls across the seas who had accompanied me. During the course of our conversation, I got to know that he was a Naga Sadhu (They are a sect of ascetics and ardent worshipers of Shiva) Interesting! Who would have thought that I would come across one in a nondescript temple down South in the town of Hampi. All the flamboyancy, energy and drama that usually is associated with them was lacking. All that I could sense was someone who had truly denounced the way life is and was finally at peace with his self and those around. He even showed us a secret Shiva shrine down the cave, the existence of which is known to very few. We left after a few hours after a heady dose of his life experiences and spiritual, religious and mythological knowledge and discourses.
One of the most illuminating and fascinating aspect of this trip for me was the number of travelers that I met in this quaint little town traveling from all over the world. More importantly, I was the sole Indian traveler; so to some extent laid the responsibility on my shoulder to be the 'Indian ambassador' and be the knowledge bank it required me to be.  For me it was an eye-opener to the travelling and the backpacking world, where-in travelers took off to a country for months; backpacking, soaking in the culture of a place with all the challenges it posed and the wonders it threw up on you. I came across travellers who had been putting up in this small town for more than two weeks plus with no intention to leave it. They had developed their own routine; their own local friends; taste to the local cuisine and friends. To me it was quite romantic, the whole idea of staying in one place for a few days; making it your home, maybe meeting someone who you can have brilliant conversations with, have a good time and then just move on… Keeps you alive.
Another interesting encounter happened on one of the days that I and Karla (the lovely girl from Melbourne into Naturopathy) decided to explore the famed Hampi ruins – an ode to the 14th century Empire. I happened to strike up a conversation with the rickshaw driver and he had an interesting story behind him. His name was Rajasaheb but was famously christened as the wi-fi raja (Wifi king) of the area since he had memorized the wi-fi passwords of all the networks in Hampi… No mean feat considering that this town is flowing with international travelers and the demand for internet access pretty high. He was in love with technology and aspired to become a computer engineer if given an opportunity. He was a self taught man and a sort of a local authority on computers. He is even on FB. This fire and the will to learn quite inspired me.
To sum it up Hampi is a quaint old traveller's town – a place somewhere between here and there. It's how you feel when the clock stops… Maybe not stop but really slow down its pace, giving you each second to muse, reflect and then move to the next second. It really is a different feeling to be.
Best time to go: November to March when the rains are low and the weather is good enough for the bouldering season to commence. This town is a climber's delight with one of world's largest bouldering site. The light is also not too harsh to click at this time and it is pleasant enough to walk or bicycle around for miles and miles around here.