As the famous T-shirt logo says "I Heart New York"! Whats there not to like – museums, art, fashion, theater, Broadway, food, and an absolutely pulsating nightlife. We managed to spend a week in New York this summer with friends and family. Having been to New York several times in the past, we had all the touristy/top 10 things/must sees covered and therefore looked for alternative ways to enjoy the city. Below is the list of things we did – most of these places can be found in guidebooks I think but were not swarmed with people and would allow one to explore in leisure.
Walking the Highline –
Highline which is an elevated railroad re-purposed into a park is quite a brilliant idea. Surrounded by greenery you can explore the avenues of New York and get a different perspective of the skyscraper city from a height. Parts of the Highline curves out towards the Hudson so you can get river views along with modern skyscrapers and old lofty warehouses. There were also sculptures and plenty of artwork from local artists on the way to take a peek at. Loads of nooks and crannies to stop and rest – the occasional sun loungers to laze around in while eating popsicles, benches with street views and beer gardens as well. We went on a Wednesday and it was nice sunny day with a lovely breeze so we had a good time strolling and soaking in the serenity in the middle of the bustling concrete jungle which I thought was pretty cool! Be warned though I have been told it gets busy over the weekends.
Murals and cool billboards as you walk along the Highline. I particularly loved this technicolor version of the famous WWII sailor kissing the nurse photograph!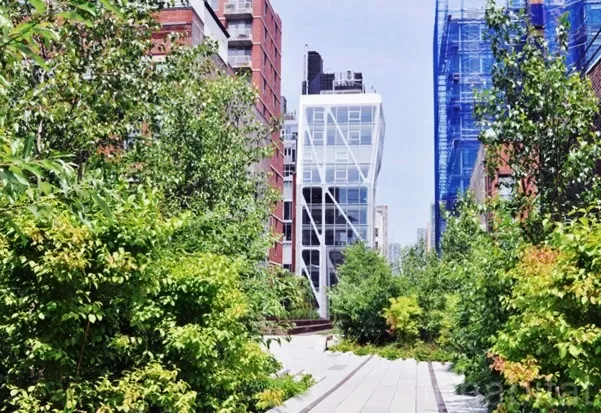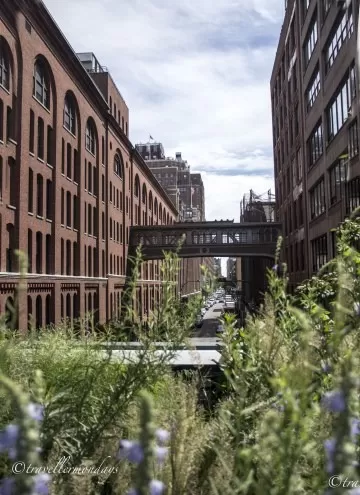 Grab a meal in the Chelsea Market –
There are many staircases to get off the Highline and one of them is next to the Chelsea Market. Walk past the Google NY office to enter the Chelsea Market. The building is quite unassuming from the front, but inside the architecture was beautiful with tons of food places, pop up shops, tea shops – very hipster-y. The place is chockfull of restaurants – from artisanal cupcakes to vegan sushi! We managed to grab some excellent crepes here and looked into this store selling over hundreds of different oils and vinegars and salts (who knew expresso balsamic vinegar even existed!) which allowed tasting.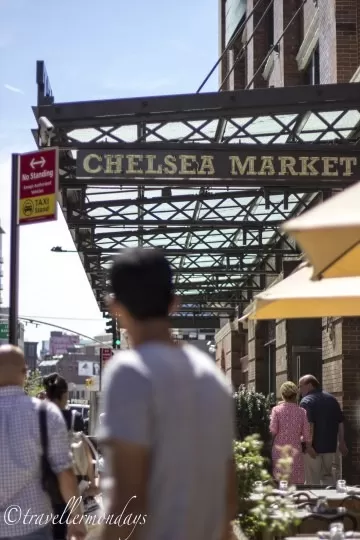 Catch up on your reading in the New York Public Library –
If you are a addicted to the written word like I am and/or love libraries, this should be on your must visit list. The building itself to begin with is totally awe-inspiring with huge lion statues at the entrance, high vaulted ceilings and intricate porticos and huge reading rooms with thousands of neatly stacked books. We sadly missed out the Rose Reading Room since it was being renovated but there were a number of exhibits going on including one on Children's books which brought back some fond memories!
Bryant park next to the New York Public Library is like an oasis surrounded by tall skyscrapers was the perfect place to relax and rest our tired feet. The park has a big grassy lawn in the middle surrounded by trees with chairs and tables to sit under the shade. The grassy patch was alternatively being used for sunbathing and activities like yoga lessons, a game of chess and even some live music.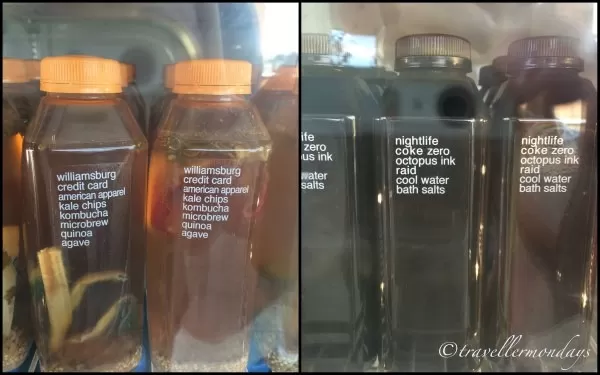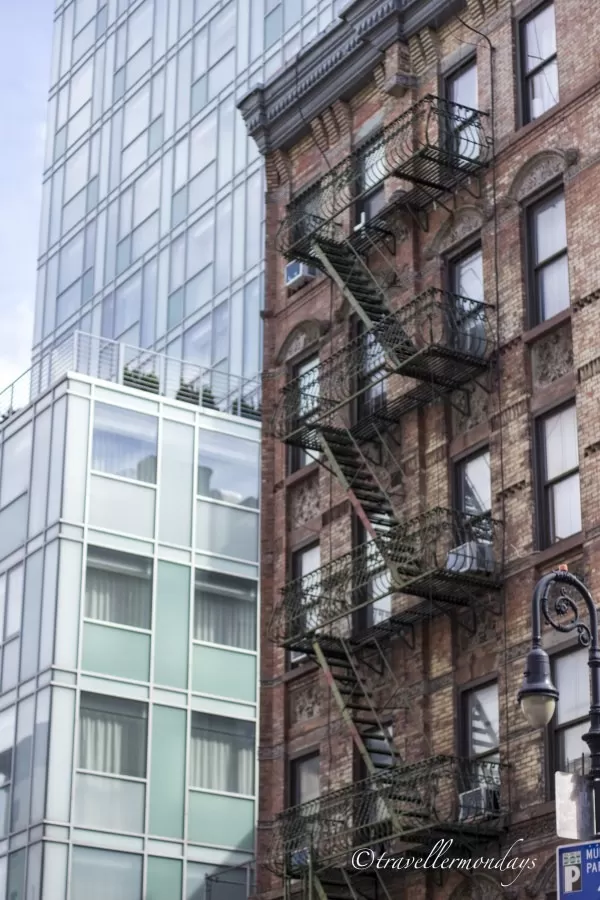 They had good ice cream parlors, cafes and even a bar. There was also a beautiful carousel in one corner which I ran to photograph as soon I saw it! Since we missed out on the Rose Reading room, we did our reading in the Bryant Park Reading Room where you can read books, newspapers and variety of magazines. Bryant Park is also within walking distance of Times Square, so if you want to escape the madness..
Visit the Tenement Museum and the community gardens in East Village –
Tenement museum might not be on the top of the Museum list for your first visit but it did give us an unique perspective of New York from the view point of the immigrants. We did one of the neighborhood walks that they offer around east village and learnt how the waves of immigrants from different countries had shaped the neighborhood. They even have a Chinese Dominican grocery store and one of the oldest candy stores! Tenement buildings are buildings which have fire escapes in the front and were themselves quite pretty.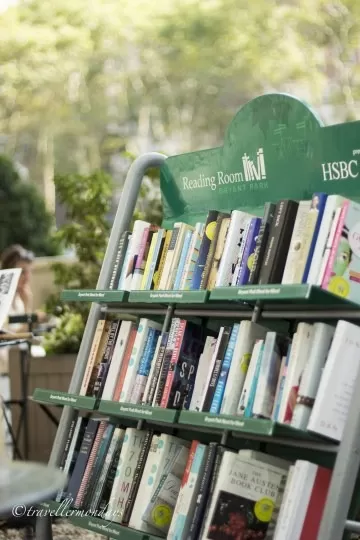 Other than the walk, we also saw some lovely community gardens, all planted and maintained by the communities living nearby. A good place to get some coffee among flora and fauna and put your feet up after the museum walk. One of the cool things we saw in one of the community gardens (the Sara D Roosevelt garden) was this strange steel pole structure with lots of hooks – these hooks we were told are used to hang songbirds.
The story behind this is that the Chinese community considers songbirds lucky and collect them. One guy started bringing his songbirds in the mornings to the park and encouraged others to do the same. Now if you go to the garden on weekend mornings, you can see elderly Chinese gentlemen socializing next to their songbird cages! Unfortunately we were leaving before the weekend but oh well, there's always a next time.
Walking the Brooklyn Bridge –
Walking the Brooklyn bridge had even overlooked by us in our earlier trips, so I am glad we got to do it this time. Its a nice walk with pretty skyline to boot – there was a cool breeze from the waterfront (and it was a hot day) so in spite of the crowd, the walk was quite pleasant. Its also not a long walk – you can stroll the length in less than 30 mins with stopping time for photos. There are two ways of crossing the bridge, on foot or on bike, but be careful not to stray on the bike lane in case you are walking or you will get an earful.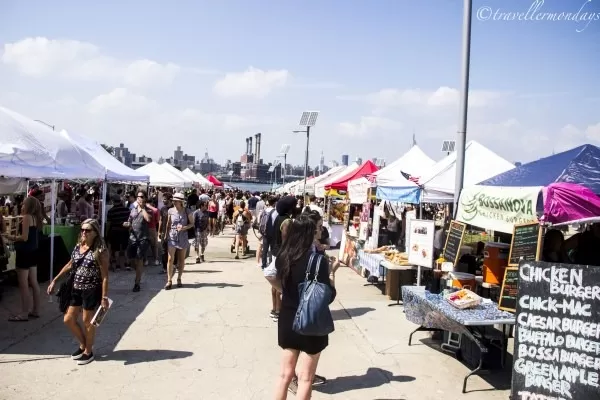 Also if you get off on the Brooklyn side, be sure to try Grimaldi's pizza. While there was a long line outside the store to get in, the White Pizza (without tomato sauce) and the desserts quite made up for it. You can also get great NY skyline panoramas from the Brooklyn Bridge Park.
Artists and Fleas and Food, take it all in in Brooklyn –
This was my first time in Brooklyn and it seemed to have a different air (or is it vibe?) from Manhattan. It felt more laid-back, more trendy, less formal more 'chichi'. We walked around some of the neighborhoods including Bedford, a lot of red brick buildings and cool/trendy shops. The Brooklyn Smorgasburg was awesome with sooooo many varieties of food! This happens every weekend when 100s of vendors set shop (we went on a Saturday to the Williamsburg one near East River State Park). You can eat at one of a few tables if you are lucky or the patch of grass flanking the market with a great view of the NY skyline.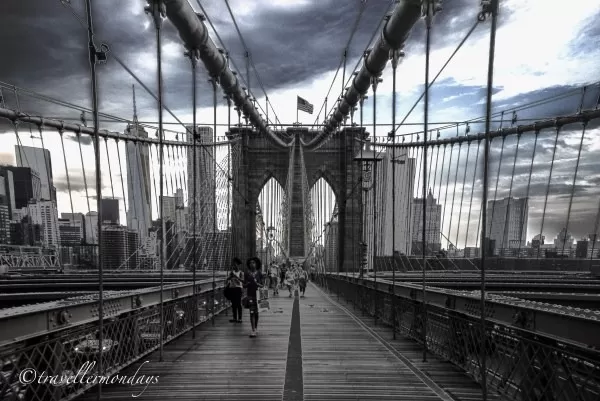 There is also an indoor flea market close to Smorgasburg to walk off the food coma called Artists and Fleas where you can find lots of cool knick knacks, some unique jewelry, some overpriced junk too! I really liked the clocks made out of old books.
Hunt for cobbled streets in the West Village –
West Village which the western part of the Greenwich Village (of "Friends" fame) has an anomaly – it is the only place where a numbered street crosses another (West 10th Street cross West 4th Street). A tree-lined neighborhood with lots of old red-bricked building, I was told had cobbled streets. While we didn't manage to find the cobbled streets, we did peak into tons of designer stores and quaint boutiques and even the oldest apothecary on the way and cute pastry shops.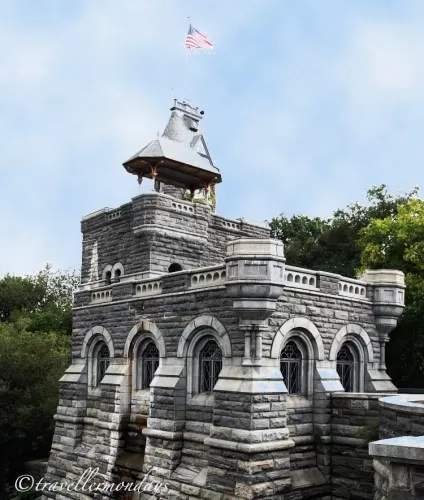 Visit Washington Square Park –
The other attraction in Greenwich village is the Washington Square Park. Located in the NYU neighborhood this park has a tiny Arc-de-Triomph type arch and a very nice water fountains in the middle where kids were dancing in the water to beat the heat.The park has multiple street artists performing, some good, some downright bizarre! But its a great place to relax with coffee and a book or just lounge on the grass and people watch.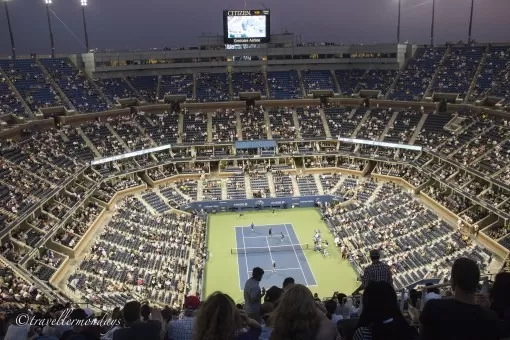 Go to Flushing if you have already seen Chinatown and watch the US Open Tennis- A big part of our agenda was to watch US open so we spent quite a bit of time in Flushing. It was so thrilling watching the tennis greats battling it out – the stadiums were huge and the atmosphere was electrifying! Flushing is also a place where you get great Chinese food (some say even better than Chinatown in Manhattan).
Central Park and French Bakeries –
While Central Park is not non-touristy, its big enough that you can find something new every time! This time we saw the Belvedere Castle, Shakespeare garden and the Jackie O reservoir. Belvedere castle is a miniature castle with lookout points which provided great view of the park. My favorite discovery though was the Jacqueline Kennedy Onassis Reservoir – this huge reservoir with a jogging track frequented by the likes of Jackie O and Bill Clinton provided an unobstructed view of the skyline around the park. The view keeps changing depending on the time of the day and I definitely intend to come back around sunset!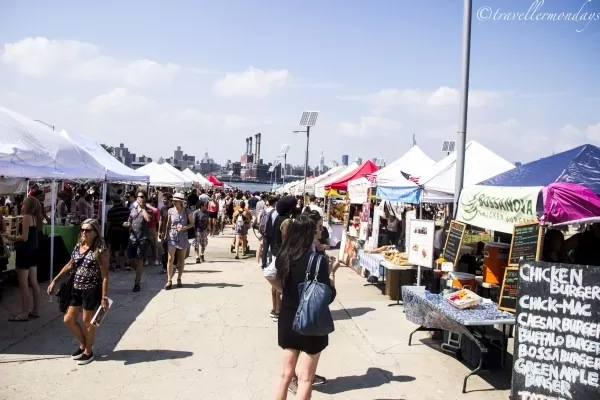 We ended our walk by visited the french bakery at the edge of the park (around Lincoln Centre) – Épicerie Boulud had come highly recommended by our friends RC and DD and the delectable sweet treats did not disappoint.
Watch Phantom of the Opera on Broadway –
I am a high fan of the Phantom of the Opera music and the movie. So watching it on Broadway has been on my bucket list for a while now. This was truly a phenomenal experience and should not be missed – the stage settings, the production quality and the actors, everything was awe-inspiring! The Majestic Theater is a grand old theater perfectly suited for the sheer extravagance that is the Phantom of the Opera.
Visit the Lincoln Center –
If not interested in Broadway, Lincoln Center is the place to go for plays, ballets and other shows. When we were visiting, the Lincoln Center was hosting the New York Fashion Week and it was fun to see the fashionistas posing for photographers.

Visit Korea-town after a night of partying –
Korea town in New York has an interesting history starting with a bookstore and a few restaurants and slowly burgeoning into a thriving area with restaurants, bars, karaoke bars, salons and shops. The restaurants and shops in Korea town are not all located on the ground floor making it hard to find places but fascinating to photograph. The place seemed to come alive post midnight with people like us tripping in post bar hopping to dine on kimchi pancakes, watermelon shoju and large soupy hot-pots! Visit Pocha 32 for delicious kimchi pancakes and watermelon shoju. Also lookout for Parisian Baguette which contrary to its names is a Seoul based coffee chain selling coffee, desserts and other savory snacks.
And finally eat, eat and eat! –
Eating/drinking was a huge part of our vacation. From visiting speakeasy's to listening to Japanese jazz, eating Mediterranean food to looking for the best burger in town. New on the list of our favorite food though is Ramen – we tried Toto Ramens and we are in love! DO NOT LEAVE NEW YORK WITHOUT TRYING RAMEN!!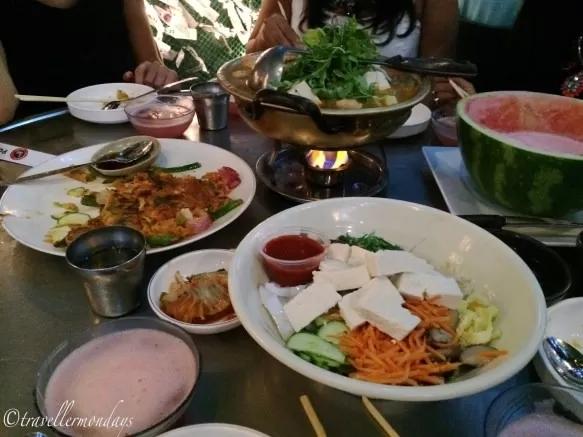 In the 5 days that we were in NYC, we walked over 6 miles everyday and we only covered what seems like the tip of the iceberg so we cannot wait to go back. Before I end though, I would like to thank my sister-in-law and her husband (G and Man Baker) for being such great hosts and taking us around and all the tips and my friend RC and DD for all the food and site seeing tips!
This post was originally published on Two Roads In A Wood.