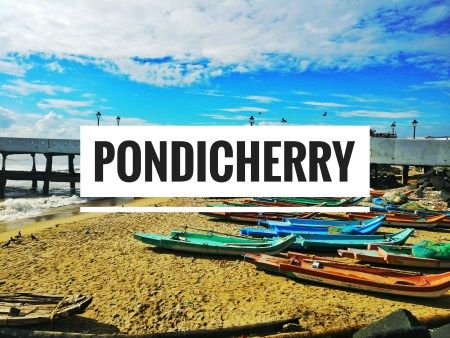 Come on! Its Summertime which means vacation time as well. I can see some beach hats and sunscreen lying in your cupboard. It's been long since you used them. I've got a perfect opportunity for you to use them. Go to Pondicherry or Puducherry which is known as the French town in India due to its huge European, especially French influence. And for you to have a great time I have created a guide on what are the places to see within Pondicherry, places for day trips and of course my favorite places to eat. This is a compilation of my two trips to Pondicherry and yet I feel there's more to explore, so yes, you're never going to be satisfied with Pondi, you will go back again for more.
PLACES TO SEE WITHIN THE VICINITY OF THE TOWN
Gelato Factory
To end your day with some authentic Gelato, visit the Gelato factory which is a few steps away from Baker street. Flavor from Pomegranate, Tiramisu, Coffee, to Vegan chocolate and Vanilla can be found here. One scoop or two or maybe three of your favorite flavor and a walk till the beach road is my idea of a perfect evening. How about you?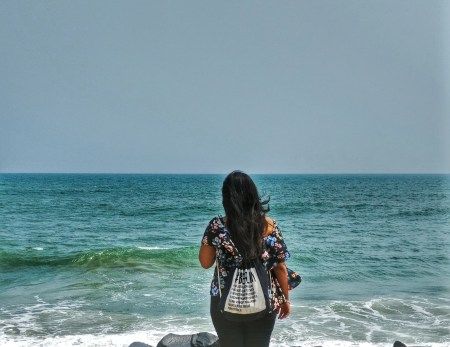 Punjabi Dhaba
Run by an Old Uncle this place is a house turned restaurant. Punjabi food which taste like it was made straight from the house of an old grandmother with all the love she could pour in. Chicken Masala was my favorite curry to eat with the tandoori rotis.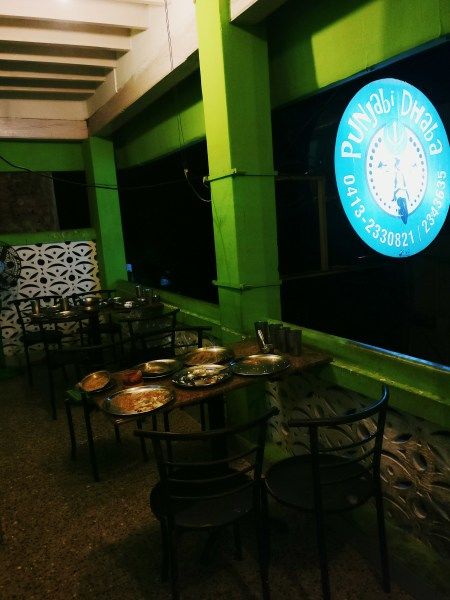 Cafe des Arts
Even though I didn't get a chance to visit this cafe because it was closed both the times I was there, I have read a lot of good reviews about this cafe. Graffiti painted walls with heart warming food. Go visit this place for a meal, and tell me how was it!
Dilli 6
My favourite place in Pondicherry to have a meal even if it's a vegetarian restaurant. As the name suggest, a North Indian cuisine restaurant which gets full very fast. Go before half an hour your meal time to get a table. From Delhi chaats to Chole bature, you get all the delicious items here. Amritsari kulcha with Chole is would be my recommendation. The Indian interior and the ambience impressed me a lot as well for me to go back again.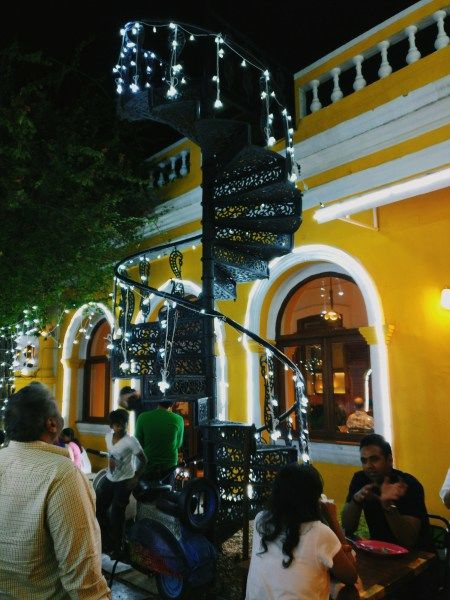 Kasha ki Asha
Kasha ki Asha is a boutique and cafe run by an all female team. This rooftop cafe is hidden in Surcouf Street. Their main selling proposition is the unique ways they prepare the european cuisines with Indian twist or vice versa. Indian enchiladas or European Thalis are liked by many people.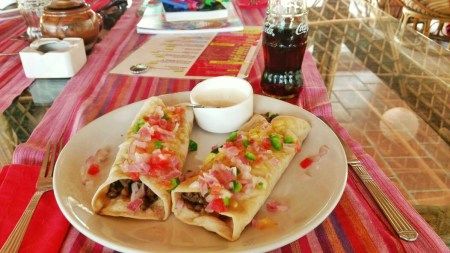 Baker Street
You will find Baker Street in everyone's recommendation. The French bakery in Bussy Street has an aromatic smell of freshly baked breads and cheese stored in the fridge. Even though the staff were native South Indian, they spoke fluent french with their french customers. You will be delighted to see an array of baguettes, multigrain bread, dinner rolls, pastries, macaroons, meringue, cheesecake, tarts and they even have pizza, salad, quiche, sandwiches, juice and coffee. One thing is for sure, Baker Street won't disappoint you.
Le cafe
Le cafe being the Government owned Cafe is open 24 hours and is located in the Rock beach. After an early morning stroll, sit down for some coffee and view of the sea. The best time to enjoy this cafe is during night, when cool breeze flows, make sure to take a rooftop table. The food here is just average, nothing great to go back again.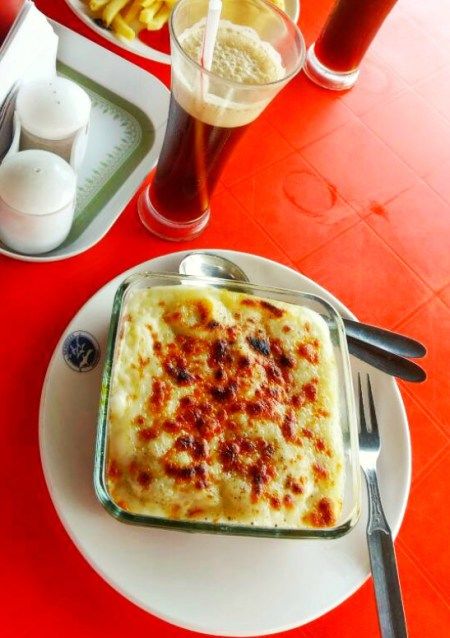 French War Memorial
Memorial dedicated to the soldiers who sacrificed their life during the First World War. Located opposite to Gandhi Statue on Beach Road, it takes a small amount of time to stroll around the area. It was built in 1971 and is illuminated on 14th of July celebrated as Bastille day.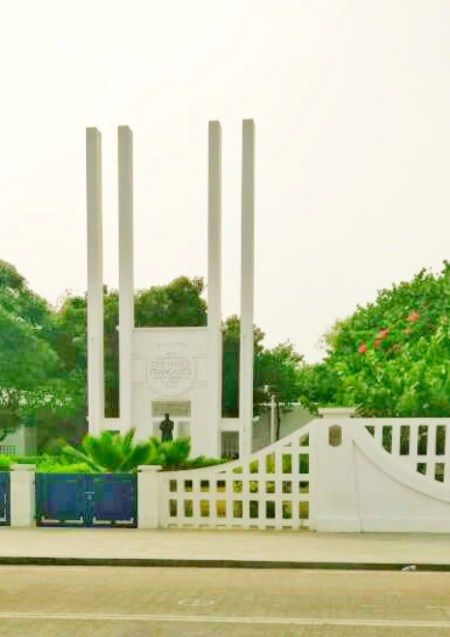 Aurobindo Ashram
Sometimes I feel like I am an old soul trapped in an adult costume because I am legit old school who would rather sit down quietly and listen to the birds chirp, see the leaves move swiftly, smell flowers than do anything else. Aurobindo Ashram located on Rue De La Maine is a Spiritual community formed by Sri Aurobindo and grown under the guidance of Sri Maa. The Ashram now has the samadhi of both its founder and guide. Visitors are allowed to see the Samadhi and meditate from 5AM to 6PM. For an anxious person like me, sitting quietly and not thinking about anything takes a lot of effort, but this place makes me do it magically without any effort.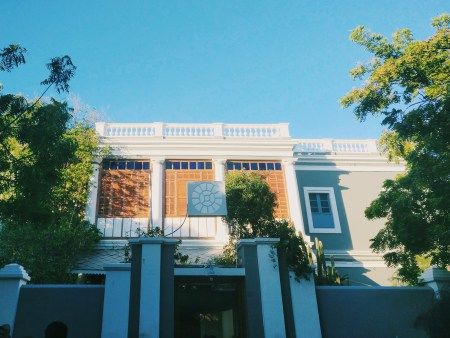 Museums
If you're someone who is not a museum lover, skip this. As someone who loves history and seeing old antique things, I always make a point to see museums. Puducherry museum located on St Louis Street has a unique collection of excavated objects as well as a gallery of things used during the French Colonial. Photography is prohibited inside and with a minimal charge of Rs.10 to Rs.20, you get entry to the museum.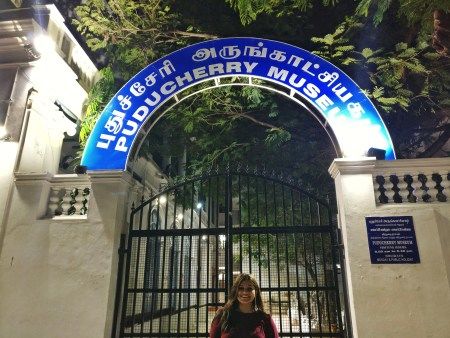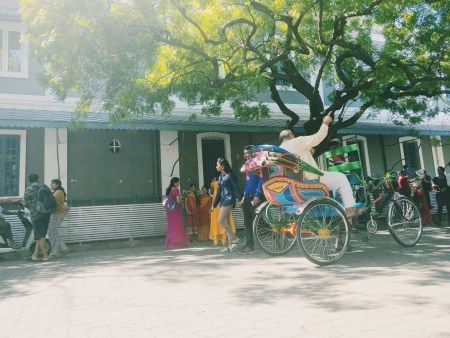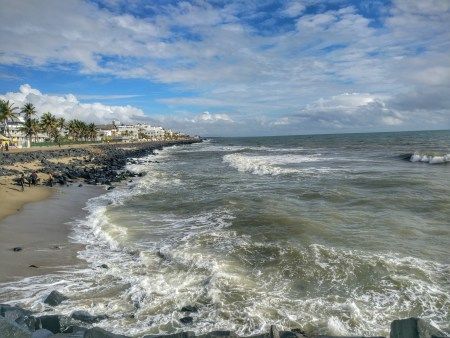 Covered with black rocks, Rock beach is located on Goubert Avenue, Beach road is a must visit for anyone going to Pondy( Pondicherry fondly called as Pondy). The beach is filled with huge rocks in order to prevent the ongrowing erosion. Walking through the Promenade or sitting on the rocks listening to the waves splashing against them is something I loved doing. The Promenade gets alive after 6PM when no vehicles are allowed and pedestrians dominate the road with delicious delicacies from the shops nearby. Just go and sit quietly and give time a break, that's what the tagline of Pondicherry tourism says and I believe we should follow that.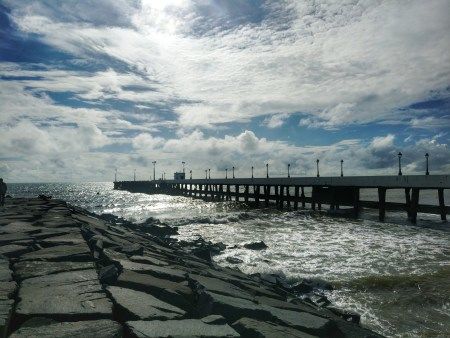 Having being established in 1673, after it was colonized by French East India Company Pondicherry was largely dominated by France. During the Anglo-French War the British and French people exchanged Pondicherry quite a few times. But it was 1962 when the French territory was transferred and hence now Pondicherry is called the "Little French Town in India". Considering the amount of French people who stay in Pondicherry, don't be surprised if you find the French quarter more cleaner, with different architecture, graffiti painted walls, French street names or seeing a school where the Indian kids and French kids study together. This is my favorite part of Pondicherry because I just need to take a walk with my headphones to feel happy and alive. You should do that too! (preferably alone, please!)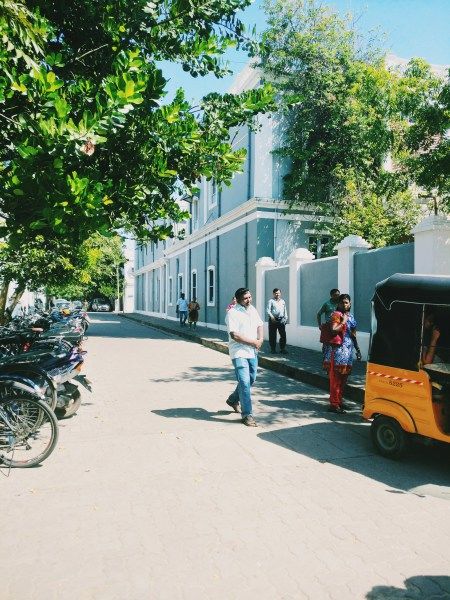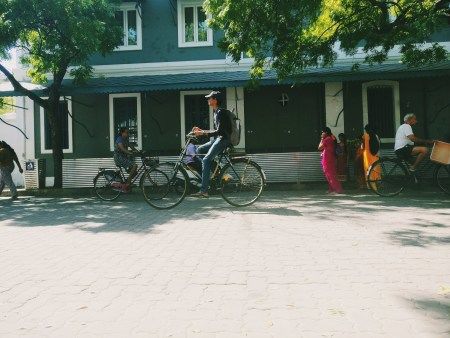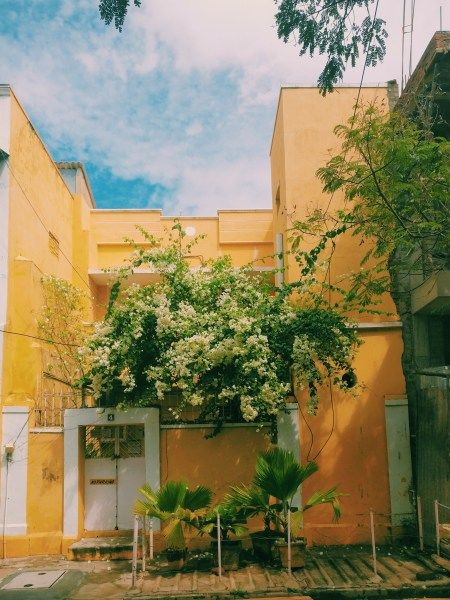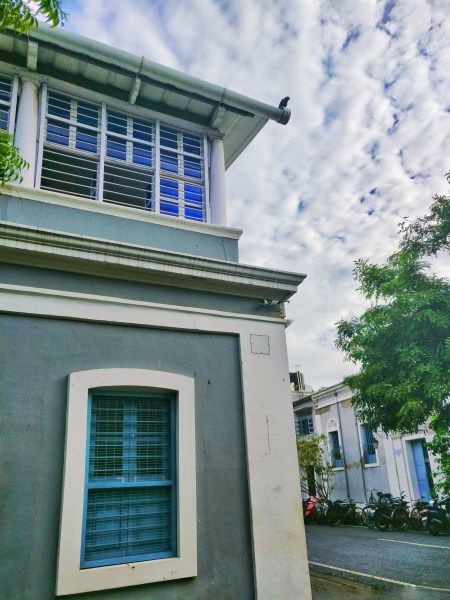 Another memorial located in the beach road is B.R Ambedkar Manimandapam, which is dedicated to Independent India's first law minister who campaigned against social discrimination in India. Free entry to know a bit about the Politician who worked hard to achieve equal rights for Dalits community in India. Go for the view from the memorial at least!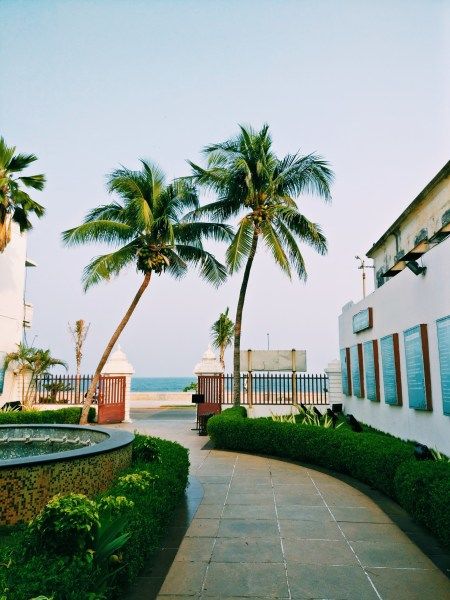 Look for street paraphernalia/ Shopping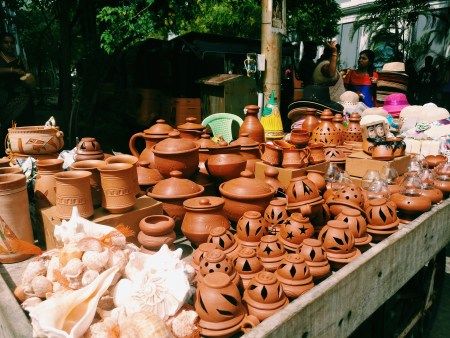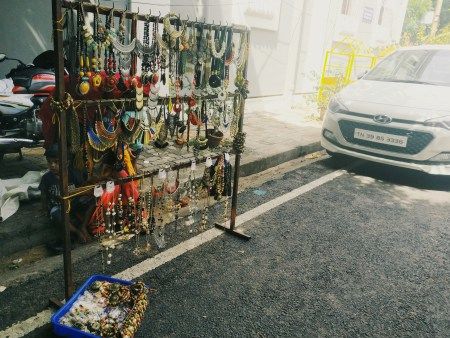 Finding a street artist or someone selling quirky things gives me immense happiness. The streets of Pondicherry are filled with those. I don't like spending money on those things but I totally adore looking at them with big wide eyes. Earthen pots, jewelry, scented candles, incense sticks, wooden rings, postcards, or basically anything you want. My favourite place to shop is The Auroshikha Agarbathies, located a few steps away from Shri Aurobindo Ashram. This shop has the best scented candles, body sprays, perfume and everything pretty which are affordable as well.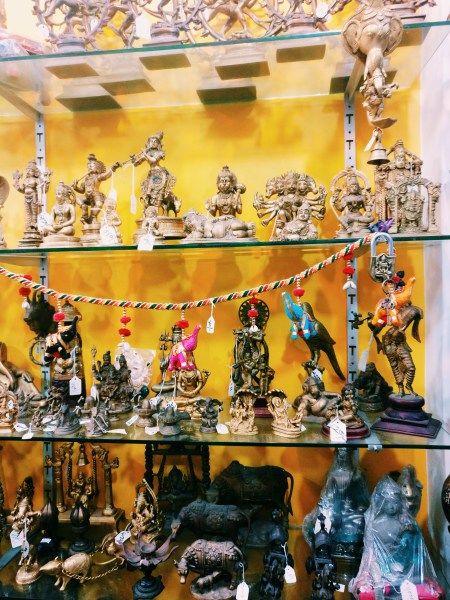 Night life
Pondicherry being an Union Territory has no tax on alcohol hence making it cheaper which attracts a lot of college students and adults to party in the French Town. The White Town is filled with pubs, bars and lounges to go and dance your heart out. La Villa Shanti, The ROAD Moto Pub & lounge, The Asian House disco would be the popular ones to give you a taste of the nightlife in Pondicherry.
Where else would you find a bar in this gorgeous building

Places to Eat
Cafe Xtasi
When you're lazy to go out after a tiring day (Which I am guilty of doing all the time), pick up your phone, google Cafe Xtasi number and just call them. Come on, you do know pizza solves everything. If thin crust pizza is your style, this place shouldn't be missed.
Places to go for a day trip will be up on a separate blog. Watch out this space!
Let me know if you've ever been to Pondicherry or are planning to book your tickets soon, maybe we can bump into each other ?
Ciao.