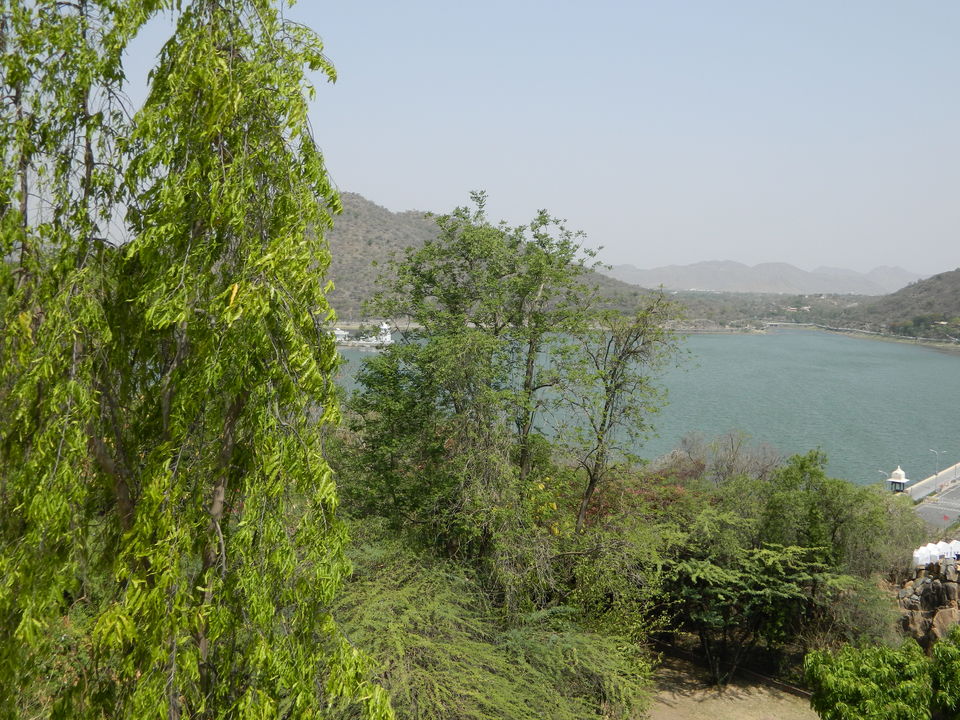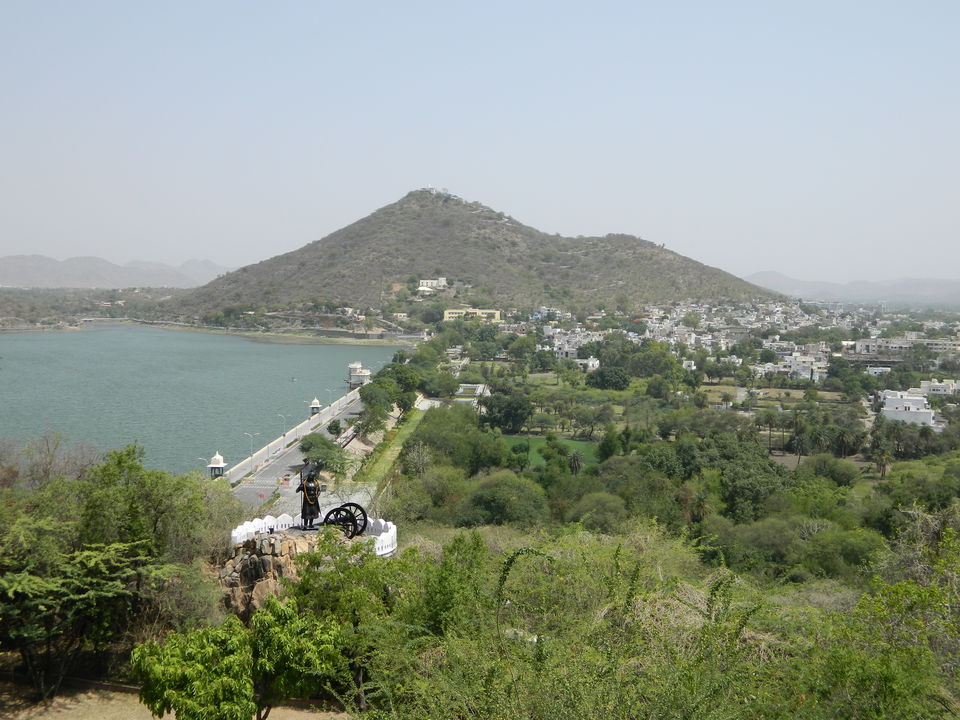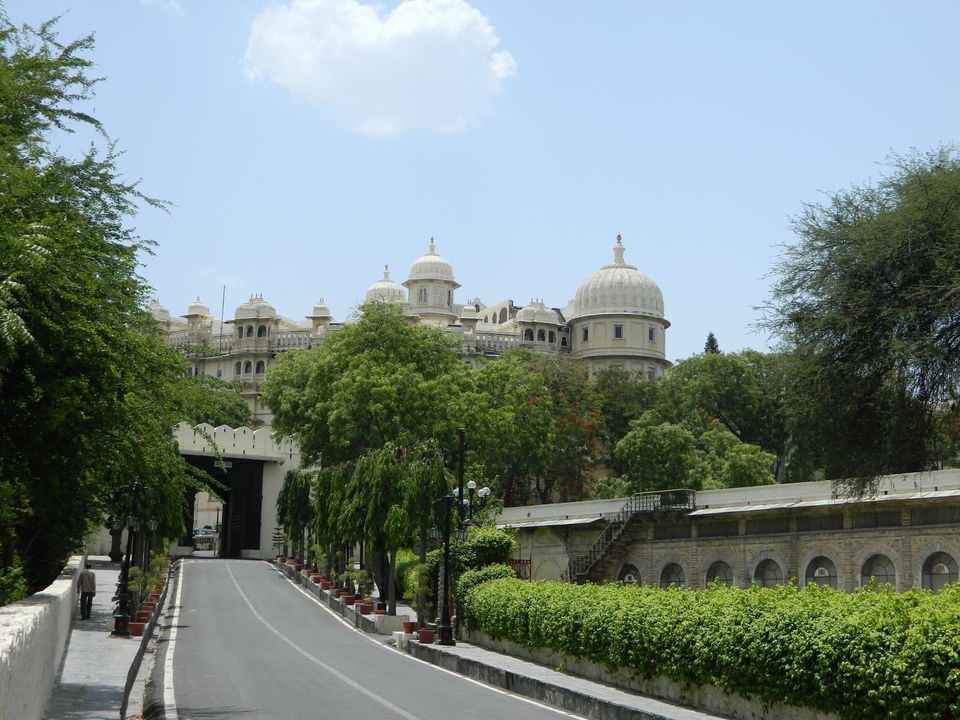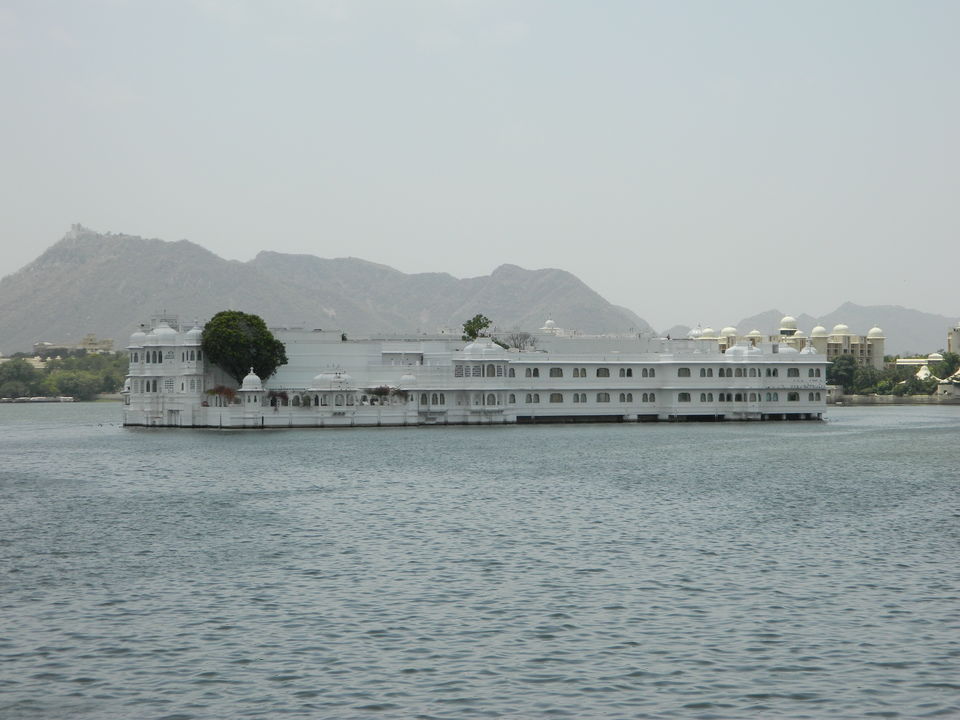 Udaipur often called 'Venice of East' or 'City of lakes' is located in southern Rajasthan. I have already heard a lot about the place and was eager to visit this city. Udaipur was not very far from Indore, so I decided to go by bus. It was an overnight journey. I took the bus around 10 O'clock and reached Udaipur next day in the morning 8 o'clock.
When I arrived in the cool, green lake city of Udaipur, I was in a bit of shock. A pleasant shock, I must hasten to clarify. Part of the shock was how different it was from the image that comes to mind when one imagines Rajasthan, and part of the reason was how much Udaipur looked like the pictures I had seen of the city.
From bus stand I hired an auto for my hotel. The best part of my hotel is that city palace was just 10 minute walk. Now, before I start my journey it is important to know the history of the place. Udaipur was established in 1559 by Maharana Udai Singh as the new capital of Mewar as Chittorgarh, the previous capital, was deemed too vulnerable due to repeated attacks by the Mughals. The next 400 years saw Udaipur fighting for independence from the Mughals, repelling their attacks, signing peace treaties with them, facing attacks from the Marathas, alternately supporting the British or rebelling against them; and finally agreeing to join other Rajput kingdoms in forming the state of Rajasthan after Independence.
The 400 years also saw the city developing into one of India's prettiest cities with artificial lakes, royal palaces for every season and weather, mansions, gardens, and what not. Having visited it now, I can understand why many foreigners consider this city as a wedding destination. Surrounded by hills on all sides, plenty of lakes, palaces on hire, and a salubrious climate, this is a just about as perfect a location as one can get. Add to this the allure of royals and local Rajput history and you have the perfect exotic quotient that appeals too many.
Once I reached my hotel I freshened myself and headed for Vintage Museum as the first point to explore. Going by its name the museum, it is a collection of classic cars. The cars are kept in serial order with their respective information and are under the Maharaja of Udaipur. Every year in February, a vintage and classic car rally is organized in Jaipur. The maharanas' car collection makes a fascinating diversion, for what it tells about their elite lifestyle and for the vintage vehicles themselves. Housed within the former state garage are 22 splendid vehicles, including a seven-seat 1938 Cadillac complete with purdah system, the beautiful 1934 Rolls-Royce Phantom used in Octopussy and the Cadillac convertible that whisked Queen Elizabeth II to the airport in 1961. The museum is situated 1km east of the City Palace, just opposite Sajjan Niwas Gardens.
As I had only one day to spent, I have to complete seeing all the major attractions of the city. After coming out from the Vintage Museum, I fixed an auto for taking me to all the famous locations which was far from my hotel. The auto driver first took me to saheliyon ki bari. Surprised by the name even I was. Saheliyon ki Bari means garden for lady friends. This is a small garden originally laid out in the early 18th century by Sangram Singh II for his wife, where she can along with her friends to enjoy some time. In this garden no male were allowed except the King himself. In the garden there are five different kinds of fountains signifying different moods.
Next destination I headed for Sajjan Garh. This hilltop palace was built in the 19th century by Sajjan Singh as a Monsoon Palace. It's short drive up the Banswara hill through the densely forested Sajjan Garh Wildlife Sanctuary. While there isn't much to see inside the actual palace, it's an ideal vantage point to take in breathtaking views of Udaipur city as well as the surrounding countryside at sunset.
Making a quick exit from the palace I made my way for Nehru Park and Fateh Sagar Lake. The lake is surrounded by the water and it is in the middle. The garden is named on Late Prime Minister Pandit Jawaharlal Nehru. I hired a motor boat. The boat driver gives an hour time to tourists to roam in the beautiful garden.
After that I visited the local market. Coming to Udaipur you have to buy bandhej sarees and dupattas. I also bought also some sarees for myself and my family members.
Straight from the market I headed for City Palace, the most important attraction of the city. I left the auto at my hotel and started walking towards City Palace. Before entering in the palace I stand in the corner and just looked at the huge mansion. It was beyond the words. Standing for quiet some time, I moved towards ticket counter and got tickets. For understanding the place it is important to hire a guide as they are keeping a good knowledge. My guide took me from staring point explaining each and every point of the palace and how it was built.
Build on bank of Lake Pichola, this sprawling complex is the largest palace in Rajasthan. It was first built by Maharana Udai Singh, the founder of Udaipur in the 16th century, and expanded by successive rulers. Today, the palace is divided into several museums for which you can get a package rate at the City Palace's entrance in Badi Pol. The City Palace museum is the first of these, and comprises of a series of mahals, courtyards and private chambers, connected by narrow passages. You will find traditional Mewari paintings, colourful mosaics, stained glass windows and beautiful mirror-work everywhere, with occasional breathtaking glimpses of the city and the lake outside. In the Fateh Prakash Palace next door, the Crystal Gallery provides proof of the ruling dynasty's love for luxury. It exhibits an array of crystal objects such as glasses, dinner sets, and even furniture pieces such as beds. These were made by the British manufacturer FC Osler & Co. and commissioned by Maharana Sajjan Singh between 1878 and 1881. The palace's opulent Durbar Hall has glittering chandeliers, royal portraits and arms. Your ticket also entitles you to a cup of coffee and snacks in this palace hotel's restaurant. It took me nearly three hours to understand whole palace and capturing the beauty of the palace.
In the evening I went to Lake Pichola for boating. My hotel manager informed me that in the evening the lake looks very beautiful. This picturesque lake lies at the heart of Udaipur. It is believed that it was constructed by a local gypsy in the 14th century, and later consolidated by the ruler of Mewar, Rana Udai Singh II in the 16th century. Its coast is lined with the City Palace, ghats, havelis and hills, while the lake itself is dotted with numerous island palaces. To see these, you can take the hour-long boat ride from City Palace.
Its centre piece is the Lake Palace on Jag Niwas Island. Made entirely of white marble, it is one of Udaipur's most iconic sights. It has appeared in several films, most famously in the 1983 James Bond movie, 'Octopussy'. Now a luxury hotel managed by the Taj group, it was originally built as a summer retreat by Rana Jagat Singh II in 1740. The Jagmandir Island Palace was built during the 16th and 17th centuries, and used as a pleasure palace. It served as a hideout for as Prince Khurram (before he became the Mughal emperor Shah Jahan), when he revolted against his father Jahangir. During the 1857 revolt, it again provided refuge to European women and children. It has beautiful carvings, a pretty green marble chhatri, a small museum, and a restaurant offering scenic views. There's also a permanent exhibition of photographs, maps, paintings and architectural drawings. Other smaller buildings include Mohan Mandir which was used by the king to watch the annual Gangaur festival celebrations, and Arsivilas which was built in the 18th century and served as an ammunition depot and later, a small palace. Enjoying the boat ride I sat there for some time and had a cup of tea from nearby stall. It was already 8 o'clock and I have to catch my bus next morning so I started moving towards my hotel with heavy legs.
Frequent searches leading to this page:-
udaipur packages from chennai, mount abu 3 nights 4 days package, udaipur package for 4 nights 5 days, honeymoon special tour package, udaipur city tour package, 2 Days in Udaipur, tourist attraction places in udaipur, 10 trips to udaipur, budget stays in udaipur, weekend trip to udaipur with family