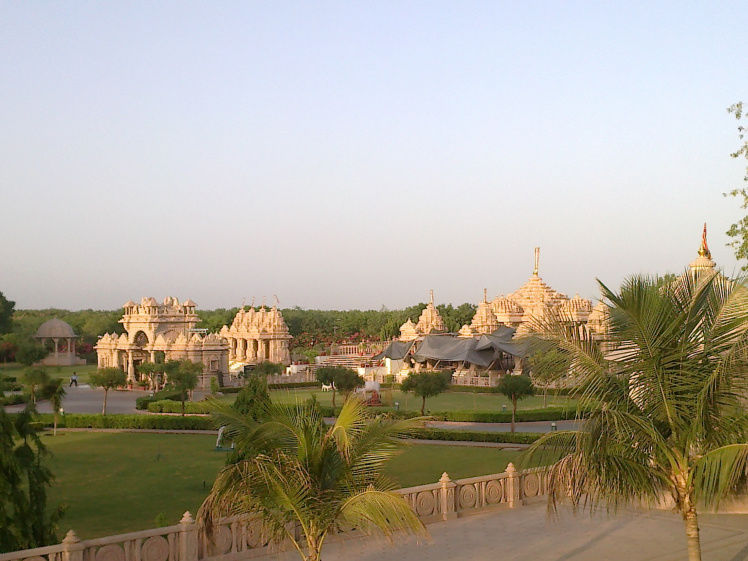 Me: I am getting so bored ya! lets go out!!
Ruchi: Lets go out out
So, we decided upon Pawapuri and Mount Abu! Asked other friends as well but no one was interested.So we packed, and within half n hour, we boarded a rickety roadways bus!
This story goes way back..in 2008, when we were in the final year of our engineering. I don't think I can ever forget this trip. You will soon find out why:)
We took a bus from Jodhpur to Sirohi as there was no direct bus to Pawapuri. Got no place to sit, it was typical Rajasthan roadways bus. So, we were standing for half of the journey. We didn't have much cash. We thought we will withdraw in Sirohi, but when we reached there, last bus to Pawapuri was leaving the bus stand at 5pm and so we rushed after it. Caught the bus running!
Luckily found a place to sit this time:)
And finally after an hour, we reached Pawapuri. I had always heard a lot about this place before, and when I saw it, It was much better than expexted. It is such a peaceful place and beautiful as well:)
Now we had to book rooms. Pawapuri has a few Dharamshalas, which are nicely maintained and very reasonable costs as well. So as we were short on cash, we thought of booking the dormitory.
Firstly the uncle who was booking the room, looked at us with suspicion. He was like "Have you run away from home and come here?"????
It took so much time to convince him. We made him talk to our parents and finally he agreed for dormitory. Since there was not much crowd on that day, he said, "don't worry I will not send anyone else in your room!"
And we got happy! A whole big dorm to ourselves:) We spent time in temple and around. Had dinner in their canteen. Food is always very yummy in Pawapuri canteen.
We strolled for long, attended evening Arti and went to sleep late night at room.
In the middle of the night when I woke up, an uncle was sleeping near our bed! WTF! We started cursing that booking uncle that how can he send someone with just two girls inside! Today the situations are different though!????
I jumped out of bed, woke my friend and we went far away from that uncle to sleep. Could not sleep properly whole night :X
Next morning we woke up early and went to feed the cows in morning. Pawapuri has its own Gaushala. Thousands of cows are bred here.
Then we had our breakfast and decided to see Bhairu tarak tepmle, just 15-20 mins from Pawapuri. We were told that there are no ATMs in Pawapuri on the evening before, so we left our card at room locker, took whatever cash we had and left for Bhairu Tarak temple.
Its a beautiful temple surrounded by hills on back side. We did not know that the mountain had a secret path :D There is a 4 km trekking route laid out on hill behind bhairu tarak temple. It was a route for locals who use it everyday for work. However, we were told that many foreigners had tried to go through that route and killed by Aboriginal Tribals(Adivasis in Hindi!) or animals in the forest.
Ruchi kept on nudging until I agreed to take that route. I said but we won't go alone as there are so many Adivasis. So some of the locals there were listening to our talks and came our for help. One of the guy said that being a milk vendor, he goes daily through that route and its perfectly safe. He insisted on being our guide. We agreed.
Few of the aged people there did try to stop us though as no girls had ever been on that route before, never ever. But we didn't listen, which we regretted later!
Its just 4kms trek, but burning noon sun and steepness of slope made it so difficult. We had no water with us. Though it was winter that time, but sun is sun!
We stopped at a hut in the way for water. So the guide first denied that we should not drink from this hut as it is owned by Adivasi. They will kill us if they found out. And that's when we realized that those aged people were right! We started remembering all Gods we knew.
But we were so thirsty that we couldn't control and drank from the earthen pot in that hut, and left for onward journey, but this time scared as hell. When we went a little further, there were two men who started following us. The guide said,"Be careful they are adivasis."
What???? There was no other option than to keep moving further. We started moving fast as per guide's instructions. Those men also started moving fast. Then we started running and they also started running. Shit Shit Shit! All I could do was scold Ruchi for bringing us here. We told the guide to do something for God's sake!
He said " Madam Ji. I myself have come through this route only 2nd time and I know no one else. Just keep running and reach to the point from where you can shout so that someone from suicide point of Mount Abu could come and help"
The moment he said this, we got the shock of our lives! OMG! We were screwed. Even if we shouted, there was no one to hear. Such a steep slope and running on it. We thought either to jump down the hill and roll till bottom or find some stones and start hitting!
The guide opened his mouth to say something and we shut him up! All we could think was throw stones on him as well.
Those men were so fast that they used to climb trees and reach ahead of us, so there was a game of running backwards and forwards. All of us!
Then suddenly something happened to guide, and he gathered up the courage and said, "Wait! let me talk to them". Why didn't he think about this earlier and made us run this whole time??? GRrrr…
He talked to them in their langauge, took some powerful name I guess and that is when those men stopped following us. They came out of nowhere and vanished again!
We couldn't believe what just happened. I cannot explain how relieved we were. I just cannot…We thanked all Gods! Scolded and thanked the guide! I sweared to all Gods that I would never return on this path no matter what????
Though it would have taken time to reach Abu being on a steep path, but thanks to the running we reached very soon! Now with very little cash, enought to pay the guide and return back to pawapuri via bus this time, we decided to walk to abu market. We were sooo exhausted. That guide knew the shop keepers in Mount Abu. He told all of them our story. Everyone was so shocked! They were like "How can girls come from this route?" They scolded the guide for bringing us through that way.
The people were so kind that when we told them we just have enough cash to take a bus to pawapuri, they gave us food to eat and drink for free and dropped us till the bus stop:)
We returned back finally and requested the booking uncle to give us a better room this time in minimal amount to which he agreed. He offered to take us to his home but we denied! Not to trust anyone so easily again????
Next day we did some time pass there, packed and left again for Jodhpur, but did not feel like going back at all. So we visited 3-4 more places enroute???? After withdrawing the cash from Sirohi ATM ofcourse!
That day and this, all memories still fresh. Now we just laugh while telling others what happened but that moment up there..I had never been so scared in my entire life before and after! Though things have changed now. Been to Pawapuri many times after that but did not bother to find out about that route!????
Wish to go on more such trips with you bestie:) Love you:)