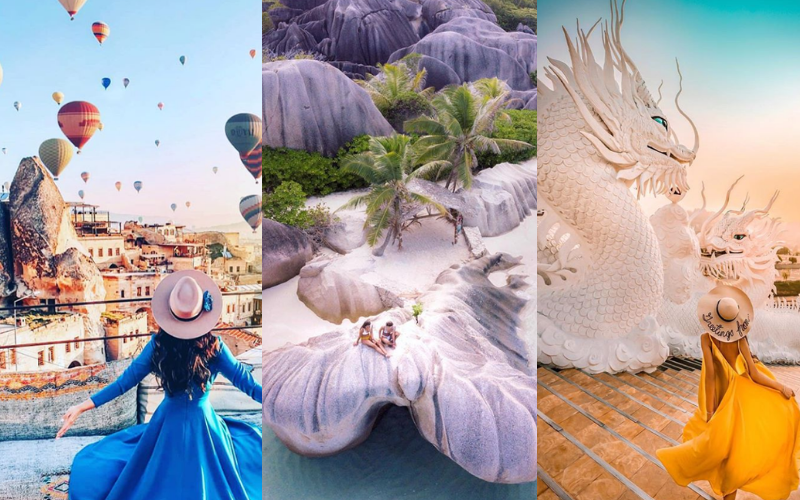 The summer season was created to travel! I mean, why else would there exist a concept of summer vacation? I mean, everyone knows that it is the fundamental rule of summer that vacay pics ought to be shared on the one social media platform that everyone follows. Yes, we're talking about Instagram!
So, I've narrowed down destinations around the world that are liveliest during the months of May-June, and are certain to stir a lot of travel envy in you.
Here's a compilation of the seven most Instagrammed summer vacation spots, and you'll be surprised to know that neither Bali nor Maldives are a part of this list.
Cappadocia in central Turkey is known for its enchanting cave hotels, magical fairy chimneys, its moon-like landscape, underground cities, and surreal hot air balloon rides.
Best time to visit:
The best time to go to Cappadocia is May and June. During these months the days are warm, the nights are cool, and there is little threat of rain ensuring smooth flights. These months offer good weather with pleasant average temperatures.
Besides, early mornings are the only time to see Cappadocia's hot air balloons in the sky, and in summer, the duration is longer and the number of uninterrupted rides is more because of the suitable weather.
Things to do:
1. One of the most fascinating experiences you can have in this little Turkish town is staying in a cave hotel! Step inside Cappadocia's cave hotels and a fantasy world will come alive, deep in the heart of Turkey.
2. Witness a spectacular sight of the hot air balloons rising from the ground and flying away against the silhouette of the rising sun every morning from the terrace of your hotel while having breakfast.
3. Float over this landscape that holds ancient mysteries within, fairy-chimneys and dimly-lit caves in a hot-air balloon.
This is the country where contrasts co-exist. The land of fire and ice, where dark winters offset by the summer's midnight sun. Breath-taking waterfalls, geysers, creeks, mountains, glaciers, and fairy-tale villages make Iceland a post-card country.
Best time to visit:
Everything just feels vibrant and fully alive in Iceland during summer. Long days, less wind, least rainfall and of course lots of sunlight! June, July and August are the official summer months in Iceland.
The average daytime temperature from May to September is 10-12°C. A warm summer day would have temperatures around 20°C. The average temperature in June is 9°C making it the third warmest month of the year. In June, Iceland celebrates its longest days of the year. And for a few weeks, the sun simply doesn't set! You can explore, drive out and party 24/7, though this means that there is no darkness and thus no chance to see the Northern Lights.
But they don't call Iceland the "Instagram Country" for nothing at all. There are some epic things to do in the summer, perfect for the gram.
Things to do:
1. Head to the Hraunfossar falls, that is every photographer's dream. Fun fact, its water doesn't originate from the mountains, but from lava beds deep within the Earth.
2. Indulge in a therapeutic natural spa at The Blue Lagoon, which is a massive geothermal pool.
3. Opposites attract and how! You can check out this natural phenomenon at the crystal-clear glacial lagoon opposite the black sand beach, land of Fire and Ice indeed! Jokulsarlon Glacier Lagoon's immaculate icebergs float from the lagoon into the sea towards the Diamond Beach - the perfect #CoupleGoals picture to light up your IG feed.
Overflowing with picturesque landscapes, friendly hill tribes and elephant sanctuaries, Chiang Mai and Chiang Rai in Thailand boast of some really kick-ass and offbeat experiences. Skip Bangkok and Pattaya and head to these off-the-radar places in Thailand for a detox.
Best time to visit:
In May and June, the sun usually shines for around six hours per day as the temperatures range from 26°C to 30°C. There is a little precipitation (180 mm) in the second half of June which is cool and refreshing and won't be a huge hindrance to your travel plans.
Moreover, in these months you'll be avoiding the tourist peak season, which means slashed prices of flights, hotels, adventure/water sports, and major tourist hot-spots. Hence, no hordes of tourists and incessant photo-bombs.
Best time to visit:
Indulge in a little mud spa and bath session with the elephants at the sanctuaries.
2. Chiang Rai is home to a stunning silver temple called Wat Rong Khun and the famous blue temple of Wat Rong Seur Ten, a stark contrast to Thailand's golden temples.
3. Skip the usual hikes and jungle treks, try out the rappelling and fire-fox flying. A jungle adventure through the eyes of a gibbon which allows you to have a breath-taking view of the rain-forest as you zip line your way through the jungle canopy!
Siem Reap is the gateway to one of the wonders of the world – Angkor Wat. This resort town is situated in north-western Cambodia, our Asian neighbour.
The famous ruins of Angkor hold the seat of the Khmer kingdom from the 9th–15th centuries. Angkor's vast complex of intricate stone buildings includes preserved Angkor Wat, the main temple, which is featured on almost every popular travel blogger's account.
Best time to visit:
The green season from May to October is the best time for seeing full moats around the temples of Angkor, dramatic skies and verdant rice-paddies. Minimum temperatures are around 75°F (24°C) start to drop from May and stay around 90°F (32°C) for the rest of the season. Rain is tropical in Cambodia with refreshing afternoon downpours.
Things to do:
1. One of the most magical experiences you can find in Southeast Asia is taking flight over the Angkor complex at sunrise or sunset.
2. Angkor National Park is so much more than just Angkor Wat. There you will find famous temples, from Tomb Raider Ta Prohm (the temple slowly being overcome by majestic trees and over 400 other temple ruins.)
3. Click away some #InstaGoals photos at Angkor Wat, the world's largest religious monument and a UNESCO World Heritage site.
Despite its fast-paced hustle bustle, Tokyo manages to surprise travellers each time with its quirk, cool, creativity and beauty. This city mixes the ultramodern and the traditional, you won't stop gaping at the neon-lit skyscrapers while the historic shrines awe you. Japan's exceptional experiences will have followers raving over your Instagram posts.
Best time to visit:
In May, during the afternoons it is around 23°C, while in the mornings and evenings the temperature decreases to around 15°C. June ushers in the high heat and humidity, along with the rain. Across the month of June, the average temperature is 21°C, the lowest being 18°C and the highest reaching 24°C.
It's a good low season so flight tickets and hotels could be much cheaper than spring which also means you can travel without crowds.
Things to do:
1. Head to Tokyo's famed Robot Restaurant and bar that is incredibly trippy, and a sci-fi extravaganza with robotic monsters, dinosaurs, cabaret dancers, laser beams and eccentric costumes.
2. Drive a real-life Mario car wearing a costume on the streets of Tokyo.
3. Visit some of the world's craziest and coolest eateries like the Ninja Cafe, the life-size gummy bears' cafe, Pokémon café or Yurei Izakaya: The bar of the dead.
4. Watch the city below from the Tokyo Sky Tree, the tallest structure in Japan and the second tallest in the world after the Burj Khalifa.
Built on cliffs thousands of feet above sea level, this Greek Island is a dream come true in blue and white. Featuring heavily on the bucket list of plenty of travellers, this leftover of a volcanic eruption will set fire to your IG profile with its gorgeous backdrops, infinity pools, and lavish resorts.
Best time to visit:
May, June, and July are the months of pleasant sunny weather, while in May one can save money (low hotel prices) as the peak season begins later, June is perfect for beach-bumming and swimming since the chances of rainfall are quite low.
The island is also relatively quiet at this time, resulting in cheaper accommodation, flight, restaurant, and attraction prices. The temperature in May ranges from 17°C to 23°C and in June from 21°C to 24°C.
Things to do:
1. Watch the dazzling sunset from Oia or from the port of Amoudi Bay while dining. They say Santorini has the best sunsets in the world!
2. Discover the quaint cafes and the little shops along with the blue and white architecture, with a hike from Fira to Oia, which is approximately 9 km.
3. Take a wine tour and try wine tasting. Wineries are all over the island as the wine in Santorini has a unique flavourful twist due to the volcanic sediments present in the soil.
4. Stroll through ancient Thira, which is an archaeological site, home to ruins from the Hellenistic, Greek empire built by Alexander the Great with a mind-blowing view of the Aegean Sea.
Celebrated for its ravishing sea-side accommodations, pristine turquoise coloured beaches, coral reefs, lush hills, and palm trees Seychelles is not called the 'The Traveller's Eden' for nothing.
Best time to visit:
May is the perfect time of year to relax on the stunning beaches as you soak up the beautiful sunshine. In May, the average temperature on the largest island in Seychelles, Mahe, is 28°C with highs of 31°C in the peak of the day, and in June in ranges from 27°C to 29°C. After dark, temperatures dip to an average low of 25°C.
A visit during this time is ideal for sunbathing, wildlife watching and scuba diving. Plus, you'll also avoid the heavy tourist crowds that descend on the islands in December, January, July, and August. With high UV levels, make sure you pack plenty of sun cream for your visit to Seychelles in June.
Seychelles visa for Indians can be obtained on arrival for free for a maximum stay of 30 days.
Things to do:
1. Cycle around the unadulterated island of La Digue.
2. Beach-bumming at Anse Lazio, Anse Georgette, Anse Source D'Argent or Anse Coco in La Dingue and Beau Vallon beaches that are to die for!
3. A boat trip over to Curieuse Island to spot the giant tortoises.
4. Visit Vallée De Mai, a UNESCO heritage site, to see the world-famous Coco de Mer Palm (world's heaviest seed).
Is your phone full of pictures taken on your last trip? Post them here to earn Tripoto credits, which you can redeem for free holiday packages and travel vouchers.
Frequent Searches Leading To This Page:-
3 Days Istanbul Tour Package, 4 Nights 5 Days Turkey Package, Turkey Tour Packages From Bangalore, Istanbul Tour Package From Mumbai, Cost Of Trip To Turkey From India, Turkey Honeymoon Packages From Delhi, 10 Days Turkey Tour Packages, 3 Day Cappadocia Tour From Istanbul, Turkey Holiday Packages From Mumbai, 6 Day Turkey Tour, tourist attractions in siem reap cambodia