I first visited Goa when I was in my college, It was for my Industrial visit *Audience applause erupts*. I know it is a dream come true for people to go on a college tour to a place like Goa. So, Yes, during college and a group of 65-70 mechanical engineering guys going on an industrial visit for 5 days (So called Industrial visit where our HOD got permission from the central government to visit the dock which did not happen because we partied late night, had a heavy booze and slept off the whole of next morning) to a place like Goa is always fun! It was college and yes I wasn't a person who was much into travelling those days. But, I surely enjoyed Goa though. Four years down the lane, you start working in an IT company and the only productive work you do is plan and travel a little during the weekends and do big trips during the long weekends. Suddenly, when you start following a lot of travel enthusiasts in the several online platforms present, you see a lot of people with 'Wander_lust' , 'Wander_freak' , 'travel_<3' etc etc as their second names or bio in Facebook and Instagram, and most of these people have one common thing posted at least once ," GOA IS SO OVER RATED!". I see this and suddenly start to think that maybe they were right, Maybe Goa is over rated, Maybe only the immature college kid in me liked Goa and all these travel enthusiasts must be right about Goa and it must be over rated. Recently, I got a chance to travel to Goa once again and reality slapped me hard right on my face! Goa was as fun as the first time I visited it, it was still and will always remain beautiful. So, Here I came up with my 10 points why you should punch on the faces of the people who call Goa 'OVER-RATED'!
1. It is not just about Baga and Calungutte!
BAGA and CALUNGUTTE are fun, Agreed! But, the trip doesn't end there, It starts there! There are a lot of other pristine north Goa beaches starting from there which can give you a run for your money!
2. On the rocks!
Goa is fun for most people because of Booze. On the other hand , Goa is beautiful to the others who just like to sit on the rocks with waves kissing their feet, in peace just staring at the waves and the sunset. So, Goa is a 'win-win' situation for both kind of 'on the rocks' people!
3.Less Bull Shit!
Goa, surprisingly is blessed with people who are always chilled out. For instance, what happened with us was, we went for dinner somewhere in Candolim. The restaurant was posh, there was great live music, the interiors were great, the ambiance was super chilled, the foreigners seemed to enjoy every single thing inside the place, suddenly a stray dog enters into the restaurant and sits down near one end of a table. The mood remains the same, the whole crowd seems to be chilled out, no one creates any fuss! I just couldn't imagine the fuss which would have been created if it was some other part of the country. Chilled out people resulting to an even more chilled out vibe is a definite yes for me!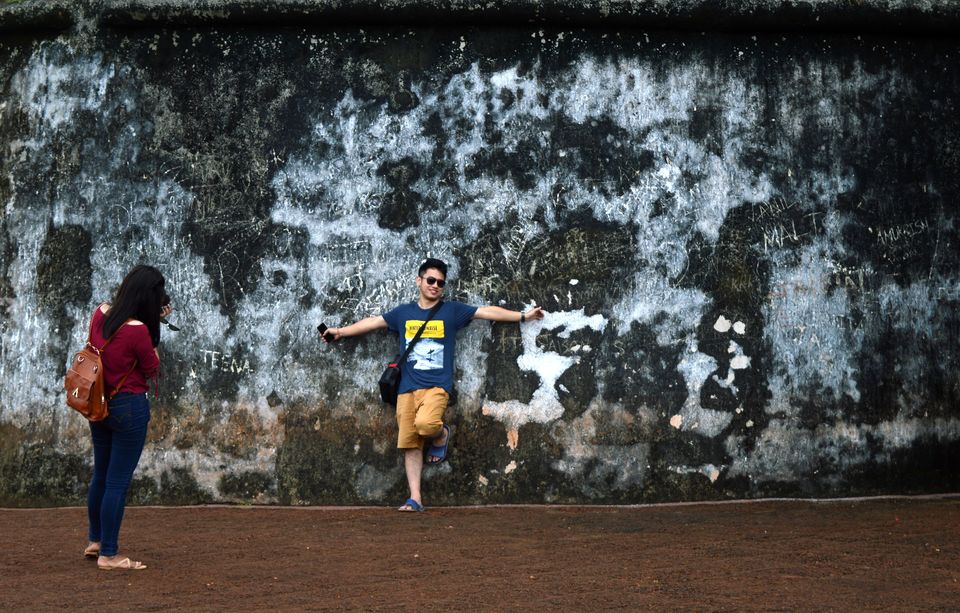 4. Food.
The best thing about Goa is the food! Not just the taste, but the variety! You can get thara-local ( Tamizh term for the most local) food to a full course western meal. Goan food is awesome, but still you get almost anything you want to eat in Goa. There is so much variety, that you get confused for options at one point of time! Let it be a Uduppi hotel masal dosa for breakfast, a full sized jumbo thali for lunch or a posh Italian dinner with a dessert! It has everything to offer. In short, Goa is a burst of flavors in your mouth for the foodie inside you!
5.The Backwaters meeting the sea!
I bet, there are very few places in the country which has this beauty of the backwaters! Especially, the place where Backwaters meet the sea and a single coconut tree keeps getting captured in every image of your camera is just stunningly coincidental to the scenery which we used to draw as kids during our childhood in our school's drawing period!
6. The Night Life
The night life in Goa is something which is very unique. It makes me feel that Goa never sleeps, it is more of a very energetic place. You can always see vehicles buzzing around , there is crowd in almost all the shacks ,there are people partying till the early morning next day. and a la contraire, there are places where you can hear only the waves and see only the moon light. So, night life is also a win-win for both the kind of people! It is just about which one you chose to be, a party animal or a solitude lover. Goa has it all!
7.The Roads!
We stayed in North Goa, somewhere near Calungutte! We chose Calungutte because we found it in center of all the beaches which we planned to visit, and it worked as we planned! We rented bikes and were able to reach places wherever we wanted to go thanks to the bikes. Most Roads in Goa are usually roads parallel to the sea, you keep discovering many beaches and visit many more than what actually is in your list. This route to Palolem and Polem is a National Highway. This one is a beauty with a canopy of trees on both sides of a wide road which is hilly at places and has great curves. It is just a bliss to ride almost 100 km to reach different beaches with roads like these! So, if there is a road lover inside you, Goa will not disappoint you.
8.The Sunset, the view points and the forts!
The amazing sunset at the amazing beaches is more than what a travel enthusiast can ask for and Goa definitely has a lot of places from which you can see the sun set and get lost in your thoughts. You might sit in the sands of the beaches and stare at the orange ball trying to fall asleep or well stand in the forts and look at the sun setting in Dil Chahtha Hai style or go to view points and simultaneously look at different beaches from a single place! Be it the shore, the fort or the view point, everything is just a brilliant view of what you want to quench your scenic thirst!
9. Football
This one is for all the sports lovers, especially Football lovers. Every beach you go, you will find people playing football. They know the game and they love it from their heart. They are passionate about it and it is seen the way they play it. We (I did not play though) being Tamilians went and joined a group of Goans playing football, They did not understand what we talked, we did not understand what they talked. There, football united us! And we visited Goa during BRICS 2016, So we were fortunate enough to watch an international U-17 match live in the stadium. You also see a lot of FC Goa jerseys, Banners and flags almost everywhere around. They likes their team and the passion for the game is amazing! Not only that, you find a lots of football grounds where tournaments are held attracting a lot of crowd! For a football lover, you will love this place.
10. Beaches.
Last but not the least, The Beaches. It always makes me wonder if Goa is a synonym for the word 'Beach' in any language. You can find almost every one from children to old aged people, everyone loving the beach. It is always buzzing and a lot of beaches in Goa are clean, It is just that most people want to visit only the famous beaches and not give a try of the less heard beaches, but those are the ones which will truly surprise you! To the waves, to the sand castles, to the water sports, to amazing beach shacks with amazing food, to Sea shells and Crabs, to the coral reefs on the rocks to every other amazing thing, Goa will not disappoint you if you plan your trip properly!
So, This was my experience on my second visit to this amazing chilled out yet beautiful tourist attraction of our country. I hope this misconception of not only calling Goa over-rated, but also any other place is minimized and every place is given its own value. I also urge my fellow travel enthusiasts to make a basic plan of everywhere they travel so that they avoid the crowd and anything else that really bothers them and just enjoy the place with whole of their heart.
Sorry for the bad videos, Facebook limits it with a very poor quality. And, All the photos and videos posted here are by me or my friends taken during our trip, So no credits given.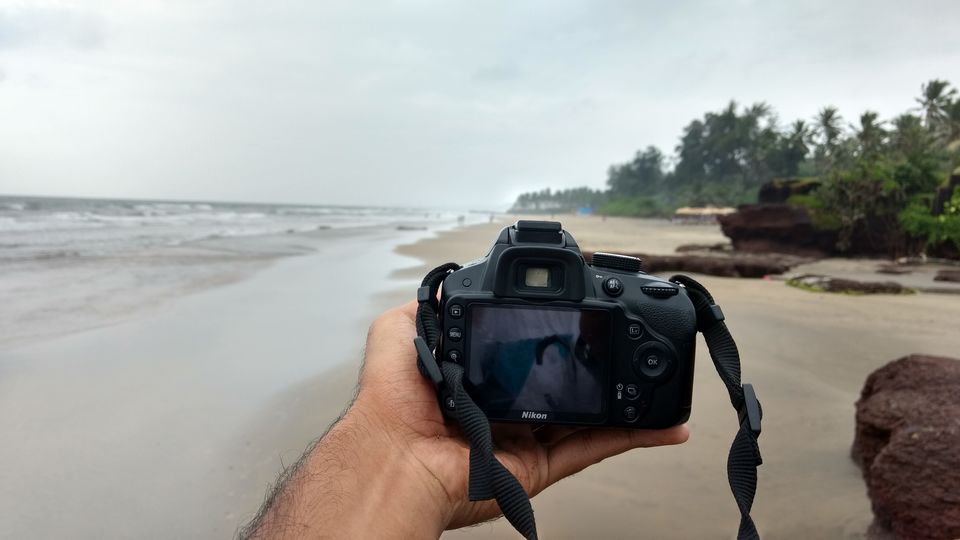 From the writer's archive,
Paras I Mohamed.