My Spiti trip was quite a surreal experience. But somewhere deep down, I was having that disappointment of not being able to trek :) Even a small 1-2 day trek would help in satisfying my urge! So I began searching for treks near Bangalore which could be done over a weekend. Kudremukh, Kodachari, Tadianamol were some of the treks that popped up. But my eyes were set on Kumara Parvata. Supposed to be a difficult trek, it is one of the most famous treks in Karnataka. With a total distance of ~28 kms, I knew I had to do this to test my limits. Finally, I decided to go ahead and started looking for some group which was doing it in the first weekend of November. Since it was an extended weekend, I hoped that many would have gone home for Diwali celebrations thus reducing the crowd :) I had heard about a group called Plan the Unplanned which organizes such treks and trips from one of my colleagues. The reviews from fellow trekkers was quite positive and hence I decided to go ahead and book with them. So that's how it began!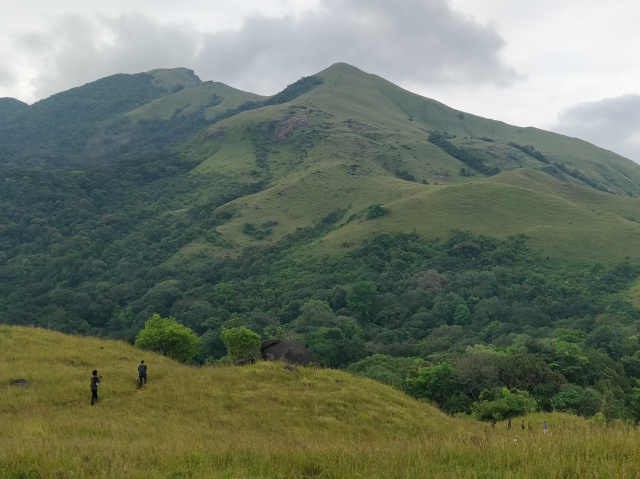 Kumara Parvata or Pushpagiri is the 4th highest peak of Karnataka. It has two trekking routes. The first one, 28 kms long starts from the famous Kukke Subramanya temple. The second one, 14 kms, starts from Somwarpet. We were going to take the first one. We started from Bangalore on 2nd night for Subramanya. It was going to be ~8 hrs. We were a group of 11 people, including Girish and Mautushi, the leads. The initial ice breaking sessions were quite fun wherein we had to append some food item starting with the same letter as our first name. So Girish became Gobi Manchurian Girish and I became Vada Pav Vishal :) All of us gave our introductions and within a short span of time, it felt like we knew each other since ages! My neighbour was Parag who was coming with PTU for second time. After taking a short tea break on the outskirts of Bangalore, all of us dozed off. I generally don't sleep properly while travelling during the night in cars or buses. So it was an on/off kind of sleep for me. Sleep for 2 hours, wake for 1 and repeat :)
We reached early morning around 4.30 and quickly freshened up at a lodge by 5.30. Girish had mentioned that it will be good to have Masala Dosa for breakfast as it will have a good amount of carbohydrates and will help in giving the initial boost for trekking. We went to Mysore Cafe restaurant for breakfast. But alas there was no Masala Dosa :) Since it was too early in the day, they had not prepared the stuffing yet! So we just had whatever was ready and got ourselves some packed lunch. Outside the restaurant, we caught a glimpse of the mountain overlooking the Kukke Subramanya temple.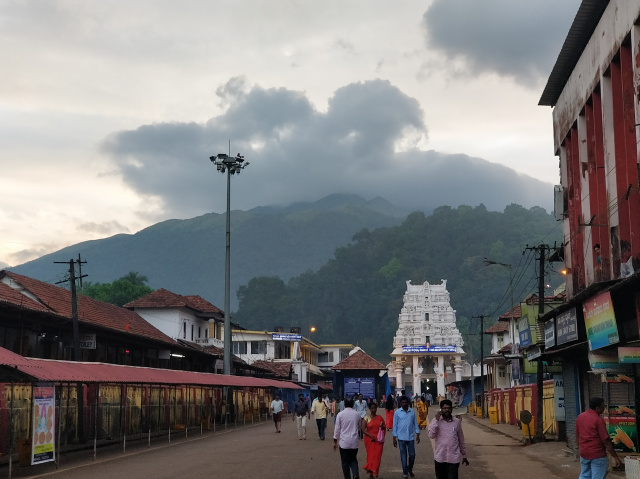 We proceeded to the starting point of the trek in our TT which was around 1 km from here. The leads gave us a small pep talk about the trek and the route to be followed. Each one of us got a sleeping bag to carry. Some of us carried the tents. So I carried a tent, my backpack and a sleeping bag. It would easily be 10 kgs! I liked it since it was going to be a good practice for my upcoming Himalayan treks :) Once everyone was locked and loaded, the march began!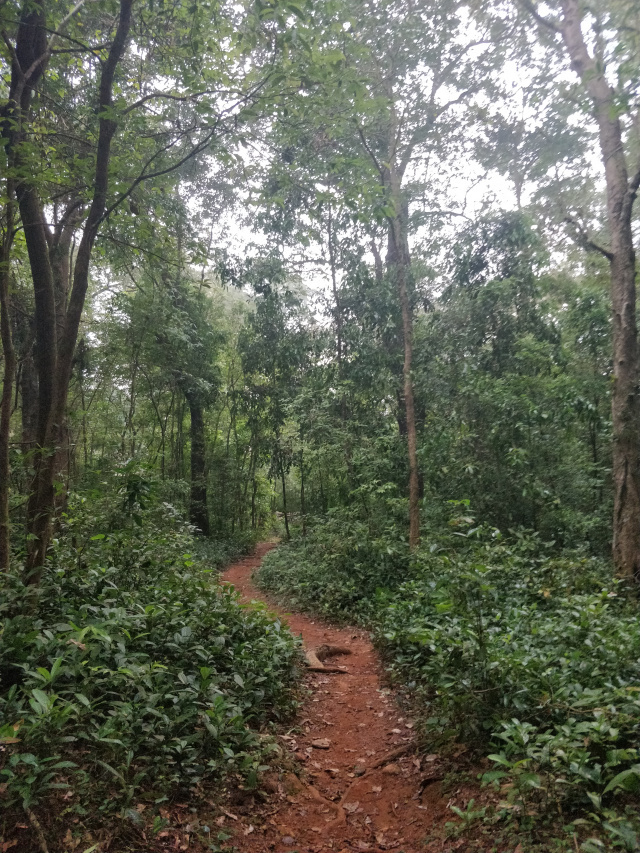 The first thing that struck me while trekking was the lack of wind! Since we were trekking through dense forest, there was not much wind blowing. And to add to that, the weather was also very humid. As a result, all of us were sweating excessively. I was hoping that I don't finish my water bottles before reaching the first pit stop :) But the experience trekking through this route was amazing. With the occasional chirping of the birds, we trekked almost non-stop for 30 mins. We took a small break for everyone to regroup and recharge. The path was full of ascent till here. Girish mentioned that it will be the same for an hour more. I was desperately hoping to get to a flat land and catch some fresh air! We resumed our trek and this time I was in the front. I walked almost non-stop for almost an hour and I didn't even realize when my team members got left behind! I was confused whether to wait for them or proceed further. Since I was halfway through, I decided to move. There were other trekkers also on the route. Some were ascending and some descending. I followed them hoping that I don't get lost :) Around 8.30, the trees gave way to a small flat piece of land and I could see the mountains in the distance. The touch of the wind brushing past your face full of sweat is a feeling that can't be described. I took a small break and sat down to soak in the experience.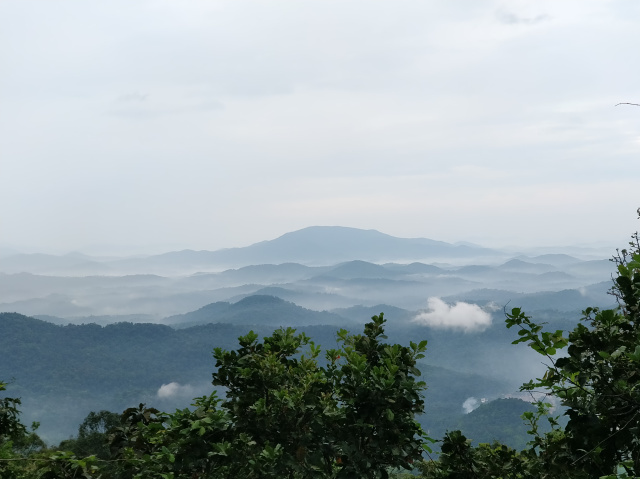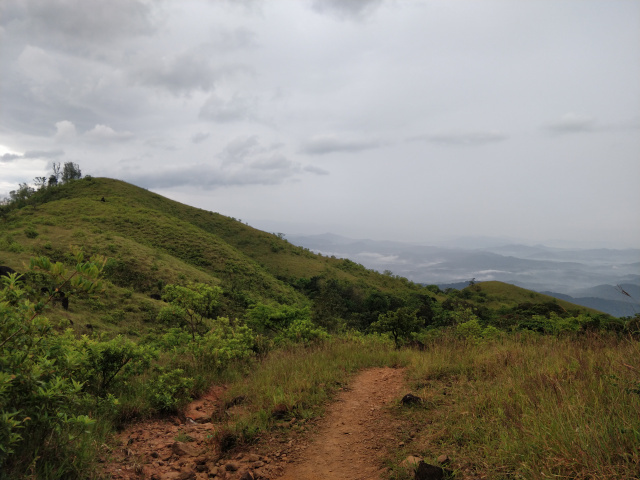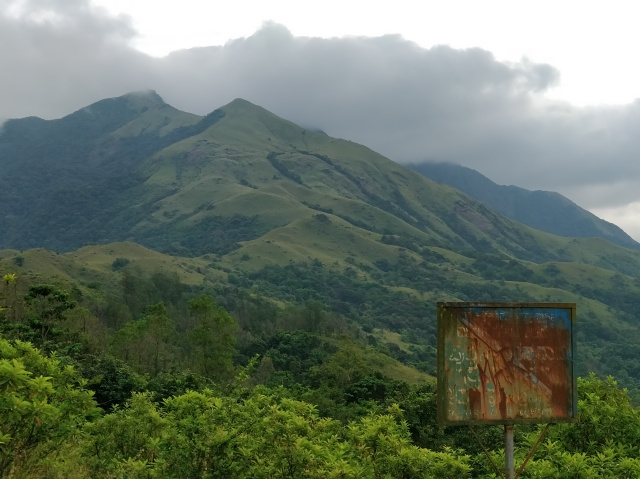 After walking for 30 more minutes, I came across this house. I was not sure if this was our first pit-stop. So I called Girish and asked about the place. Indeed it was :) This was the Bhattarmane house. I waited here for my teammates for 30 mins. Meanwhile, I recharged myself with energy bars, Snickers and most importantly water :)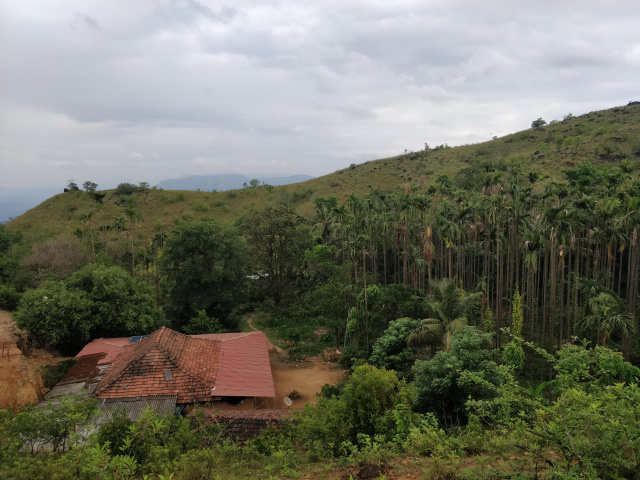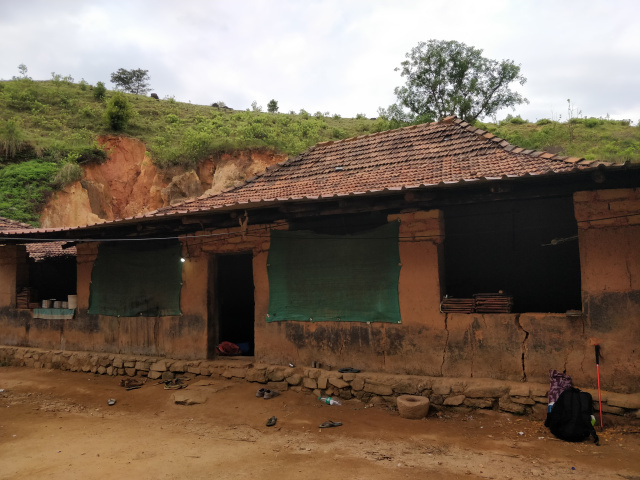 Soon Soumi joined me and told that others were a little behind getting their pictures clicked at a view-point. Since the forest check post was a little ahead, we went to the view point and joined the rest of the gang. We reached around 10.30 and quickly chose a spot to pitch our tents.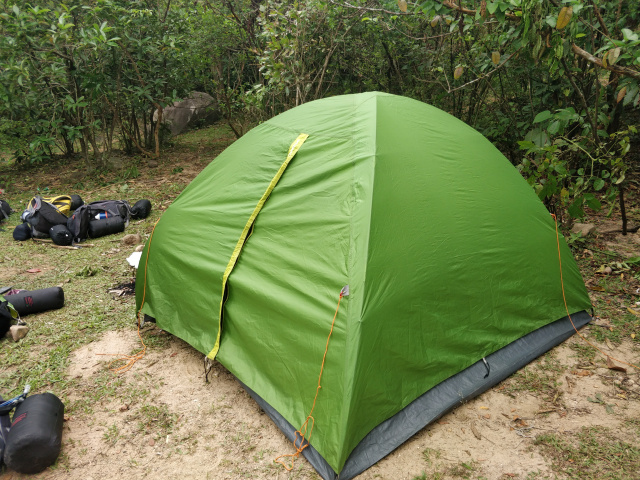 We completed the formalities at the forest check post. It took some time since there were lot of trekkers. Also, they counted all the plastic in our bags and took a refundable deposit. Since we were going to come back to our tents for the night, we decided not to carry much load ahead. Just some eatables, water bottles (you can refill here), torch etc. I didn't have a small pack so I carried my main bag but after removing the unnecessary stuff. We left our items in the forest check post room and proceeded for the top with renewed josh! The journey till here was ~7 kms. 1/3rd of the trek for today was done. Another 2/3rd to go :)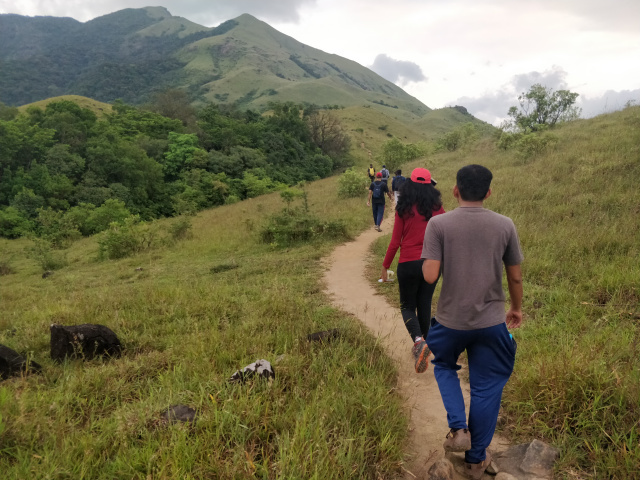 The route was so pretty! It felt as if I am in some dream. Lush green valleys with a small trail in the middle. This is what I was craving for :) We reached a small view-point which had wooden benches. We had our lunch here. I took out my binoculars and looked at the mountain infront of me. I was amazed by the sight! It literally felt like it was infront of my eyes. I could even see the trekkers clearly, marching up the route which otherwise looked like some tiny creatures to the naked eye. The clarity and the optical zoom was amazing.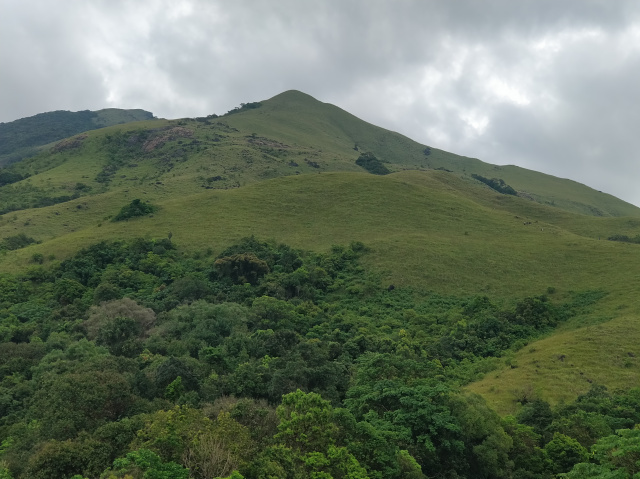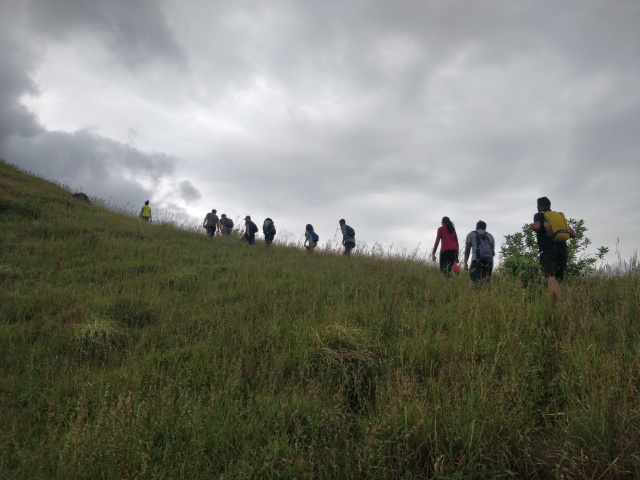 After sometime, we reached this small structure made of stones with Karnataka flag on top. It's known as Kallumantapa. Lot of trekkers were resting here. We also sat for a while. There was a water stream just before this place and we filled our bottles there. Looking down at the route, I could see how far we had come. I could even see the view-point where we had lunch through my binoculars!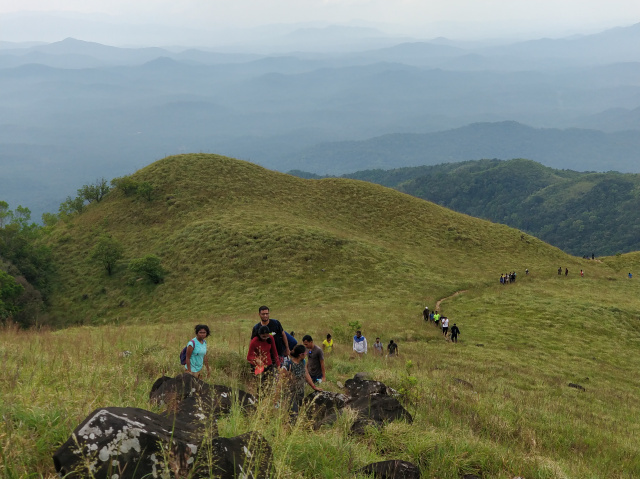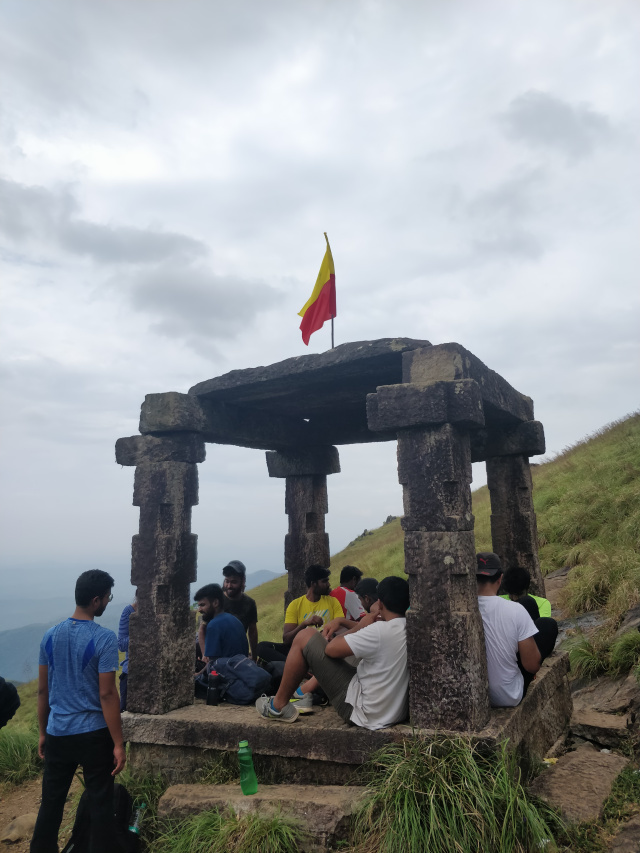 We could see dark and ominous clouds in the distance. I was hoping that it doesn't rain. But soon it started drizzling. Though it was manageable for now, you never know! Like they say - "The mountain makes it own weather". Eager to reach the top, we trekked taking very short breaks. I could see the peak in my sight. But this was not Kumara Parvata. This is called Shesha Parvata or also called as the False Peak. Perhaps it owes its name to the fact that it hides Kumara Parvata behind it.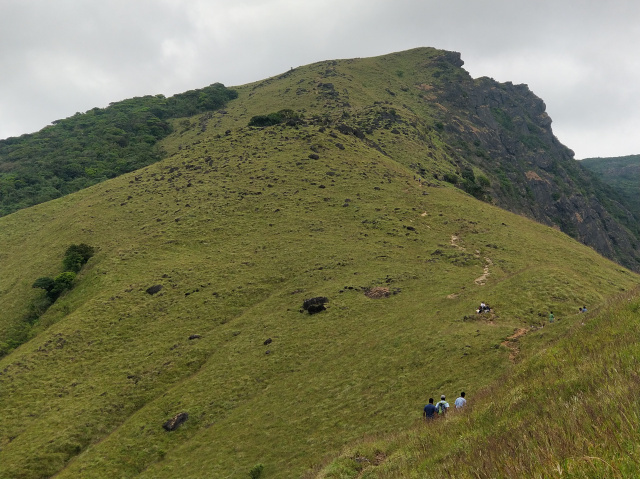 After crossing this, we rested for a while. KP was not far from here. Just half an hour more :) We met trekkers who were coming back from the top and boosted our morale. The views from here were beyond amazing! I could see thousands of tree tops in the distance with a small green patch in the middle. It was simply stunning.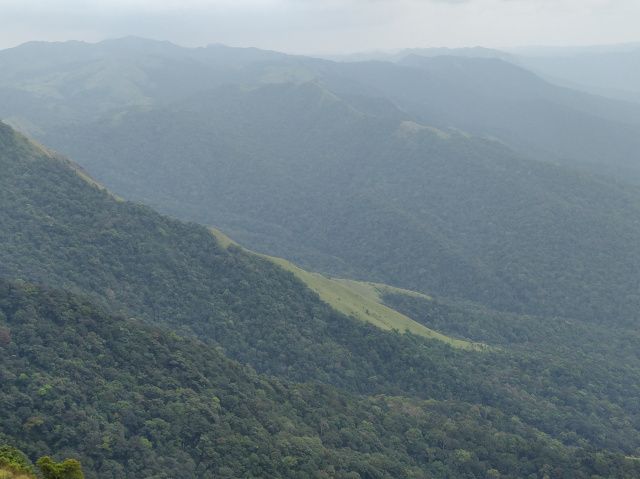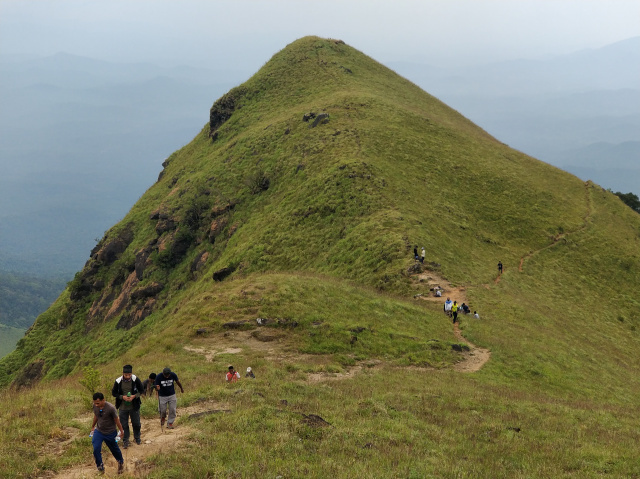 Descending down from Shesha Parvata, we proceeded to the small forest area. It was filled with lot of boulders, big and small. Each step was like an assault on our knees. I was hoping they don't give away when I was this close to the top!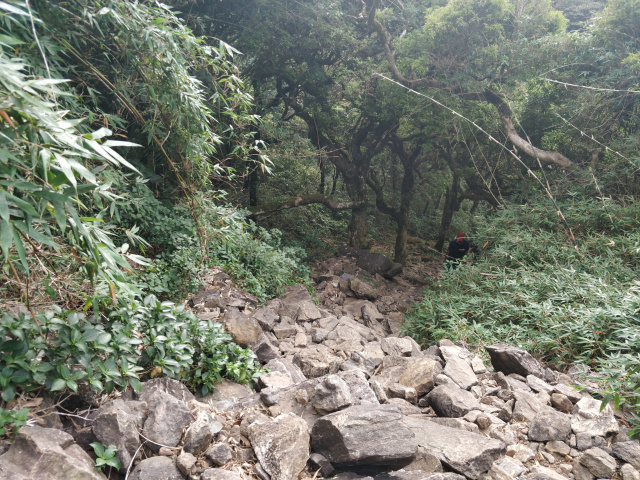 Once this was conquered, we encountered this huge rock face almost vertical. I tried climbing it but in vain. With the bag it was very difficult. So we decided to take the shortcut from the side. When I reached at the top, I saw Mautushi climbing up so easily like a Spiderwoman! Hats off to her!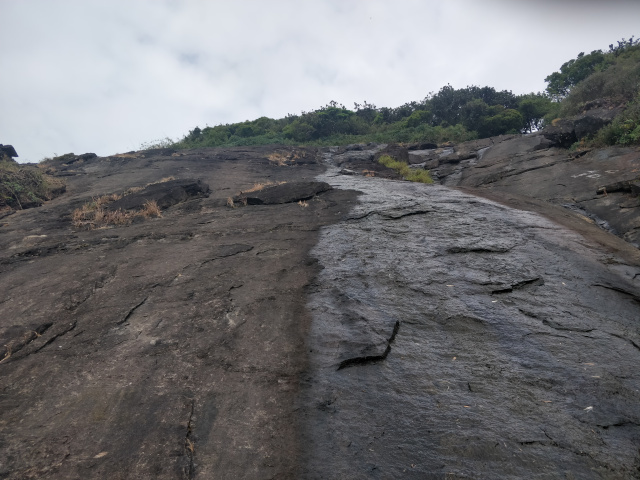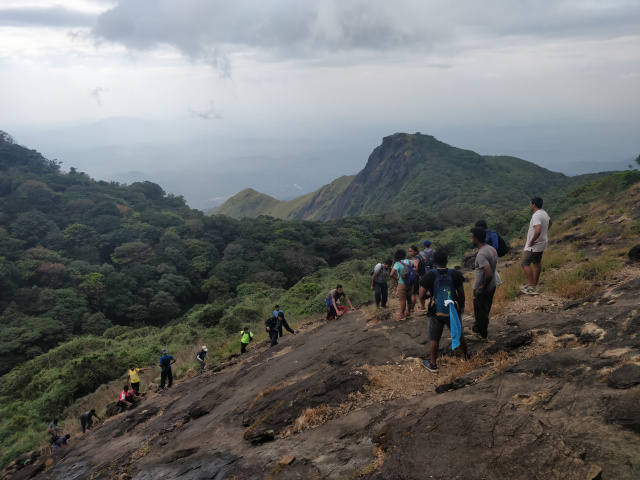 This was it! I could see the top in my sight. The final few steps :)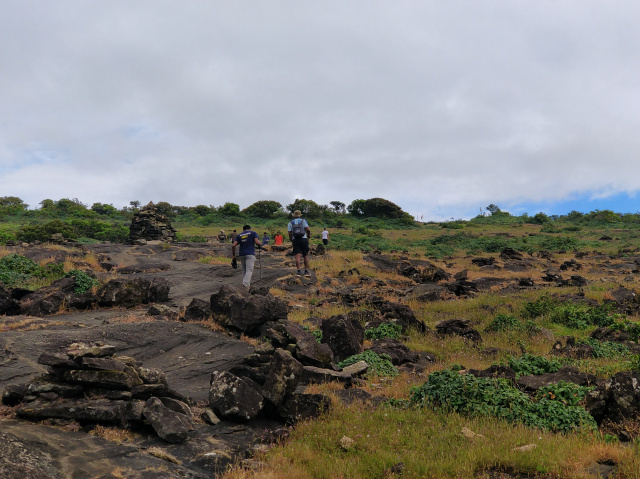 We reached the top around 3.30 PM. Finally, we were at the top of Kumara Parvata! We clicked our pictures and took sometime to rest. Indeed it was an exhausting climb.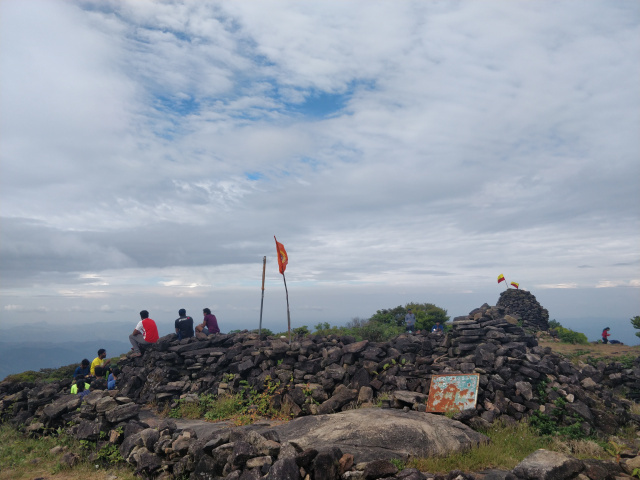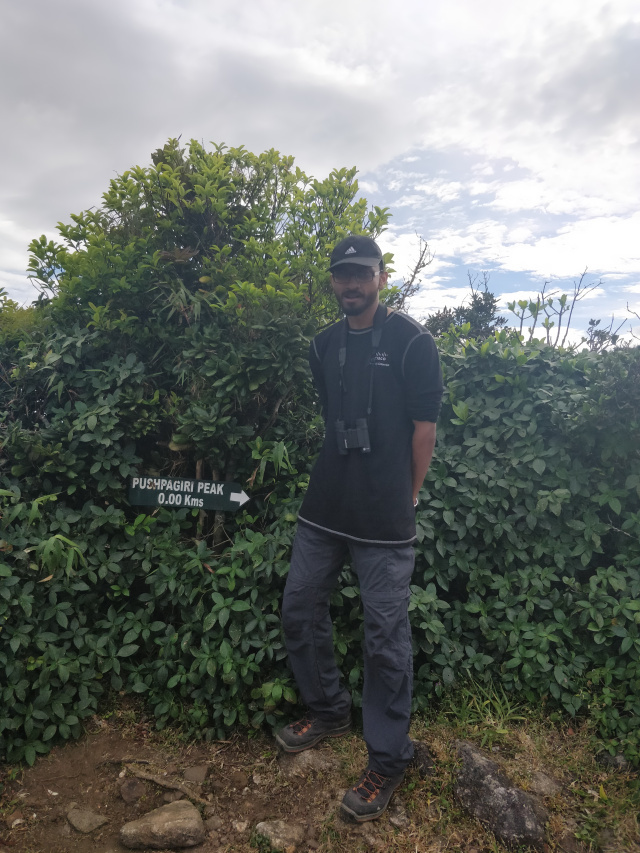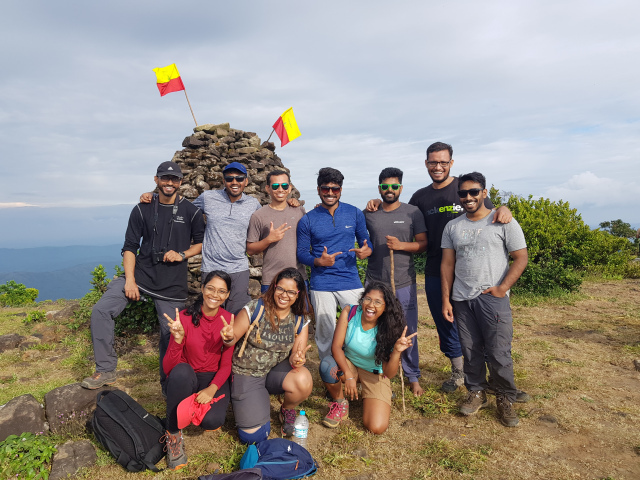 But I was not going to stay idle for long :) I took out my mini tripod and began making some timelapses. The results were quite good!
It was soon time to leave. We had to start our descent by 4 PM so that we could reach the forest check post back on time. After bidding goodbye to this view and doing a small victory dance, we started our descent with our war cry of 'Wakanda Forever' :) Little did we know that these two words would be our savior for reaching the check post.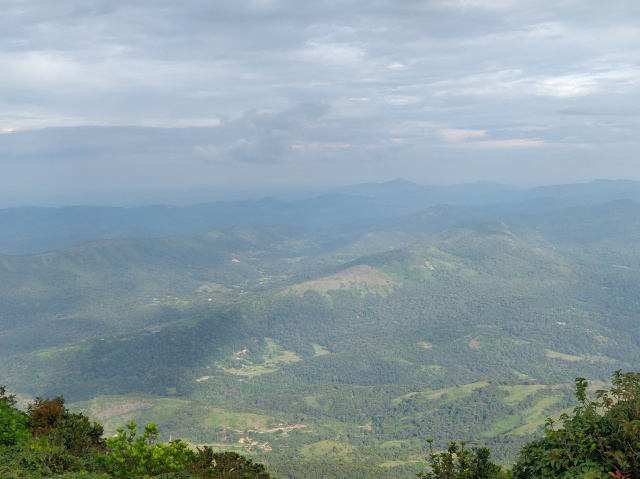 Initial part of the descent was not much eventful. We quickly crossed the forest and even descended Shesha Parvata without any hiccups. But soon it began to get misty. Clouds surrounded us and reduced the visibility. We switched on our torch lights and started to descend slowly.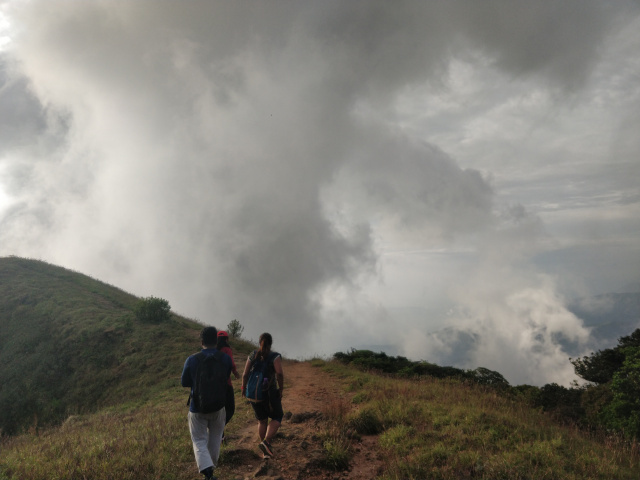 We reached Kallumantapa and couldn't find Girish here (He had to abort earlier owing to health issues and was going to wait for us here). We called him up and were relieved to find that he had gone back to the check post and was waiting for us there. Natural light was dying and we had to step up our pace. The thing with descents is that they are quick. But at the same time you need to be extra careful. One wrong step can cause a lot of trouble! So better to be safe than sorry. I was 4th or 5th from the front. Asha and Raghavendra were quite ahead. But I could still see their torch lights. But after sometime we lost track of them. So the 8 of us decided to stick together to avoid any problems.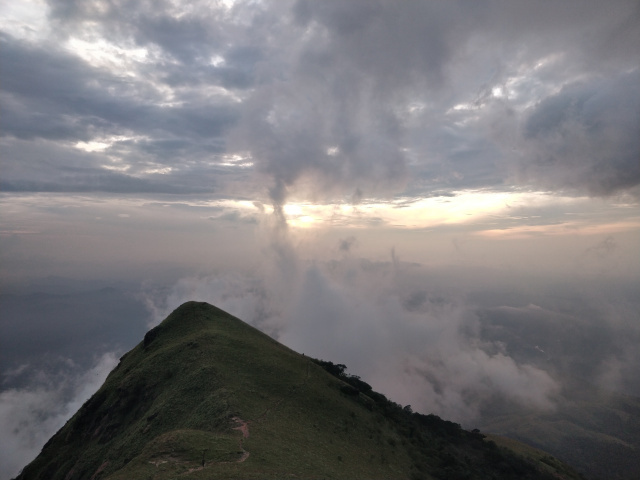 We kept on walking and walking hoping that the lunch view-point will come. But it never came. It was pitch dark and all we could see was our torch lights. After sometime, we saw a couple of lights in the distance. We were not sure if it was the check post or someone's torch-light. And it looked quite far as well! We felt like we were surely lost in the woods ! Soon we saw few trekkers coming from behind. They said that the path is correct and that we should keep moving. Trusting them, we resumed. Soon we saw two more lights. But this one was blinking. We were wondering who could it be. Someone suggested that it could be a distress signal and we should go in that direction. Since we were out of alternative options, we just went ahead. And then we heard two words.
Wakanda Forever!
Thank God! Everybody was relieved. We reached the view-point and saw Asha and Raghavendra waiting for us there. It was they who were blinking their torch lights signalling us to follow it :) This was the end of our mini-adventure. We reached the check post soon and crash landed into our tents. After settling down, we had to fill our stomachs. Since Bhattarmane is the only place here where you can get food, we went there. But we found a sea of trekkers already standing there waiting in a line! I literally felt like walking back. Surprisingly, everyone was waiting patiently for their turn. We also joined them. But soon the plates got over. So we had to wait for others to finish their food so that we could take their plates. The food was not lavish. Just basic rice, sambhar and butter milk. But trust me, after trekking for 21 kms, it feels like heaven. I literally licked my fingers! After walking back to our tents, me and Parag just dozed off. Since it was not cold, we didn't even use the sleeping bags. Instead they became our pillows :)
I woke up around 5 AM due to some commotion outside. I could hear the other group unpitching their tents and wrapping up. I didn't feel like leaving. Just wanted to remain here for some more time. So I went back into my tent and slept again :) I woke up again around 7 AM. Freshened up a bit and took a walk around the campsite. There were lot of trekkers who were attempting the top today. So that's why there was a lot of hullabaloo early in the morning! All of us were awake by 7.30 and started to unpitch our tents. I love this part! I wanted to make a timelapse video of this. But I was feeling too lazy to fetch my :) Soon our campsite was cleared. We ensured that whatever plastic we had we took it back and didn't leave anything behind.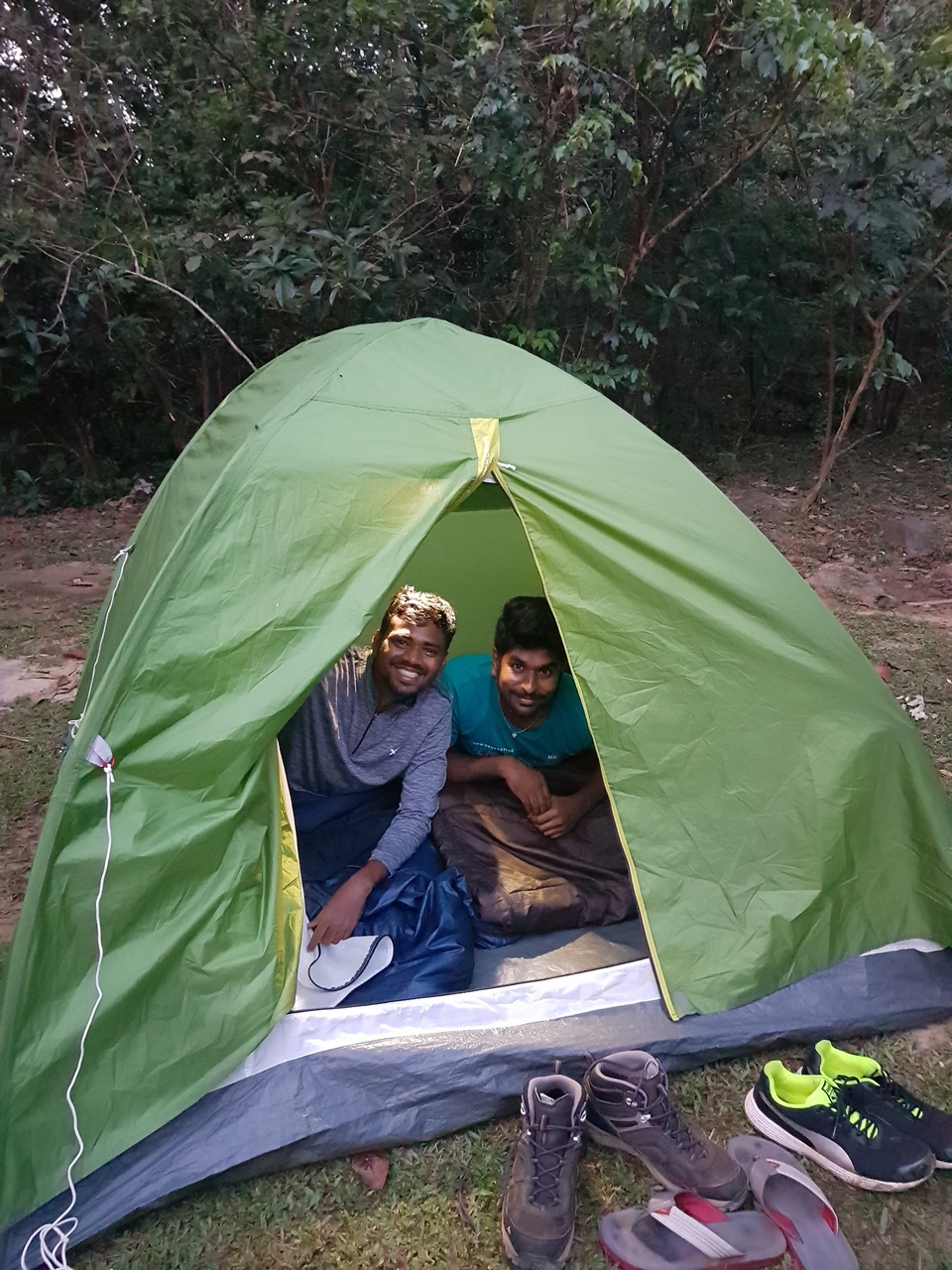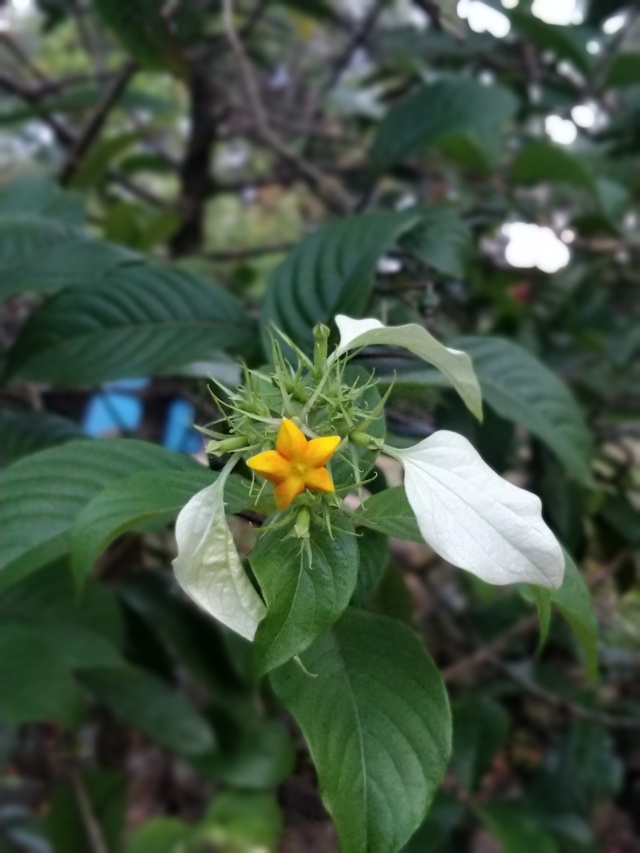 After loading our bags, we began our descent around 8 AM. We were back to the jungle and back was the sweat! Me, Mandar and Girish took the lead and were leading the troop. Since we didn't have breakfast, we wanted to reach early. The motivation for descending was Masala Dosa :) Since we were not able to have it at the start of the trek, having it after finishing the trek would have been apt.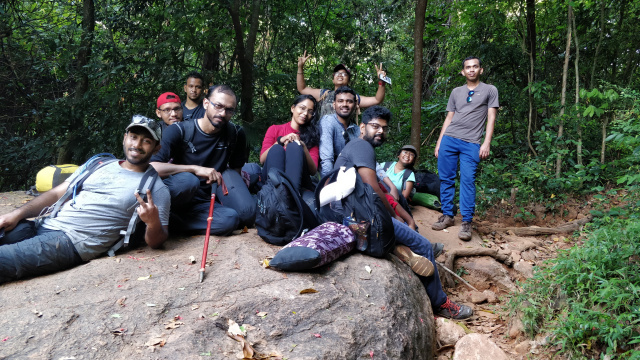 We reached at the base of the trek around 10 AM. There was a small stall selling fruits and kokum juice. I tried the juice and ended up having 2 glasses to quench my thirst. Don't forget to have it if you are here! Everyone started eating and we had to remind them that Masala Dosa was waiting for us! So we bundled quickly in the TT and started for Kukke temple. Since it was Sunday, there were many people who had come to visit the temple and the area was packed with vehicles. We got ourselves seats in one of the restaurants and attacked the dosa as soon as it came :)
After satisfying our stomachs, we started our journey back to Bengaluru. Enroute we had lunch in Hassan in one of the highway side restaurants. Post that, we played a lot of games like Mafia, Taboo, Reverse dumb charades during the journey back. It was a fun-filled ride back home. We had a small post trek session in the TT itself where PTU gave each one of us a small badge and a title. Carpe Diem for me :) Soon we were back to the hustle and bustle of the town. It was time to say goodbye to my trekmates. Promising to keep in touch and hoping to meet in future, I bid goodbye to my second solo travel family! I will surely cherish the memories that I collected on this trek.
Signing off, until the next trip/trek !