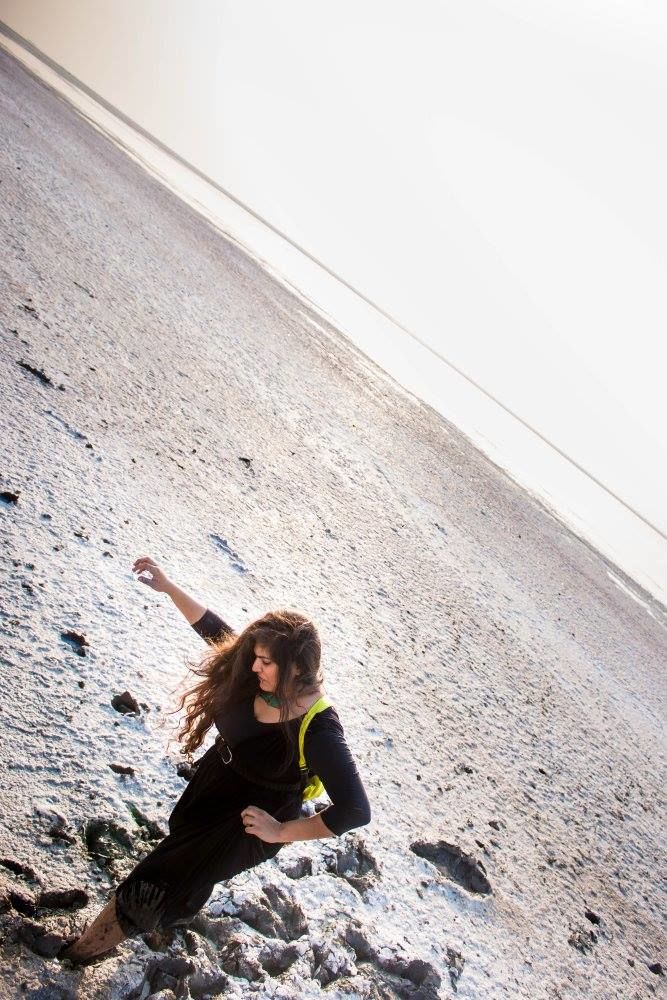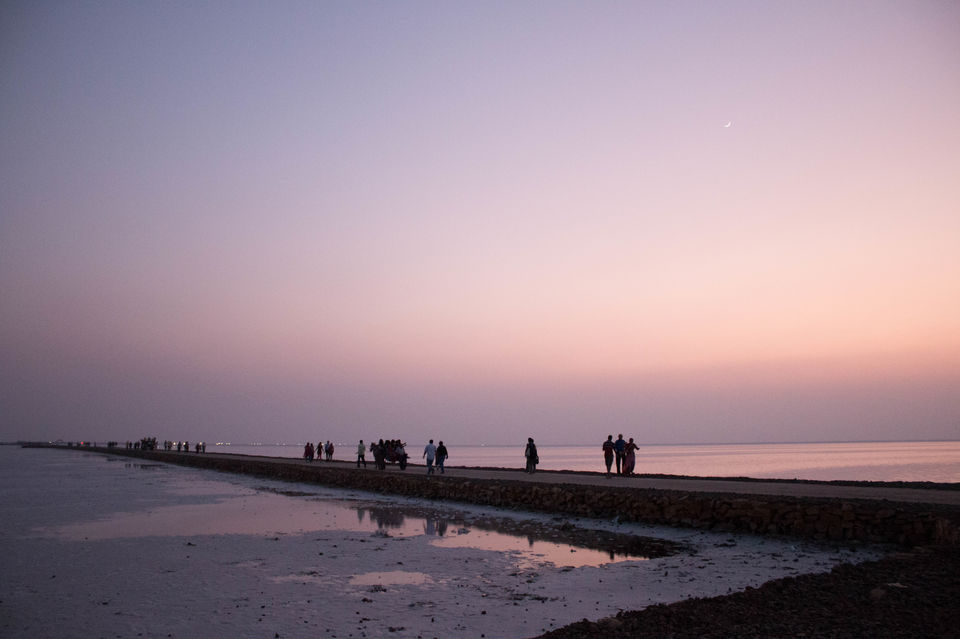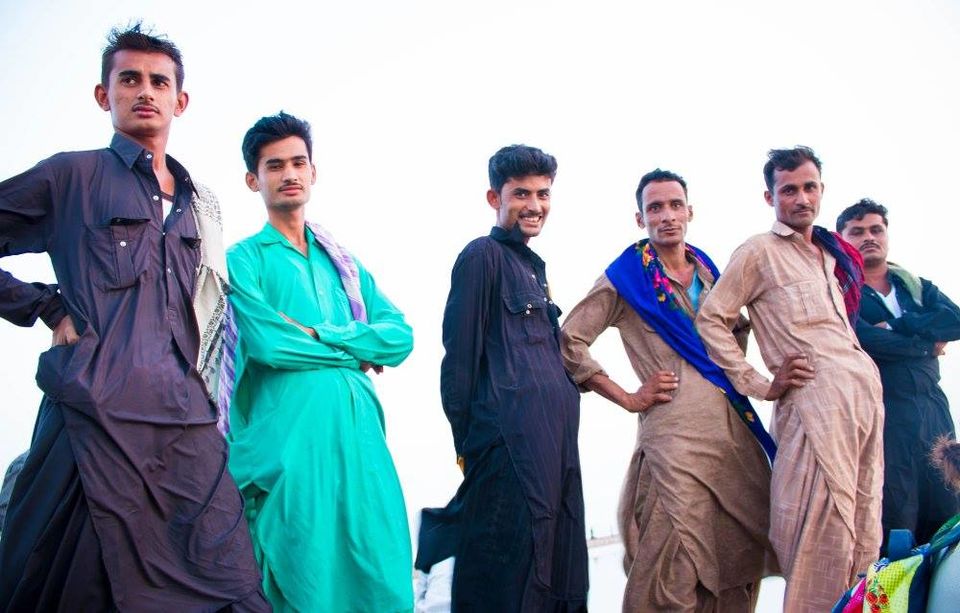 The Idea

To see the Rann of Kutch, in the Kutch region of Gujarat.
Just like happens in every group, everybody was excited on what all we'll do there, and how we'll go about it. But after 5 minutes they realised their problems – exams, work, salary problem, family problem, and the impracticality of the idea. Everybody thought that Delhi to Gujarat wasn't practical, and definitely not a weekend trip. In the end who remained was just I.
So if you really like a place, and traveling then come up with an idea and plan it in such a way that even if nobody else comes with you, you could still execute it.
The key is: believe in with your ideas, no matter what. And before that, get some ideas.
That's the thing with those who do their shit solo.
My photographer friend from Ahmedabad, Himani Malhotra identified this as a wonderful opportunity to cover the place in collaboration.
Some more friends from Ahmedabad, including my Russian friend Masha thought that it's a good idea to catch up in Kutch.
Getting Ready
My plan mostly is to have no plan. But generally, I thought that I'll be taking the route via Ajmer, as it will take me there 2 hours faster.
The other plan in my head, as I was having my supper was to have my breakfast in Gujarat the next morning.
I packed in a heavy dose of t-shirts and socks in my bag. Apart from my camp, sleeping bag and sleeping mat, I also had my laptop and a foot pump.
I looked at the sticker on the tank of my Thunderbird 500 – Made like a gun.
With my helmet, riding jacket and gloves in place, while snugging on a buff, I sure looked like a man on a mission.
I started off from Delhi at 7 in the evening, with no particular pit-stop in my head. The road until Jaipur would have been smooth, if not for some really nasty rumblers. Seriously, rumblers on a highway are a deliberate call to accidents. Anyhow, I usually get tired after spending just two hours on bike. But here I reached Jaipur in under 5 hours, and was still doing okay.
And in the dark when I couldn't spot this nasty rumbler, I got shaken up terribly. But I was doing alright.
After some 10 km from that place I started to feel something was wrong. I stopped and found indeed there was.
My camp and sleeping bag were securely tied on my back seat, but my big bag containing everything else wasn't anywhere to be found. My heart got stuck in my throat. It had my laptop, and some other important things. I felt like a fool here.
Hopelessly, I turned my bike around to go find my bag. I couldn't even be sure that I lost my bag at that rumbler, but I could only hope.
Just then an overspeeding applied sudden brakes as it crossed me and stopped screeching-ly. The co-driver jumped off, came running to me and said "bhaiya aap Ka bag!"
I was correct. My bag fell off at the rumbler 10 km ago, and this heroic guy went out of his way, all the way to chase me down.
He also told that he thought he would never find me.
I was totally humbled by his gesture, and didn't know how to react to this.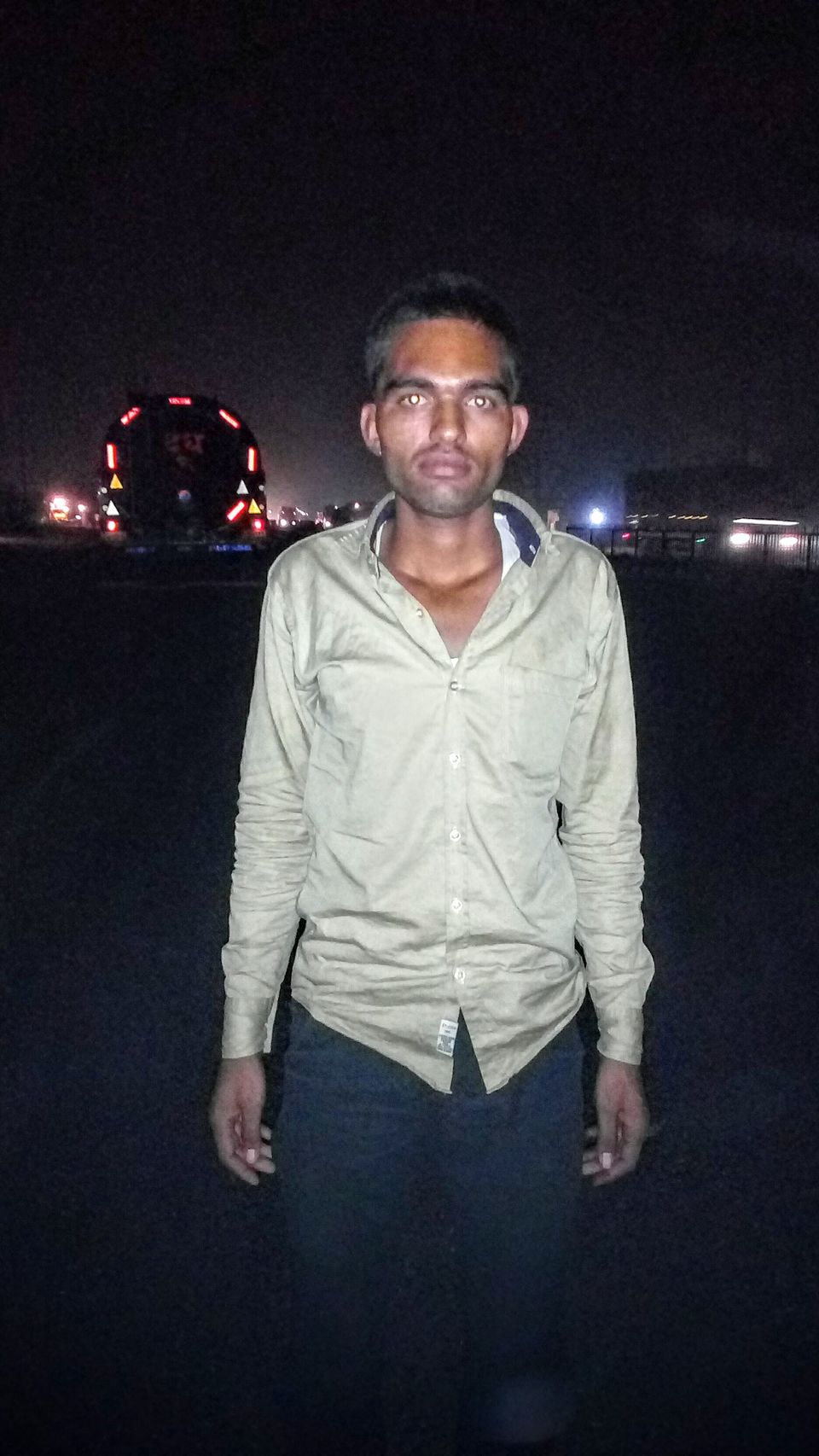 I wanted to thank him more than just verbally. I thought offering money wouldn't be appropriate. So I requested him to have tea with me at least. We went to a dhaba at about a km from there, and talked for a while.
After that I again told him a big thank you, and then we left.
I entered Jaipur, and then I seemed to have lost my way. I wasted some 40 minutes inside of Jaipur trying to find my way. But it is noteworthy that Jaipur now looks like quite that jazz place with the metro links adding to its charm.
I stopped at a chai shop to ask for directions and to hydrate myself.
On spotting me, two inquisitive youths approached me with a smile and we hit a little conversation. Turned out that they were avid riders too, and so we exchanged some destination stories.
They inquired me of where I was going to take a halt. I didn't want to appear like a hero by admitting that a halt is not in the scene, so I just blurted out the closest milestone in my head – 'Mount Abu'.
'Woah!', their jaws dropped. Apparently it was too far too.
They then put forth their opinion that Mt. Abu is a touristy place, and that I should probably see around Chittorgarh.
'Umm yeah, probably', I started rerouting the map in my head.
We bid each other farewell as I left with a fresh thought.
Jaipur and Chittorgarh were 'only' a 300 km from each other. It was a smooth ride. I kept singing exciting songs all the way, which kept me charged up. Yes, it works for real. Within no time I was in Chittorgarh.
But yeah, soon I realised that there was nothing much to see in that place. Just the fort, which was of course closed at 3 a.m.
I would return some day soon to see the Tower of Victory and the Tower of Fame in the Chittorgarh Fort. Apart from that Chittorgarh is primarily an army area, and aren't we aware that cantt areas are always such beauts?
And soon enough I was in Udaipur too. It is another dreamy little town.
Abode to both, mountains and lakes, this place is a treat to everyone's eyes alike.
For the home to a number of royal families this city of lakes is, it provides for the sight of Audi Central here from between the trucks which comes as a refreshing surprise.
I reached Udaipur by 5 in the morning. It was still dark. I sat myself by a lake and revelend on a joint, as the darkness of the night started to subside.
See sunrise in Udaipur, by a lake side (while smoking on a joint) – Check! :D
As I took out my phone, I saw messages from Masha asking me if I could pick her up from Ahmedabad as her friends wouldn't be coming anymore, and she couldn't find the bus to Bhuj.
I then picked myself up, and managed to leave no trace of me in Udaipur by 5:40.
The ride to Ahmedabad from here did not feel like a task anymore. Today I can stand and swear by this road.
This entire 260 km strip from Udaipur to Ahmedabad makes up for one of the most gorgeous rides in India.
Mountains on the way, hairpin bends, straight long roads, scenic views, disciplined driving, cleanliness – it had everything.
Though there were also too many toll plazas on the way for anybody's liking. But thankfully, all of them were free for two wheelers, yay!
I would go for a spin on this road anyday, anytime.
But by now I was on the road for over 12 hours, and sleep started to take the toll on me. But I backed myself to keep going for 2 more hours, until I reached Ahmedabad.
I started singing loudly again, which got the attention of some fellow bikers. And we started riding and singing together.
Finally after 14 hours of continuous riding I reached Ahmedabad. 
I was welcomed warmly by the friendly strangers of this city. At least 6-8 different people overtook me on their bikes and autos, showing me a 'thumbs up' and shouting with a big smile – "welcome to Uhmdavaad (Ahmedabad) ney!"
There were red lights at every 100 meters, stopping on which is risking your life. I was the only one to be stopping at the lights, while other vehicles zipped past me. I still stayed put sincerely until a traffic policeman came and indicated to me to get going, with the expression thinking as if I must be crazy.
I met my friend Masha in Vastrapur near the lake. After spending about 2 hours catching up, eating, charging my phone and refueling, we left for the Rann of Kutch.
I happened to exit Ahmedabad from an alternate end of the city that took me over an hour longer. It definitely wasn't a comforting decision for me, riding already over 15 hours.
One sad thing I saw across all Gujarat highways was dead dogs on the roads.From Udaipur to Ahmedabad to Bhuj, I saw about 40 dead dogs in the middle of the road in 700 Km.
First three times I got off my bike and pulled them to the roadside with a heavy heart, but after that I would just move on. But please you guys, drive/ride carefully, and at a controlled speed. And even if you see a dead animal on the road, please make sure to pull him to the side of the road, or a biker could easily trip over it.
After 6 hours of a very fatiguing ride, we finally reached Bhuj.
Masha did a very good job keeping me from dozing off while riding the bike. Without her it would have taken much longer for me to complete the journey.
After reaching Bhuj, it only took very little effort to find the way, but too much time to find the correct person who could tell us the right way. Looked like the people who lived the closest to the Rann of Kutch haven't even heard of it themselves.
Look for the old Bhuj Railway Station, and ask around to take the next turn for the White Desert of Rann  of Kutch.
There'll be signposts welcoming you to the Rann. It's a beautiful 70 km passage here which will take you to Dhordho White Desert.
But it was late at night by the time I reached the entrance to the white desert. The BSF guards asked of us to come in the morning.
So morning it was.
The Great Rann Of Kutch
Or not.
Something is as big or small as you make it. It's all about what you expect, and what you get in the end.
Nobody was able to provide me with first hand concrete information on what I will find there, and how to go about it. So I felt free to expect a never ending playground, straight out from my motorbiking dreams . Riding towards the horizon at night, whitened by glistening crystals. To feel stalked by the stars and the moon, and to challenge them by camping right there, under their noses – this is what I expected now.
Contrary to what I was told by some people, no special permission from Bhuj Police Station is required to enter the place.
I straightaway stopped at the BSF checkpoint at the entrance of the desert. I just had to give my Driving License to them (to collect it while exiting from there), and Masha being a foreigner, just had to mark an entry in their register.
After 1 km there, there's this final entrance, beyond which 4 wheelers could not be taken. Though camel carts, and bikes do fancy the small 200 meter stretch of tar there.
My heart was already beating faster in anticipation.
I could see half dried sort of salt beds on the edge of the road. I kept riding, hoping to see only salt and no water, so I can ride on it. But it turned out, it was only like a complete sea bed.
I wanted to cry. I came so far all the way just to see a 200 meter road, and water? I couldn't go ahead anymore, it was water shin-deep all around.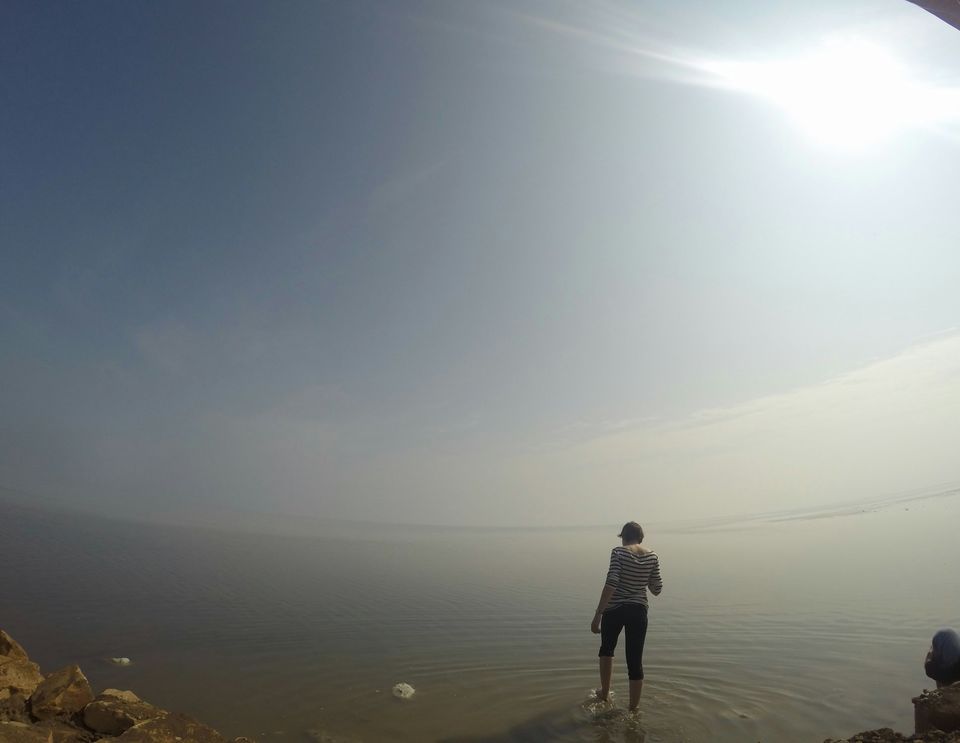 Other families there were still enjoying. It was now just a tourist spot. That's the difference. If the place is only regulated, and rest on you to explore and discover then it's a traveler/explorer's place. But if it's been restricted then it ceases to be a tourist spot.
I chose the wrong time to go. But that's alright. What was wrong time for me, may just be right for somebody else. And the entire journey was still totally worth it. And from this trip I got to experience and learn a lot too, which I am already sharing with you guys on this blog, and the next.
[And so again turned up to the Rann of Kutch after a month. Watch this space for what I thought of it on my second visit :D ]
Where To Stay
There are some 3-4 resorts on the 70 km stretch. I inquired of each of them, but apparently none of them had a room available.
Finally the guard of Suraj Hotel, at 12 km from the Rann offered me a spot to pitch my camp. The site was clean and gave protection from wind from two sides, and the guard was really helpful.
We also had the washroom at our disposal. So much, without having to pay anything..
Since there was no space inside, half our stuff was on the outside of the camp.
It was 2.30 at night now, and it started to get cold. Absolutely tired, almost immediately we were in deep slumber.
At around 5 am, as some early morning men were walking around, I snuck my head out to check up on my stuff outside. I was scandalised to not spot my stuff. But soon enough realised that its because of the fog which has talismanically turned up on us. All my stuff was still very much there.
The guard brought me tea.
I also saw more cars parked near me, in which those why didn't get a room like us were sleeping. They thought that our idea of camping here, and I coming all the way from Delhi was amazing. They themselves were from Surat, Gujarat.
The fog stood in front of us like a wall till 7 am, but after that it disappeared completely in 20 minutes like it were never there.
Generally, all the resorts have rooms starting from 1300 Rupees per person. Though one should note that if you book a resort online, or go through a guide, the same room can cost more.
But once again, it'll at least keep you from getting stranded, in case everything is full.
In case you're on a really tight budget, there's a government guest house at 20 km from Dhordho, at 200 rupees per person.
Note: All the rates are sky high at the time of Rann Utsav, and resorts start at 6,000 INR. Homestays in the villages are also quite a thing, but they might also start at 2,500 INR.
What To Eat
In the morning, we packed our camp and freshened up. The guard told that breakfast is almost ready, we  should eat before we leave.
We went inside. The guy asked "breakfast?"
"Yeah", I said.
He went inside and brought two plates, each having two aloo paranthas, poha with sev and tea. Having that scrumptious breakfast brought a smile on my face. I asked for a poha refill later.
One plate was for a 100 rupees.
While returning, in Bhuj I had quite a few dabelis. They are a handful, and at 7 rupees they're pretty cheap too.
The first time I reached Ahmedabad, I wanted to have  some traditional Gujarati food, for which I was sent to Gordhan Thal. This place had a 40 minute waiting, and the waiting was out in the  sun. 'Ain't nobody got time for that!
Only a 100 meter apart was Pakwan restaurant, and the waiting list even deadlier here.
And then we went across the road to Honest Restaurant. The restaurant had nothing from the Gujarati cuisine, but still everything they had hit my soul. Food seemed fresh, and incredibly tasty! Oh also, honestly, the food was actually w on the expensive side.
And as I traveled further in Gujarat, this restaurant looked like quite the thing. Their restaurants were spotted at a number of places.
Note: All this is only from my first trip, where I only had limited time in hand. I found a lot of new and amazing range of food from Gujarat on my second trip to the place.
In The Posts To Follow:
This was the Part 1 of my journey. Coming back was another story, which I'll tell in the next blog.
I was so amazed by Gujarat and its uniqueness that I returned after a month to see the whole of Gujarat. And how the beauty of Diu especially won my heart.
Watch out for some really interesting stories in the posts to follow.
*
Originally posted in Seeyouontheflipsyde.com