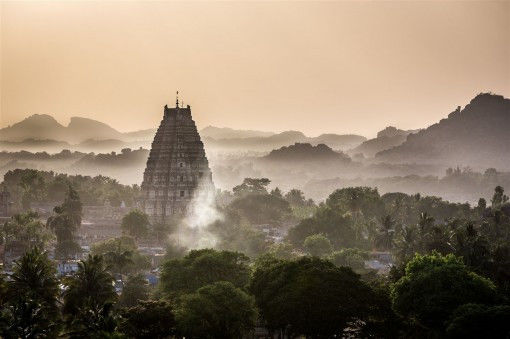 Carved out of massive boulders and hills, Vijaynagara, Capital city of Vijaynagara empire, was the second richest and largest city in the world during its peak. Hampi, the ruined town in Vijaynagara, reminds of the rich culture and history Vijaynagara empire carried. Situated on the banks of Tungabhadra river , Hampi is about 370 Km from Bangalore. The nearest city is Hospet which is about 13 Km. The temple town of Hampi is listed under World Heritage sites by UNESCO. Being a religious center it houses some of the most famous temples and religious sites in South India. The nearby areas have mention in mythological tales too. Kishkindha, a village nearby, is mentioned as the Vanara (Monkey) kingdom of Vanara King Sugreev during the time of Ramayana. Due to the architectural, historical and mythological importance, Hampi attracts a thousands of tourists every year. The place is slowly becoming popular among the foreign travelers who would stay here for 3-4 months meditating and learning the culture Hampi offers. For solo travelers who like to unwind themselves in peace, this is where you want to be. With a very few vehicles in the region, there is calmness everywhere along with the natural beauty of lakes and hills. The architecture is finest of its time and even though the city is in ruins, every single place has a special history of its own and ruins chant lot of stories heard, unheard before.
Day 1
On reaching Hampi by 10 Am, sort out stay. Usually, prior booking is not required and you will get a decent room easily anytime of the year. We would recommend staying across Tungabhadra river. The view of Virupaksha Temple and other sites from this end is amazing along with good places to stay and eat. You can rent a room starting Rs 500 and within Rs 750 you will get a very decent room for your stay. Relax at the room for sometime and enjoy the view. You will have all the time in world. This journey will be one of the most incredible journeys you take. Start exploring by 3-4 Pm. The best mode of travelling is either renting a bicycle or moped. One can rent a bicycle for Rs 50-Rs 80 per day while moped can be rented at Rs 100-Rs 120 per day. Almost all the places providing accommodation also provide moped and bicycle rentals.
Start exploring. The first place you can visit is the Anjaneya Temple situated on the Anjaneya hill,is significant in Hindu Mythology.
This hill is believed to be the birth place of Lord Hanuman. Park your moped below and climp the zig-zag steps to reach the hilltop. Temple has a shrine for Ram and Sita with a icon of Hanuman carved on the rock. The view from top is magnificent. You can view ruin sites stretching to horizon, with padded fields and coconut plantation all around. Tungabhadra river at one end and the hills on the other make this view even more special. Settle down for a while and watch the Sun disappear below horizon. Start climbing down at dusk and head to you accommodation. Back at the accommodation, one can indulge in a conversation with other travelers. Try some local cuisine in any restaurant nearby and get busy with your hobby. At nights, Hampi is a quite place (Barring some restaurants and guest houses, where jamming is the rule of night). You will surely get the best feeling about being alone at this place. Get a good night sleep and start a new journey tomorrow.
Day 2
Start day 2 with a healthy breakfast at The Laughing Buddha. After a good breakfast, head to your next destination : Hampi, the main town. To reach here, you will need to ferry across the river. One can also ferry moped across. Charges are Rs 10 per person and Rs 20 (subject to confirmation) for the moped. 5 minutes from the river banks is Virupaksha Temple. Virupaksha is the most important pilgrimage center in Hampi. Three towers of the temple can be seen from a distance with the eastern tower standing at a height of 160 feet. The temple, shrines and pillars date back to the 12th century CE. In the vicinity of Virupaksha Temple, there are ruins of ancient market. Most prominent festival here is The Chariot Festival celebrated every February. There are entry charges for Virupaksha Temple, Rs 5 (entry fee), Rs 50 (Camera fee), Rs 500 (Video Camera fee)
Straight from the temple to the east lie the ruins of Hampi Bazar. One of the important site, there is a Monolithic Bull statue just a few steps from Market. Climb the hill from Monolithic Bull Temple to the Hanuman Temple of Top. The view from this Hanuman Temple is amazing too.
Climb down and its time to kill the hunger. The most famous shack in Hampi is The Mango Tree. Eat some of the finest Kannada cuisines. Avoid ordering Parathas here (Just a heads up). You can also relax at The Mango Tree for some time, reading or talking with strangers. Roam around the market a bit and visit other sculptures nearby. There are also a few more place offering peace. Shri Hemkut- Ratnakut Jain teerth and Muth is also nearby and one can surely pay a visit here. Apart from these places there are the ruins of King's Palace, Queen's Palace, Queen's Bath, Queen's resting place constructed during the Vijaynagara Empire time. The ruins are still being excavated and visiting all these locations will be a great learning experience for budding historians and architects. All the monuments are very well preserved and the place also houses a small archaeological museum in Kamalapura. The museum holds items being excavated by the ASI.
You need to keep a tab on time as the ferry services will stop by 6.30 Pm. On reaching back to your accommodation, relax a bit and start riding through the some of the best countrysides in Karnataka. A meal at night at the Hoova Cafe is recommended. The preparation is good and the place serves one of the best non vegetarian food available in Hampi and nearby areas.
End the day by spending some solo time here and head back to bed.The next day, last day of our at such a wonderful place filled be history will be something special.
Day 3
On the third day , we will be on an adventure. Hampi usually gets very hot during the daytime.
Start Day 3 with breakfast at The All Tribes Cafe. Ride towards Sanapur Lake.
Sanapur lake is the best spot for swimming in Hampi region. One needs to be cautious while getting in water. This place is frequented by the travelers visiting Hampi and the most famous resting place for foreign travelers in Hampi. Swimming here refreshes you. Lay down soaking sun for sometime and start moving. After spending a brief time at Sanapur, move further for the Kampa-Bupa trek. The Kampa-Bupa path is Hampi is one of the best treks and does not require climbing. If you are a rock climbing enthusiast, there are a lot of locations for the same and several organizations will offer packages. Hampi is a perfect destination for all rock climbers, pros, amateurs or even enthusiasts.
Hampi is also one of the most favored destination for Hippies across the globe, most common being Israelis. Music, Jam and Drum Circles are the integral part of this hippie culture and spend your last night in Hampi chilling with some of the musicians and free thinkers. There are many shacks, restaurants on the way which will be having the hypnotic parties and amazing food. You will get in trance by the amazing jamming and music performed by people. You can also pick any instrument and start playing with them. Spend good time and cherish the moments you are spending here. The next day, we are getting back to the routine. Make sure you carry a lot of memories back from Hampi and have an amazing story about your travel.
Cheers & Peace.
Travel Thirst
Staying back another day?
Consider a trip to Badami. At a distance 140 Km from Hampi, Badami is a Heritage City which is famous for its Cave temples. You will need to carry your baggage and rent a room in Badami for a days stay. There is a lot to visit Badami. There is a buddhist cave in Badami that can be entered only by crawling. A bhootnaath temple facing the Agastya lake which was built in 5th century boasts some of the finest architecture of its time. One can also visit Badami fort which is on the hill top.
Nearest Railway stations to Hampi : Hospet (13 Km from Hampi), Bellary Junction (64 Km from Hampi), Hubli Junction (163 Km From Hampi)
Important Bus Terminus : Hospet, Toranagallu, Hubli.
Nearest Airport : Hubli
Life Hacks :
NEVER EVER tease monkeys. Remember this was their kingdom????
ALWAYS remove shoes outside temples or any other place of religious importance.
Always keep up with the time. transport services including ferry operate within a certain time limit.
Hampi can get really hot at times, make sure you do not get dehydrated.
Always carry an extra bottle of petrol if you have rented a moped.