Hello there! I'm back with another post after a long due. I cannot put into words the happiness I feel right now, sitting to write a blog post on my laptop after what feels like ages! Nothing makes me happier than getting into that zone and typing down about all that I did for 2 days on my recent trip to Jaipur.
So, I had been making travel plans to the places on my bucket list for months but, due to some or the other reason it hadn't been working out. And out of nowhere, while I was lazing around on a weekend, I got a call from a darling friend, sister, who is from Kanpur and it was the biggest news of my life. Yes, you guessed it right. She was getting married. I mean, Yes, I could not be happier and more excited to be a part of her marriage. It was also the first north Indian wedding I was going to attend.
As you know from my Instagram stories and posts, being bitten by the travel bug, I just could not restrict my instincts to travel, explore and enjoy experiences that this trip could offer. So, while I was planning for her marriage, I decided to travel to the neighboring places of Kanpur by extending my trips to a few more days.
Well, I love doing my part of researches and planning my trips much ahead. But this time, I did not really do anything until the day arrived as I was a little skeptical about the trip dates due to some personal reasons although the flights were already booked. However, just one day before my trip, I managed to do a hotel booking for Jaipur. And perhaps, I decided to just go with the flow to explore the city around without any itinerary.
GET IN
There are all possible modes of transport to Jaipur. Since I wanted to witness the Sunrise from up above, I booked the early morning flight from Bangalore to Jaipur and it was totally worth it.
Just look how gorgeous the sunrise over the clouds is!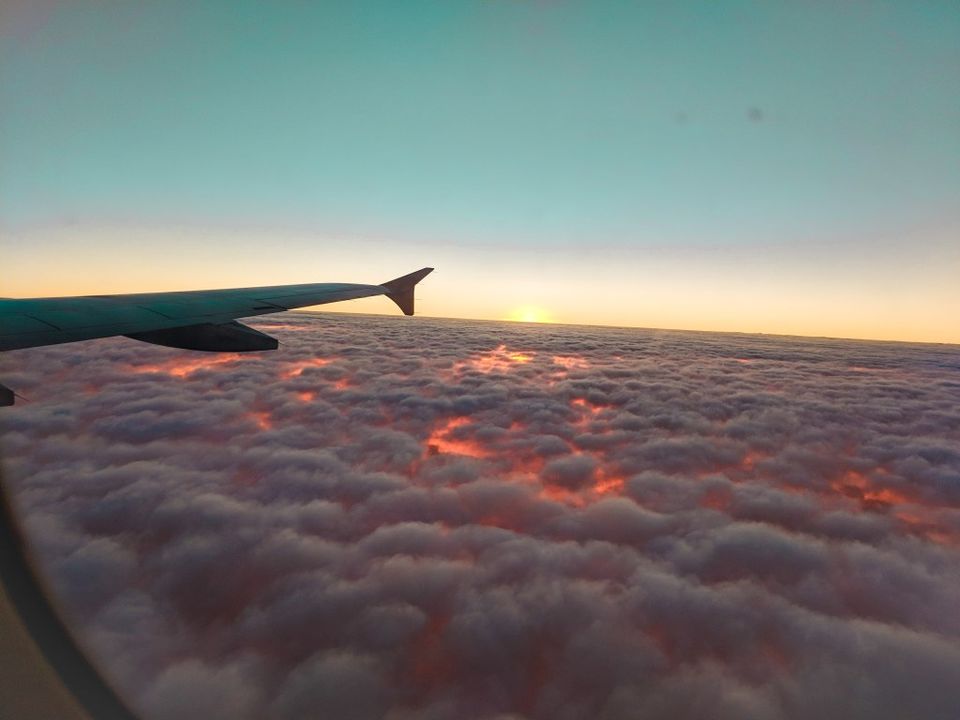 GET AROUND
When you arrive, there will be guys that come up to you offering rides and even full-day tour packages for the following day. This happens when you are casually roaming in the streets as well. So be prepared to be pestered by the rickshaw drivers who follow you to the point of stalking and be wary of those kinds of offers as they're often disguised as scams.
I suggest, plan your travel with well know tourism board who take care of travel and everything in case you are traveling with kids or just get an Uber or Ola. As it's cheaper, safer which lets you roam around carefree and also you don't have to bargain! I chose the latter as I just wanted to go with the flow and be flexible with my plan.
Jaipur is one of the most famous cities in India and a journey to this remarkable place is on every traveler's wish list. Jaipur is a fine representation of the regal grandiose which is home to tranquil temples, towering forts, opulent palaces, and beautiful Havelis and also has gracefully retained its royal roots for us travelers to experience. The bustling modern city is one of the three corners of the golden triangle that includes Delhi and Agra.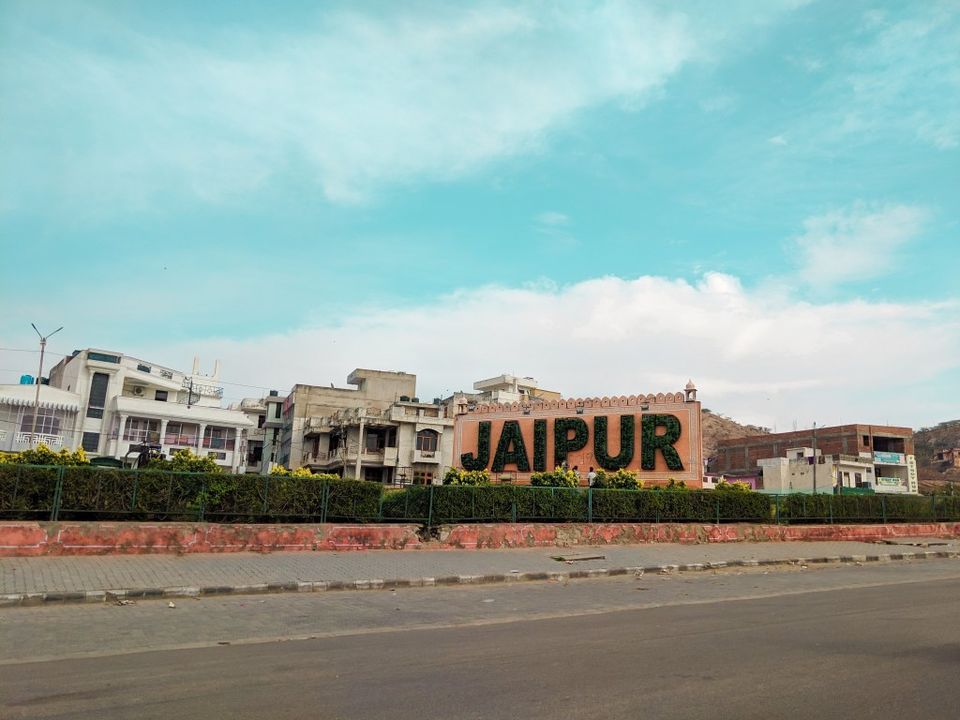 WHEN TO GO
Temperature remains pleasant in the months of February and March which is the ideal weather for a holiday in Jaipur. Summers in Jaipur can be brutal with temperatures going upwards of 40 degrees C and monsoons bring high humidity levels, won't make for a pleasant holiday. November to January are the peak of winter and are exceptionally cold and dry.
I visited Jaipur in February and I must say the weather in February was quite decent.
ACCOMMODATION IN JAIPUR
I stayed at the Hotel Rajasthan Palace which is located 3 km away from the center of the city. The property is very peaceful with the ancient and heritage feel of Rajasthan. I liked the Architecture, but I was disappointed by the service and the food. It's a decent place to crash after a long exhausting day. I would say it isn't worth the hype!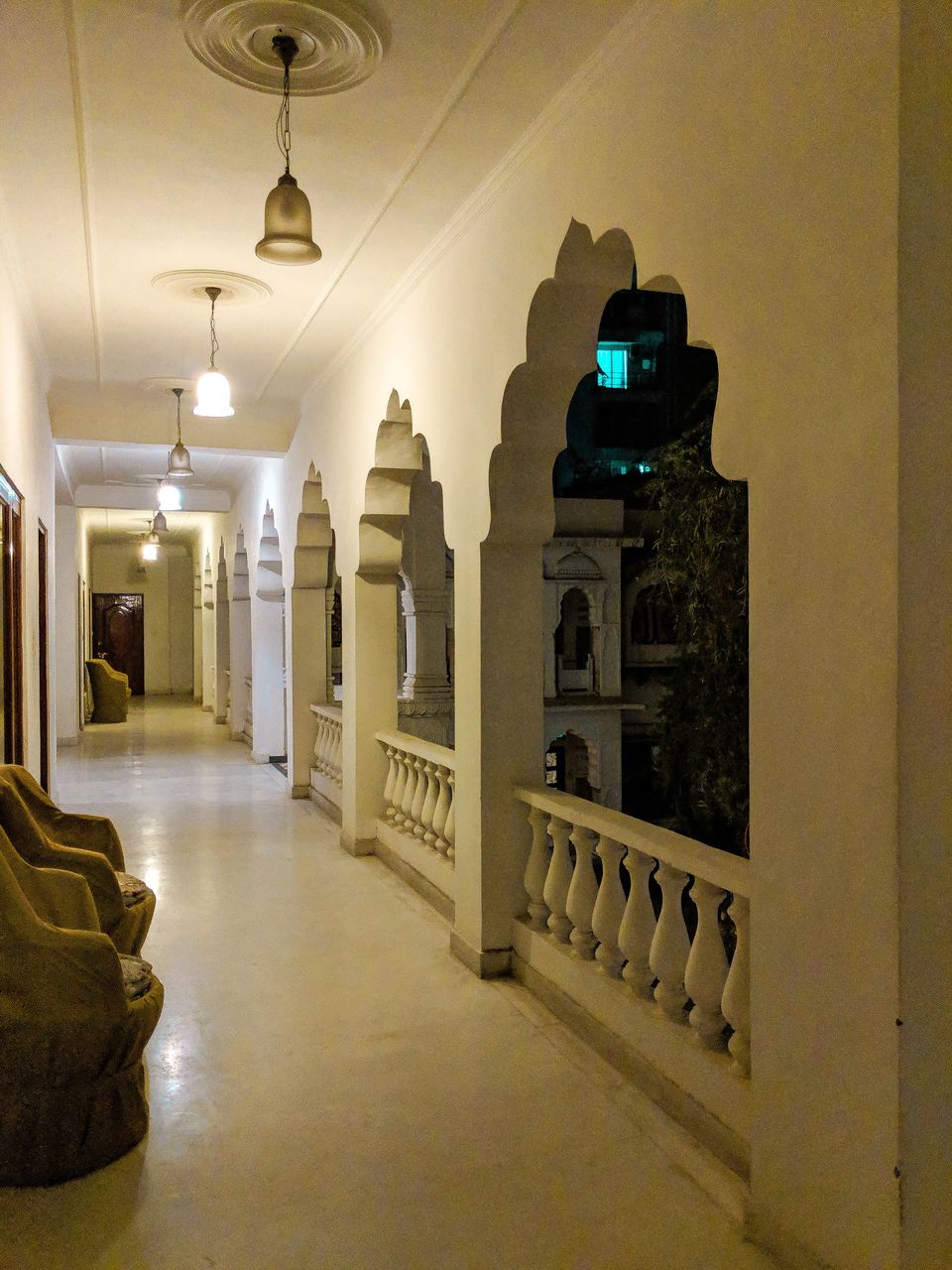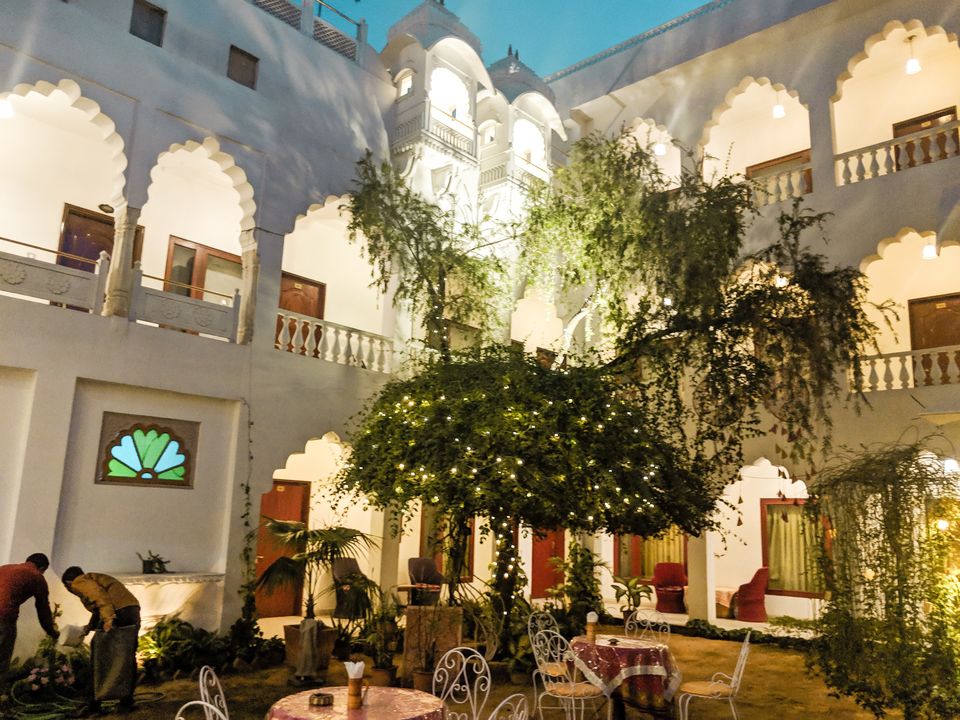 In Jaipur, there is all range of accommodation options available, from 5-star hotels and resorts to home-stays. Zostel– I think is the best-maintained and top-rated Hostel as per my research for a budget stay. Well, if you are feeling lavish and would like to only relax at the hotel, you can opt for luxury 4-5-star properties. ????
Note:
Every tourist attraction you go to will have an Indian price and a foreigner price. Depending on your preference, audio guides or personal guides can be arranged at an extra cost . You can also roam around without any guides in all of the below-mentioned places.
I am now quickly going to share the details of the iconic attractions in Jaipur that I visited. All the below places were visited by traveling in Ola.
MAJOR ATTRACTIONS
CITY PALACE
The Palace was built by Maharaja Sawai Jai Singh II between 1729 and 1732 with the fusion of Rajput, and Mogul style architecture in the heart of the Pink city. City Palace includes the Chandra Mahal, and Mubarak Mahal buildings; Chandra Mahal building is where the descendants of the royal family still reside in the upper floors. The Mubarak Mahal showcases the eclectic collection of artifacts, silks, and clothing worn by Rajput royalty back then. The City Palace also has a museum with a fine collection of artifacts (very expensive) and a temple.
To discover and know more about how the history of Jaipur has molded its reputation today, you can opt for the personal guide or the audio guide. The entry and guide fees range from ₹100-300. You can also embark on the Royal Grandeur tour for ₹2500. (I went for a basic entry. I did not find the audio guide very useful as most of the information given in the audio guide are already displayed on the boards in every room of the palace)
Do you know why and when this palace was built? When Amer became over-populated, there was a scarcity of water. So, the Maharaja decided to build Jaipur and then City Palace using Vastu Shastra (considering the elements of nature) to overcome the problems that they were facing. Like real problems, right?!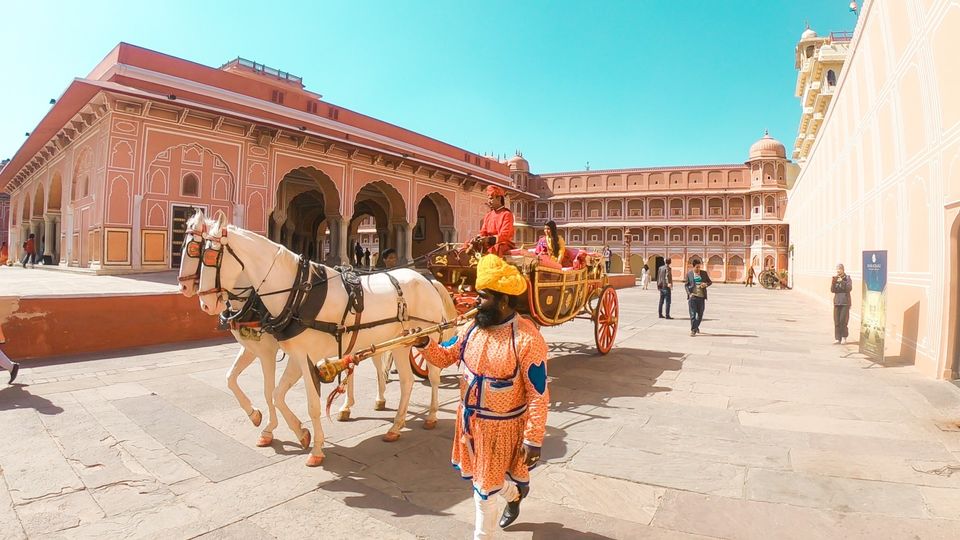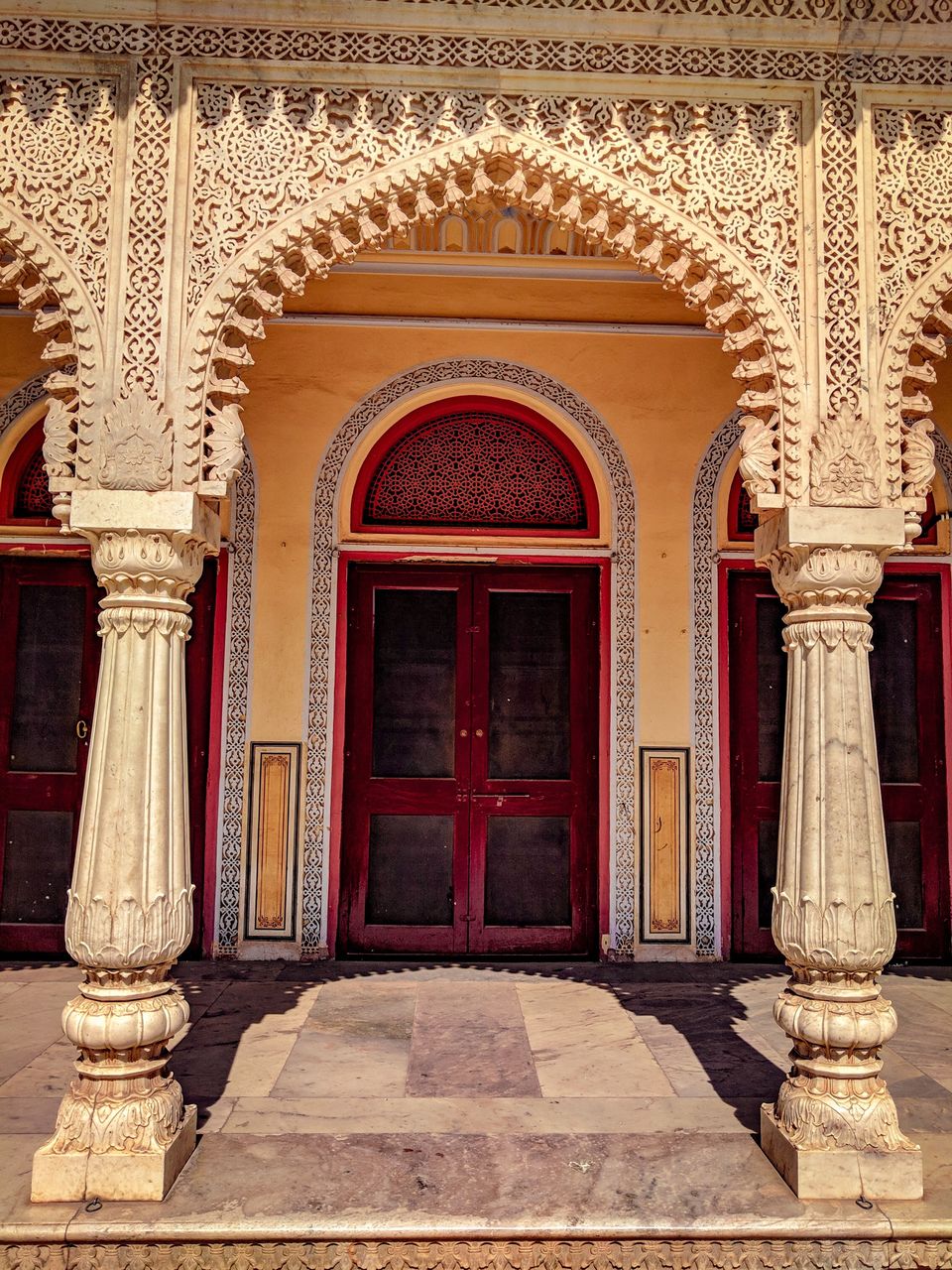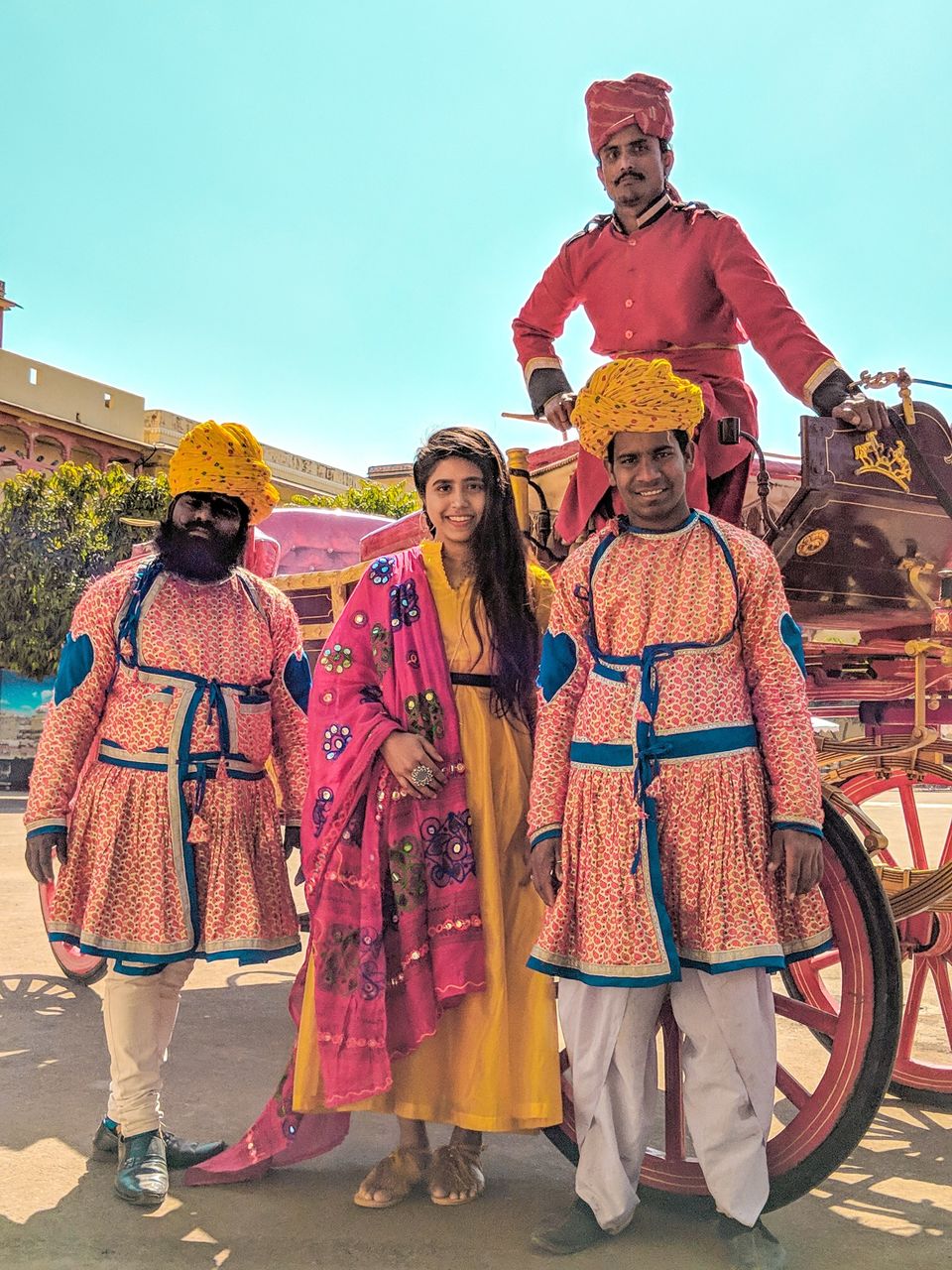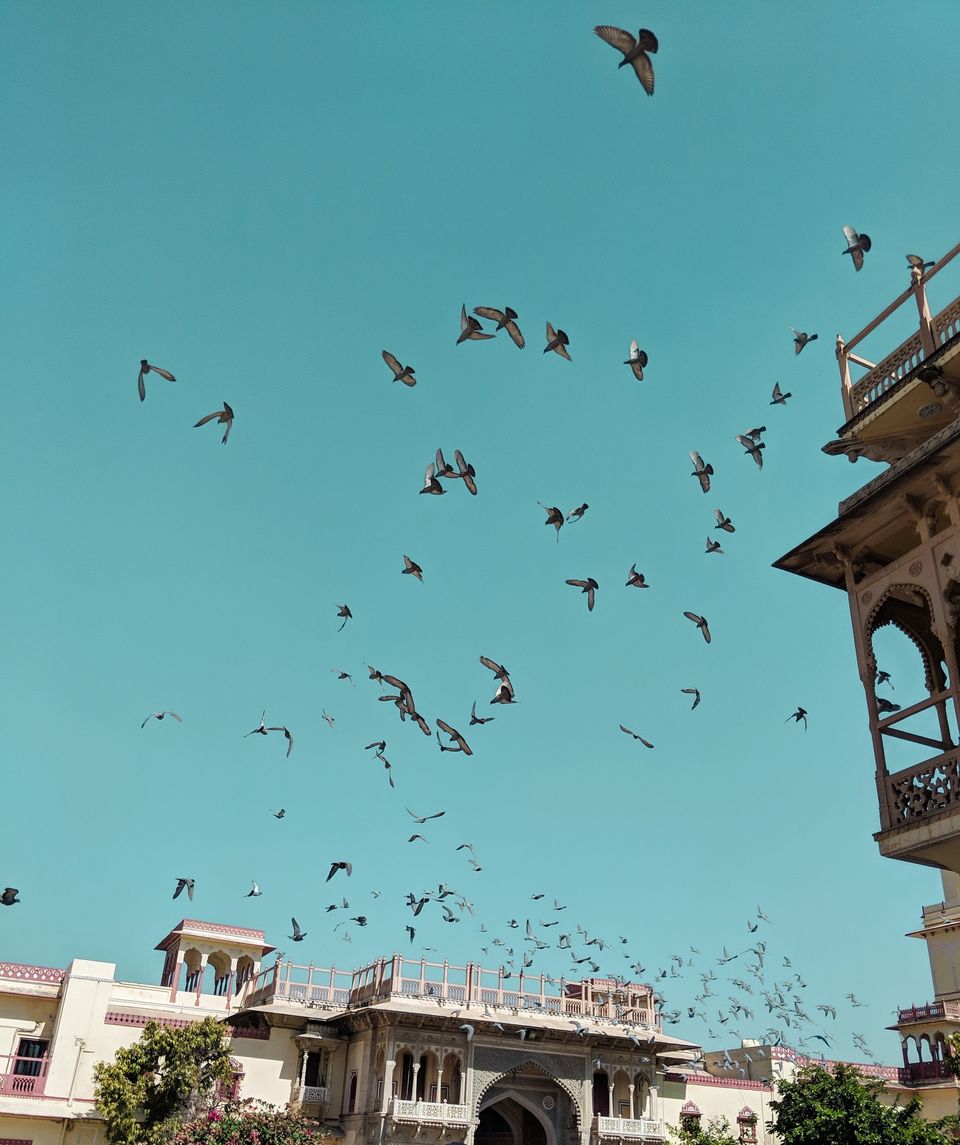 It is an astronomical observatory site built in 1738. It is located right opposite City Palace and is now a UNESCO World Heritage Site. this observatory contains around 20 fixed instruments designed to make astronomical observation easier with the naked eye and it also houses the largest sundial in the world which is a wonder to architects and artists alike. The entrance fee for Indians is INR 50 and INR 200 for Foreign Tourists. If you'd like to learn as much as you possibly can about Jantar Mantar then I recommend you get an audio guide for ₹150 or join one of the groups with a personal guide for ₹200.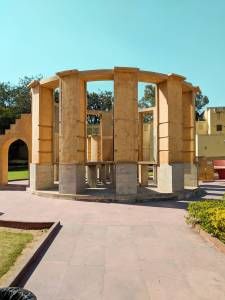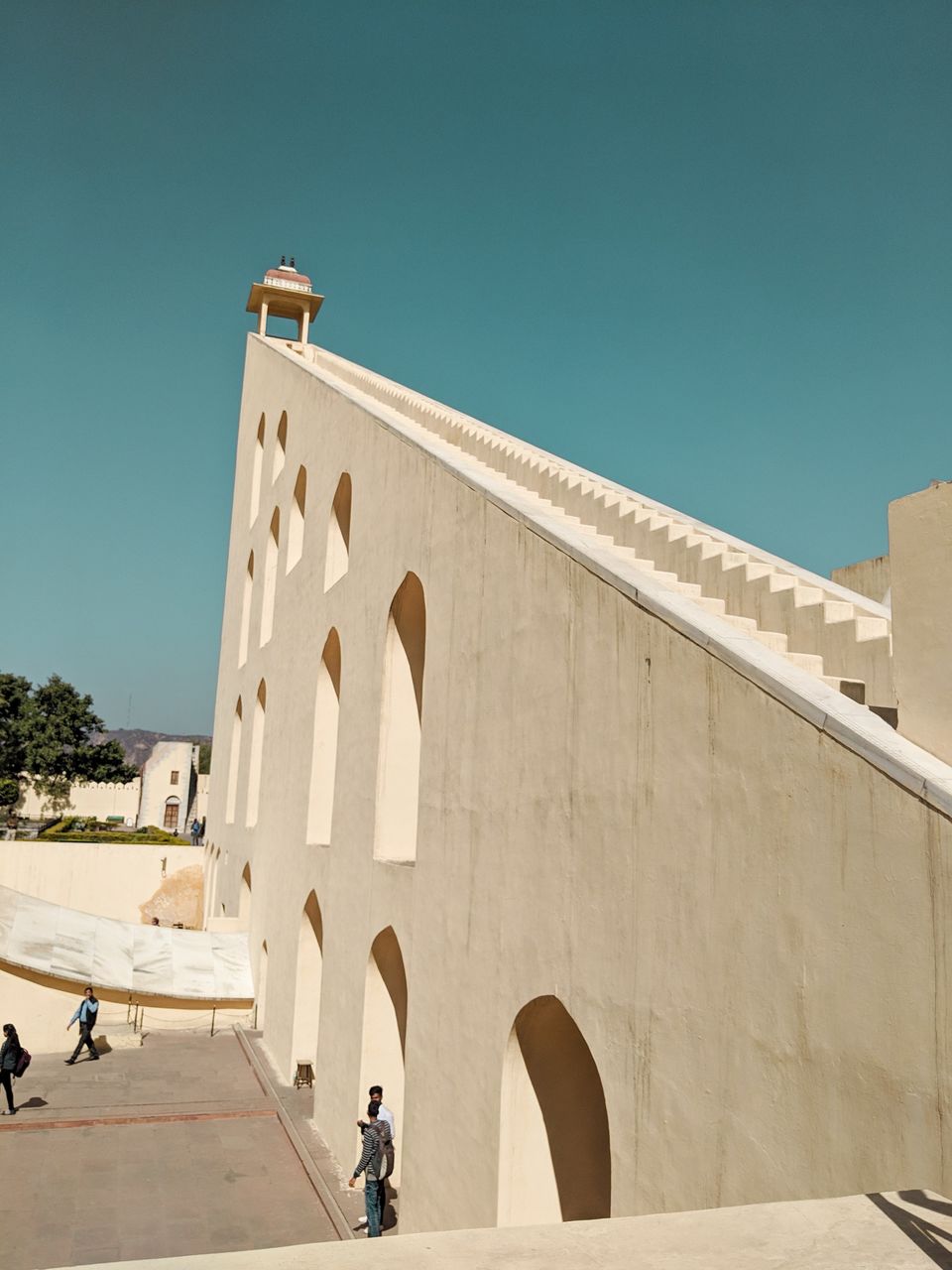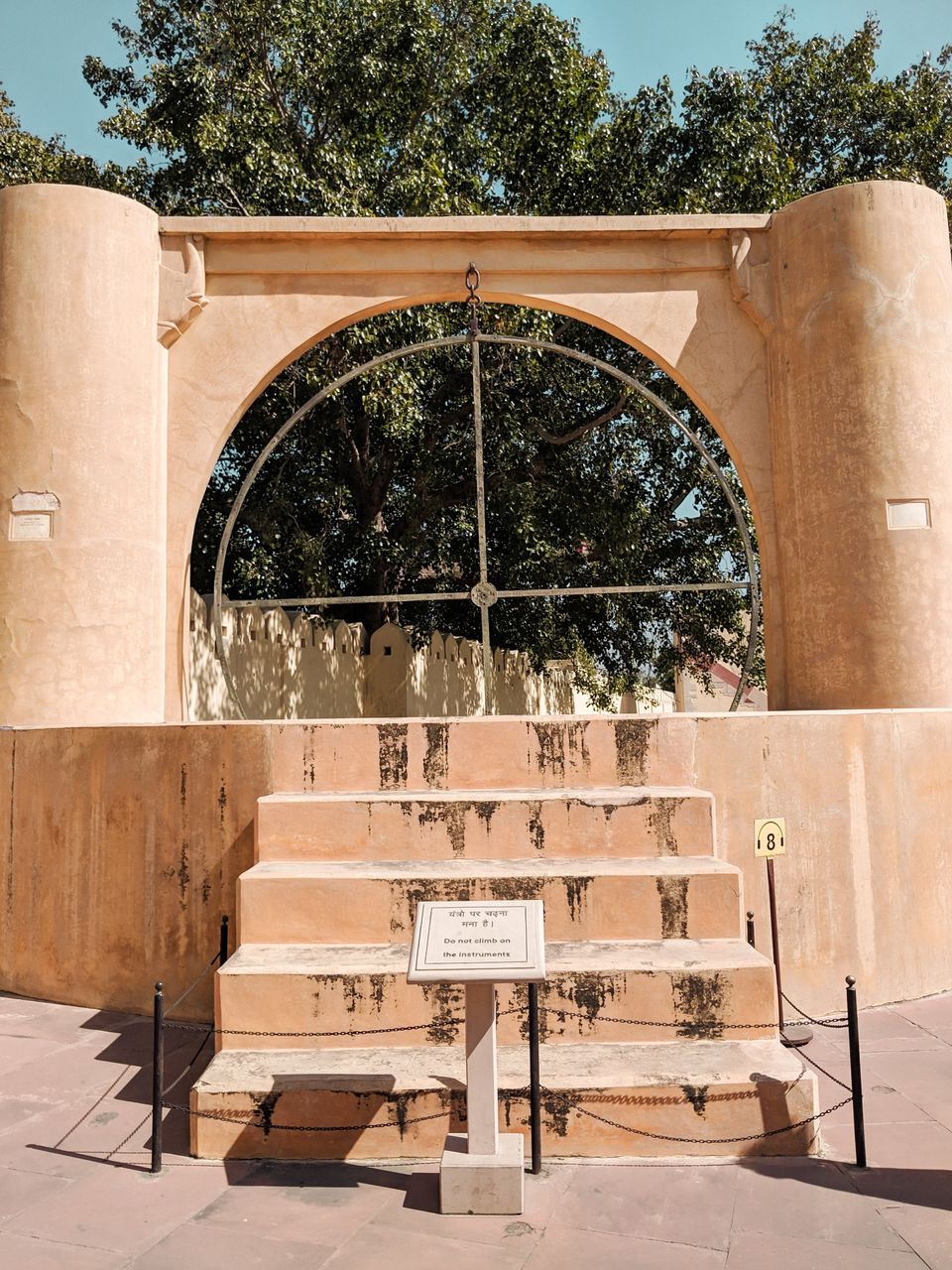 Hawa Mahal or "Palace of Winds" is at a walking distance from City Palace. This honeycombed pink sandstone five-story structure was inspired by the crown of Lord Krishna (a Hindu God) and was originally built in 1799 as a vantage point for the ladies of the royal household. This facade replete with 953 latticed windows and from behind these dark shadowed windows of Hawa Mahal, high above the streets, the women could observe processions and activities in the city below without being observed themselves. This makes me wonder how isolated and dull the life of a royal lady would have been, cloistered inside.
Right opposite Hawa Mahal is a few cafes which you should not miss visiting if you are looking for some food with the view of Hawa Mahal and of course for some cool pictures. I had a great time in Wind view café with some fresh Pomegranate juice and a fruit bowl.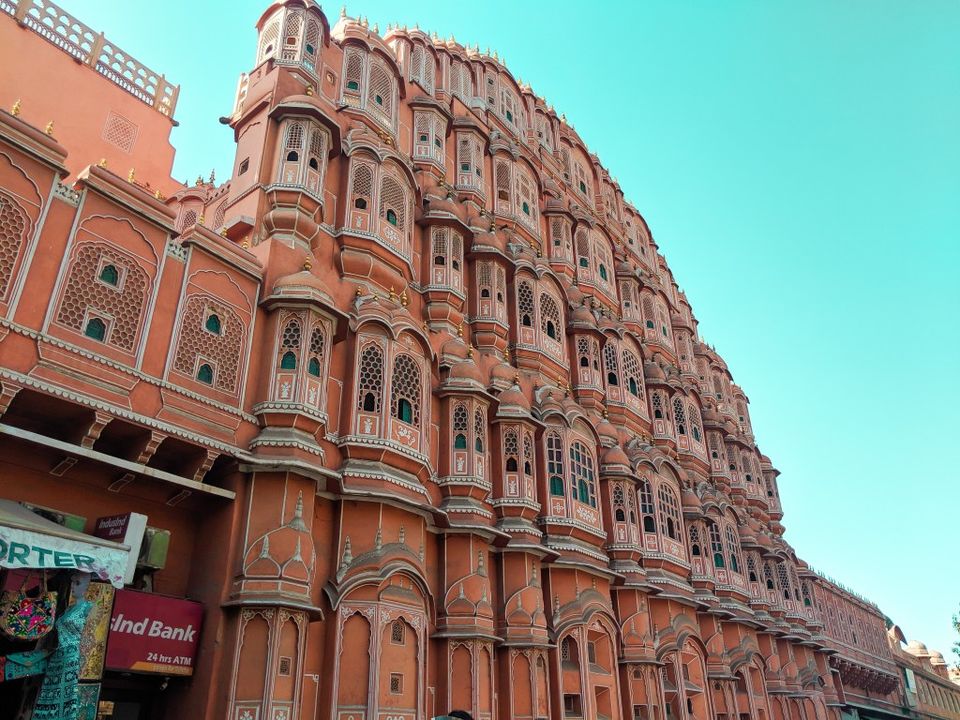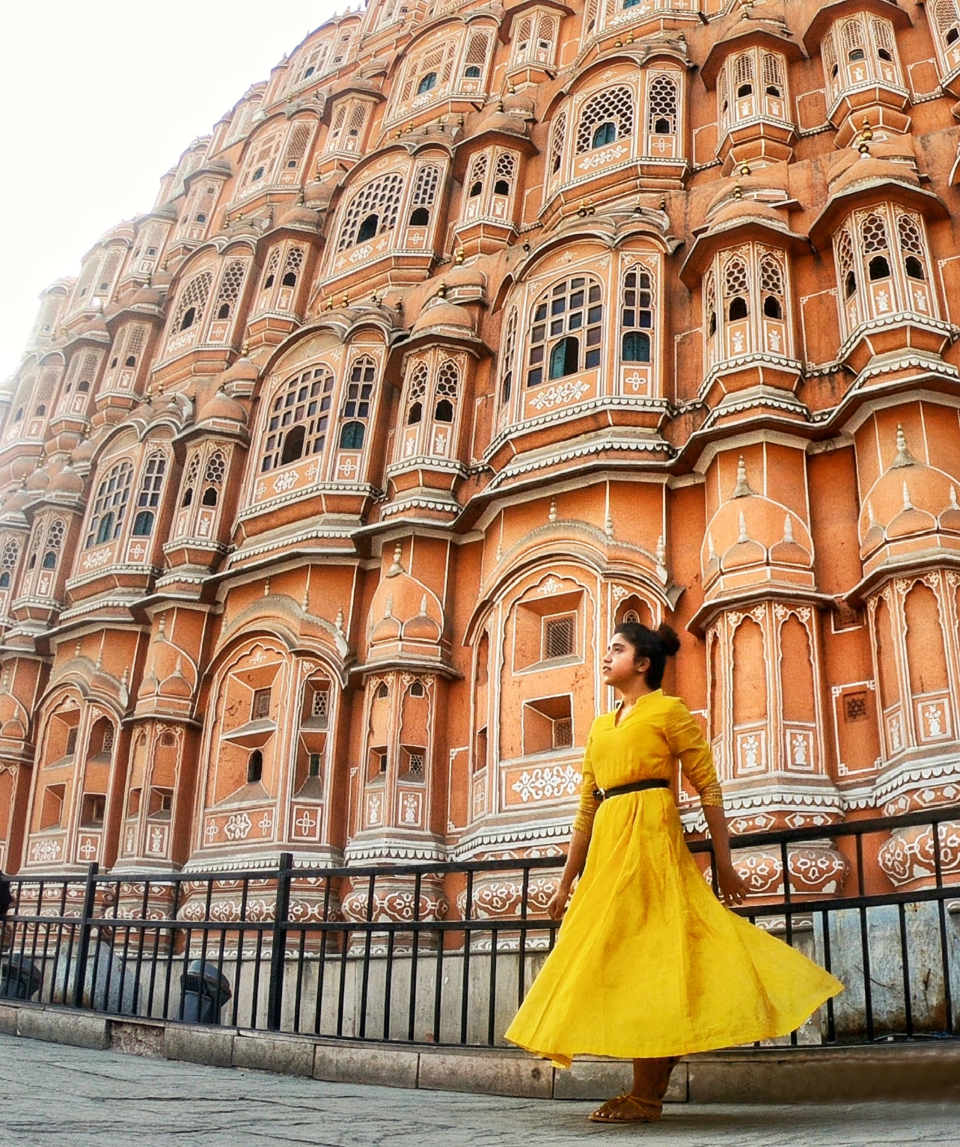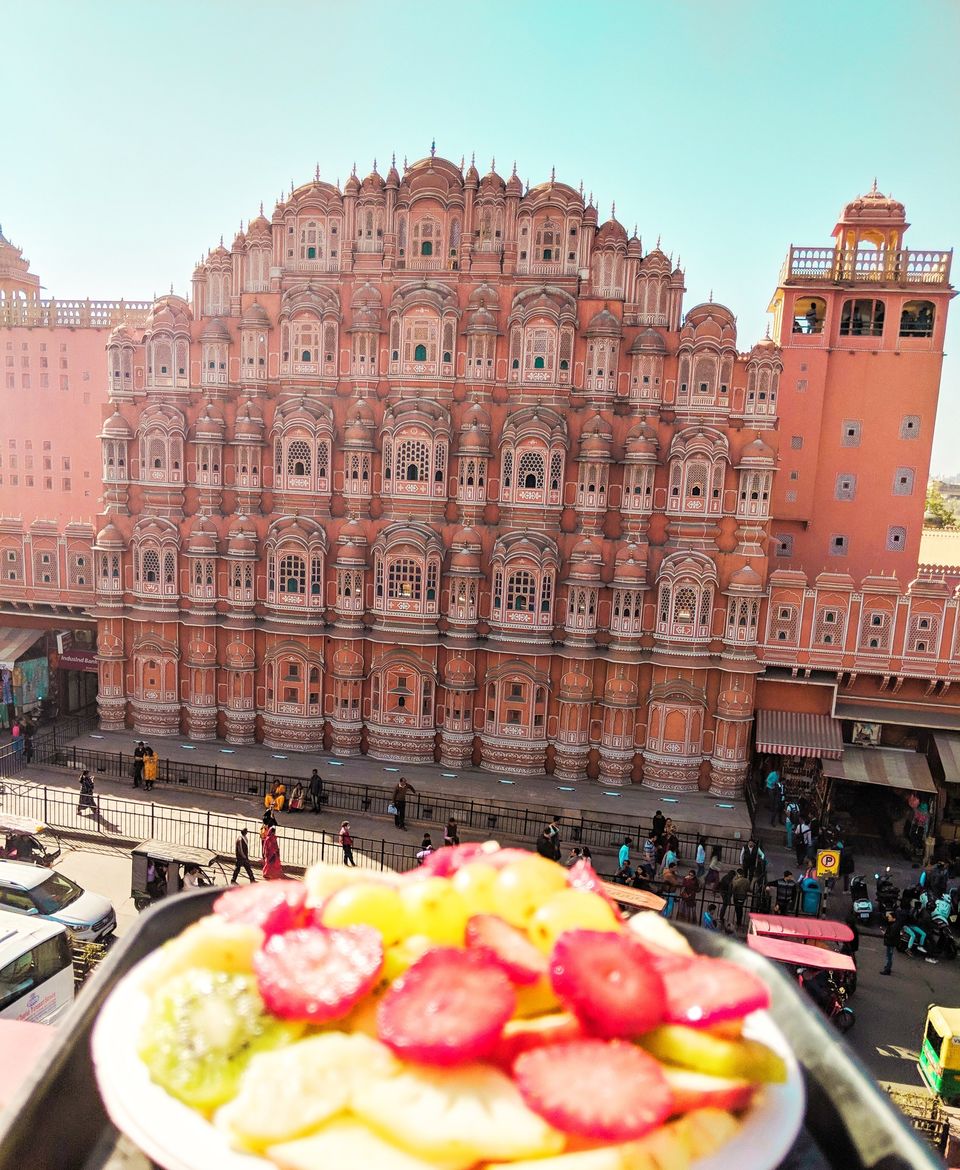 It is located high up in the Aravalli Hills almost 15 km away from the center of the city. This fort was one of the forts that stood to defend this rich city from any enemies. For an aerial view of the entire Pink City, take a trip to the Nahargarh Fort, where you will be above to gaze over all that Jaipur has to offer. It is best if visited during the sunset. Also, stay back a little while to see the night view of Jaipur. It's worth it and make sure you hire a private transport for a round trip to Nahargarh and/or Jaigarh fort as getting down the hill on your own gets almost impossible at night as you won't get any Ola or Uber or Autos up there.
This place also has an open-air restaurant called 'Padao' which offers the bird's eye view of Jaipur. Also, at night, it gets chilly and windy so make sure to cover yourself up with some warm clothing if you plan to stay back for dinner.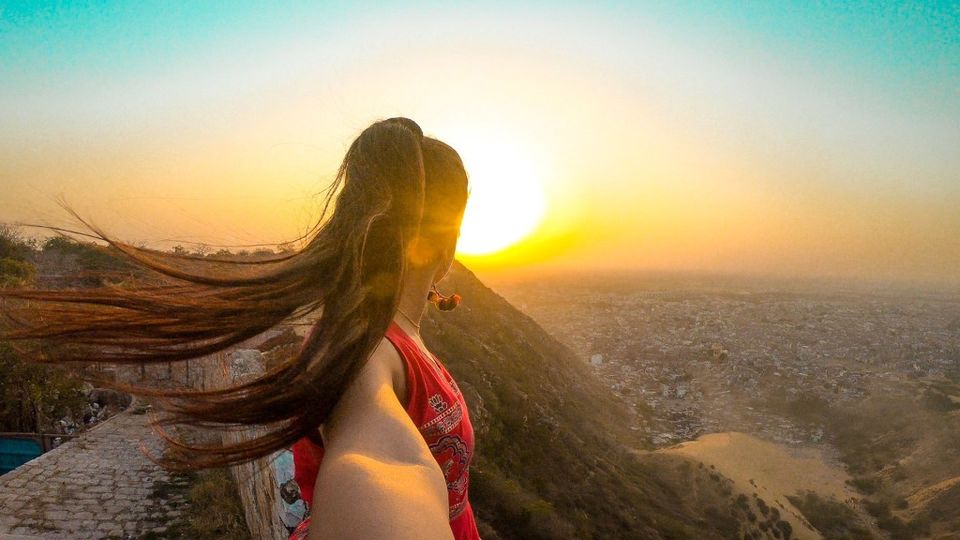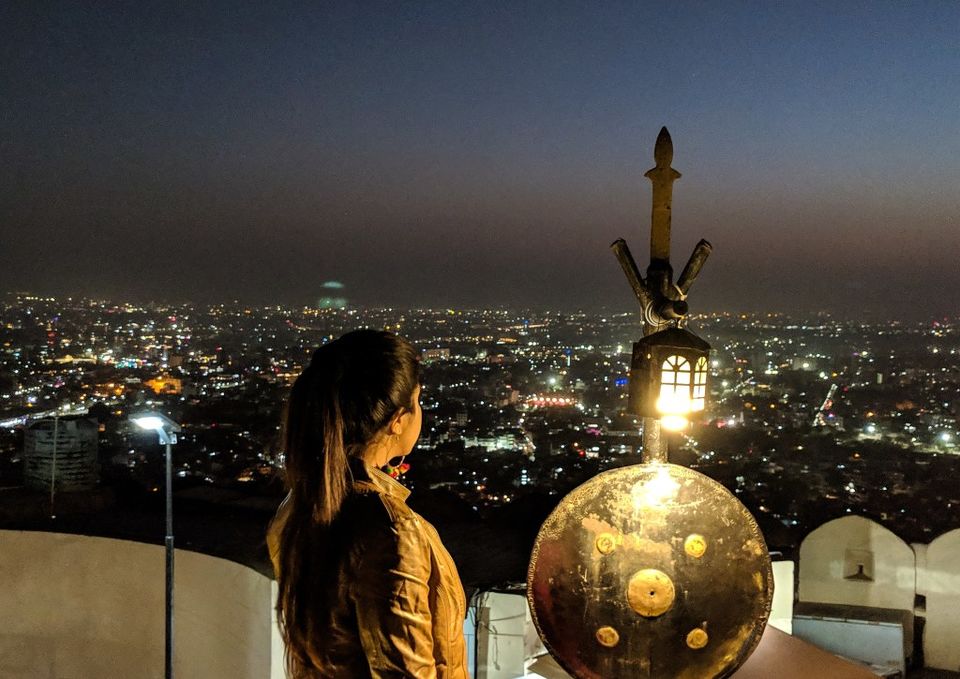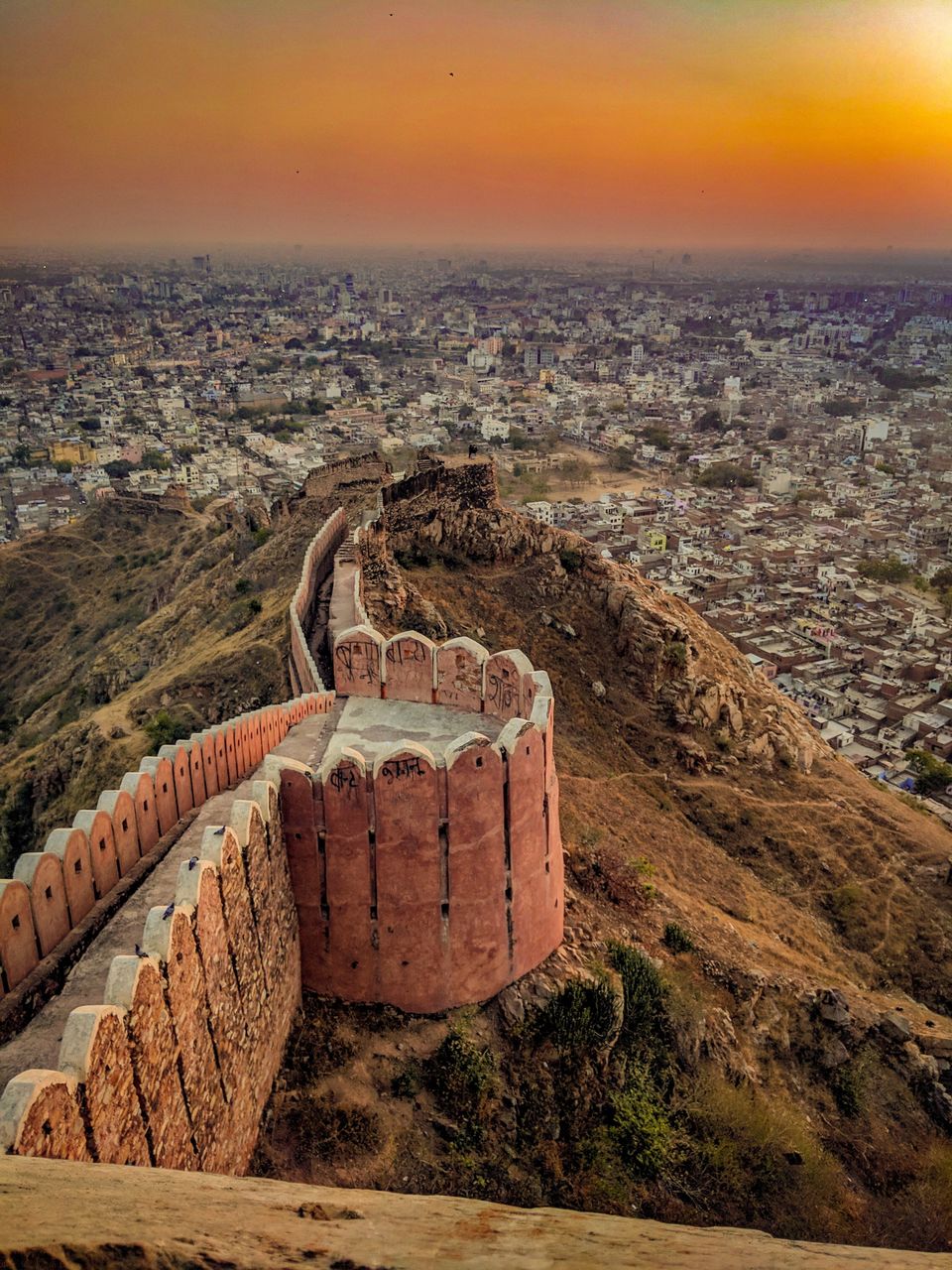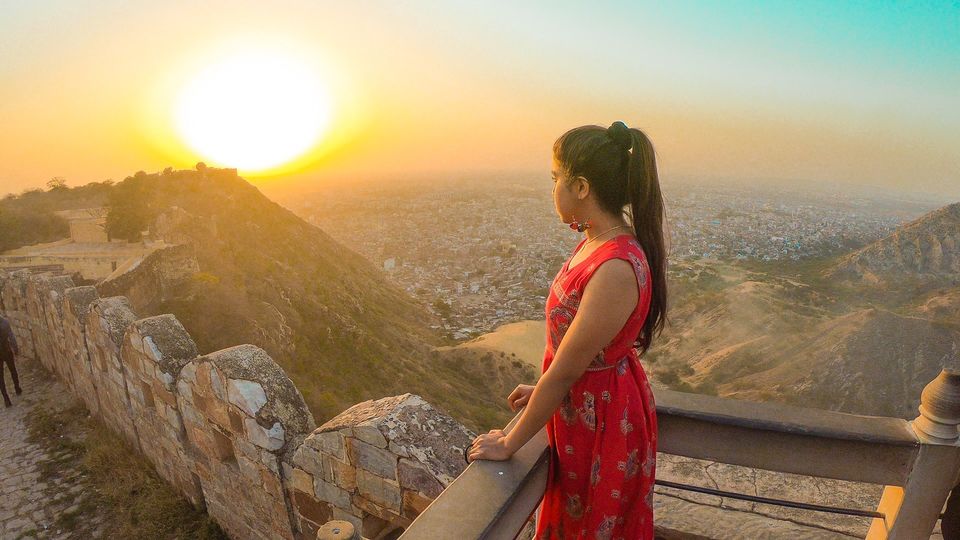 On the way to Nahargarh fort, you can stop by to see Jal Mahal palace which is in the middle of the Man Sagar Lake. The palace is a five-storied building built in red sandstone, of which four floors remain underwater when the lake is full and the top floor is exposed. There is not much you can do here other than stopping by for a picture and to see the palace at a distance half submerged in the lake.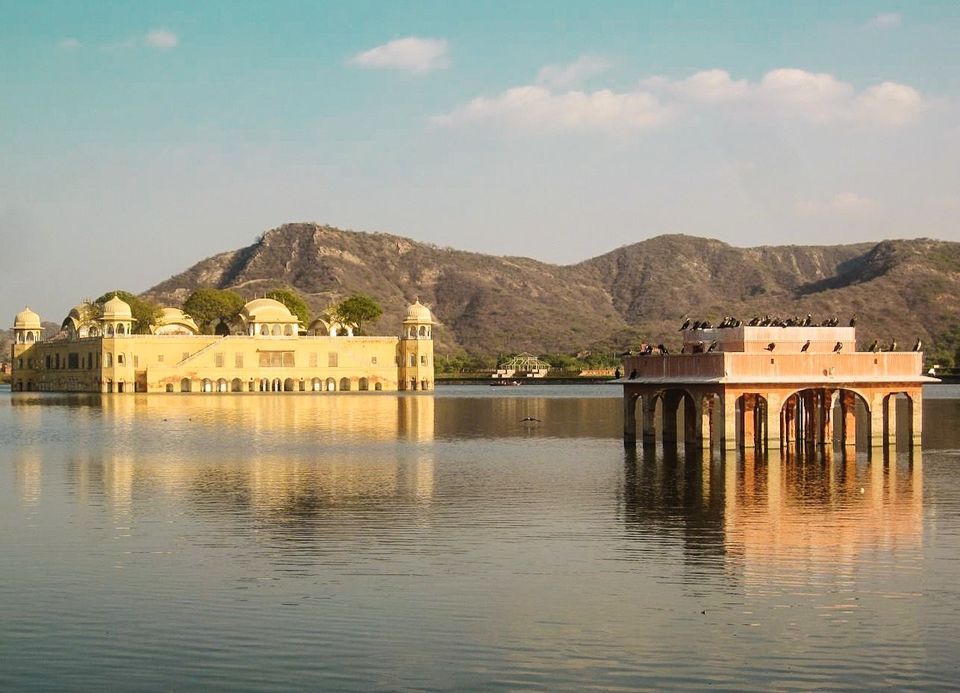 Amer Fort is just outside the city center located at a distance of 8.2 Km from the City Palace. Perched on a hilltop, this 15th-century fort is impressive both in size and structure. Overlooking Maota Lake, this Hindu style fort takes around 2hours to explore; The fort houses the Diwan-e-Aam – 'Hall of Public Audience', the Diwan-e-Khas- 'Hall of Private Audience', and the Sheesh Mahal -the 'Mirror Palace'.
Entry fee for Indians is INR 50. Be prepared to wait as the Amer Fort is an incredibly popular place to visit in Jaipur so queues are inevitable. The splendor of Amber Fort is heightened during the Light and Sound Show in the evening which costs an additional 200 Indian rupees. Also, here you can ride a painted elephant to climb up to the fort. I chose not to because I felt bad to watch the elephants ride the steep cobbled and uneven path carrying people. I definitely feel it is not good for Elephants. So, try and avoid elephant ride if you are visiting Amer Fort.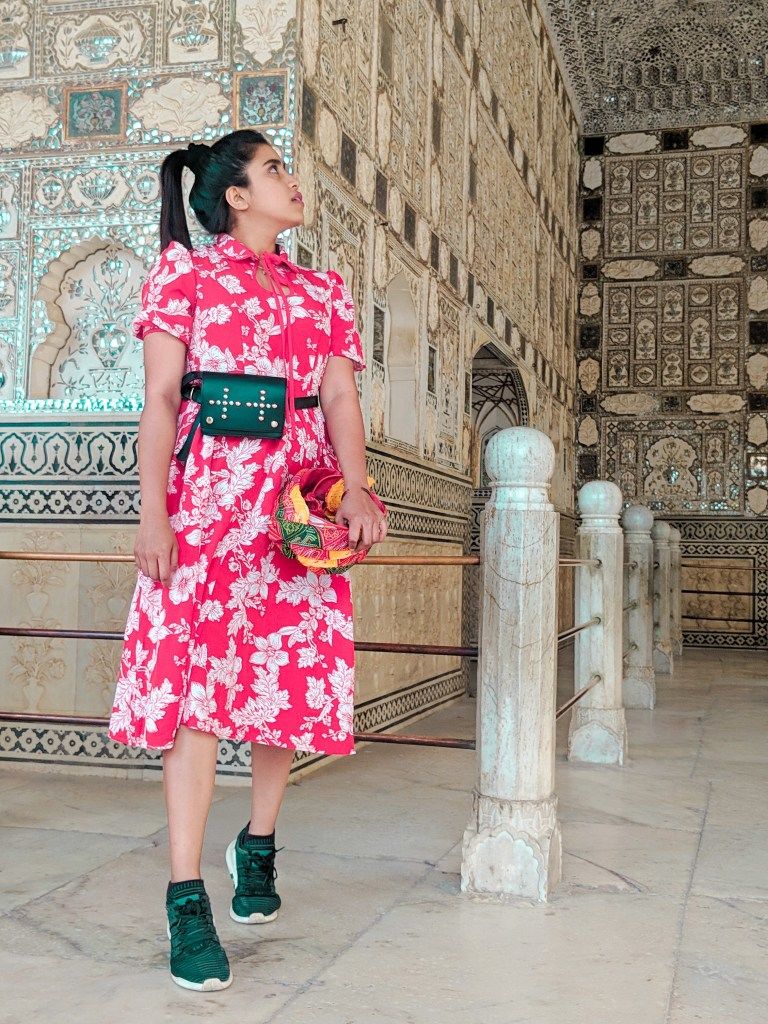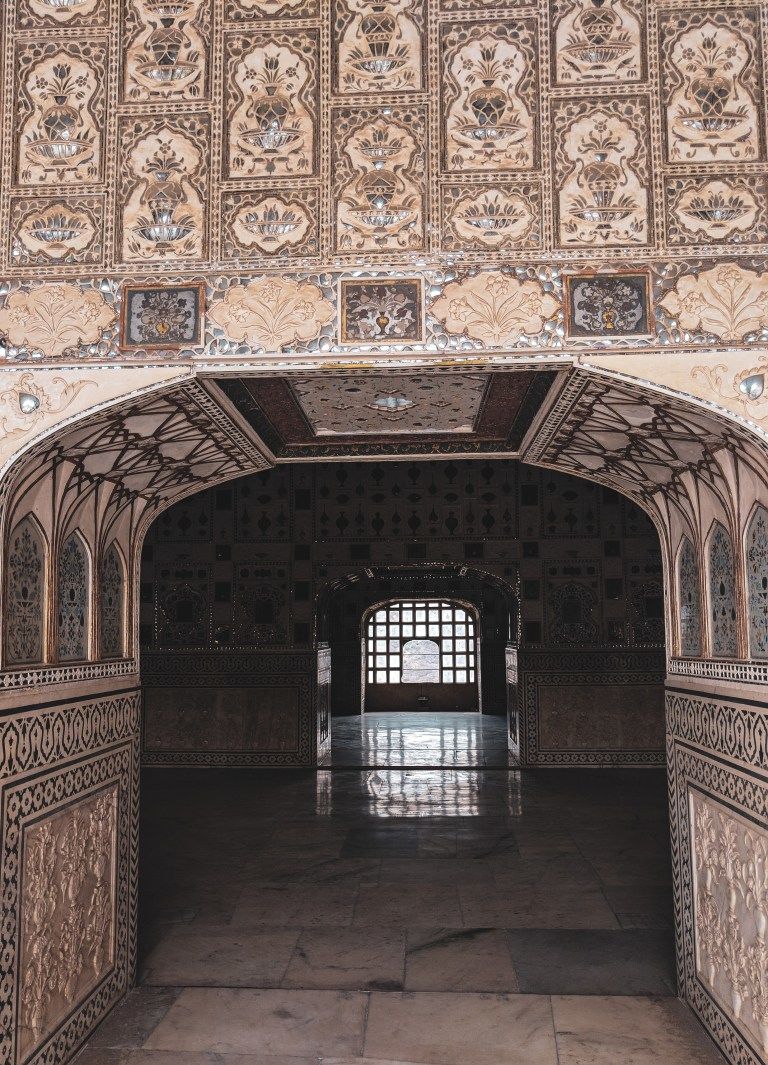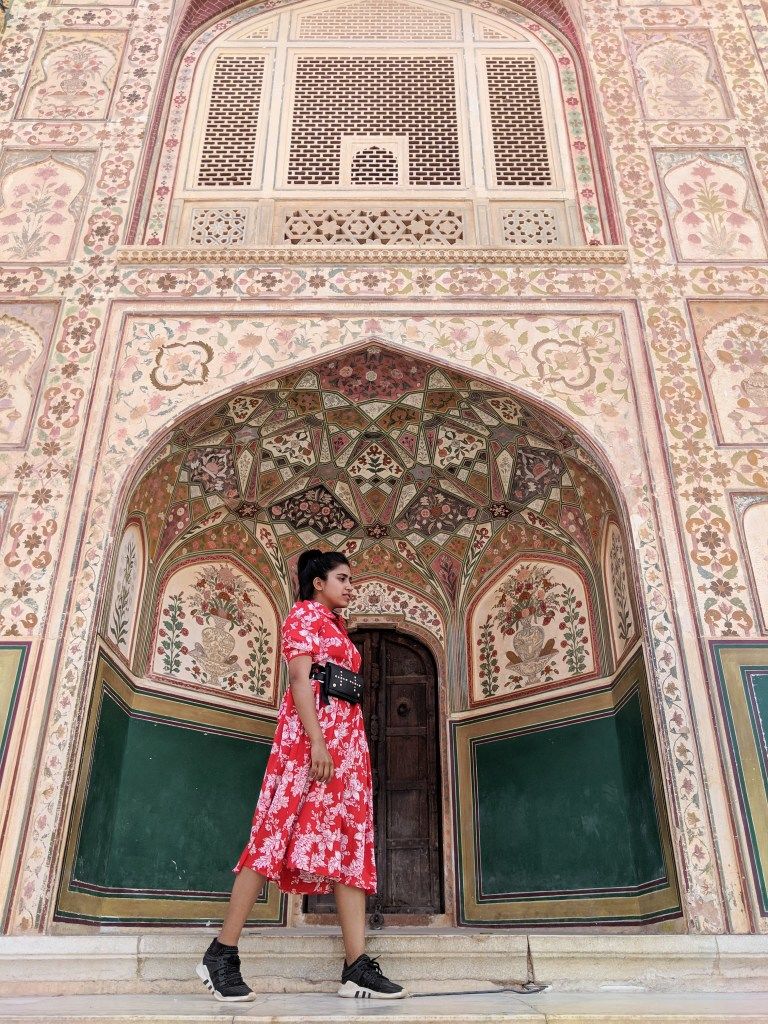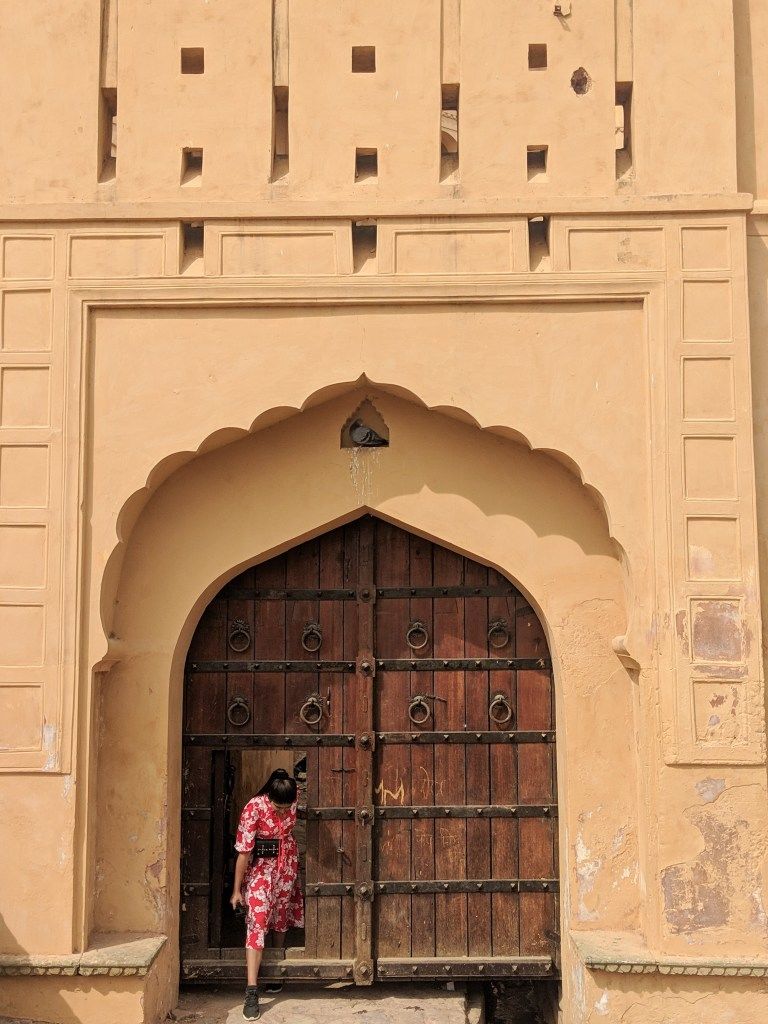 On your way to/from the airport, you see a tall pink structure surrounded by lush gardens – the biggest circular park in Asia on a traffic signal. Jaipur City was built on the principles of Vaastu Shastra and had a wall surrounding the city with seven gates. Later Sawai Man Singh built the eighth gate and Patrika Gate is the ninth gate of Jaipur. It has nine pavilions each nine feet wide.
Patrika gate gives you a sneak peek into the vibrant culture of Rajasthan as each pillar is dedicated to some part of the state. Hand paintings of forts, temples, palaces, portraits of Jaipur rulers, pottery, jewellery, photographs of all the iconic places of Jaipur are found here to give a glimpse of the entire history of Jaipur. There are also some pictures artistically portrayed in lively colors depicting the scene of wars, weddings, and basically the life back then.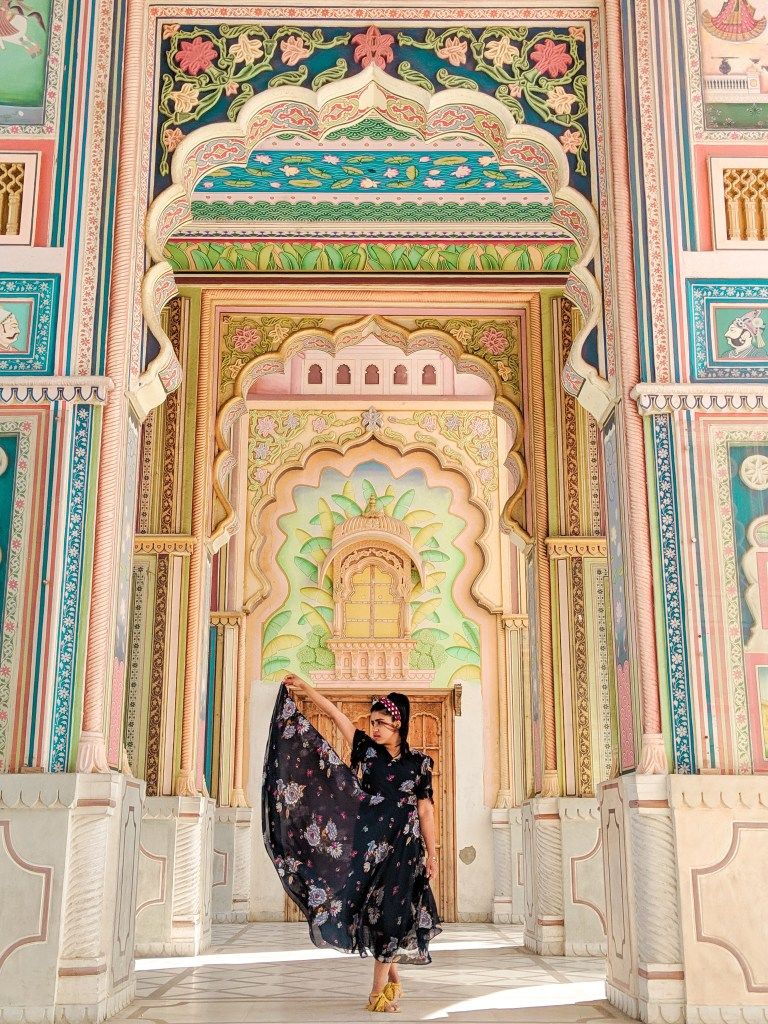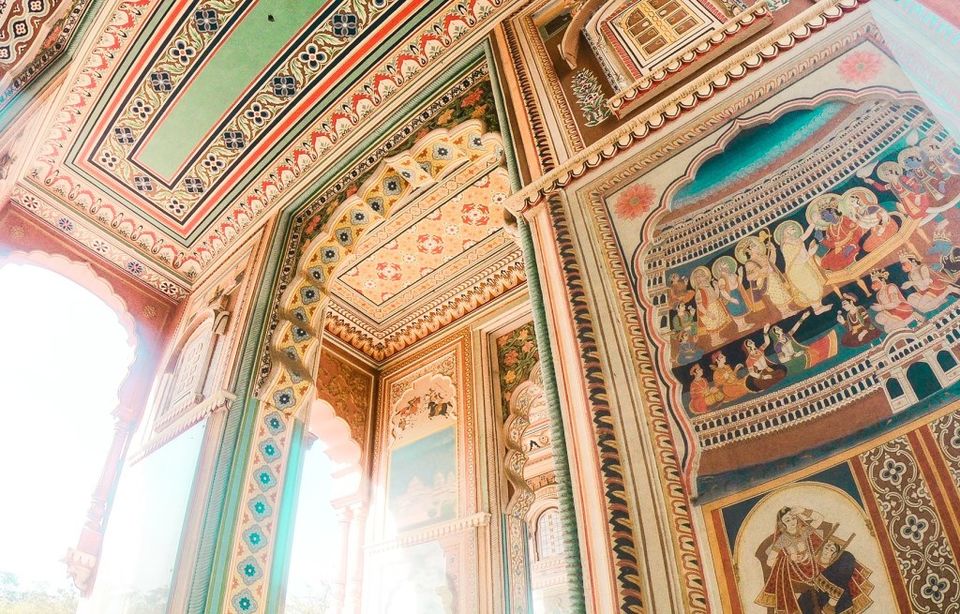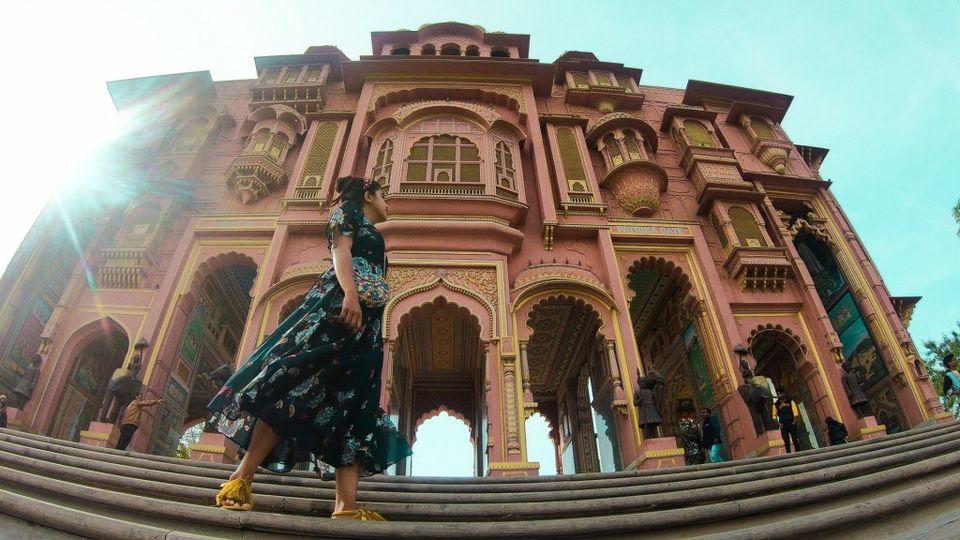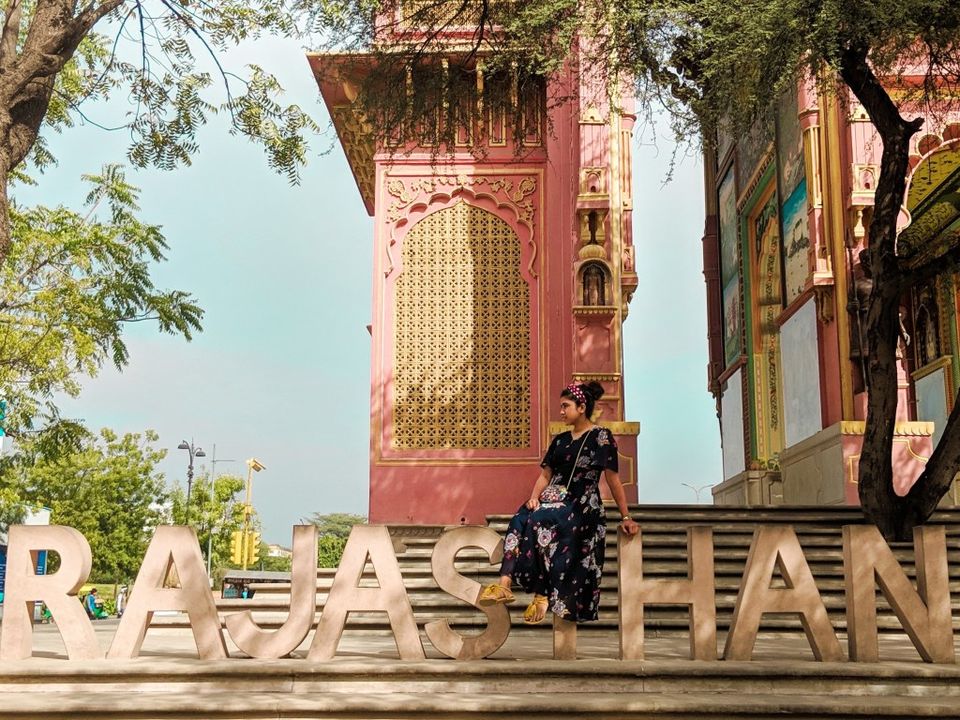 All in all, Jaipur is a city built around tourism. Experiencing the royal way of life in Jaipur was quite different than usual, decent but not the great.
I next headed to Agra and I can't wait to share my experience with you guys. There will soon be a blog post on Agra for you in the coming week so keep exploring this place. ???? Love, Love!
Also, have you read my Sikkim blog post yet? If not, click here to go on a virtual tour to Sikkim and plan your next trip. ????
This blog was originally posted on Roving Rainbow.
Frequent Searches Leading To This Page:-
Jaipur honeymoon packages from Mumbai, honeymoon packages from jaipur to manali, honeymoon packages jaipur rajasthan, best 5 star hotel deals in jaipur, places to visit in jaipur in 1 day