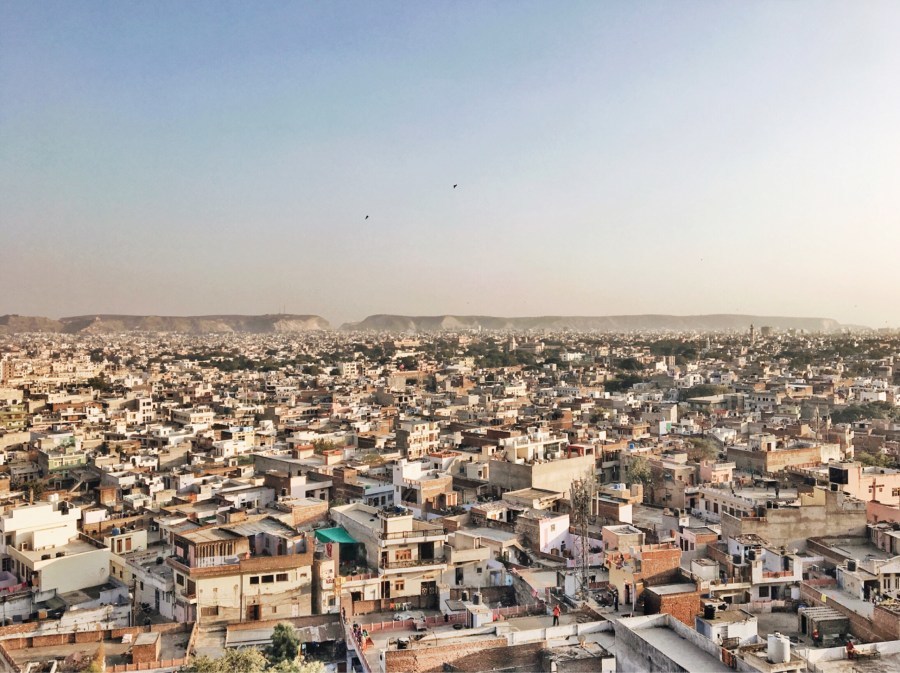 I had been wanting to visit Rajasthan for as long as I can remember. Every time I tried to steal time out of my schedule, something would come up. However, in the month of November 2017, I decided that I would take out 10 days in December to explore at least 3 cities in Rajasthan. The best time to visit Rajasthan is in the winters, between November and January. So, it worked out perfectly!
When I think of Rajasthan, the first city that comes to mind is the beautiful Pink City, Jaipur! It is the city of royal, charming and marvellous palaces and forts. Jaipur had to be first on my list! This time, I travelled with two of my friends who didn't know each other at all; so, I was pretty excited about how that would play out. And fortunately, it turned out pretty damn good! Brownie points to me!
We took an early morning flight from Mumbai to Jaipur and stayed in the city for 2 nights and 3 days. However, I think we needed a day or two more, because there's so much to see there, and we hardly managed to cover half of it.
The first night, we stayed at Jaipur Zostel which is a hostel, if you couldn't figure by the name. It was the first time I lived in a hostel with people from all over the world. At first, I didn't know what to expect at all. Will there be nice people? Will the place be clean? I really had no clue. But I guess having no expectations whatsoever has its perks, and most of the time the Universe surprises you! I walked into the most quirky, comfy and welcoming place ever. The rooms were clean, the washrooms looked hygienic and well kept, the common room looked so inviting and comfortable and the other hostellers were kind, generous and very sweet. We got to spend a little time at breakfast with some of the hostellers, and then headed out to soak in the city's vibe and culture.
We walked along the main tourist market, gawking at the leather bag boutiques, silver jewellery stores, jutti shops and vintage antique sellers. I wanted to buy everything. I was in heaven! From the main market, the grand Hawa Mahal (Wind Palace) stands tall in red and pink sandstone. Its unique five-storey exterior is akin to the honeycomb of a beehive. The jharokhas (balconies) have tiny intricate designs and paintings. We skipped going into the palace, and instead entered the City Palace of Jaipur. Its peach and pink tones, detailed carvings and magnificent architecture will make you fall in love with the palace. The beautiful jharokhas and pretty walkways make you feel no less than royalty! The palace complex incorporates an impressive and vast array of courtyards, gardens, and buildings. After hours of walking and exploring, we went back to the hostel to rest. We spent the night playing Scrabble, jamming to music, and interacting with fellow hostellers.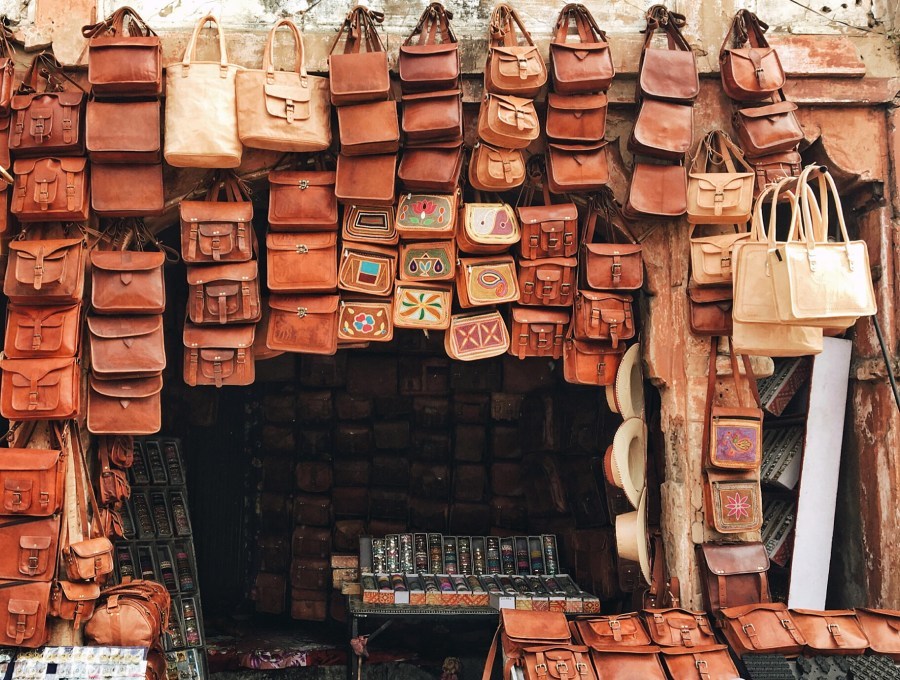 The next day, we woke up really early in the morning to go to the Amber Fort and Palace in Amer. It was about 20 minutes away from the Jaipur city centre, so we took an Uber cab up to a point, and then walked up to the fort and palace. As the fort progresses, you begin to see its magnificence, and I was stunned at the sight. Its massive walls, huge doors and windows, and its royalty, as it stands high on a hilltop, make for a mesmerising view!
Usually, I'm not the kind to hire a tourist guide, but this time I thought, why not? They probably have their own version of the history and story of the palace, but I was curious to know what they might bring to the table. And so, we hired one. He took as to all the corners of the palace, gave us minute details about it, and even cracked us up a few times. This palace was one of my favourite ones out of all the ones we saw on this trip. With its intricacy, organic colouring, brilliant architecture and golden vibe, I was awestruck! This is one palace you CANNOT miss if you're visiting Jaipur.
The same day, we visited the Jaigarh Fort that was just about 15 minutes away, on a higher hilltop. Two important things about visiting this fort are; one, there's not much to see because it was a fort for the Rajput soldiers of the time. It has some beautiful views of Amer city from that height, and the world's largest cannon. But that's about it. Two, the cabs will take you up to the fort, but on your return trip down, they'll charge you 200 rupees more than your billing amount. Why? I still haven't understood. After getting cheated by rickshaws asking for a 200 rupees downhill drop, you're on your own. In all, I'd say it's not really worth the inconvenience.
That day, we moved from the Jaipur Zostel to the Mansingh Tower Hotel. It's a part of the Club Mahindra properties, and a fairly regular hotel. Of course, it has its perks of comfort, luxury and bathtubs, but somehow, I wanted to go back to the hostel!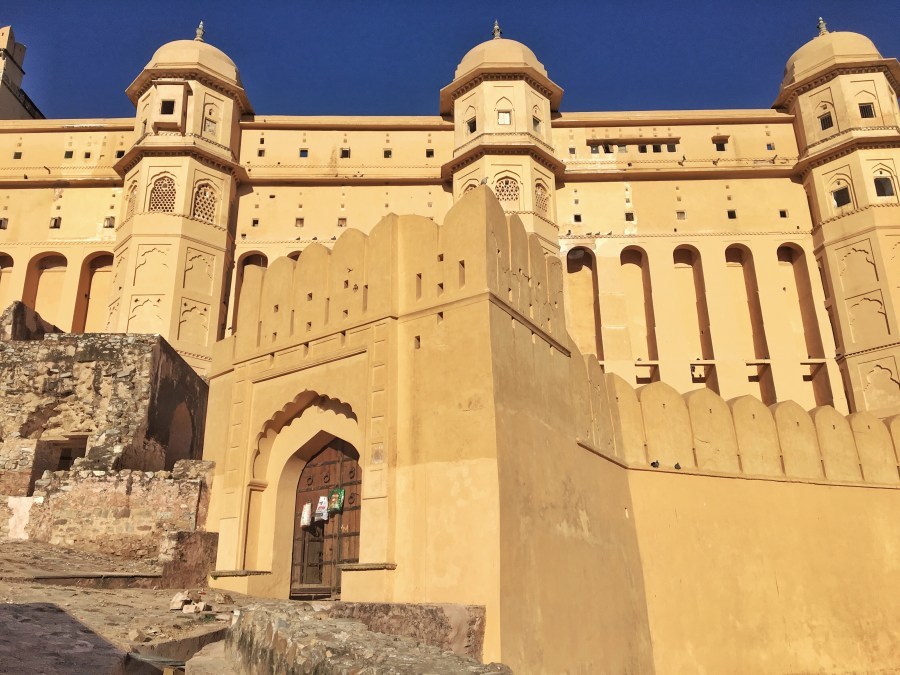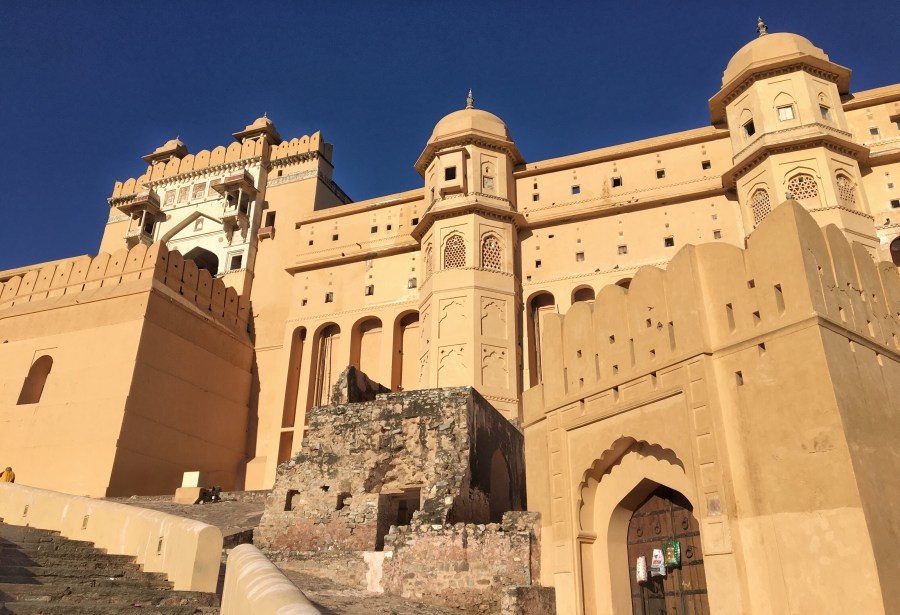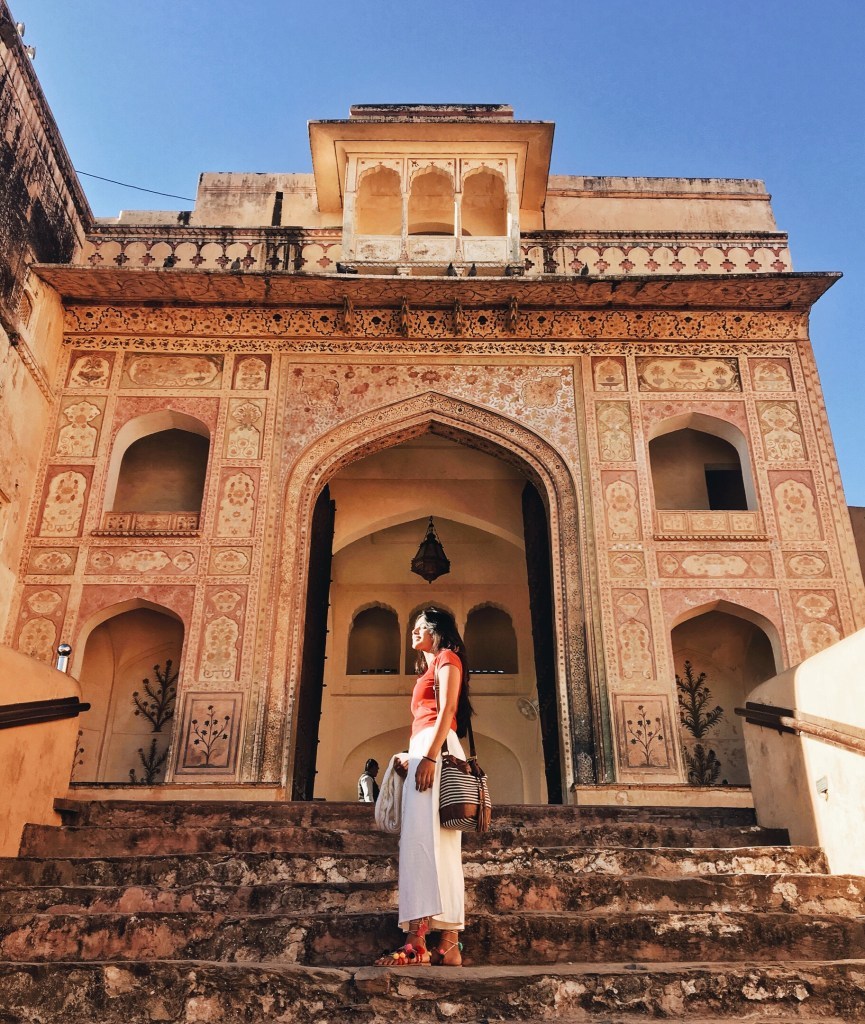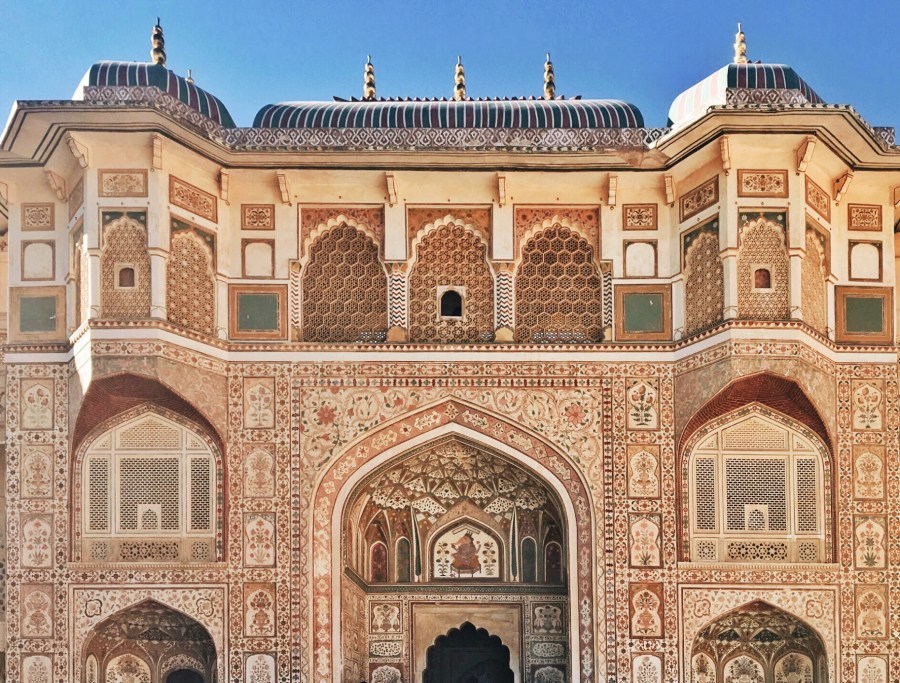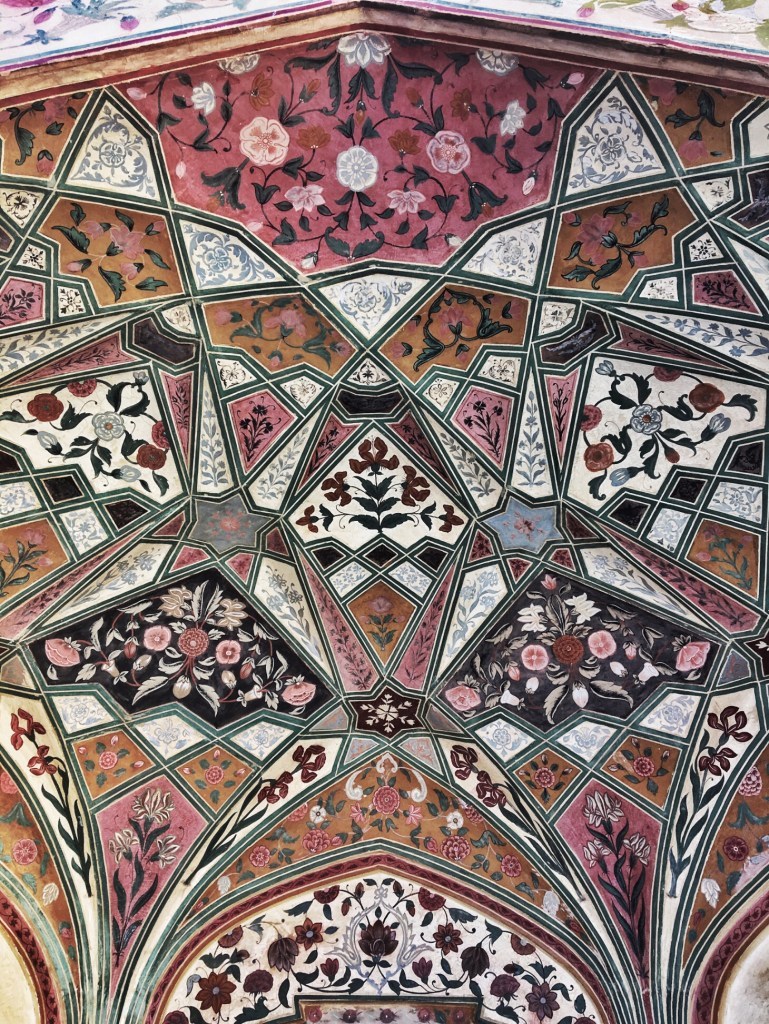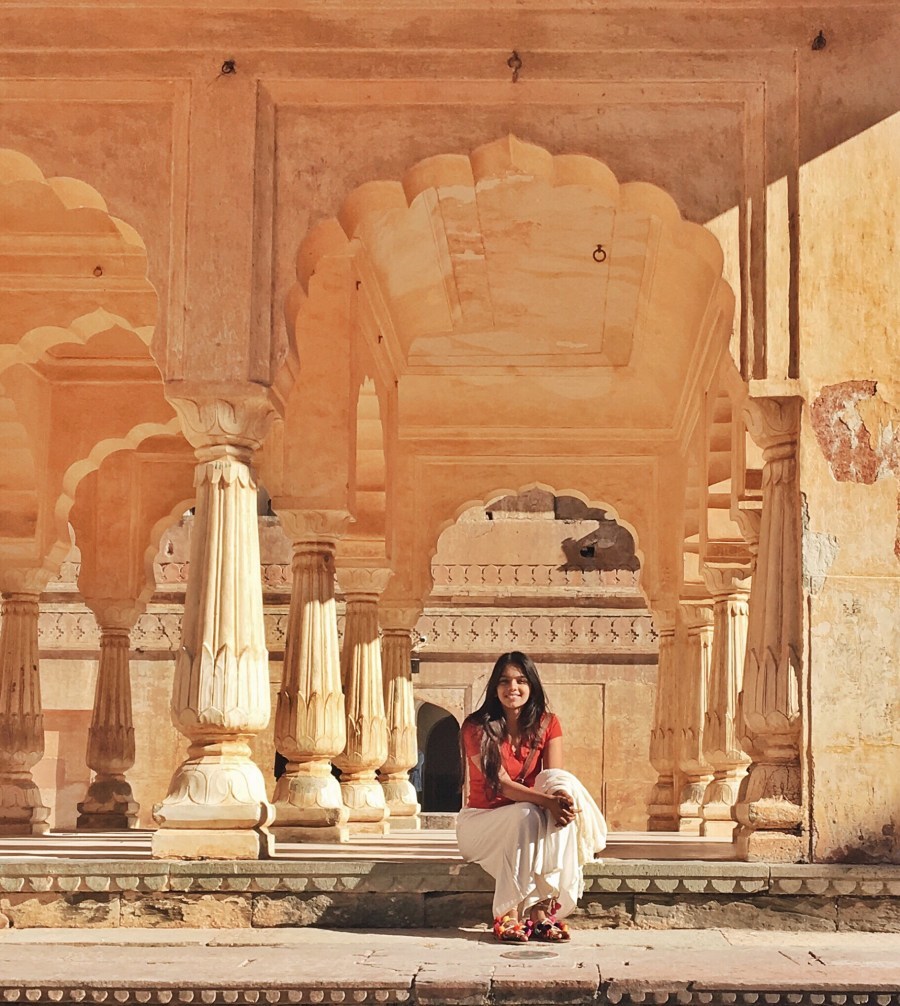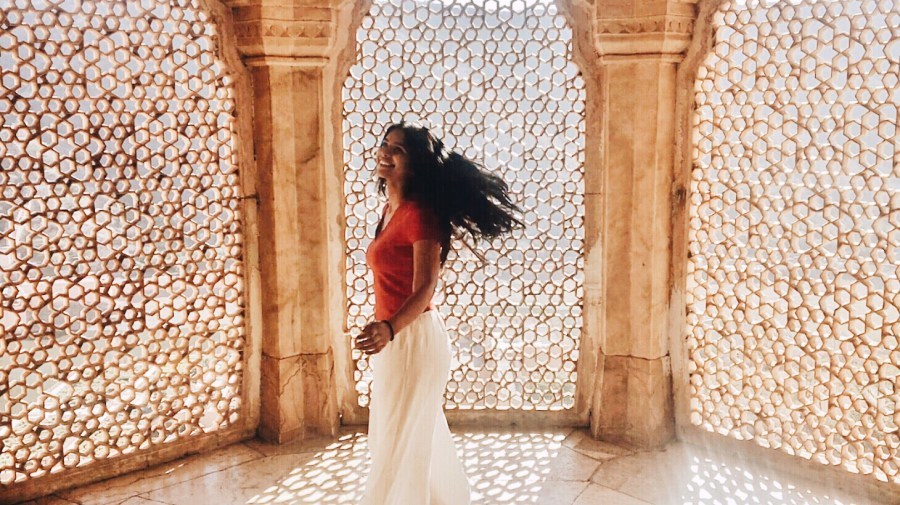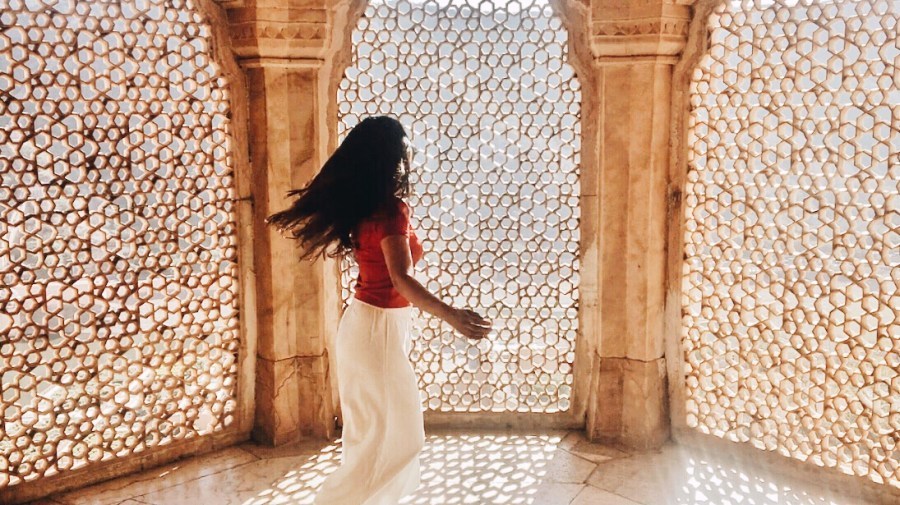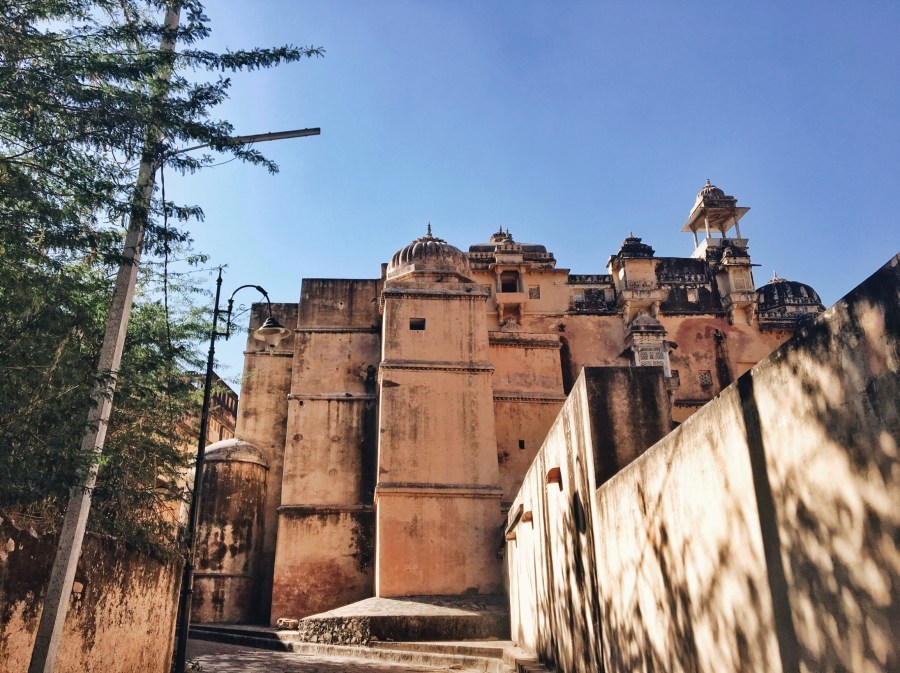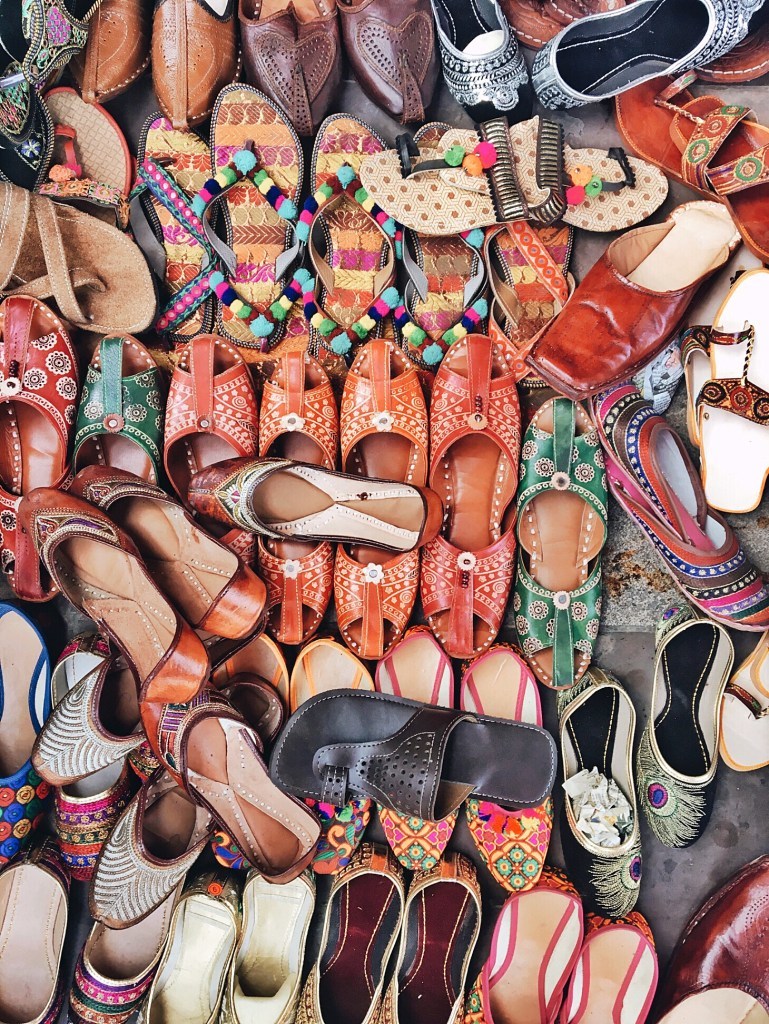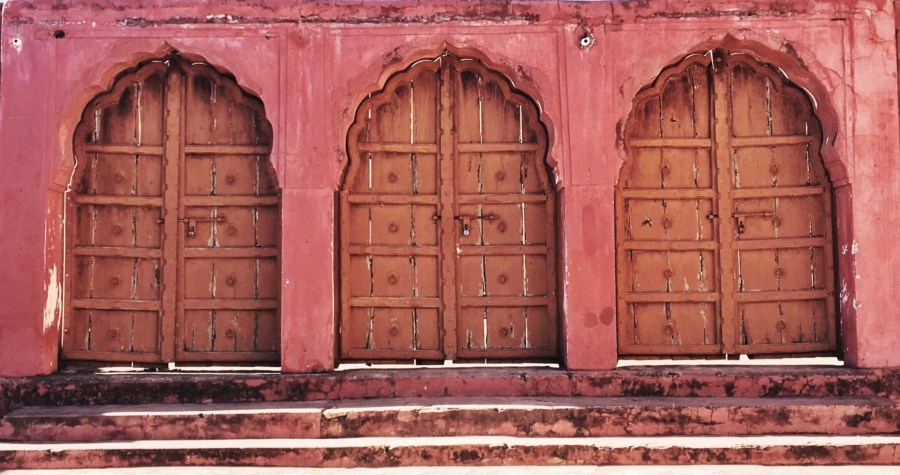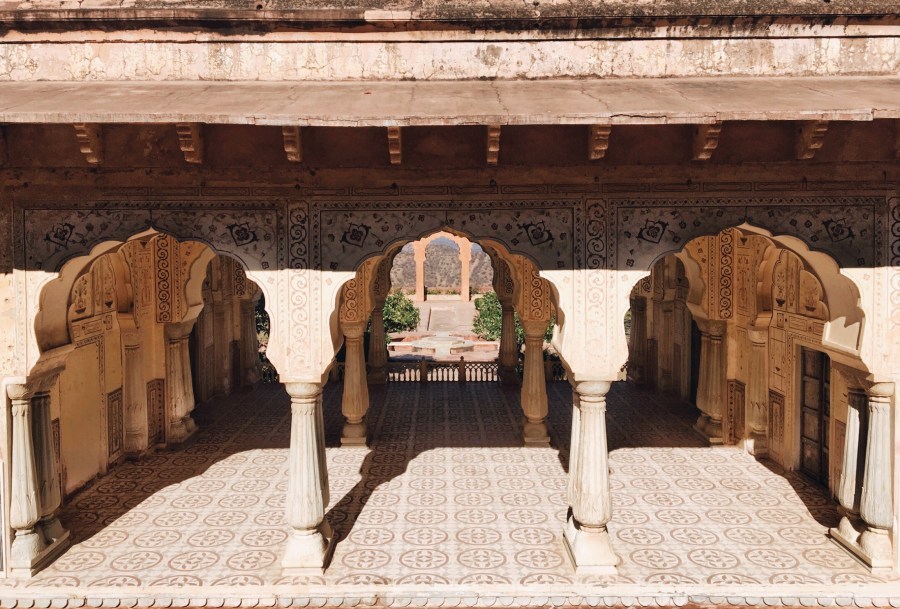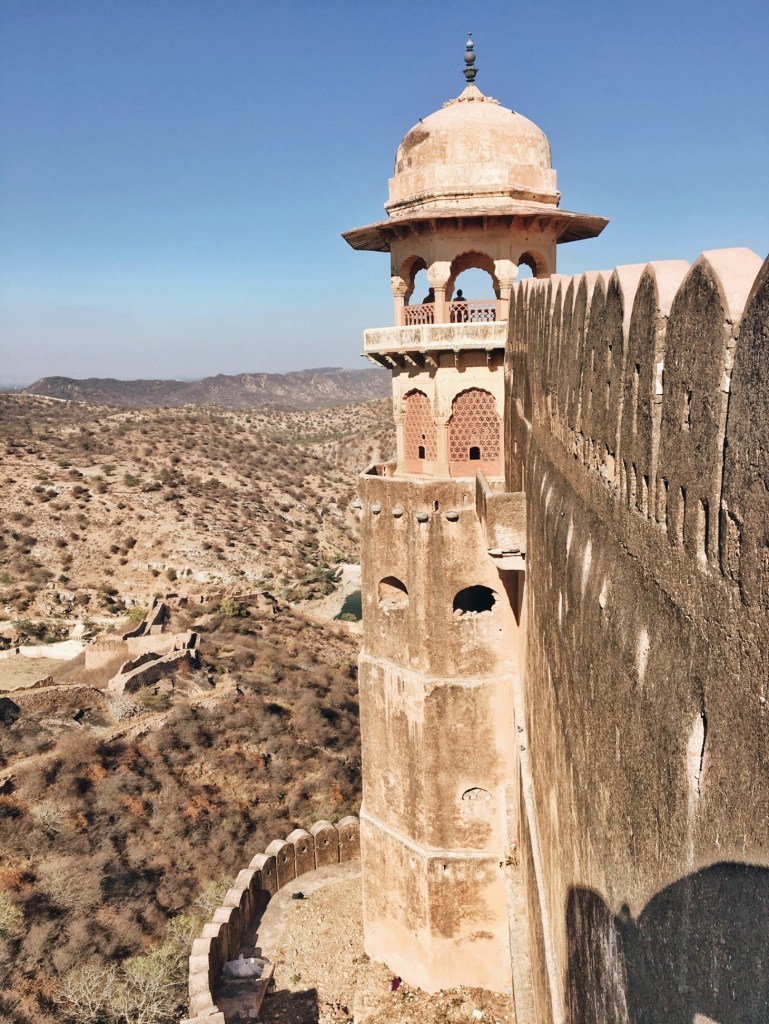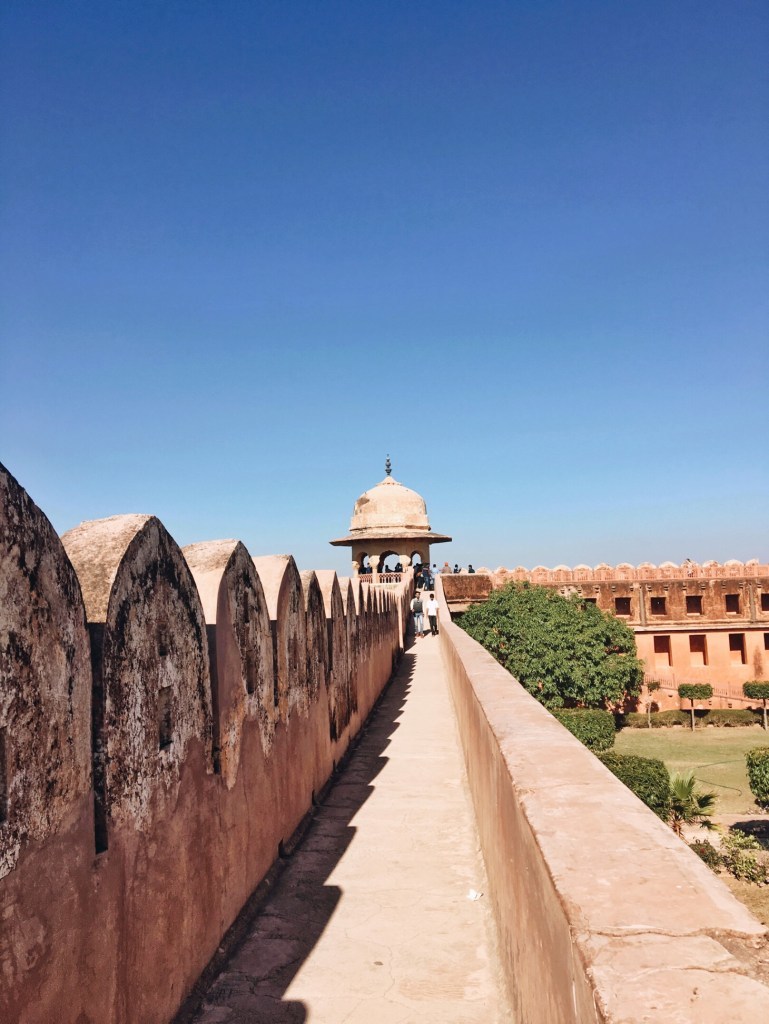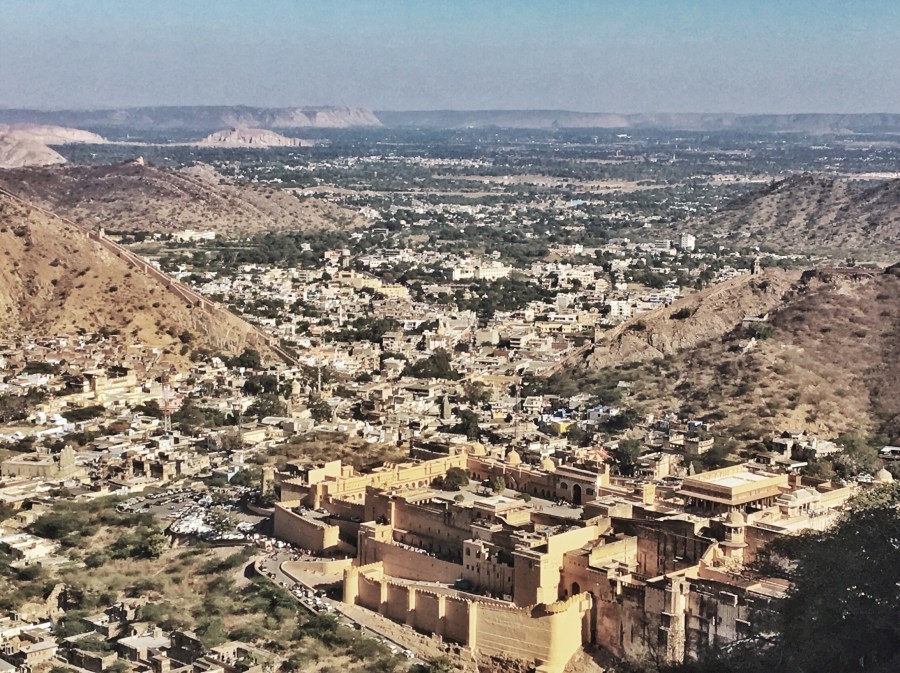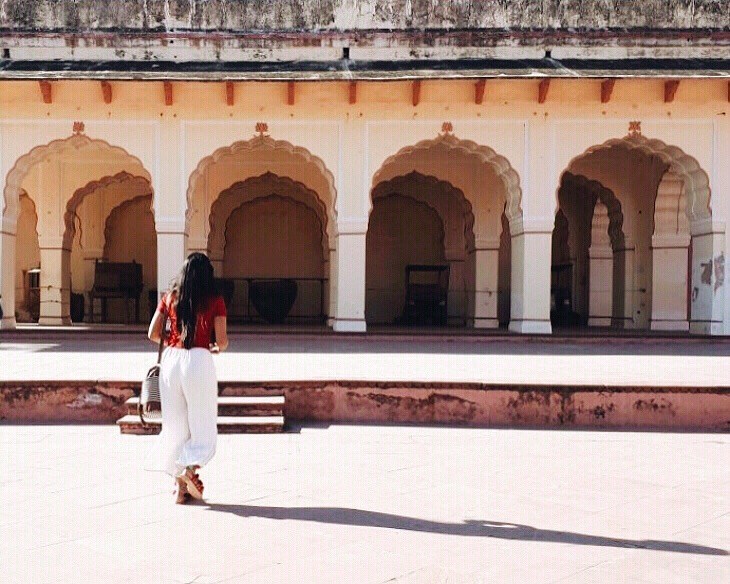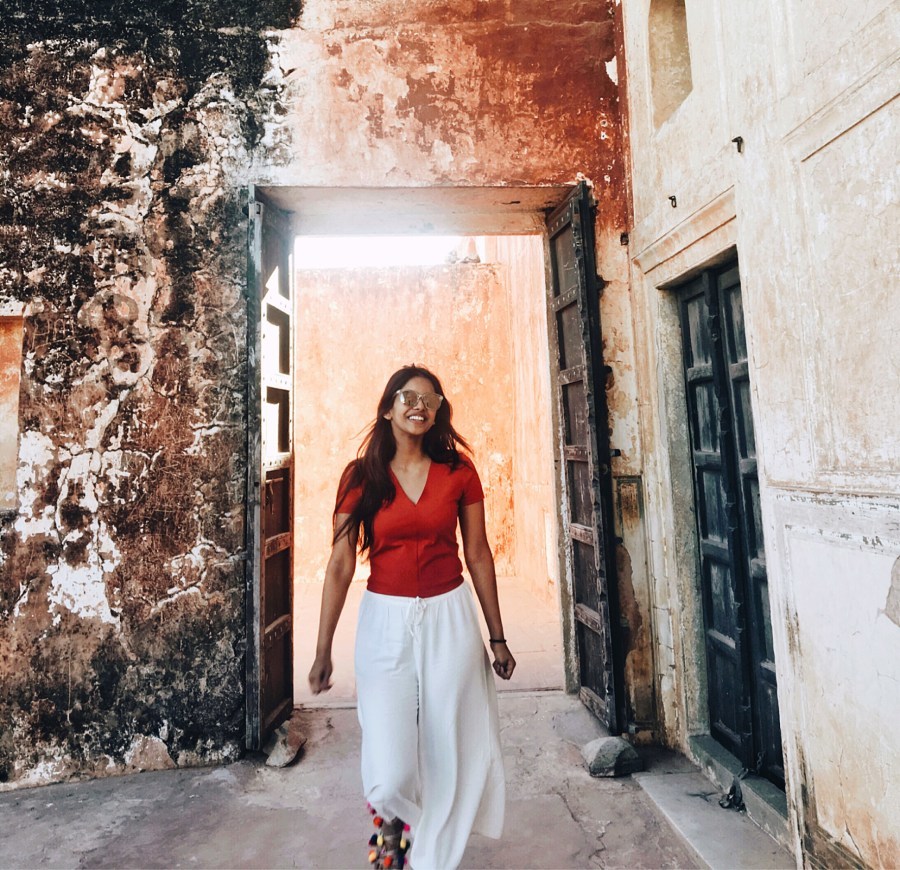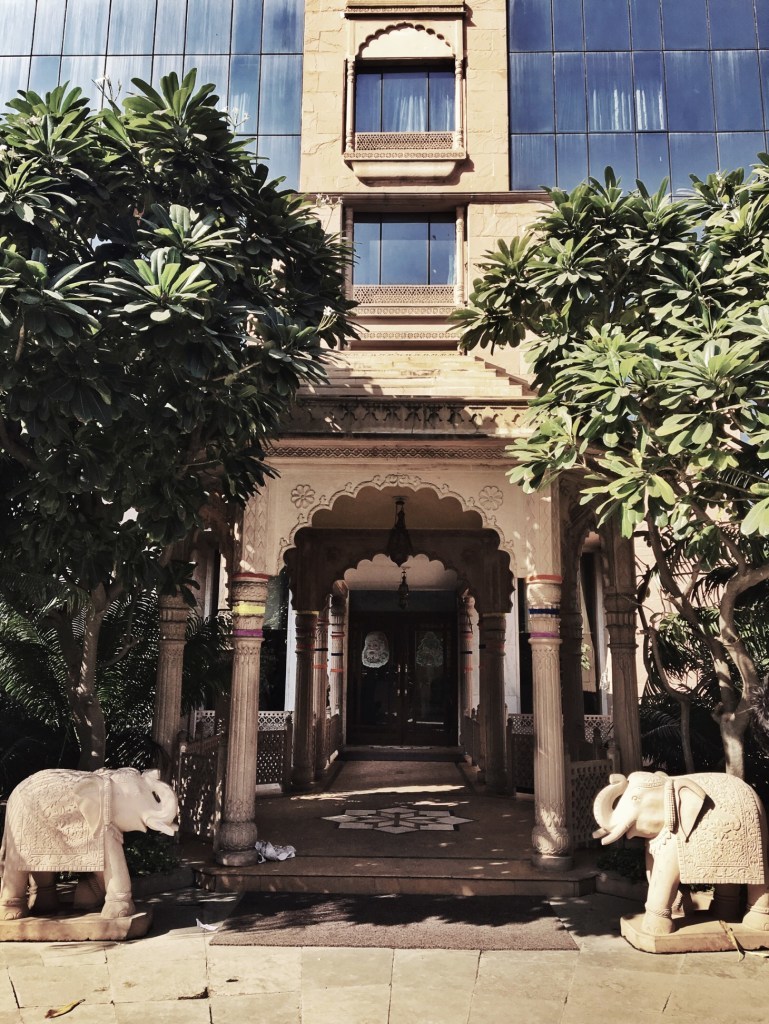 On the last day, we slept in until just before noon, and then only stepped out for lunch. We walked along the shops, ate roadside food, and I finally bought a leather bag I was eyeing since day one! In the evening, we left for the Nahargarh Fort before sunset. Again, the rickshaws could only drop us up to a certain point and then we had to walk. But, we did something more adventurous and what, for me, is the same as meditating. Trekking! Yes, we climbed that massive mountain, walking up slopes that seemed like 60 degrees, and it was so much fun! There was not much to see in the fort so we walked along the fortress wall, picked a quiet spot, and sat there watching the sun set over the city! The view was beyond words can explain, and it was so peaceful. I'd say it was the perfect culmination to our trip to the Pink City!
That night we took an overnight bus to Jodhpur.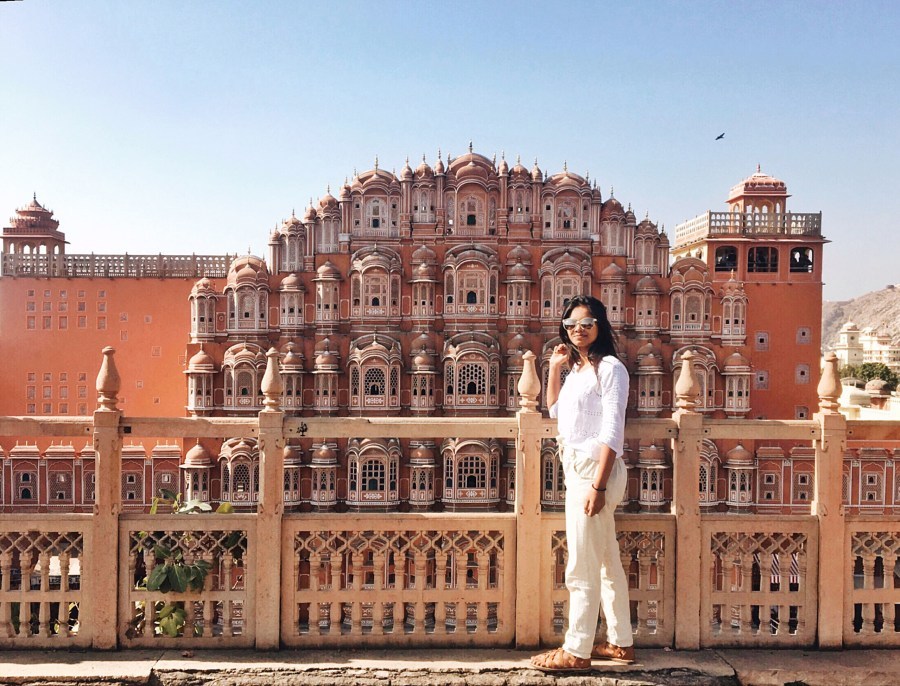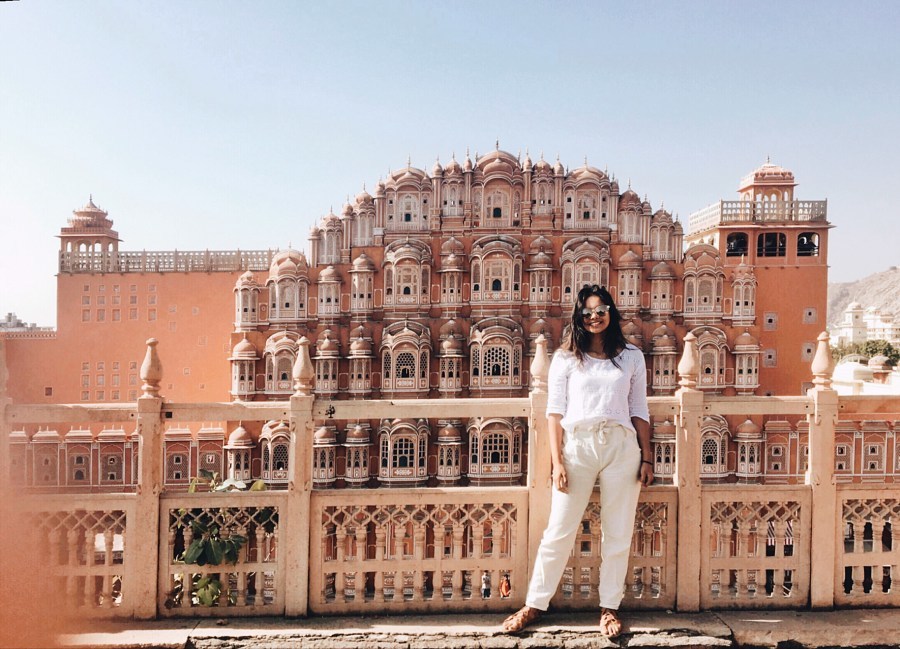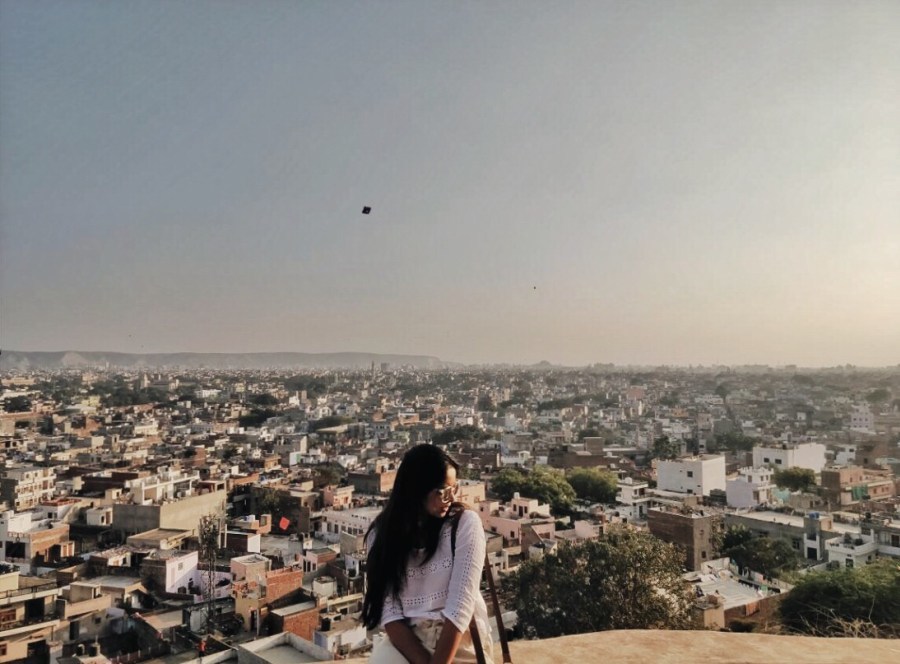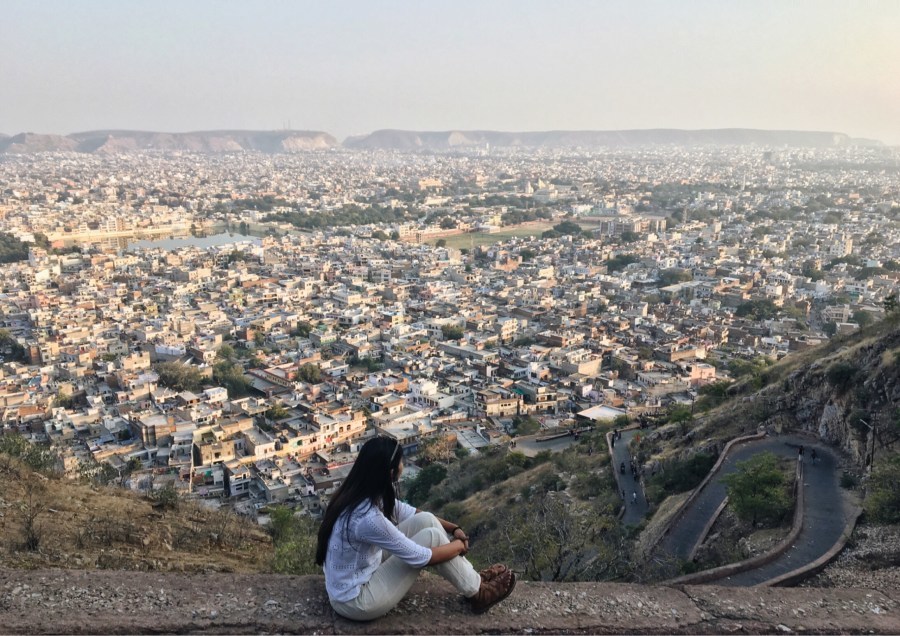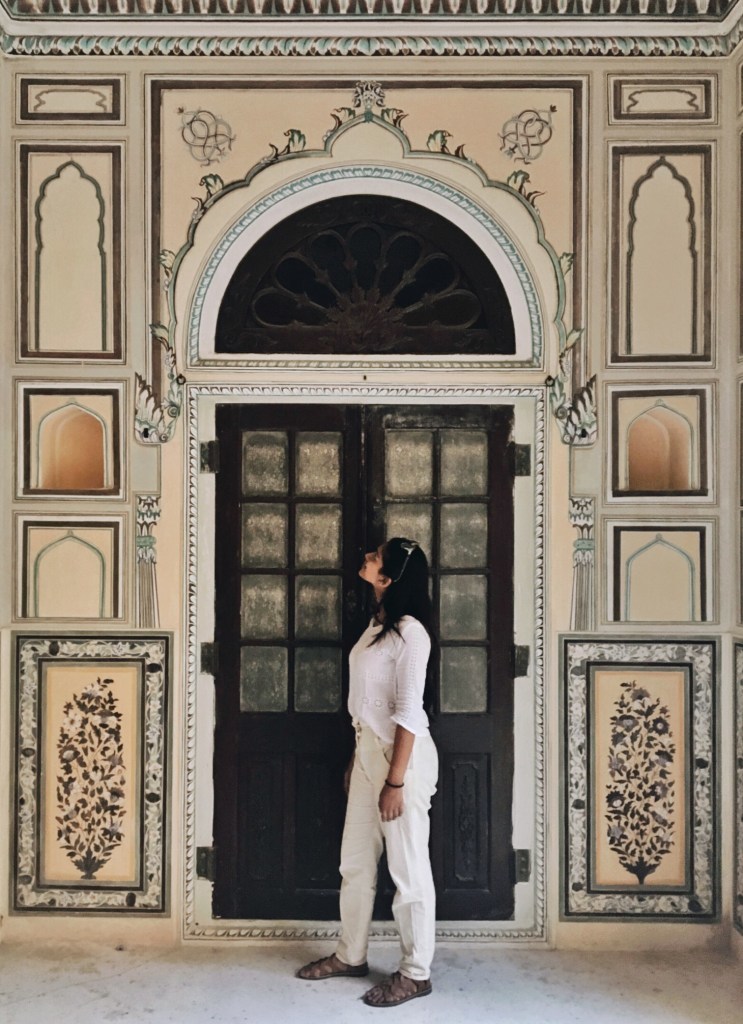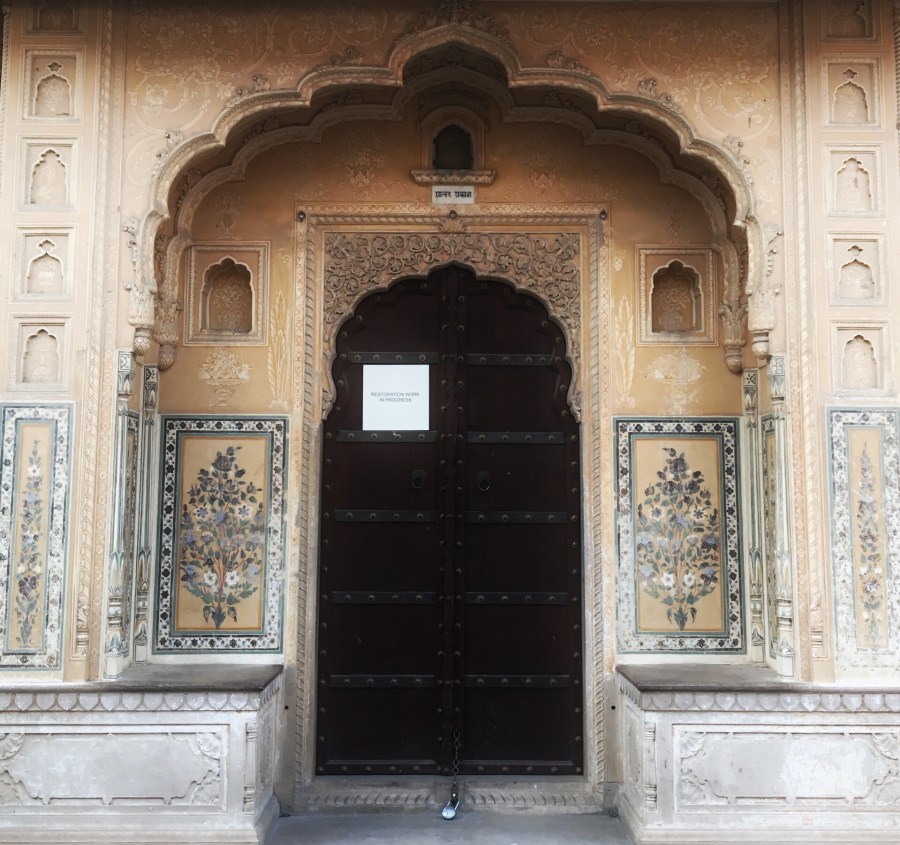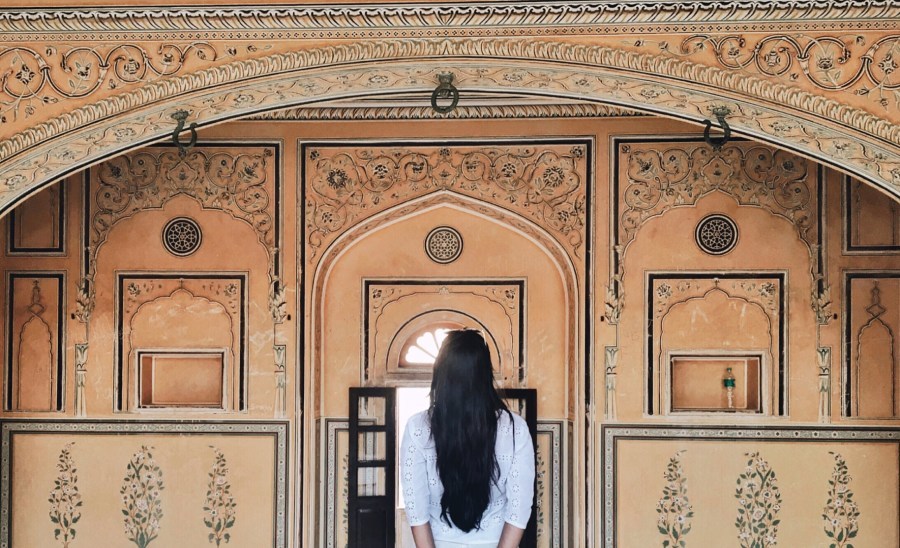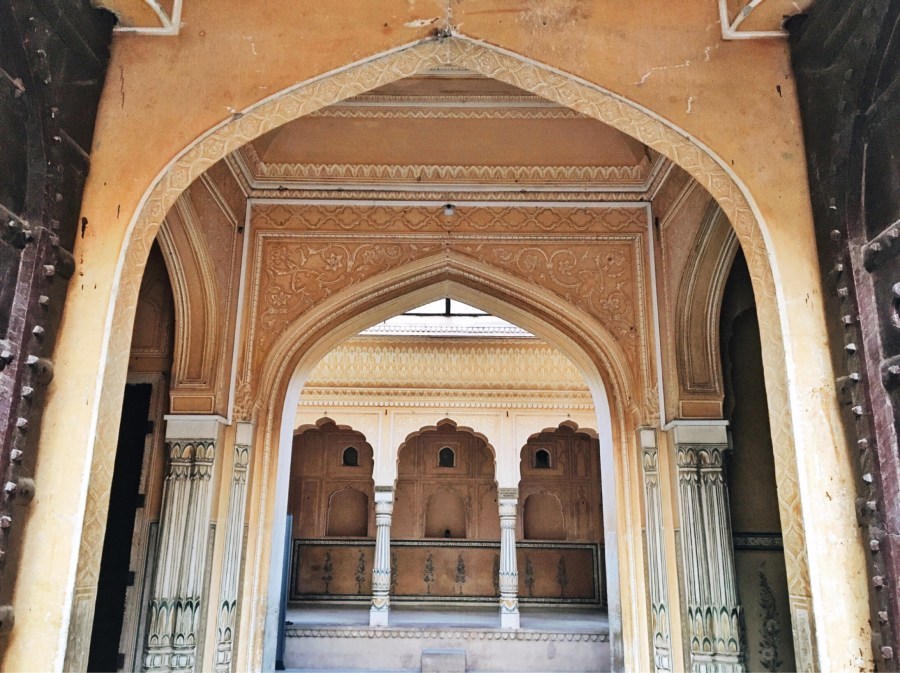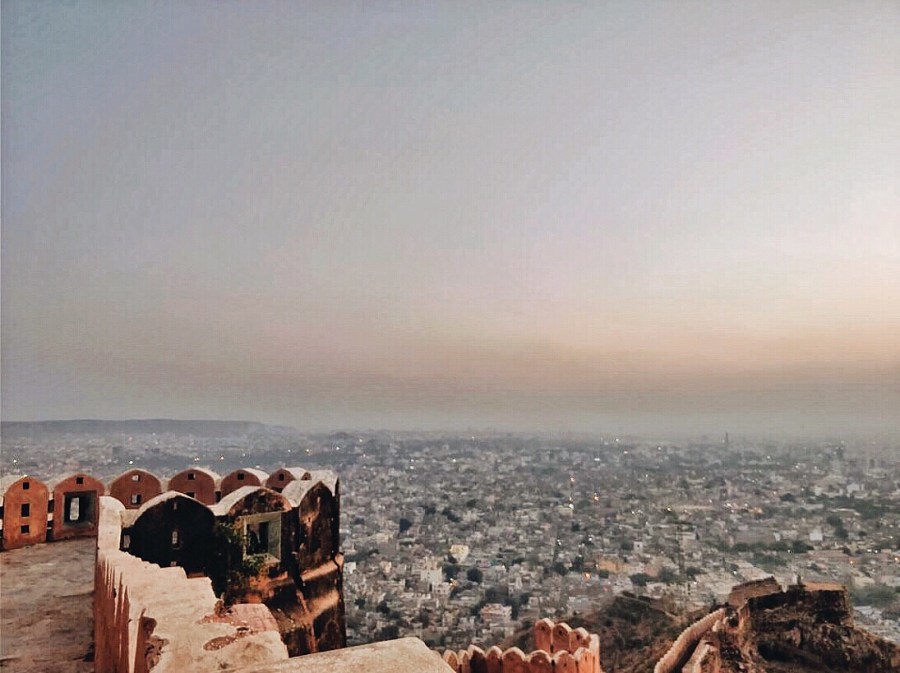 Overall, Jaipur treated us well and I absolutely loved the city, the people, the culture, the sounds, the heritage and everything about it!
Restaurants and cafes we visited:
1. Wind View Café
It overlooks the beautiful Hawa Mahal, and parts of the city. Serves the best lassi in town!
2. Kailash Restaurant
Serves the most delicious and flavourful vegetarian food. They dolloped a whole slice of butter in the curry, and oh my god, it was so yummy!
3. Jaigarh Restaurant
If you're looking to eat authentic Rajasthani food, here's a place you must go to, only if you're visiting the Jaigarh Fort. Order the laal maas and chicken biryani. The best food we ate on this trip!
4. Handi Restaurant
Known for its pretty rooftop setting. Average food, with terrible service.
5. The Tattoo Café
Directly opposite the Hawa Mahal, it has a variety of food options and choices. Great for breakfast!
Roadside daal kachori: Anywhere on the market road, you'll find vendors serving daal kachoris and samosas, they're a must have when in Jaipur! Cheap and yummy street treats.
6. M. Khan
Yummiest tandoori chicken and traditional Jaipur style street food available here. Most scrumptious, finger-licking and tasty food ever! If you're a foodie, this is the place for you!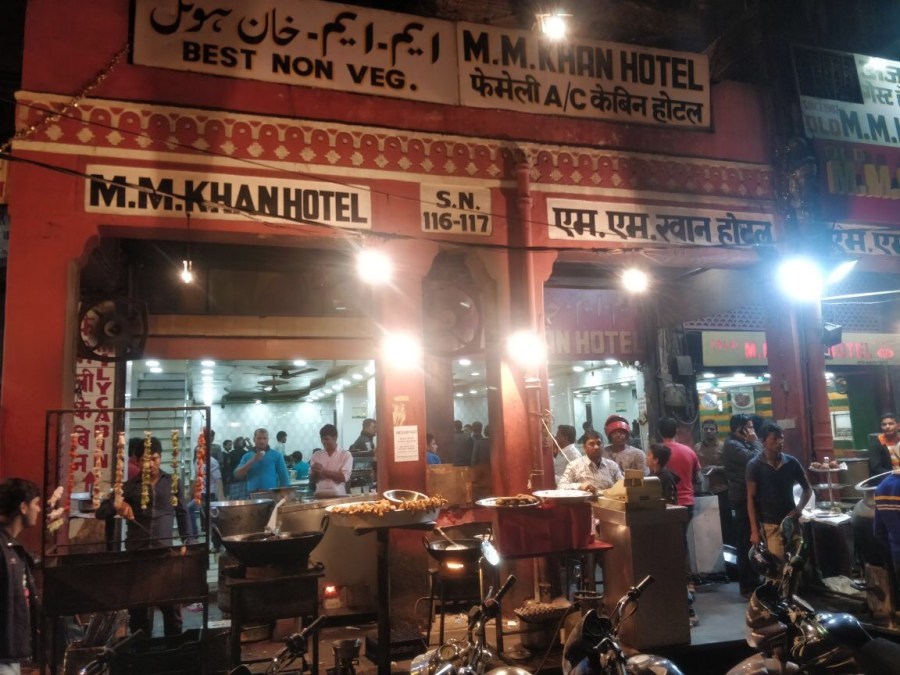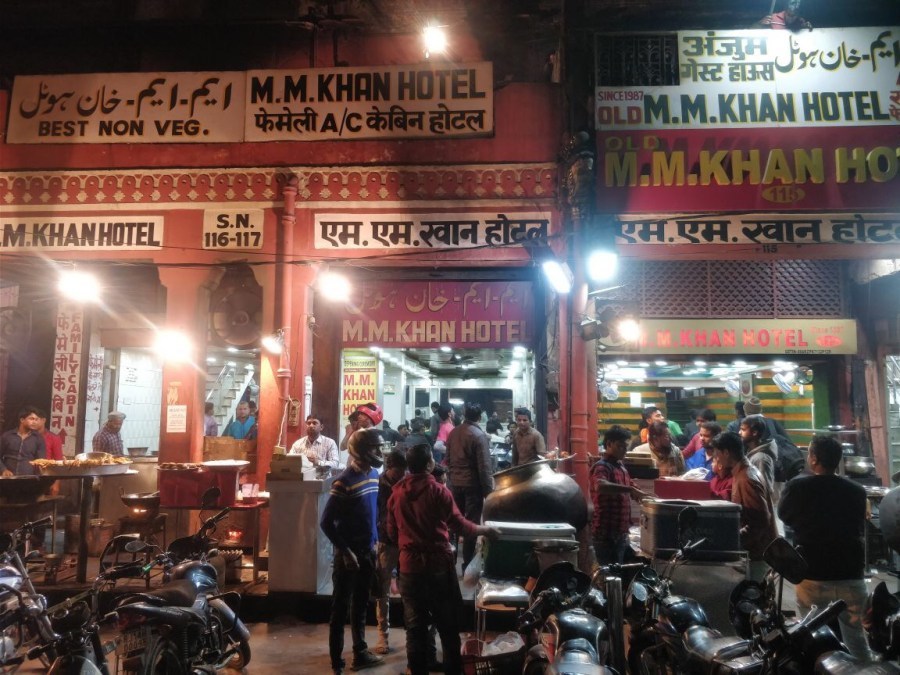 #FRWTravelTips
If you're on a budget, spend less on rickshaws and autos; try walking as much as you can. Everything is pretty close by. Use the Uber cab service over the local rickshaws because it's cheaper! If you're a student, carry your university or college identity card, you'll get students discounts at tourist visiting sites and ticket counters. It can make a huge difference to your wallet! If you want to shop a lot, go to the local market. You'll get the same things you get at the tourist market at half the price. Be a sport and try the authentic Rajasthani food at least once since you've come all the way.
You can share your travel story on Tripoto too! Start writing here.
Get travel inspiration from us daily! Save our number and send a Whatsapp message on 9599147110 to begin!
Frequent Searches Leading To This Page:-
jaipur tour package for family for 2 days, jaipur tour package for 2 days, jaipur tour package for couple from ahmedabad, jaipur tour package from nagpur, delhi to jaipur package for 2 days, Top Weekend Getaways from Jaipur