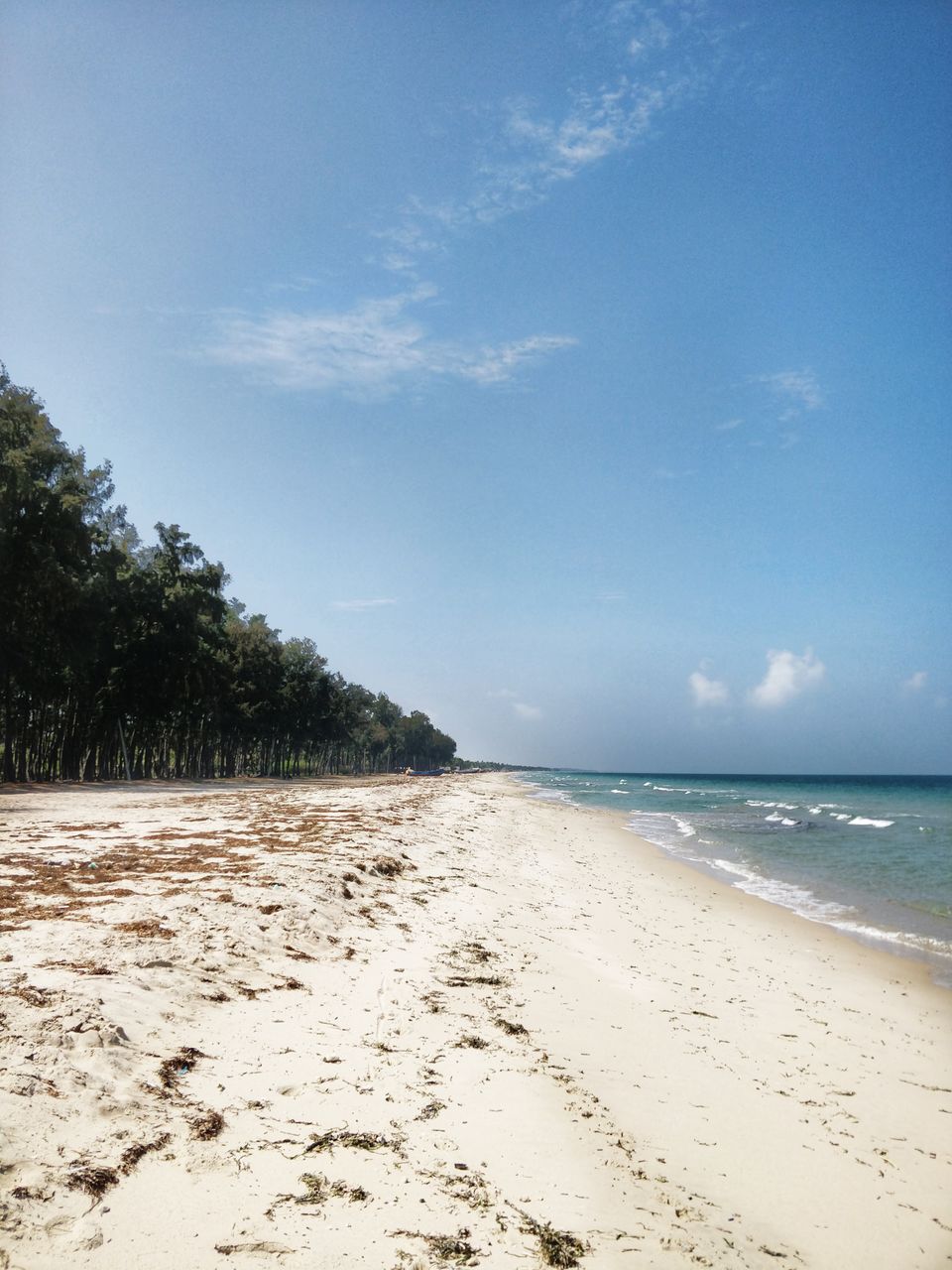 Are you looking for an interesting road trip idea in Southern India? I just completed a motorcycling tour down the gorgeous coastline of Tamil Nadu and it proved to be an incredible travel experience. Read more to know about the route I took, the sights I saw and the overall experience that made this journey worthwhile.
The East Coast Road
The East Coast Road (also called the ECR Scenic Beachway), as it's name suggests, is a highway that runs along the Eastern coastline of the country within Tamil Nadu. Most people know about the portion of it that runs from Chennai to Puducherry (approximately 130km), but what a lot of people tend to forget is that the ECR continues many hundreds of kilometres further all the way to Kanyakumari, the Southernmost point in India. And, believe me, the further South you go, the more memorable this route is!
The Route
Broadly, your route should look something like this -
Chennai - Mahabalipuram - Puducherry - Cuddalore - Chidambaram - Veilankanni - Ramanathapuram - Rameshwaram - Dhanushkodi - Ramanathapuram - Thoothukudi - Manapad - Kanyakumari.
I say "broadly" because you are likely to come across several short detour options along the way that could lead you to some beautiful hidden beaches, I would encourage you to take a few of those, even if only for a quick glimpse at the sea, especially when passing through the Deep South, i.e. between Ramanathapuram and Kanyakumari.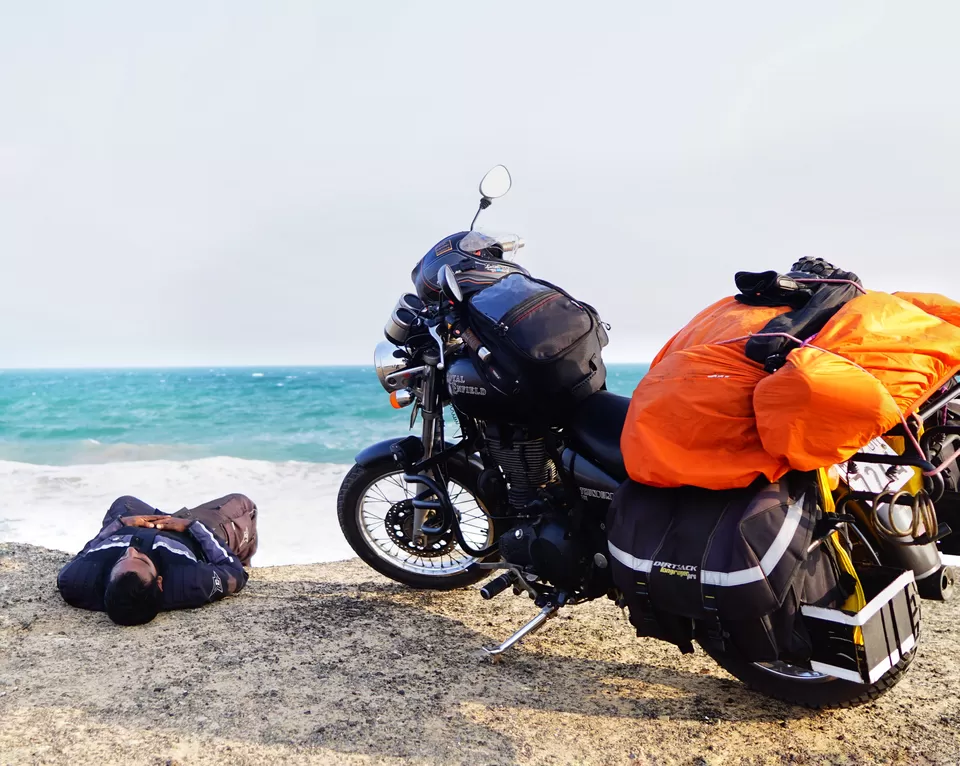 Plan Your Itinerary
Now, figuring out how to break up this journey and choosing the places that you would want to stop at is the tough part, because it really depends on how YOU want to go about it.
If your priority is the road trip itself, i.e. you aim to drive the entire route in the shortest time possible, then you could cover the stretch from Chennai to Kanyakumari comfortably over 2 driving days.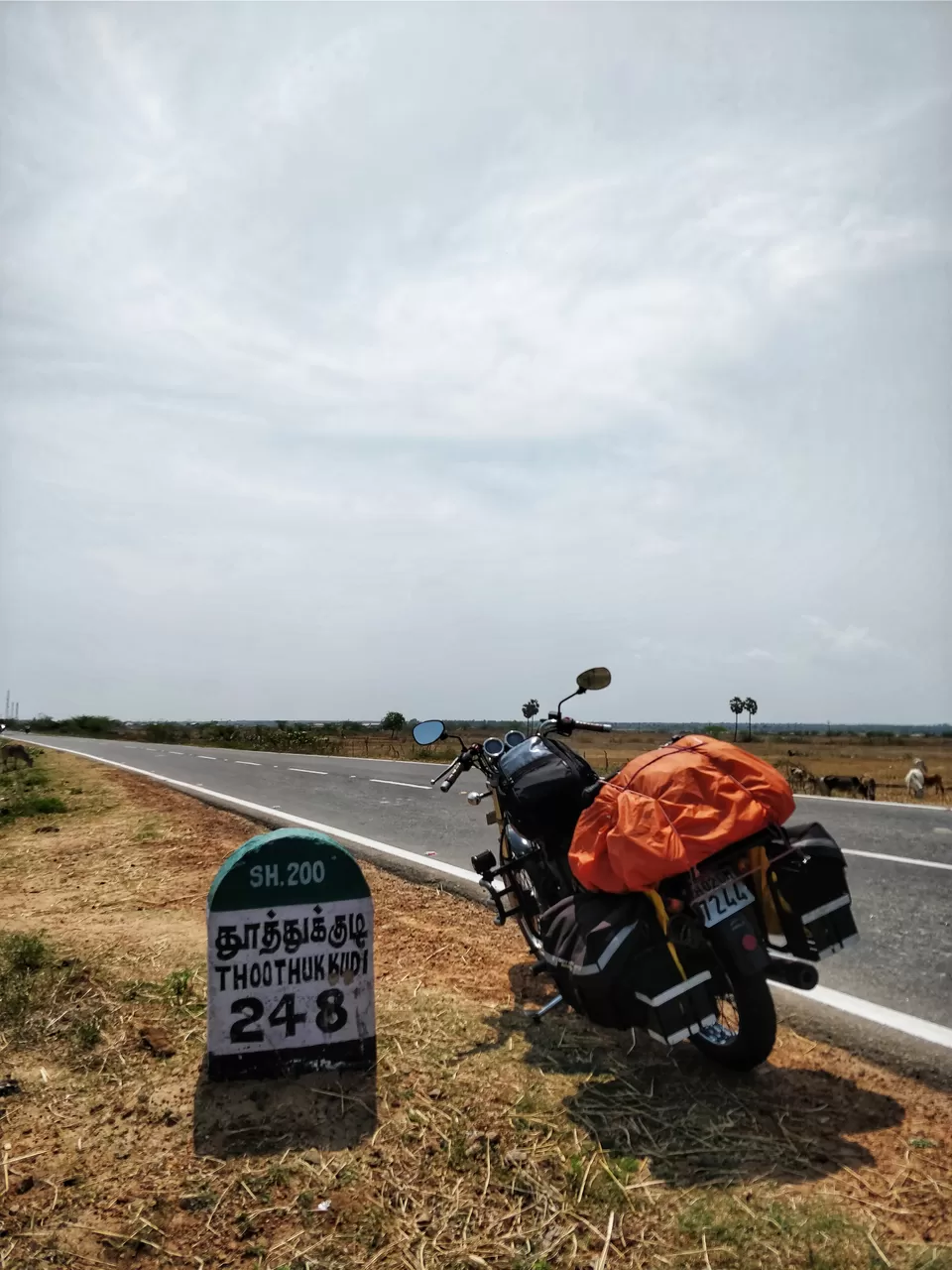 But, if like me, you're someone who is keen to soak in some unique local experiences along the way, then you could easily stretch this journey out into a longer week-long itinerary. Now, I know some of you may raise your eyebrows wondering how a person can spend 7 days covering a distance of less than 1000km, and well, the simple answer is that you spend less time riding or driving and more time doing other things that you won't find anywhere else. Here are a few ideas:
1. Stopover at Puducherry
If you've never been to Puducherry before, you should definitely plan at least a 1 day stop en route to soak in the distinct vibe of this Union Territory - sample some great food at the local cafes, bicycle around the colourful and clean French Quarter and experience the earthy vibes of nearby Auroville too.
2. Enjoy the Silence of Tranquebar
Been to Puducherry before, then motor on South a few hundred kilometres more to Tharangambadi (Tranquebar), which used to once be a famous Dutch settlement along the East Coast. It's far less touristy than Puducherry, so you won't find the quirky cafes or bustling marketplaces, but, on the plus side, you won't be bumping into bus loads of tourists after every ten steps either. There's an ancient fort to explore, and the turquoise sea itself is a sight to behold.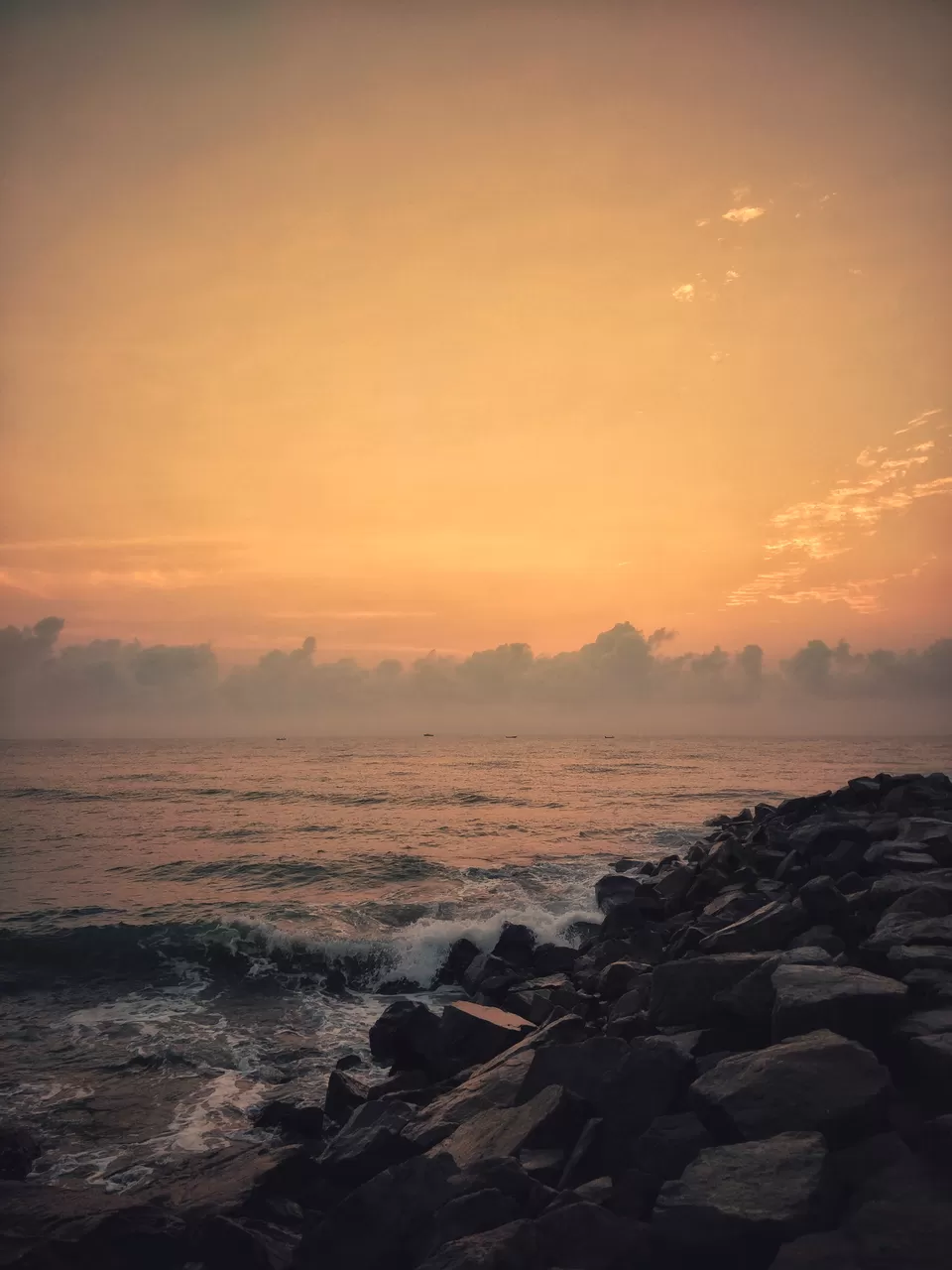 3. Bring Religion into the Mix
If you'd like to add religious significance to your trip, the route down the East Coast also happens to pass through towns of specific importance to different religions, most notably Chidambaram (known for its ancient Nataraja (Shiva) Temple) and Veilankanni (home to the famous Shrine Basilica of Our Lady of Health).
Heading further South, you can take a short detour away from the ECR to visit the coastal town of Rameshwaram - cross the spectacular Pamban Bridge (the second-longest sea bridge in India) and also make your way towards Dhanushkodi and Arichal Munai, the point of land in India that is closest to Sri Lanka. Since Rameshwaram is a narrow island extending Eastward from mainland India there are several points along the way where you will find yourself on a stretch of road with the sea on either side. It's quite spectacular.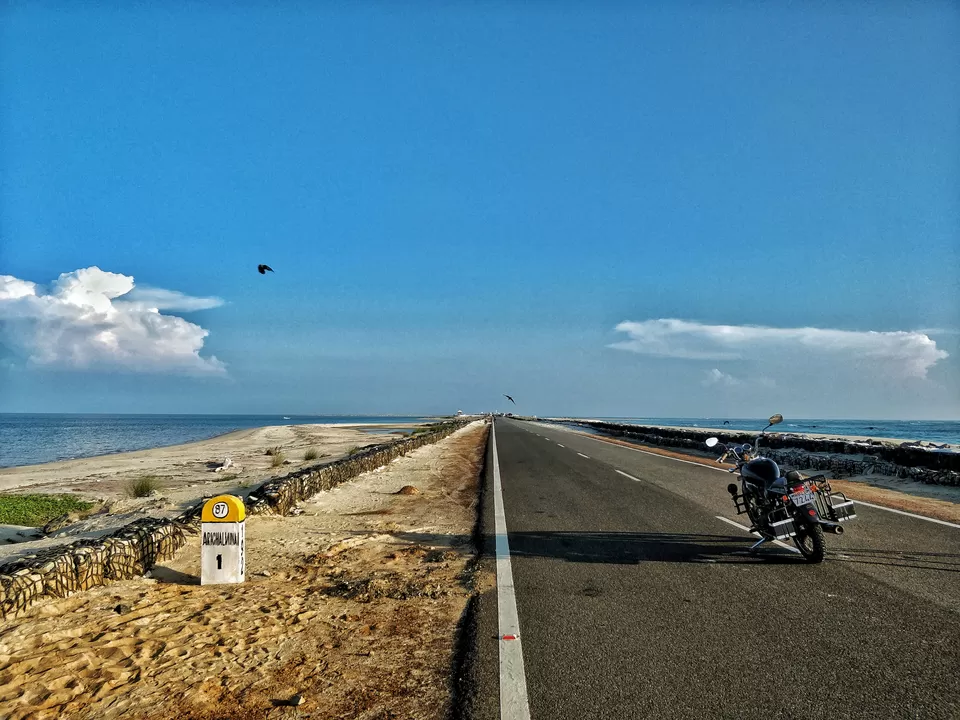 5. Into the Blue
If you are someone who is drawn towards turquoise seas, there are quite a few centres that have come up around Rameshwaram and Thoothukudi, where you can spend a few days relaxing by the sea and dabbling with different water sports. You can go snorkelling in the Gulf of Mannar, kayaking in the Palk Strait and even learn to sail or kite-surf while you're there.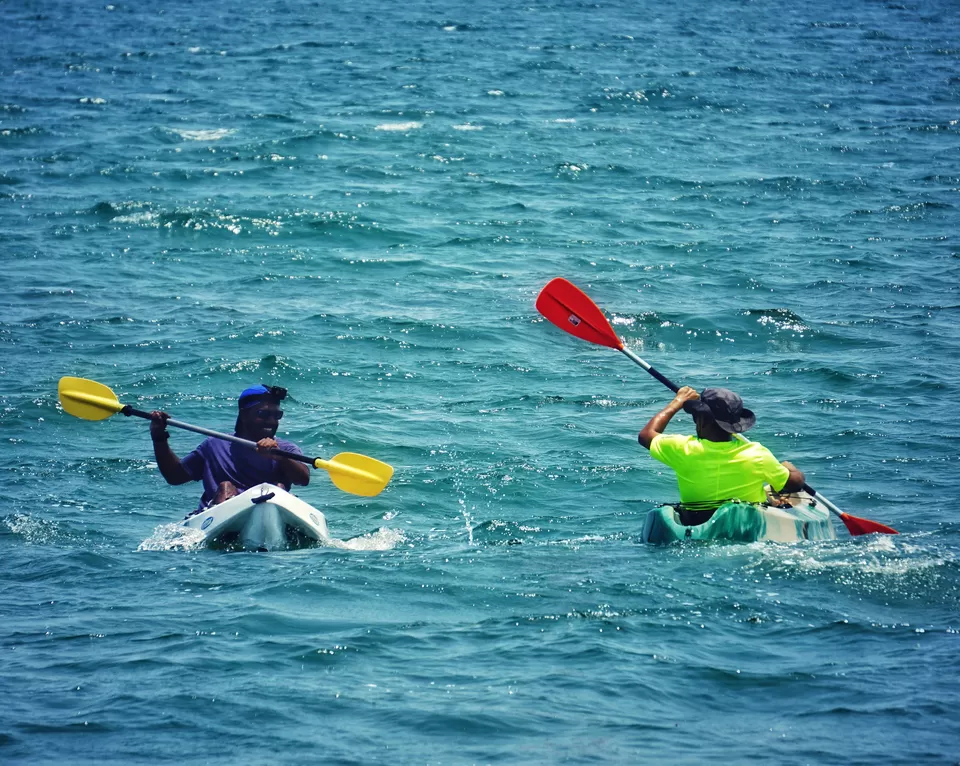 6. Click Away
Last, but not the least, if you enjoy photography, you will find several fishing hamlets along the way that offer you a plethora of opportunities to snap your shutter. My favourite of the lot, is the little town of Manapad. It's narrow lanes are lined with colourful homes, beautiful churches and several other ancient structures. It also has a bustling fishing harbour that can make for a very interesting subject for photography.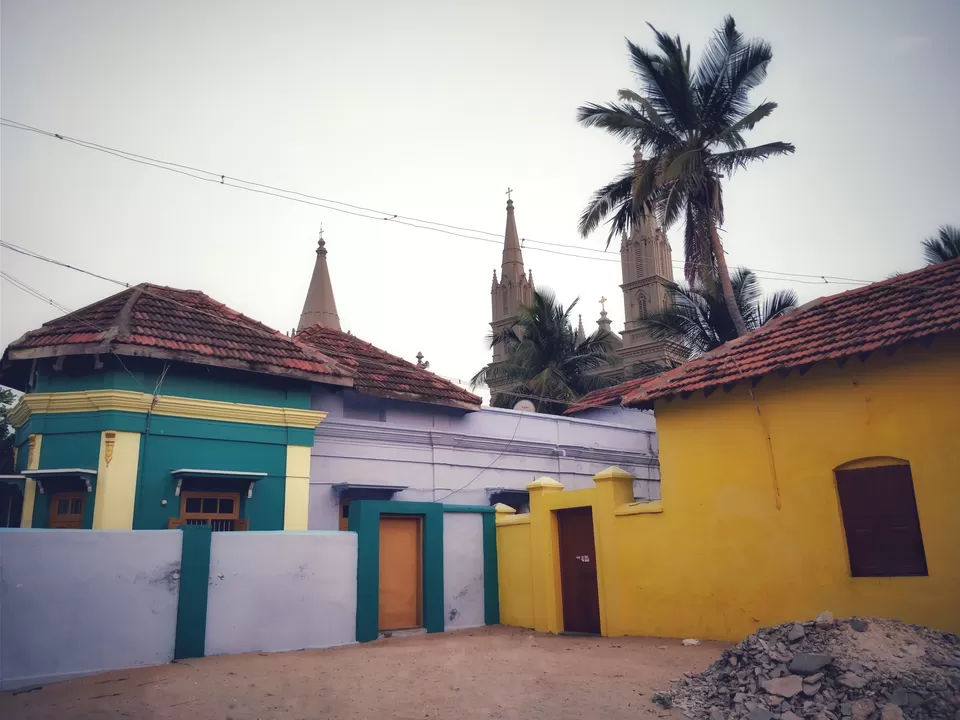 All of this, is in addition to the phenomenal drive/ride, of course. The roads right from Chennai to Kanyakumari are in great condition, for the most part. There are a few bad patches along the way, but nothing so significant that it would tarnish the experience. You will find several long empty straights and a few fun winding roads that take you through plantations of different kinds as well. There's enough to keep a motorist smiling all the way!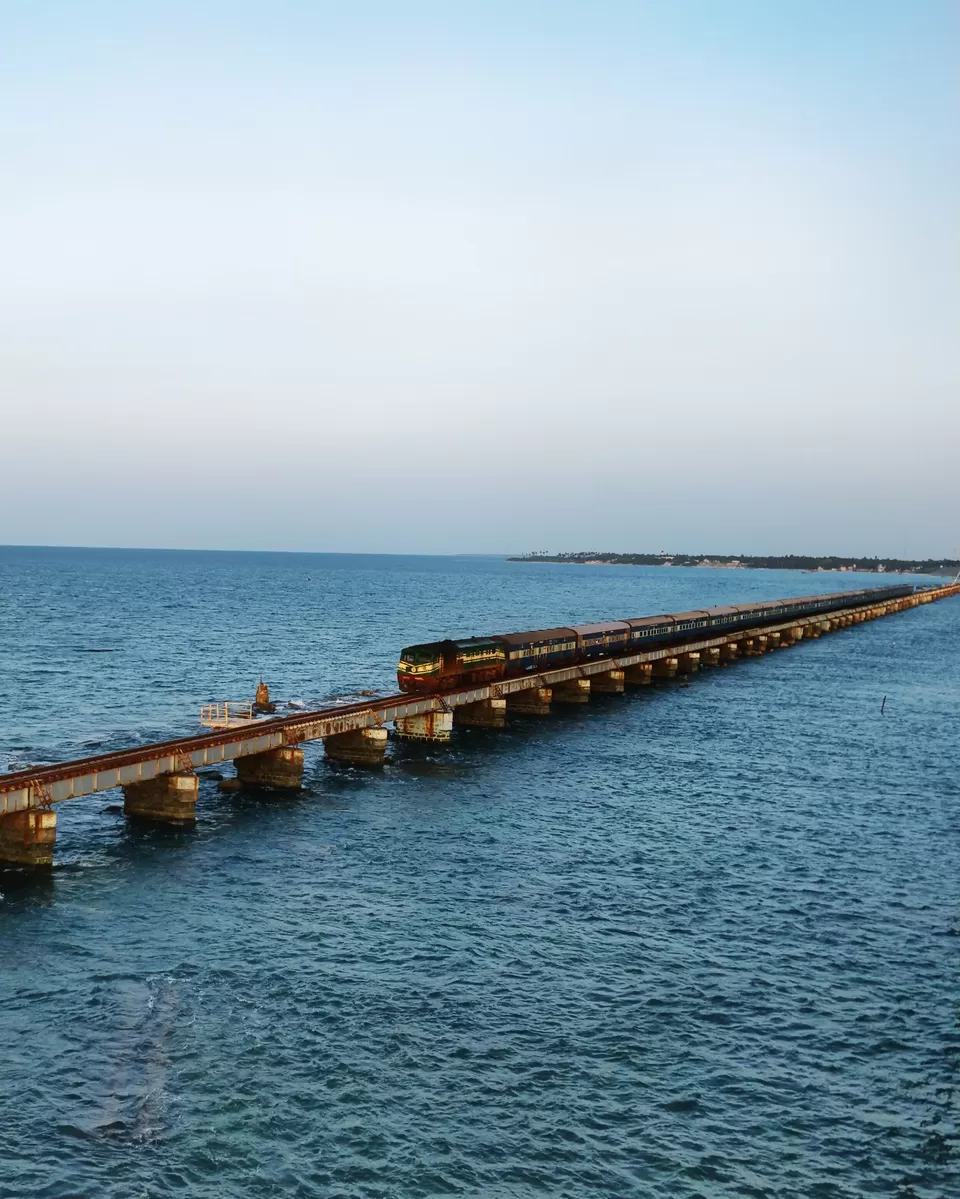 Accommodation:
For the budget traveller, accommodation options are aplenty in most places along the route. Obviously, the more affordable hotels/motels are located along the highway, and may require you to travel some distance to find the coast. More luxurious accommodation is also available in some of the bigger towns along the way, and there are even a few high-end secluded eco-resorts that are definitely worth checking out, if you can afford them.
Food:
Whilst on the highway, quintessential Tamilian food is easily available. Fans of crisp dosas or soft idlis, with fresh chutney and sambar (of varying dilution levels) should be easily appeased. "Meals" or "Saapad" at any local restaurant is a safe bet around lunch time. Contrary to popular belief, non-vegetarian food isn't particularly difficult to find either, especially around dinner time. I would recommend trying out the Kothu Parotta (a concoction of masala onions, tomatoes and eggs, mixed up with minced parottas and the gravy-of-the-day) and also sampling some of the fish curries (preferably, something made with the fresh local catch). If you're staying at a more up-market resort, then obviously, the variety of food available will also be more diverse.
Conclusion:
There's a lot more to the East Coast of Tamil Nadu than just a drive to Puducherry. And the only way to discover what it has to offer is by pushing the boundary a bit and exploring the Deep South. I've done it, and I would recommend it in a heartbeat to anyone from any part of the world. Need a little bit more convincing? Do watch the travel vlogs I made of this trip by clicking on these links: Part 1 and Part 2.
Frequent searches leading to this page:-
chennai to kanyakumari road trip, east coast road, chennai to kanyakumari bike trip, chennai to kanyakumari tourist places