I woke up in the morning, snuggled in my warm fuzzy blanket as the sun-rays filtered in from the bedside window.
I rubbed my eyes more out of disbelief than sleepiness, as I couldn't believe what I was seeing. Pearl-white, intricate snow balls dropping down from the heavens, and the green landscape from yesterday had covered itself with a beautiful white blanket just like me.
Snowfall in India is a magical sight to behold.
Here are eight lesser crowded places in India where you can relish this enchanting experience in all it's purity.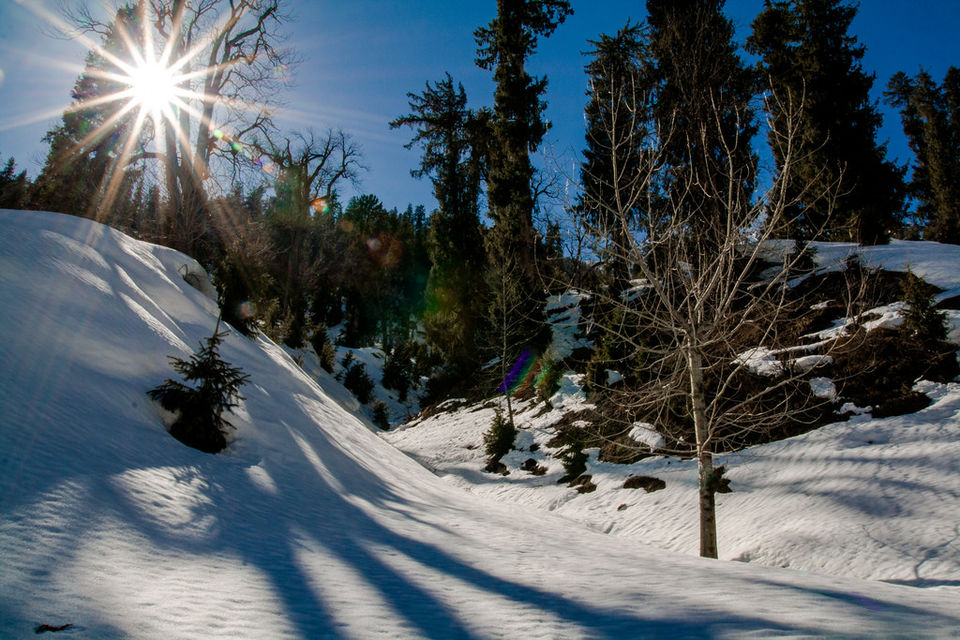 At an altitude of 8,610ft and located about 118 kms from Gangtok, Lachung in North Sikkim is dotted with snow-capped mountains, flower valleys, dense forests, natural hot-springs and breath-taking views.
This raw off-beat spot has some of the warmest, nicest locals and astonishing snowfalls.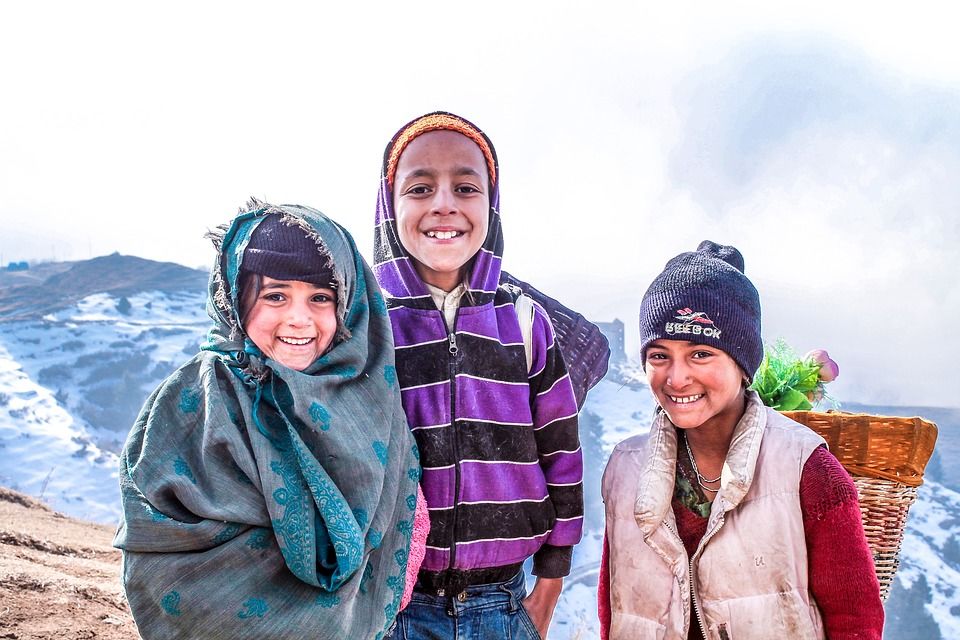 Highlights: Zero point - this is a point where the civilian road ends and you can't drive any further because it is covered with thick snow, all year.
The stunning Yumthang flower valley that also houses the Yumthang Hot Spring. This natural hot spring is said to have magical healing and medicinal properties, owing to it's rich sulphur content.
Plus imagine a soothing dip in a hot spring, in the middle of nowhere, amidst snow-clad mountains in freezing temperatures!
Gurudongmar lake that remains milky in colour throughout the year, believed to be extremely sacred a portion of the lake never freezes while everything else around it does.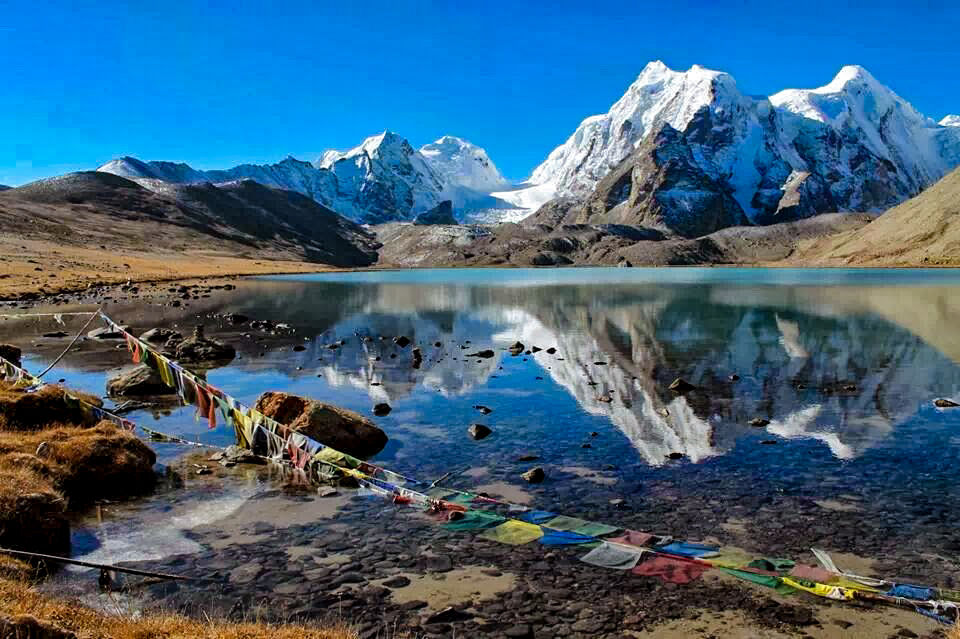 Best time to witness snow: The start of December is a great time if you also want to enjoy some of the festivities like the monks performing a traditional mask dance at the Lachung monastery. Marking the last week of December all the way till the end of April, Lachung sits covered in a blanket of snow.
Lofty snow peaks, acclaimed tea gardens, meadows dotted with pine trees, lush green valleys, fast flowing rivers, soothing tranquility and temples steeped in historic times, this little town looks straight out of a fairy-tale!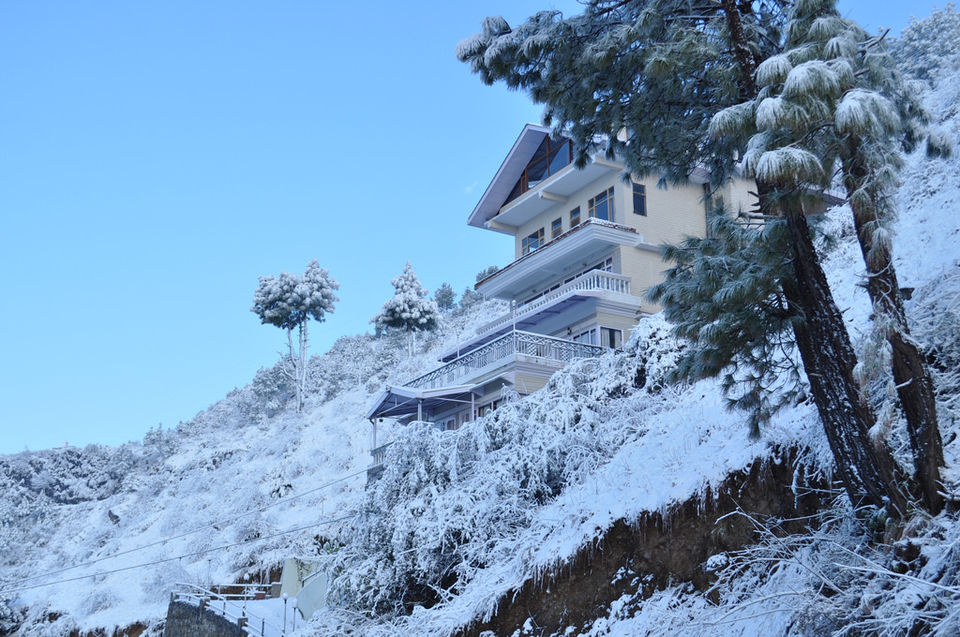 Highlights: Adventure activities like skiing, paragliding, cycling In the hills on the picturesque curving roads are organized at Palampur and Bir-Billing (touted as adventure capital of India) which is just an hour drive away. You can also embark on a trek to Triund and fall in love with the vistas of snow-covered mountains and meadows all around you!
Best time to witness snow:
November to February is the winter season in Palampur and the temperature drop down to sub-zero levels. The average temperature range during these months is -10°C to 10°C. Snowfall is a common sight during these months.
How To Reach:
Palampur is located at a distance of 490 km from Delhi and one can find HRTC buses which take around 12-13 hours to reach here. It is also well-connected to various cities like Pathankot, Mandi, Dharamshala, Shimla, and Chandigarh through state-run buses.
You can also hire private cabs or drive to Palampur from the above cities. The nearest airport to Palampur is Gaggal airport in Dharamsala and the Palampur Railway Station is connected to cities like Manali and Shimla.
Hills sprinkled with home-stays and posters marked with snow festivals.
Auli is famous for it's snow-clad slopes dotted with lush green pines. Acres of snow fields, up to 5 feet of snow — fresh enough to leave behind distinct foot-marks and clean enough to taste the snow.
One of the best places in India to witness the magic of snow, Auli is an off-beat place where you'll find lesser tourist throngs as compared to the other over-exploited Indian hill stations.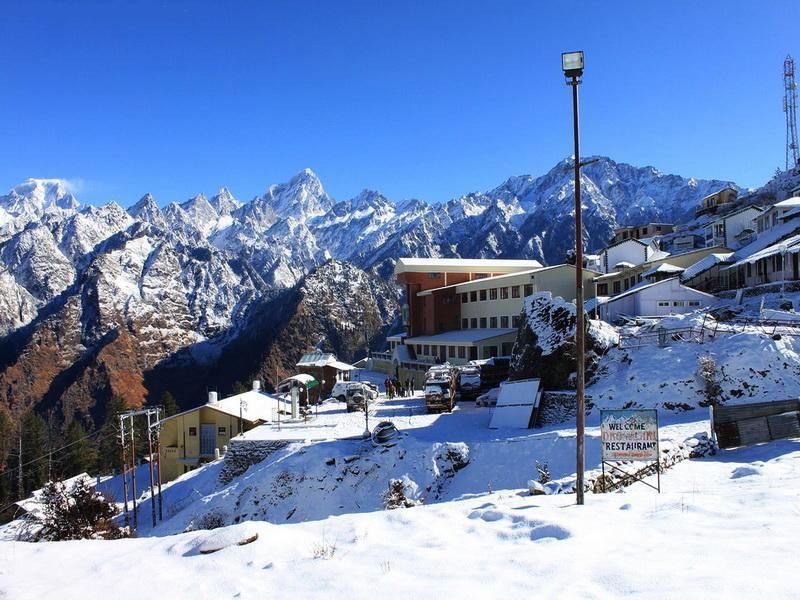 Highlights: Revel in the panoramic views of the lofty Himalayan peaks, such as Nanda Devi, Mana Parvat, and Kamat Kamet. Trek to Gurson Bugyal – a snow meadow. Called the Skiing capital of India, Auli has ski stretches of 400 m to 4 km, and skiing programs from beginners and professionals. "Seat" up at Asia's longest gondola ride 10,000 ft above the ground at Joshimath-Auli Gondola or seek spiritual answers at the many places of religious significance, or just sip up some hot chocolate watching snow-flakes at the quaint little cafes.
Best time to witness snow:
This is one of the best places to visit in India in from the last week of December up till March.
How to reach:
Joshimath, which is just 16 km away has cabs, jeeps and busses plying to Auli frequently. Haridwar, Rishikesh and Dehradun are some of the closest railway-stations. From these railway stations, there are buses and cabs to Joshimath. Direct buses from Delhi, Haridwar, Rishikesh and other neighboring states also are available till Joshimath. The Jolly Grant Airport, in Dehradun is the closest airport to Auli.
The last inhabited village on the Indo-Tibet border, Chitkul in the Kinnaur valley turns into a winter wonderland in the year end, as a white blanket covers every inch of this valley. The temperature during the winters can fall to as low as -10 degrees Celsius.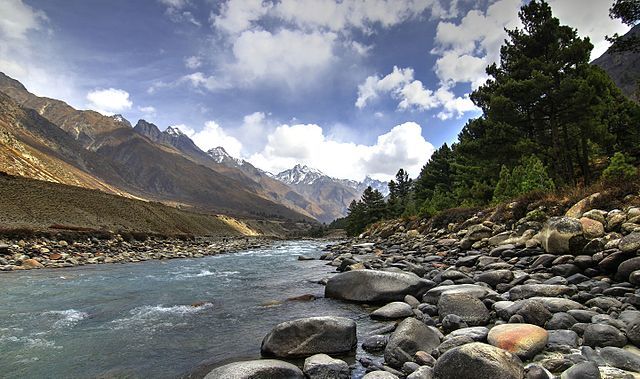 Highlights:
Walk along the ice-cold river Baspa and soak in some sunshine at the flag-covered bridge straight out of a movie, enclosed by white mountains on all sides. Eat up at the "last dhaaba of India" or watch the mountains change colours every minute over a hot plate of Maggi. Make a wish by the banks of the river with the pebble stacks as per the Himalayan legend and hope it comes true!
Best time to witness snow:
Winters in Chitkul may look fascinating but are extremely harsh. Sometimes the path is closed between December to March due to heavy snowfall and it is not possible to reach Chitkul during this period. So, it's best to check the situation before visiting.
How to reach:
HRCTC buses to Sangla and Chitkul ply from Delhi as well as Shimla. However, the frequency isn't regular so it's best to inquire before leaving. Private Busses, cabs and jeeps are also available from Shimla and Delhi.
Snuggled in the lap of the Himalayas, offering unobstructed views of Trishul, Nanda Devi and Chaukhamba peaks, Chopta lies at an elevation of about 8,790 feet above sea-level.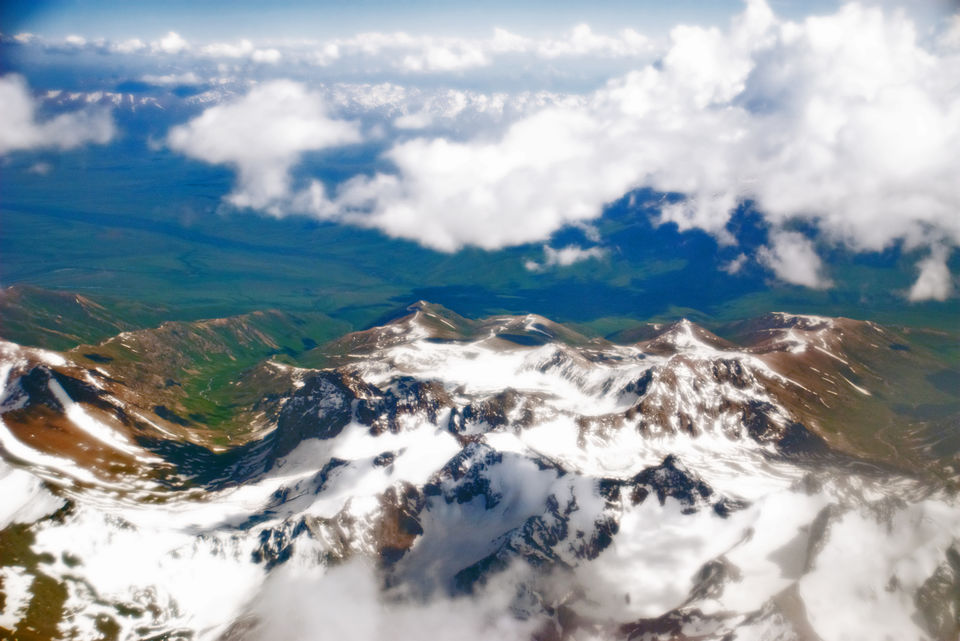 Highlights: Chopta is the base for trekking to Tungnath, the third holiest temple among the Panch Kedars as well as Chandrashila. And in the winter months the entire trail will be covered with snow-covered sturdy oaks and undulating valleys.
Trekking through deep snow-covered tracks along with occasional snowfall is recommended experience.
This quaint little hamlet is a part of Kedarnath Wildlife Sanctuary where you can spot the rare musk deer. One can also set up tents at the many camping sites here, encircled by enchanting snow-covered meadows. Other experiences to try out are snow-trekking, skiing, yoga and rock-climbing.
Best time to witness snow:
From December to February, Chopta witness heavy to moderate snow-fall. Fewer tourists are spotted during this time which makes the place all the more pristine.
How to reach: Chopta can be reached by road from Rishikesh. It does not have a railway station. The nearest railway station is at Rishikesh, located approximately 200 km away. One can find many trains to Rishikesh. Tourists can find plenty of government buses and private taxis to Chopta from Rishikesh. It's closest airport is the Dehradun airport.
Pass by the exquisite sand dunes of Hunder, bid good-bye to the fluttering prayer flags and 200km up north of Leh arrive to a magical village which is so pretty it's unbelievable, called – Turtuk. Laden with apricot and walnut trees, Turtuk is the last village on Indo-Pak border.
Highlights:
This is an untouched slice of heaven on earth. The landscape and the people both here are breath-takingly beautiful. Your cameras just won't stop clicking here. There no hotels here, living with the locals at home-stays or guest-houses is the only way to relish Turtuk by exploring the Balti life. Locals at Turtuk are extremely warm and lovable, they have numerous tales about the history of their village to tell and take you around their fairy-like little paradise.
Best time to witness snow: August, October and November are the ideal months to snow-falls.
The winter months from December to March usher in extremely cold harsh weather. Regardless of when you go here, be assured that you will find very few travelers and astounding views of the Shyok River and the Nubra Valley.
How to reach: Turtuk village lies in the Nubra valley. To get here, you may either ride bikes or get a private/share taxi from Leh. Cross the villages of Diskit, Hundar, Thoise and drive to Turtuk.
Tucked away in the interiors of the Spiti Valley, a serene and panoramic Nako village lies perched on the banks of the Nako lake.
The finest display of nature's shimmering blues and greens mixed with the sun's golden-rays bouncing off the silvery snow mountains.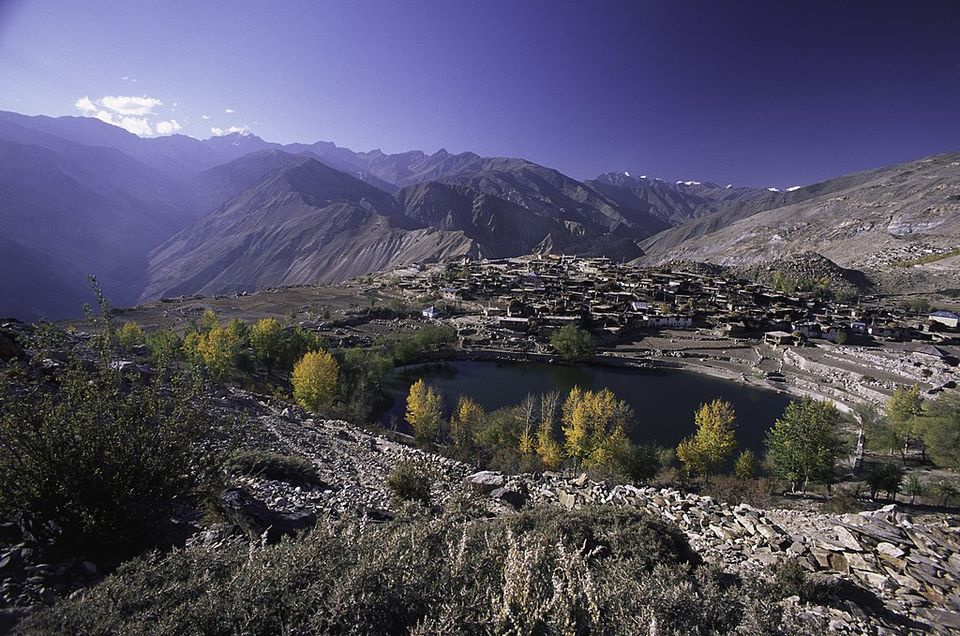 Highlights: The view from Dhankar gompa - crystal clear water below, snow-capped hills behind, and fluffy clouds above reflecting in the lake. Tabo Monastery which has interiors made of sandalwood. Nako lake is a picturesque backdrop for some amazing photographs. Most of the home-stays and cafes here have terraces, evening on the terraces sipping piping hot tea or a plate of Maggi and watch the sun set.
Best time to witness snow:
Winter in Nako is completely diverse and surreal. Reaching Nako in winter is itself a task. Snow starts falling in Spiti by the end of October, gradually closing the Rohtang and Kunzum passes and making it extremely difficult to reach Nako. However, the best months to relish the snow are late November to February.
How to reach: Cabs can be booked from Delhi, Shimla or Manali going up to Reckong Peo. Reckong Peo is just 4 hours away from Nako and there are buses and shared cabs available from there to take you up till Nako. Chandigarh Airport is the nearest major airport.
Enchanting beauty and raw natural surroundings, have given it the title of "Little Kashmir". A small town at the base of the Himalayas, Munsiyari's name literally translates to being "a place full of snow".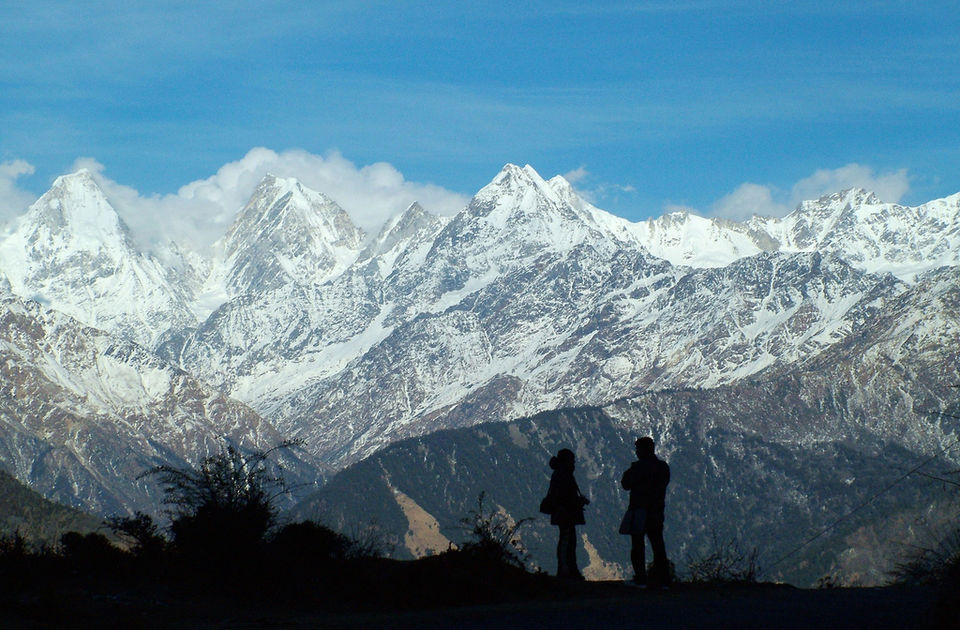 Highlights: High altitude trekking to various glaciers and base camp for Nanda Devi. Cascading waterfalls at the Birthi falls Betulidhar a colossal natural garden full of scarlet flowers that offers exciting skiing opportunities in winter. Madkot here is known for its naturally occurring hot water springs which are truly bliss in the freezing winters. Thamari Kund, a ravishing natural lake where musk deers are spotted and ofcourse the holy Nanda Devi temple.
Best time witness snow: Munisiyari gets plenty of snow-fall and some-time even receives icicles from December to February.
How to reach: Munsiyari is connected to many major cities of Uttarakhand. Busses and cabs go from Delhi, but the journey from Delhi to Munsiyari is quite long, so it is advisable to break your journey at various stops and finally change the bus from either Almora or Pithoragarh. Kathgodam (275 km) and Tanakpur (286 km) are the nearest railway stations.
So, start ticking off each of these winter wonderlands from your bucket-list if you love snow!