Trip with BagWan? He is definitely not God. He is the one in picture below. Met him in train to Guwahati with constant excitement on his face.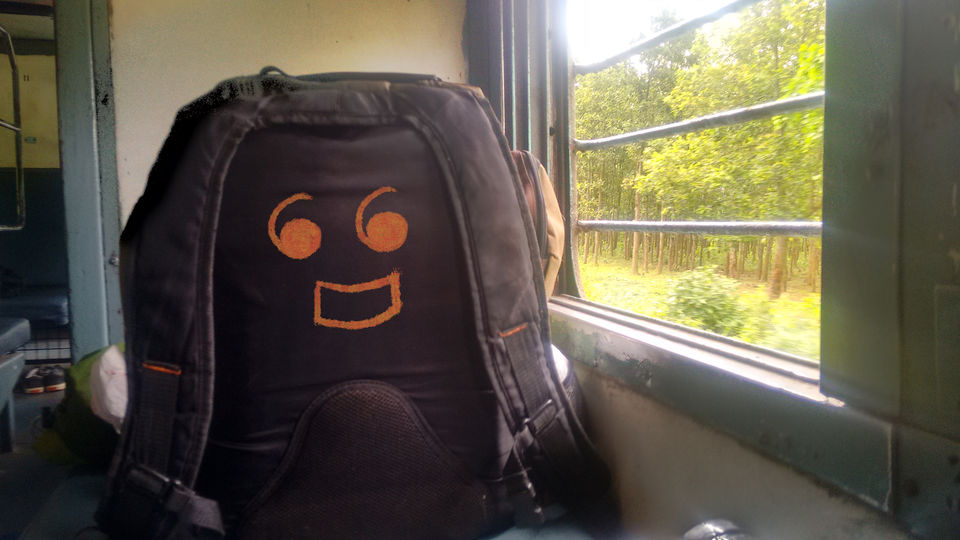 When enquired, he told me he is on his way to Meghalaya too.
Me: So, Do you have any place on your mind to visit in particular?
BagWan: Naaa... I'll just fndout after going there.
Me: So...BagWan?
BagWan: Yeah... Bag with Wanderlust *wink*
Me: Haha.. crazy dude. Can i join you too? After i complete my work in guwahati?
BagWan: Sure Man. Why not.. lets zuyyyyy! :D
So, that is how one my most awaited trip started. Nothing pre planned. I met another guy after reaching, who is also willing to roam around meghalaya without any time constraint. So like always, i looked out for a bike rental service in Guwahati. Found this amazing rentals named 'Awerides' and hired a ZMR. Minali, the one in charge of rentals, was very polite and gave us few dont-miss places before leaving. After completing the procedure we started off around 4 PM to Shillong. If i mention 'WE' it means...Me, Midhun, BagWan and ZMR.
We should have planned according to early sunset... because by 6 it was all dark. We decided not to hurry to shillong and camp somewhere on the way. Yes, i carried a Tent along with me. We saw Umiam lake on the way and stopped around to check if we can halt there for the night. It was very calm and there was some construction going little away from lake. We parked beside the lake and reached out to a person cooking for the crowd. With a warm conversation we asked him if he can cook for us too. And yeah, he added more potatoes, rice and made a very delicious dinner for us. We were more than happy for it. Later we discovered it was SUNBURN that's being planned the next day. After roaming around for a while we put our tent on a plain land. We could see few people fishing at that time too. Slowly we dozed off later.
It's early in the morning at 4:00 after the sunrise we realised the view from our tent. It was breath taking. The lake was huge with an island in middle. There are boats to go the island. BagWan was the happiest person. All the drowsiness faded away in a second. It was damn cold, but we were awestruck.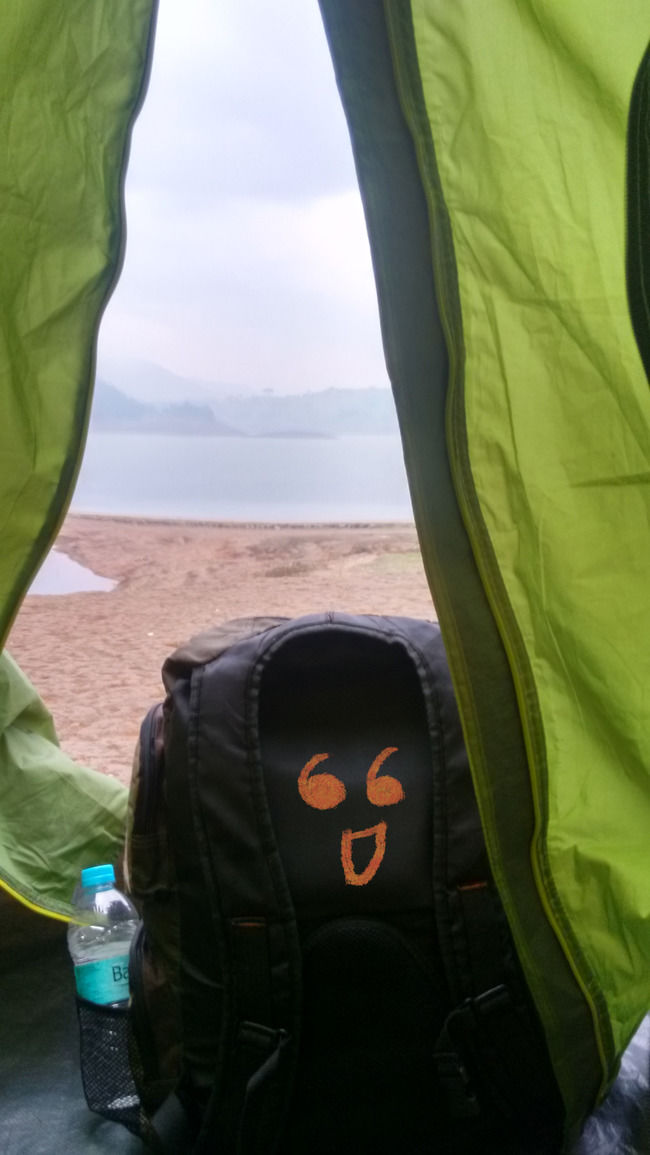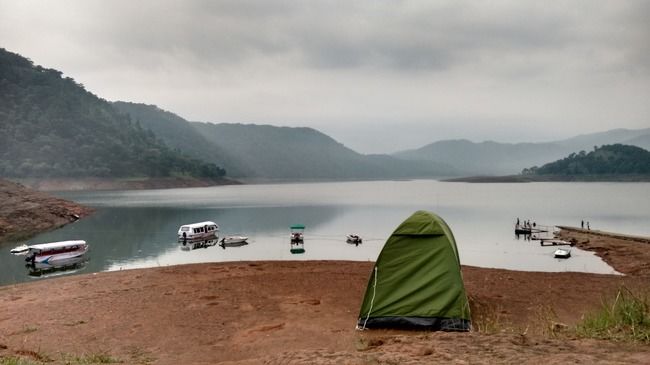 So, we without getting too much attached to it we started to shillong. Waited for police bazaar to start and took little time roaming around shopping. We unfortunately reached to shillong peak at 3:05. But the entrance was only open till 3:00 PM. Security was very particular of not allowing anyone through the gates after 3:00. So we had to adjust with few view points around, visited elephant falls and started to cherrapunji.
The Ride was just amazing. No one uttered a word. The drive is above the clouds. Roads are almost invisible after reaching Mawkdok. This valley has view points from where you can actually view nothing :P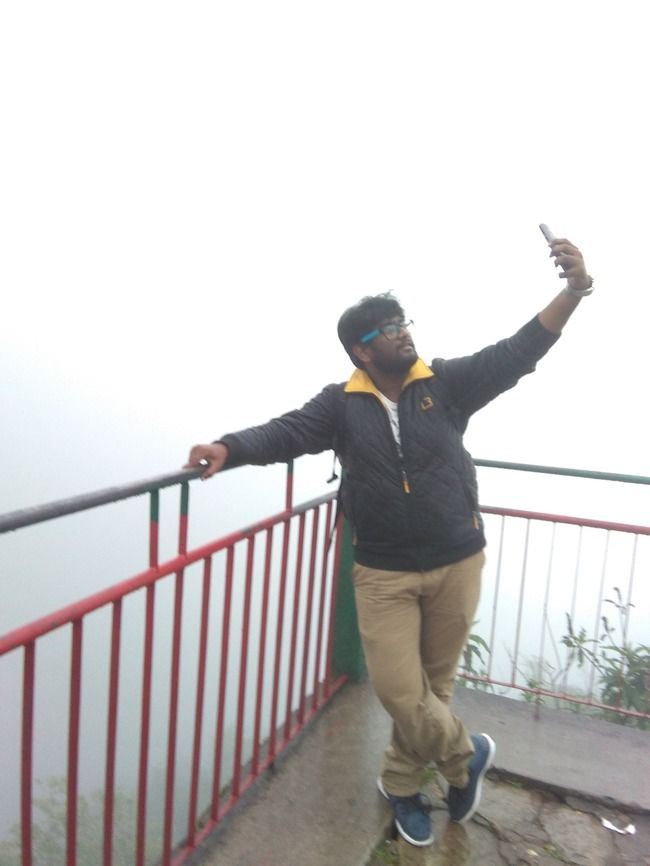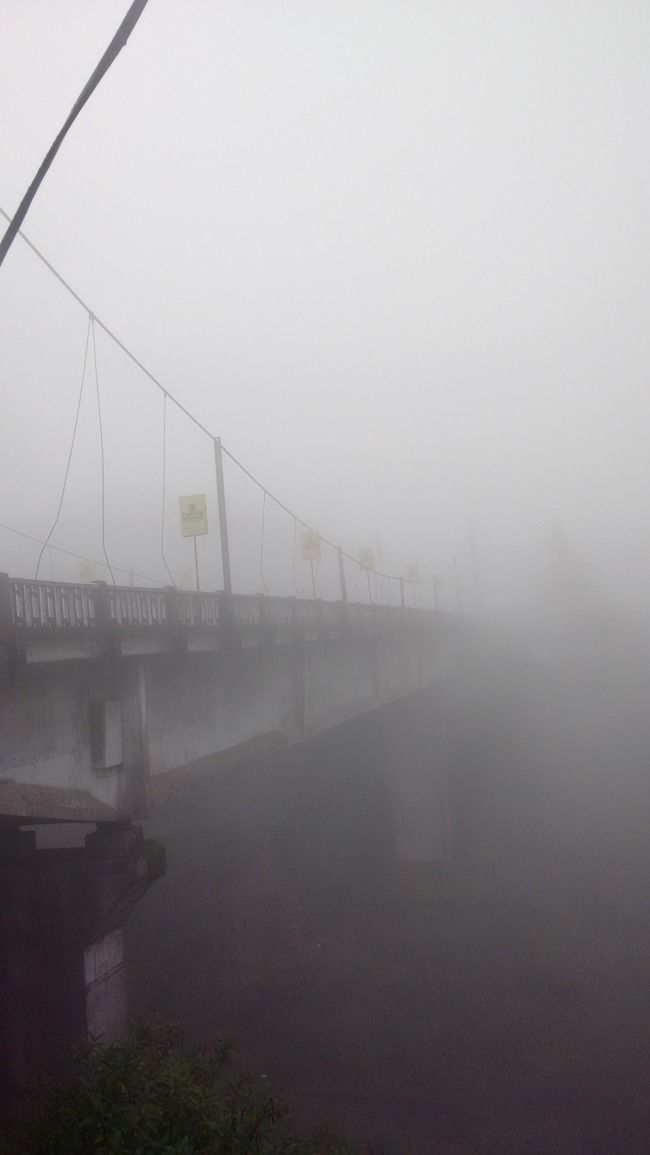 After a hot and over rated coffee, we started again. The ride was little challenging, with sharp turns and invisibility. It was continuously drizzling and wet all the way. ZMR had a lot of pleasure though :D
On the way there are many amazing views and waterfalls. All you have to do is enjoy the ride and do not get tempted for every scenic beauty on the way. We reached cherrapunji around 6 again. Damn, it was dark. As it was wet all around we wanted to take cheap room or camp this time within a compound. Luckily, we met a rider who offered us place with tent. We offered him some drinks in return ;) Now this is where we made nearly 4 very good friends.. sharing their life experiences driving Sumo around meghalaya. Its so good, how few drinks can get you such an amazing conversation with strangers. All you have to do is smile, and there are many stories waiting to be told.
Next day, we were late for obvious reasons :P We started around 8 to Mausmai Caves, which was suggested by the locals to definitely visit. The caves were so small in the beginning and later rain added a dramatic feel to the huge openings inside.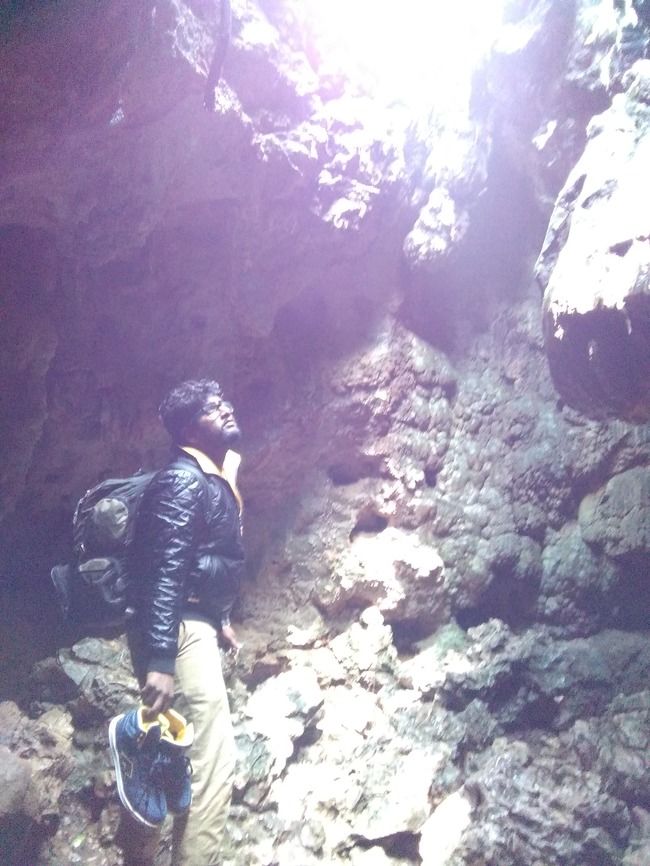 Next Stop - Living root bridges. And now we had to go down 3000 steps to see this wonder. People coming back suggested us to get rid of all the weight and go free. We had to pay 50 Rs per bag to put our bags in a home at Tyrna. BagWan was definitely not happy.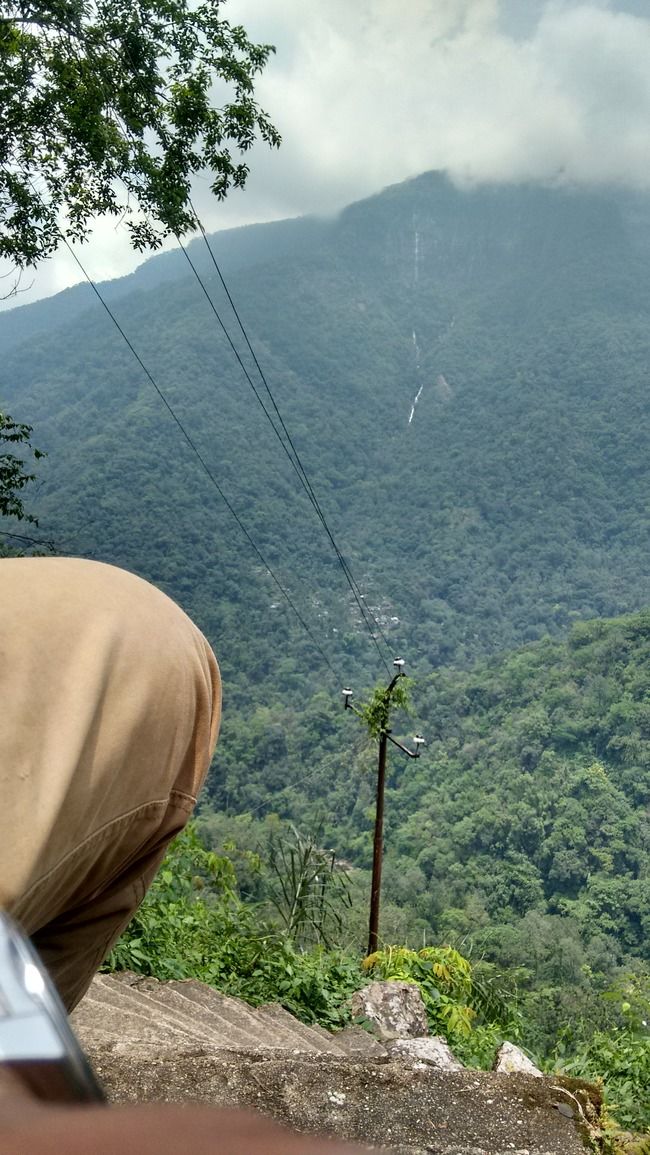 Once you start the hike, you can see the steps are very steep and the waterfalls look like they are flowing from the clouds. It was all worth. I just cant write how amazing it was while crossing the root bridge. Water flowing beneath and you can feel the strong roots you are walking on.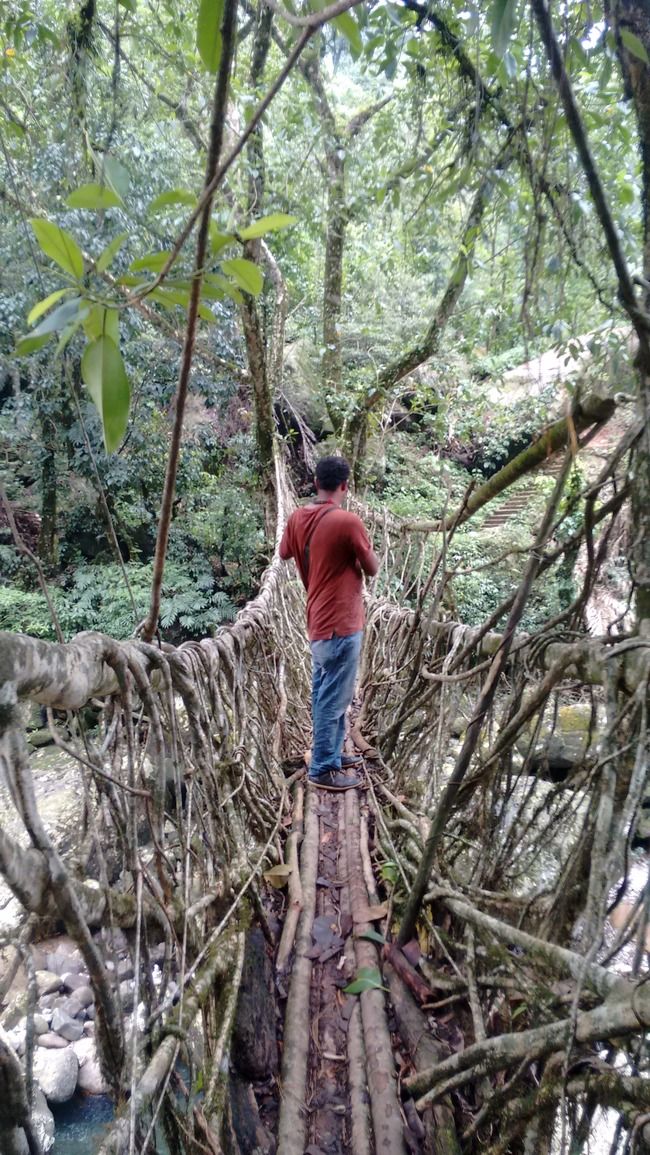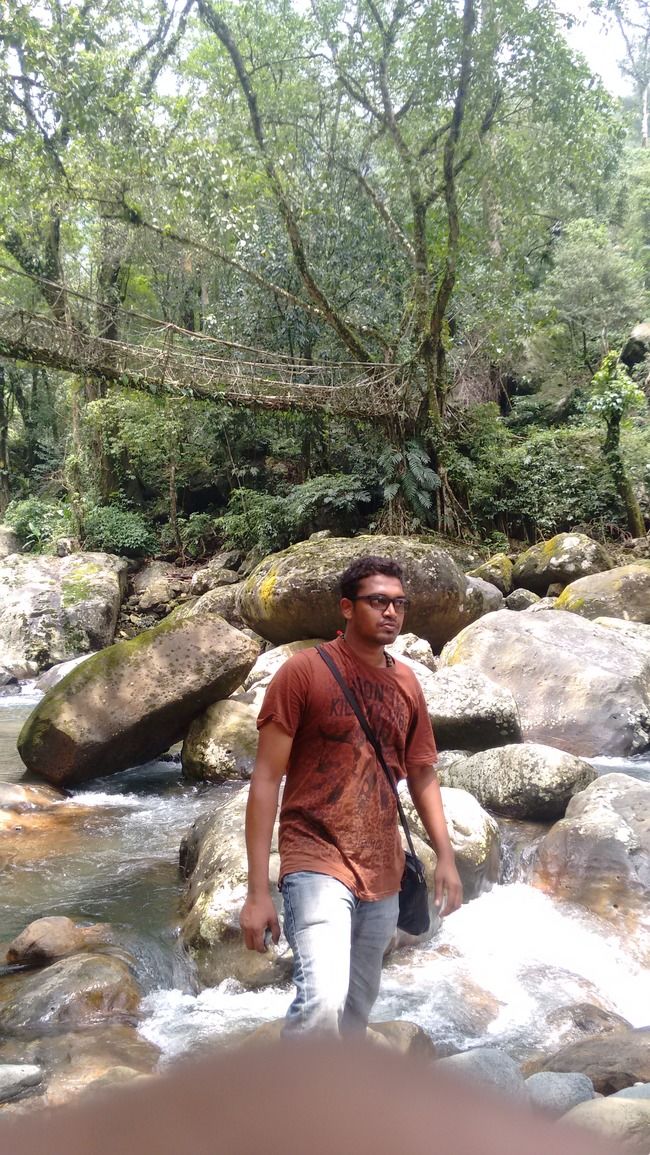 Going back to our ZMR and BagWan is the toughest part. 3000 steps almost took our 80% of energy left.
We then decided to go to Mawlynnong, the cleanest village in asia. People are very friendly over there. Accepting every guest with smile. We met a bunch of friends over there who were total fun. We were offered dinner on the village street and the dishes were just mouth watering.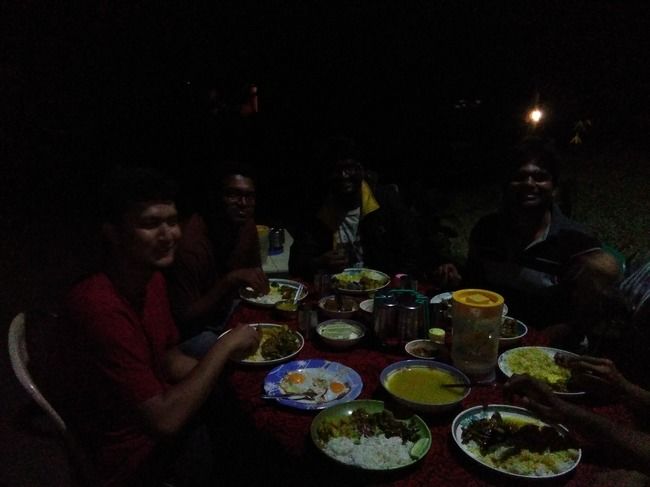 A very kind person, who teaches in the local school offered us cheap stay and amazing experience.
He also suggested us a route to Dawki, village on the border of India and Bangladesh. This route has waterfalls, bridges and lot of Military patrolling on the way.
After reaching Dawki, we realised the lake over there is not as crystal clear as heard, due to rains. We did not want to stop at the place where all the crowd goes to. So when enquired a person suggested us to go to a village which i dont even remember the name :P But the route is to take a left after crossing weak long bridge and the shops. It was like taking on a hill and our ZMR got little tired. We gave him a break and reached the village after a while. Now the view from where we went is like this.
BagWan got so excited to go the bridge over there. Not more than 15 members are allowed to enter the bridge. But i feel, in the present state of it.. not more than 10 should enter the bridge. It was fine in the beginning, but after going in to the middle you can see the bridge shaking if someone is walking at other end too. If you are scared of water, you might get a little worried like BagWan.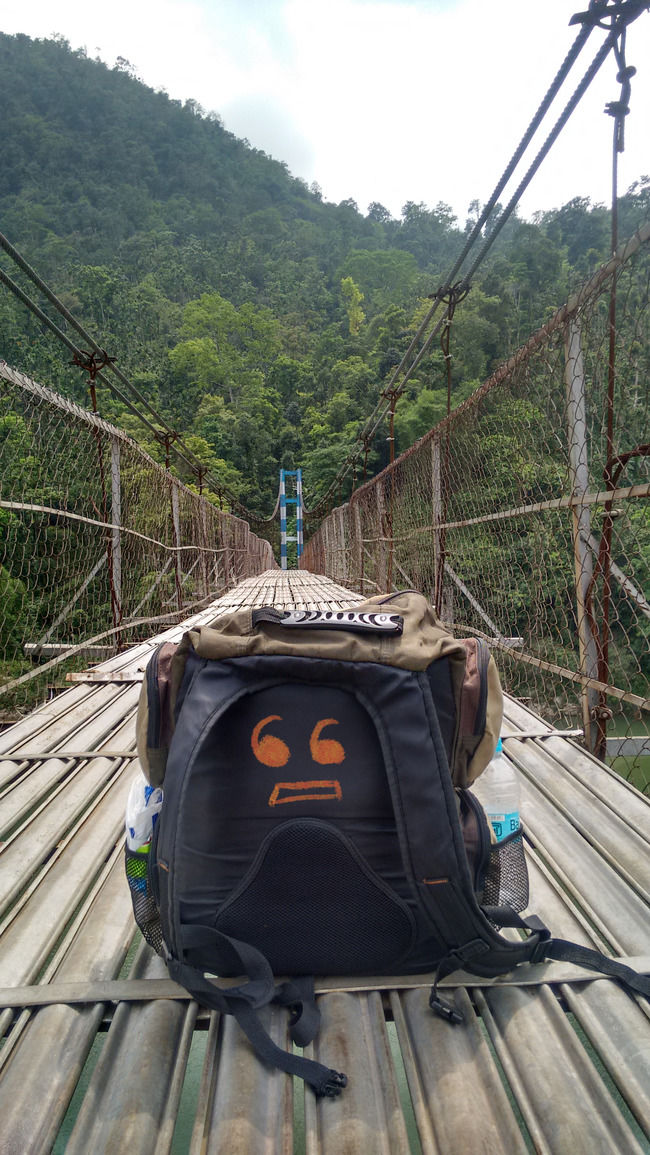 But it was worth the experience, after crossing from one end to other.. and again reaching back to boats, we chilled out for a while. No talks, only staring. It was our last day, so just trying to observe as much as energy we can.. we started back in a while.
Now the ride that we took these many days has to be covered in less than half a day. The ride on two-way roads through clouds was in such a situation where the opposite vehicles can be seen only if their indicator is on. It was around 190 Km ride back to Guwahati. With two slices of bread and haldirams we hit the road. After a long ride and only two breaks, we reached guwahati at 8:00 PM. We returned back ZMR and went to stay.
Once we charged our phones and looked at the pictures and the memories, we were smiling. It was out of complete satisfaction. The whole experience going around your mind... it definitely taught something. You can survive anywhere, with very cheap budget like 4.4 K (yes, that was our trip expenditure) ... all you have to do is ask, smile and listen.
blessed are the curious for they shall have adventures
- Tripoto :P