We started with a plan to visit Tawang, Thimpu/Paro (Bhutan), and Shillong from Guwahati, but ended up criss crossing the NE states like: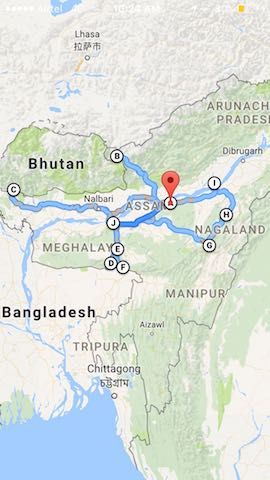 So after few years of thinking, and few months of planning, we booked our flights to Guwahati, and the usual suspects: Amar, Anil, Manjesh, Sac,Shreedharana, Srivatasa and last but not the least, my wife Jyothi :P.
We made Hotel D'Sapphire our base for NE, and they graciously put up with our mess, and luggages, and kept some bags with them for us to collect at the end of the trip. Bikes were rented from The Highland Outback Riders: THOR, and Shubham and Ovi was very very helpful in getting permits to visit Tawang. We picked up 6 bikes, 1 Himalayan (for me :) ), 2 500cc RE standards, 2 500cc RE classics, and 1 350cc Thunderbird.