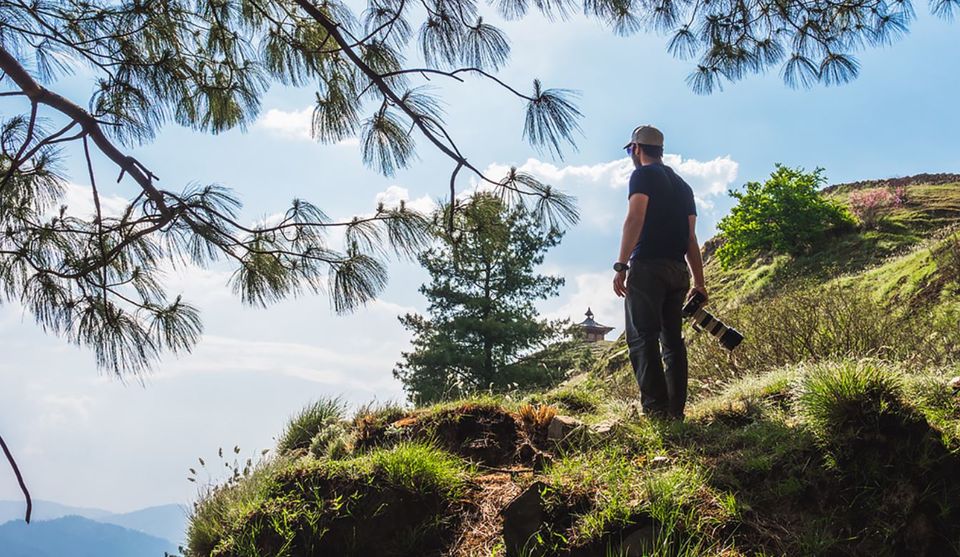 They say, "Do what your heart says", but it's easier said than done. And let's face it—many of us have seen our own dreams and aspirations go unfulfilled in life either because we gave up too soon or we never had dreams big enough to realise them. However, exceptions are always there and Himanshu Khagta, photographer and author of Life in Spiti, is one living example. Hailing from Shimla, Himachal Pradesh, Himanshu had no clue that his school time hobby of randomly clicking pictures with his basic camera would go on to become his profession.
Fortunately, we had the opportunity to have a discussion with Himanshu who was candid enough to talk about his favourite place, the risks involved in his record-breaking journeys, the dilemmas he faced, the Indian dish he prefers, upcoming projects, and his book.
Q. You set out on really long journeys using unconventional means of transport to capture some of the remotest areas of Indian Himalayas when neither travel nor photography was the trend that it is now.
What inspired Himanshu Khagta of Dayanand Public School, Shimla, to seriously take up the path of travel photography?
A. I was in high school when my dad got me a Sony Ericsson phone with 2MP camera. I used to walk back home from school and take pictures of the sunset with it. That's how it began.
During my college years, I began travelling more and taking more pictures. My aim, at that point was to practice, learn, improve my craft.
However, what really inspired me was when reputed travel magazines started recognising my work and would approach me for publishing pictures in exchange for money. That's when I realised I could choose this as my career.
Q) Choosing travel photography as a full-time career, especially in Himachal, is as unconventional as it gets. Most families don't easily agree with something like this. Was there a difference of opinion in your case too?
A) Right. Not all families would support something like photography back then, but my family was very supportive right from the start. It was a good thing for me as photography is not as affordable as it seems, at least not initially.
I had never planned to make a career out of photography, but at that time, that's what I wanted to do. The pictures I used to upload on the internet were slowly picked up by many publications and I started getting paid for them.
And I think this was enough to convince my family to let me pursue photography.
Q) You visited Hanle village, which is also home to the Indian Astronomical Observatory. Apart from the breathtaking pictures, what was the one most striking thing about Hanle that you would like to share with us?
A) The first time I saw Hanle was back in 2012. It was its remoteness at that time that left me awestruck. While signing the inner line permits, even the DC of Leh was surprised when he asked us, "Why are you going there? It has nothing."
When I first laid my eyes on its natural beauty, I remember being speechless. The drive from Mahe Bridge to Hanle was simply magical. It felt like driving through an endless cold and lifeless desert, but I don't think I had ever seen anything more beautiful than that. And with hardly any places to stay, we took shelter in our tractor trolley on which we had reached there.
Q) Your work motivates many budding photographers and travel enthusiasts. Out of all your travels, which one's the closest to your heart and why?
A) This is difficult one. Nearly impossible to choose one. Every place I have travelled to has had a charm of its own. However, Spiti has become a home away from home for me now. I don't even consider it as a trip anymore.
Q) Life in Spiti, your photo book, was an unputdownable treat for mountain lovers. Share with us why you chose Spiti for this project and what kept you going?
A) I had visited Spiti multiple times in the past and whenever I used to talk to local people, they always mentioned about the harsh winters when temperature would drop down to minus 30ºC. I wanted to experience that and see how this wonderland looks during the winters.
But when I tried to search for Spiti in winters, I found almost no relevant images. And that's when I made up my mind to visit Spiti in winters, spend some time there, and take some pictures of my own. So, I stayed in Spiti valley for a period of six months in winters to document how people live there.
I discovered so many astounding aspects of the rich Spiti culture. The costumes, the food, the festivals; I wanted to document all. So, while working on my book 'Life in Spiti', I photographed about 400 Spiti people wearing traditional clothes in my makeshift studio in Kaza. You can know more about it on lifeinspiti.com
Buy it here.
Q) Many would even want to emulate you after checking out your pictures and documentaries, but they might not have an idea of behind-the-scenes difficulties and obstacles that come your way.
How safe is it to travel to places like Spiti in winter for a normal travel enthusiast like myself, or to the southernmost part of India in a tractor? Any instances when you thought, "I shouldn't have gotten into this one"?
A) Honestly speaking, everything is quite unsafe when you are not prepared. You should have a good idea of what you are getting into and prepare accordingly.
For places like Spiti in the winters, you have to be prepared for the risk of getting stuck in the valley for days. You should be prepared to walk on snow to the nearest village if things go wrong, or stay in a house without electricity for days, even weeks.
But I really enjoy doing what I do, so I never had any second thoughts about my decisions during my stay in Spiti. More than anything, tricky situations teach you a lot and I love that.
However, it's important to know some basic things like best time to travel, possible natural risks, weather forecast, and accommodation options.
Q) It is said that travel is transformative. Did you experience that, too? If yes, what was the most memorable travel experience that will never cease to play on your mind?
A) Definitely, travelling is an amazing way to learn about people, life, and yourself, especially when you are travelling solo.
There was this one instance when my friend and I almost died in Arunachal. Here is a blog post about it.
Q) You are a photographer who loves to travel. Do you have a bucket list?
A) I enjoy travelling very much, but I don't really see it as an activity. It's just part of my life now. Also, I don't have a bucket list. None of my trips are planned ahead of time.
Q) Many photographers have admitted with a tinge of regret that photography, at times, does take the element of joy out of your travels. Shot composition, editing, taking care of the gear, can eat up a fair share of your leisure.
Is that true? Any thoughts on how to overcome this dilemma?
A) It is absolutely true. If you are not careful, then you can definitely ruin your trip, but it all depends on what you are looking for.
Most of the time, I make sure I just carry one camera with one lens and not travel with that huge backpack full of lenses. The last thing you want to do is scare people away. Travelling light with just one camera and a lens will make your life a lot simpler if you want to enjoy travel and take pictures at the same time.
However, if you are on an assignment for a few days, you have time constraints and have to deliver. So, you better plan and prepare accordingly.
Q) Everyone has their own hacks. Share a few of your own with budding travel and photography enthusiasts?
A) Travel light is the best hack that always works for me. You don't want your baggage to take centre-stage during your travels.
Q) You have been shooting upper Shimla region lately. Is that an indication of your upcoming projects in Himachal? If yes, give your followers a sneak peek of it?
A) Yes, I have been documenting local culture in the remote villages of the Upper Shimla area for my project Life in Shimla. This area is rich in culture and yet it has not been documented properly. That's what I'm working on these days. You can find more about the same on Lifeinshimla.com
Himanshu's say in one word:
Best mode of transport- Road
Mountains or beaches- Mountains
Seekh kabab or chole bhature- Chole Bhature
Solo travel or with friends- Solo
Favourite social media platform- Instagram
One adventure activity: Scuba-diving, skydiving, mountain climbing- Mountain climbing
One travel book every travel photographer must read-
The Great Game by Peter Hopkirk
Inspiring, isn't it? Share your thoughts in the comments below. You can also write your travel experiences on Tripoto to share your journey with travellers from all around the world. Start writing now!

Subscribe to Tripoto on YouTube and watch exciting travel videos!

Get travel inspiration from us daily! Save our number and send a Whatsapp message on 9599147110 to begin!