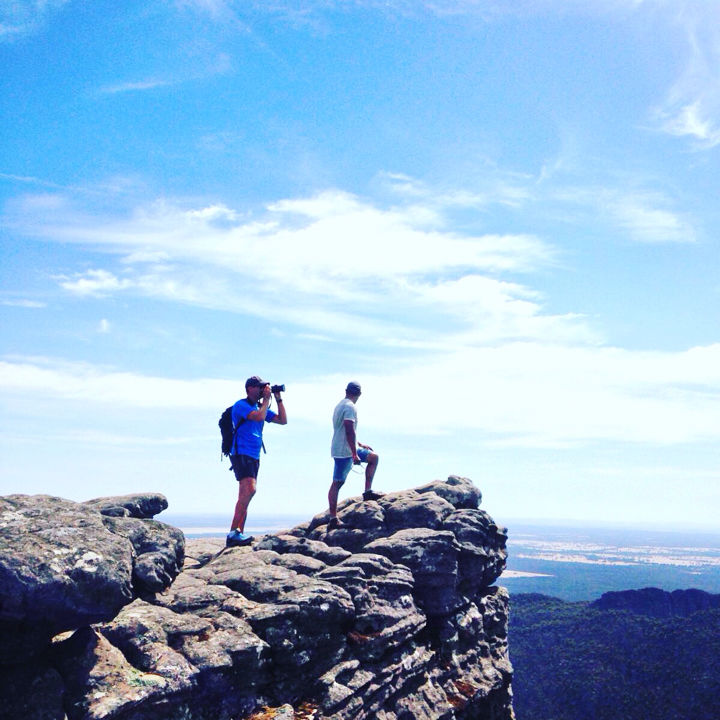 Australia, a country so inquisitively beautiful and immensely wonderful.... Always in a travellers wish-list but cost becomes a major deterrence. A bit of research and planning can in fact make your trip much more fun yet at a much lesser price...
8 things to note:
1) Flight:
Tickets can be quite expensive for Australia and can range between 50k-80k INR for a return flight especially during peak season of Oct- Mar. As for any traveller SKYSCANNER should come in handy. If you could save some money, what's the harm in taking a few hours longer flight? After all, it gives the traveller in you more time to explore the airport. I took a flight which was via Colombo & KL (Blore- Col- KL- Mel) rather than the usual Blore-KL-Mel flight and it helped me save good 10k, my ticket was priced at 55k and my travel time was only 4 hrs longer. It's always suggested you book your tickets at least 2-3 months in advance to get the best deal.
2) Places to see:
Australia being a large country it's almost impossible to explore all the key spots in your limited time. Moreover, you need to decide what kind of trip are you looking for.. For me it needed to be a mix of Nature, Adventure & Road trip, so I chose the states of Victoria & New South Wales. If you are looking for exquisite beaches & amusement parks it's going to be Queensland, Northern & Western Territory for Outback, Tasmania for surreal landscapes. Depend on LONELY PLANET Australia and TRIPADVISOR for all the information you require.
3) Accommodation:
How about chucking those expensive hotels which usually offer cold service for budget-friendly home-stays? What's more fun for a traveller than to stay close to the country's culture? And in all the places I had stayed, service always involved host's personal touch. Try exploring AIRBNB or SYAYZ.COM for the same. A good place to stay can be hired for 1.5k-2k INR per day/person. Apart from various amenities like washing machine, refrigerator, iron box & full fledged kitchen or kitchenette, most places also offer basic tea, coffee and breakfast. You could try your hand in cooking too, if sometimes you do not feel like eating out. Some of these homes are not only beautiful but too had history attached to it, like the Victorian home I stayed in Grampians which was more than 100 years old. And an added advantage of making new friends along the way...
4) Exploring the city:
Most Australian cities have highly developed public transport system but what makes it interesting is Melbourne Public transport is also supported by the famous Tram network (tram service is free in CBD area) and Sydney's is supported by Water Taxis & Ferries apart from Metro Train & Buses. To avail these services, anybody could buy MYKI(Melbourne), OPAL (Sydney) or similar cards in other cities and recharge it on-line or from any designated places in the city. Alternatively, you could also buy a day or weekly pass if required. Fare can range between 2.4-2.99 AUD for 2 hours unlimited usage, maximum fare capped at 6-15 AUD for unlimited daily usage and can be used across all public transport. The frequency is quite good and you can even decide your itinerary, route and transport options by just using their apps. Airports being quite far from CBD, it is always better to take airport shuttle to the city and back to the airport as costs could be nearly 80% cheaper than taxis and are quite comfortable. SKYBUS runs from Southern Cross station in Melbourne to Tullamarine Airport. Similarly a shuttle service is available to & from Avalon Airport & Sydney Airport too...
5) Exploring around:
This is something which I loved the most in Australia.. You can hire a car and drive around with your Indian Drivers License.. Only one thing in mind, traffic rules are taken very seriously and you are expected to follow each of them. Although most of these rules are easy to follow, one thumb rule...Be considerate about others on the road...:) You can visit govt. websites like www.vicroads.vic.gov.au , www.rms.nsw.gov.au etc. for detailed info on rules. To hire a car just drop in to any AVIS, BUDGET, HERTZ or EUROPCAR office which are normally present near airports, major railway or bus stations or any other prominent place in the town, provide you DL and Credit Card and drive out with any car of your choice. Also check for corporate discount which can be as high as 30%. Hiring a car is much more economical than going for any tour operators, moreover you can also enjoy the beautiful countryside drive and take a pit stop break wherever you like.. You can drive around i20 class car for 2 full days for unlimited Kms by paying approx 7-8k inc fuel. And on any lucky day you might get a free car upgrade. Just switch on the GPS choose for TOLL-FREE road options and vroommmm..... Parking is usually free after 7PM to 7AM in the morning and while visiting any tourist spots like beaches, monuments etc in the city it's better to park few metres away to get free parking spots.. Moving across different states if flight is your option, JETSTAR or Tiger Air offers good connectivity among various cities. Chucking your check-in baggage for just a hand baggage (upto 7 kgs, 2 pcs) could give you more discounts on tickets. Also it is advisable to take the early morning or late evening flight when the fares are low and you get the entire day to explore the city..
6) Food & Drinks:
You maybe spoilt for choices here.. Most cities offer options ranging from Oriental, Chinese, Japanese, Korean, Thai, Indonesian, Indian, Mediterranean, Continental etc. ZOMATO might come in handy here as it supports many Australian cities. You could go to any corner Cafe for a nice farmers breakfast or for delicious sushi roll for lunch. Most of these places offer variety of choices at comparatively lesser prices than a proper restaurant. Also tasty sea food is widely available at reasonable prices...Visiting SOUTH MELBOURNE MARKET or QUEEN VICTORIA MARKET for street food is too good an option to miss. You could also grab some local Australian beer like VB, Coopers etc. or anything of your choice from nearby Coles/Woolworths/7-11 stores and enjoy the cool breeze or sunset near beach or harbour area while you sip your chilled beer..
7) Activities:
If you are looking for adrenaline pumping adventure sports, Australia is a place to be, with beautiful landscapes and wide range of sports to choose from like Sky Diving, Scuba Diving, Bunjee, Bridge Walk etc. As for less adventurous options you can choose from Penguin Parade, Mornington Peninsula Hot Spring Bath, Scenic World Tour, Amusement Parks, Various Zoo safaris etc. Best time to do these activities are on weekdays instead of weekends when the prices are nearly 10-20% cheaper. Also online booking of few activities can provide you more discounts apart from city pick up and drop in few cases. REDBALLOON, SKYDIVE AUSTRALIA, BAYPLAY etc. should provide most of the info you need. For other activities like Trekking, sight-seeing and exploring look-outs it's best to visit any tourist information centres which are conveniently located in all tourist towns. The appointed guides are happy to answer your queries and offer you a local area map, all free of cost...
8) Shopping:
Most of us love to bring back souvenir from the places we visit and although they ought to be priceless more often than not they turn out to be quite expensive for the stuff we get and especially if it's bought from tourist shops. You could visit the famous QUEEN VICTORIA MARKET or SOUTH MELBOURNE MARKET in Melbourne for an awesome deal on stuffs. Especially on Sundays & during Night market days, these places transforms itself into a carnival type location...buzzing with activities where several street musician perform and various food joints dish out delicacies, while you shop for some local stuffs. As for Clothes & apparels, HARBOUR TOWN Shopping Centre in Docklands, Melbourne or DFO stores are few places where you can get stuffs at good discounted prices..
Hope the above info helps you in planning your future trip...Do let me know your feedback by mentioning in comments below...
Frequent Searches Leading To This Page:-
Australia tour package from Chennai, Australia honeymoon itinerary 10 days, Australia honeymoon packages all inclusive, Australia honeymoon package from Mumbai, Australia holiday packages