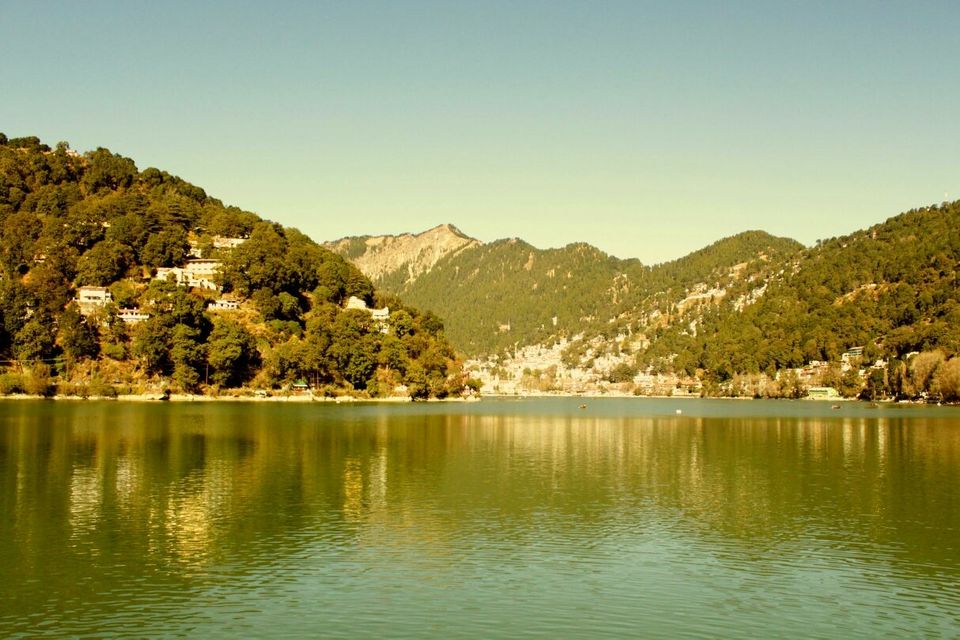 "You don't need magic to disappear; all you need is a destination." But what if you don't have a destination to go, well then you travel to unknown destinations with lots of excitement and curiosity to discover a place you have never before. That's what happened with us when after a tiring semester I asked my brother to plan a trip.
On 8 December 2016, I landed on IGI Airport with almost no hard cash, thanks to Mr. Narendra Modi. I had a task to complete before going to my brother's hostel and that was to drop my friend to railway station and help him to find a train back to Gwalior, which I did and finally got into a cab at 9.30 P.M. for hostel. I reached there but had no cash so I called my brother and asked him to pay for the cab.
Once I was inside his hostel I spent almost 3 days doing nothing just eating, sleeping and watching Suits and till the third day we were as clueless about our trip as Johnny Bravo was about getting a girlfriend. But suddenly on the very next day or night to be specific he came and said "get ready we have a bus to board at 9 P.M." and the destination was Nainital.
At 7.30 around we left the hostel and in about half an hour we reached the bus stand. The most interesting thing about this trip was our parents didn't know that we are going for a trip. We reached there at around 8am the next morning and the first thing we did was to call at home and inform them about the trip, we did the same and got a little scolding but after that everything was just fine, in fact everyone was giving us a list of items they wanted from there. Finally we were at our destination, smiling and adoring the beauty of that place.
The first place we visited after reaching there was the famous Naini Jheel which didn't even required much effort to reach as it was in the middle of the city and closest to the bus stand.
After we were done with the Jheel we went to the market looking for a ride on which we can travel the place without any time limit and restrictions regarding where we can and where we can't go. But after searching the whole place for bikes we came to a conclusion that we should hire a cab as the prices were pretty high. Until we found a shop with two guys sitting there with a Royal Enfield Classic 350, and after a little bargaining we got the bike at our desired price, also the people of that place were generous enough that they accepted our old 500 rupee notes even after demonetization. With that we started our trip. With only Mr. Kripal Singh knowing how to ride it and me sitting at the back.
After travelling a few kilometres we reached the first view point that was Himalaya Darshan. A wonderful place with a wonderful view of the Great Himalayas and only a limited number of people which made it more fun. After clicking a few pictures we started our trip again. But these pictures were not enough with all the beauty surrounding us, we again stopped after a kilometre or two for a photo session with the beauty and the beast i.e.; the surrounding valley and Classic 350.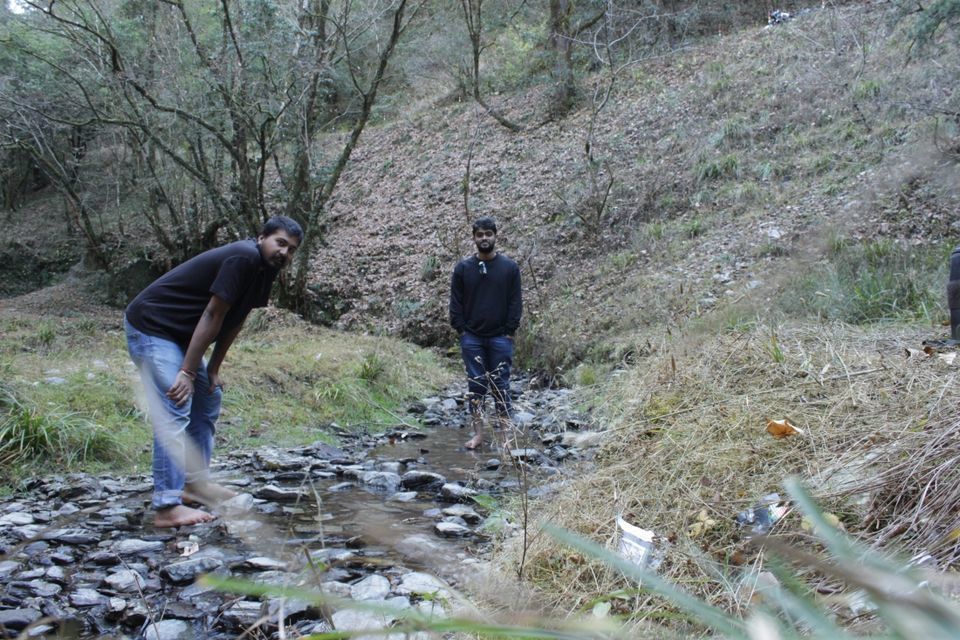 We were heading towards a village named Pangot for a better view of the Himalayas. But in midway we stopped at a spot named Killbury Bird Sanctuary, where we hardly saw any bird as it was closed. Then we headed again towards Pangot, on a beautiful road which was covered with trees from both the sides and not to forget the hill which was on the left side of the road and the deep valley which was on the other side.
When we finally reached Pangot, we saw only a few houses and exactly three places to eat, with a few residents and dogs which were not at all friendly, not at least to me. But before stopping at this village we went a little ahead got a wonderful view clicked some pictures and then came back to eat something, as now we both were hungry. But the only thing that was available at that place was Maggie and Momos. So we ordered Maggie and in the meantime while the shopkeeper was preparing it we went a little further inside the village with a dog following us, and the dog totally hated me for unknown reasons.
Never mind the dog we went back had our Maggie and left the place as we have to go to other places too. But in the midway we found a spot not mentioned anywhere on the map but there was a little path going down the road leading to a little river and a spot where you can actually hear the sound of water flowing and the wind whistling in your ears. It was a spot where one can find peace and a little lone time from the clutches of the outside world and people. So we sat there enjoyed the really cold water in which one cannot stand even for a minute but we did for the sake of good pictures. And during the entire trip that was the spot where I can stay as long as one would ask me too.
But because of shortage of time we left that spot within an hour and started heading towards the town for some food. After reaching back in the town we went to dominos had our lunch and went to an old temple named Hanuman Garhi Temple which was situated up the hill, for a wonderful sunset. After we were done with the sunset and Mr. Kripal done with clicking almost a thousand pictures of the setting Sun and the rising moon and the shades around, we went to the Hanuman Garhi Temple and before we know, the day was already past.
So we went back to the city returned the bike and started to roam around the market after searching the entire place we only purchased two handmade diaries as the market was a paradise for women. Then we went to a restaurant for our dinner. After which we went back to the bus stop where a few more pictures of the city's beautiful night light was captured.
Soon it was time to say goodbye to Nainital- City of lakes. And as said by Dr. Steve Maraboli; "At the end of the day let there be No Excuses, No Explanations, and No Regrets" and truly there were no regrets for it was a trip worth going.
Total expenditure: INR 6000 for two people including food, bike, and other expenses.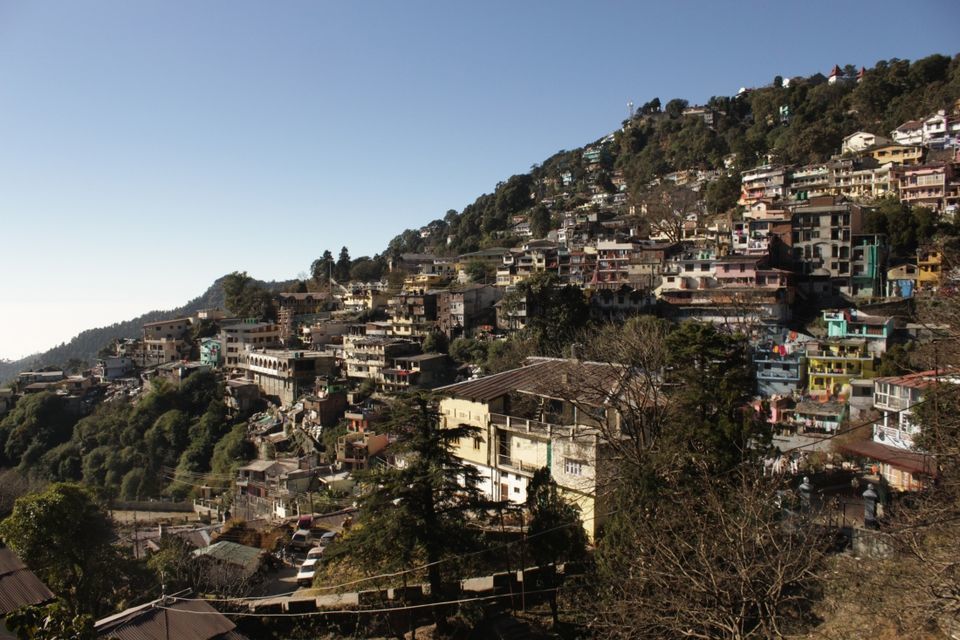 Frequent Searches Leading To This Page:-
Nainital Tour Package From Delhi, Nainital Tour Packages With Prices, Nainital Package From Kanpur, Nainital Honeymoon Package, Nainital Package 4N/5D, Nainital Tour Package For Couple, Nainital Tour Package From Delhi By Car, Nainital Family Package, Group Tour Packages To Nainital, Nainital Tour Plan 7 Days