Do we look at the trees while we run? Do we smile at someone we have an eye contact with? Do we take note of our breath at each and every moment? Are we present in the present? Yes, we all are supremely busy in our lives, each and every moment of it. We either don't take stock of what's happening around us or we just take it for granted.
I am an avid trekker and have done half a dozen high altitude Himalayan treks in the past. This summer I took a sabbatical from work to travel across the mighty Himalayas in the Himachal. In the month of June, I registered for an 8 day long trek to Rupin Pass situated at 15,350ft (around 4700m) in the Dhauladhar Range of the Greater Himalayas.
Sharing 9 things this trek taught me about living in 'the present moment':
1. MINIMALISM
For the 11 odd days away from home, I carried only 18 bare essential items and it was all I needed to have a comfortable trip. Treks make my belief stronger in not collecting the non-necessary materials and thereby leading a decluttered life.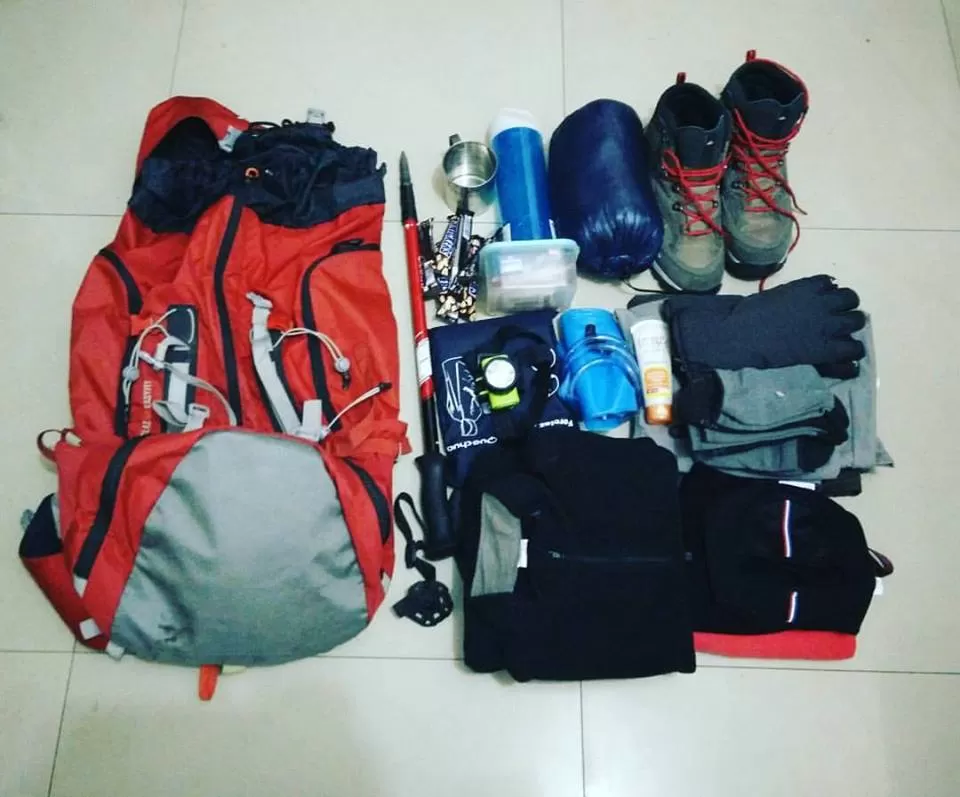 2. HAPPINESS
No electronic gadgets around made the virtual world a distant phenomenon. This made us take note of folks around. Whether you like them or hate them, you don't have any other option but to interact with them. 25 odd people were more than enough for me to have a great time with, to share knowledge and learn from their experiences over 10 days rather than interacting with 1000 people on my social media. It just proved that Information Technology falls flat when it comes to real interaction between individuals.
On the first 2 days of the trek, we put up at home-stays and passed through Sewa and Jiskun villages. I came across a group of village ladies who were busy with their daily chores, but still didn't leave an opportunity to greet and smile at each trekker. A 90 yr old lady folded her hands and welcomed us to her village. I got rid of all the tiredness and felt so humbled by these small yet most moving gestures.
4. NATURE
On the 3rd day, the trail plunges into a Fir Forest, and you are welcomed with the sight of over 100ft tall Pine and enchanting Maple trees. I felt blessed to witness nature's magnificence; and every step in the wilderness made me more conscious of keeping it intact for the future generations to experience. It instinctively made me and all others too, put that candy wrapper into the pocket.
As part of the 'Green Trail' drive of Indiahikes, I witnessed every trekker pick up the garbage lying around and stuff up the Eco-Bags with it.


5. MEDITATION
On the 4th day of the trek, we passed the stretches of the red and white Rhododendrons to enter the Rupin Glacial Valley. Here, the Rupin River flowed gently through sprawling green meadows and the 9-10 Waterfalls appeared to be falling as if from the sky. The panoramic site of the valley during the 3-4 hr trek was like staring at a picture book without any interruptions. Just being in the present with all senses active was meditative enough for me.


6. FOCUS
The tranquillity around made me conscious of each and every breath I took. During most of the 6 to 7 hours of the trekking during the day, I synchronized my breathing pattern with my footsteps. This helped me to focus only on the immediate next step and distracted me from thinking much about Acute Mountain Sickness (AMS), pain, breathlessness and any other discomfort.

7. FEEL
The vagaries of weather, the cold winds, strong sunrays, light drizzles or heavy snowfall just takes you by surprise throughout the trail. I could feel every element of nature in its true sense which just made me more alive and present in that moment.

8. APPRECIATE
A regular Dal – Rice meal with a salad tasted better than anything had at home or office. A single piece of 'Gulab Jamun' at 14,000ft gave us more satisfaction than the best cheesecake had in town.
9. SENSE OF BALANCE AND BELIEF
On the summit day we left the camp at 4am for final ascent to the pass at 15,350ft with a 10hr long trek ahead of us. As we reached the higher altitudes - the gradient became steeper, air became thinner, and the climb looked endless. Below, a seemingly treacherous valley stared right back at us, as if waiting for one of us to lose balance. We slipped and tripped, but we did not waiver. We grabbed our trekking poles firmly and took each small step with caution and eventually, crossed the Rupin Pass.

Every trek provides us an opportunity to learn something new about ourselves or gain a higher perspective. This one taught me on how to live in the present without dwelling in the past or thinking of the future.