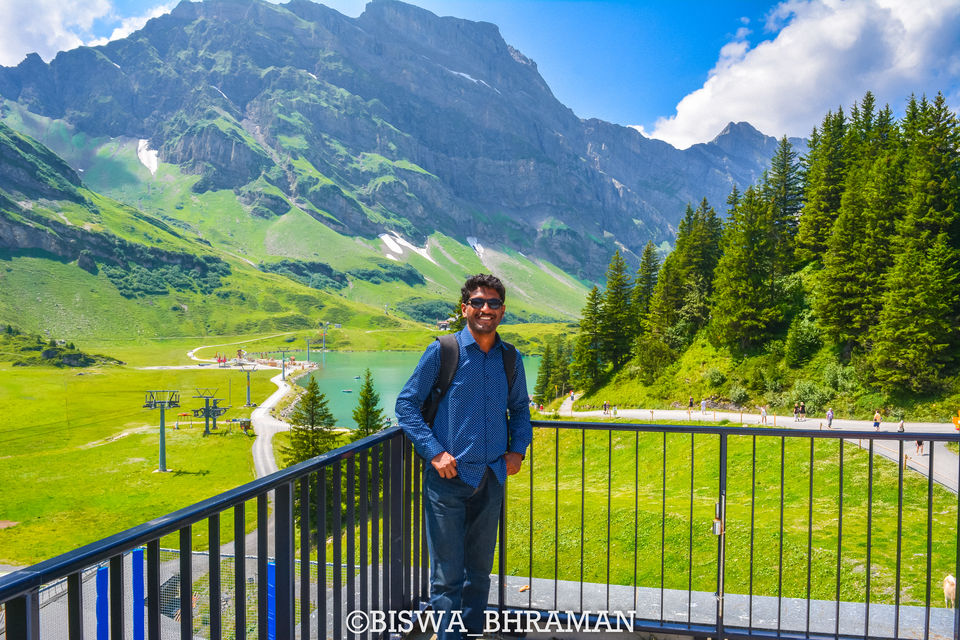 Prologue ::
Be it the evergreen DDLJ or Zoya Akhter's cult - ZNMD, the spectrum is wide and varied, although, one common thread that holds the beads together is display of an alluring European locations at the backdrop, a sight to behold to,more so, in a country swayed away by the bollywood frenzy.
It is incontrovertible that the advent of social networking or internet per se has brought forth a paradigm shift in travelling landscape.It is no longer the story of a Richie-rich but a common man/woman can also be the next 'Kabir' (of Yeh Jawani hai deewani ) or 'Ved' /Tara(of Tamasha) with their own 'Euro' scripts.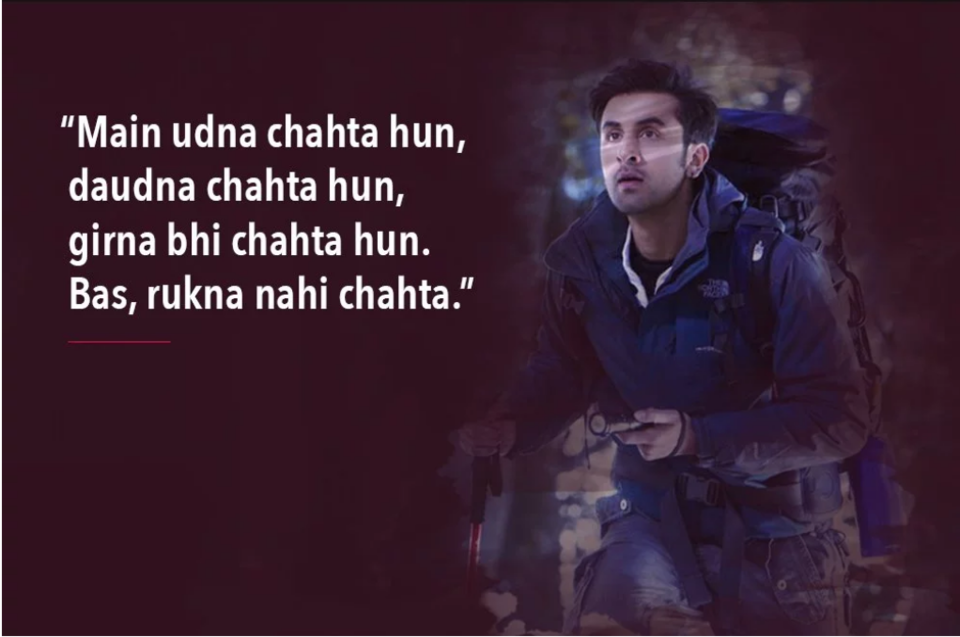 Being a millennial (subscriber of so many youtube travel channel) & a movie buff , I am fascinated with the poly chromatic world , and has come to an opinion (with a bit of pan India Travel experience) - "WORLD IS FAR MORE A CONVIVIAL PLACE THAN YOUR NEIGHBORHOOD".In addition, when you come across Mark Twain's writing or Poems of Tagore , the spree to explore would become an inseparable part of your life. One of the famous quotes of Mark Twain happens to be a constant source of inspiration in my life -
"Twenty years from now you will be more disappointed by the things that you didn't do than by the ones you did do. So throw off the bowlines. Sail away from the safe harbor. Catch the trade winds in your sails. Explore. Dream. Discover. "
or
"Broad, wholesome, charitable views of men and things can not be acquired by vegetating in one little corner of the earth all one's lifetime."
With all flames blazing in the heart, I started my first euro trip planning with a dream "to know the unknown and to see the unseen" - an age old saying.
In this blog, I will pen down all the details (from planning to travelling) so that the readers can also plan and execute similar kind of trip on their own. Believe you me, the joy of taking a trip with a travel company is nothing in comparison to executing your own travel plan. It's not only the trip, the whole process(planning/visa application/ticket booking etc.etc.) in itself is deeply satisfying and a learning experience as far as travelling is concerned.
The entire travelogue can be broadly classified into following sub groups :-
1. Itinerary finalization
2. Ticket Booking
3. Accommodation Booking
4. Visa Application
5. Fine tuning the itinerary
6. Arranging Foreign Currency & Sim Card
7. Day wise Trip Details
8. Detailed Expenditure
1. Itinerary finalization :
One of the most challenging part of finalizing a Euro Trip itinerary is selection of no of countries to travel to out of a pack of 40+, when the countries are literally border less ,so much so, that one visa (schengen visa) allows you to explore 26 European member states without any individual entry formalities.
Therefore, the hard pressed choice to be made depending on the following :
(a) Characteristics of the traveler (i.e. Nature Lover/History,Art&Culture Enthusiast ,Reveler etc.)
(b) No. of days in hand (Don't cram the itinerary with too many countries. Instead of gathering a life time experience, it will end up becoming a frazzling relay race. Every country is unique in it's own way and have plenty in store to offer. So, provide adequate no. of days in every country to assimilate its underlying essence in your experience)
(c) Budget (Central and eastern European countries are comparatively less costlier than Western & Scandinavian Countries)
After a lot of research work, me and two of my friends, decided to travel to Netherlands, France & Switzerland ( an obvious choice being a nature lover ) in 13 days time.
The general itinerary looked something like this (detailed itinerary shared in the later part of the blog in sl. no. 5) ::
17.07.2019- Delhi to Amsterdam
18.07.19-20.07.19 - Exploring Netherlands
21.07.2019- Amsterdam to Paris (by train)
22.07.19-23.07.19 - Exploring France (Paris & Versailles)
24.07.19 - Paris- Basel (Switzerland)
25.07.19-28.07.19- Exploring Switzerland
29.07.2019- Geneva to Delhi
30.07.2019- Arriving at New Delhi
2. Ticket Booking ::
One of the prerequisite for 'schengen visa' application is submission of a flight itinerary** .
**flight itinerary : A flight itinerary is the proposed route of an airline information such as flight name, departure/arrival timings along with dates, your flight code, departure/arrival airport IATA codes(Ex: FRA,BLR, SFC) and your flight reservation/booking numbers. In a nutshell, it is a dummy ticket used to hold a seat for a particular period, beyond which reservation will stand to be null and void.
After scouring through lot of blog post, where in ample accounts of rejection of schengen visa has been recorded for absence of confirmed air ticket, I was not ready to put my schengen visa application to someone's whims & fancies. So, I booked a confirmed air ticket (from DEL-AMS & GVA-DEL) 4 months prior to my journey date (a recipe to get cheaper air ticket )using a well known online ticket booking platform. It would be prudent to book refundable tickets in place of non-refundable ones.
In addition, high speed trains were also booked for Amsterdam to Paris and Paris to Basel pursuant to visa requirements.(Flixbus is also a viable budget alternative for intra-schengen country travelling).
I used https://www.thalys.com and https://www.raileurope-world.com/train/tgv-75?lang=en&var_mode=calcul for booking train tickets.

Apart from the above, https://www.rome2rio.com & https://global.flixbus.com can also be used for inter country transportation booking.

3. Accommodation Booking :-
Another prerequisite for visa application is showing a proof of accommodation. In this case, use portals like Booking.com for booking accommodation without any cancellation charges.Once the visa is granted, you will have the option to modify the itinerary and accordingly, accommodations.

Initially, for visa purpose, I booked accommodations using booking.com in the following places without going into nitty-gritties :-
a. Amsterdam
b. Paris
c. Interlaken
https://www.hostelworld.com/ https://www.youthhostel.ch/en or Airbnb can be used for budget accommodation booking.

4. Visa Application :-
a. Schengen Tourist Visa -
A Schengen visa is a short-stay visa that allows a person to travel to any members of the Schengen Area(The 26 Schengen countries are: Austria, Belgium, Czech Republic, Denmark, Estonia, Finland, France, Germany, Greece, Hungary, Iceland, Italy, Latvia, Liechtenstein, Lithuania, Luxembourg, Malta, Netherlands, Norway, Poland, Portugal, Slovakia, Slovenia, Spain, Sweden, and Switzerland.), per stays up to 90 days for tourism or business purposes.
The Schengen visa is the most common visa for Europe. It enables its holder to enter, freely travel within, and leave the Schengen zone from any of the Schengen member countries. There are no border controls within the Schengen Zone.
b. Validity :-
The Uniform Schengen Visa stands for a permit of one of the Schengen Area Member Countries to transit or reside in the desired territory for a certain period of time up to the maximum of 90 days every six month period starting from the date of entry.

c. Type of Tourist Visa :
Single-entry visa - A single-entry visa allows its holder to enter the Schengen Area only once, within the given period of time, as mentioned in the visa sticker affixed to their passport. Once the visa holder exits the Schengen territory, he or she can no longer go back, even if they have not spend there the number of days as permitted by the embassy that issued them the visa.
Example- In my case, I am entering into the schengen area through Netherlands and exiting through Switzerland.In a single entry visa, once I exit through Switzerland, I won't be allowed to enter again. It is not the no. of countries, you will be travelling to(Though ,I travelled to 3 countries but I applied for single entry tourist visa ).It is no. of times, you will be enter+exit the whole of a schengen area not individual schengen countries.
Double-entry visa :- As the name suggests, you can enter the schengen area once again.
Multiple-entry visa :- A multiple-entry visa allows its holder to go in and out of the Schengen Area as many times as he or she wants to ( with max. 90 days you can spend in 180 days time period).
e. Where to apply :-
If you are going to visit only one Schengen country, file your application at the embassy / consulate / visa center of that country
If you are going to visit more than two Schengen countries, file your application:
At the embassy / consulate / visa center of the country where you will spend most days, if you will be spending unequal amount of days in each
At the embassy / consulate / visa center of the country where you will step first, if you will be spending an equal amount of days in each.
f. When to Apply :-
The earliest you can file a visa application: three months before you start your planned trip.
The latest you can file a visa application: at most 15 working days before you intend to travel.
The recommended time to file a visa application: at least three weeks before your trip.
Normally, It takes around 7-15 days for visa processing.
g. Documents Needed :-
As I was staying in Switzerland for maximum period of time in my entire journey, I applied for schengen visa through Swiss Embassy.
Here, it is to be noted that visa application to be made through a company named Vfsglobal.com. Document requirements are clearly given in the site itself . (Document checklist for Swiss Embassy is attached herewith)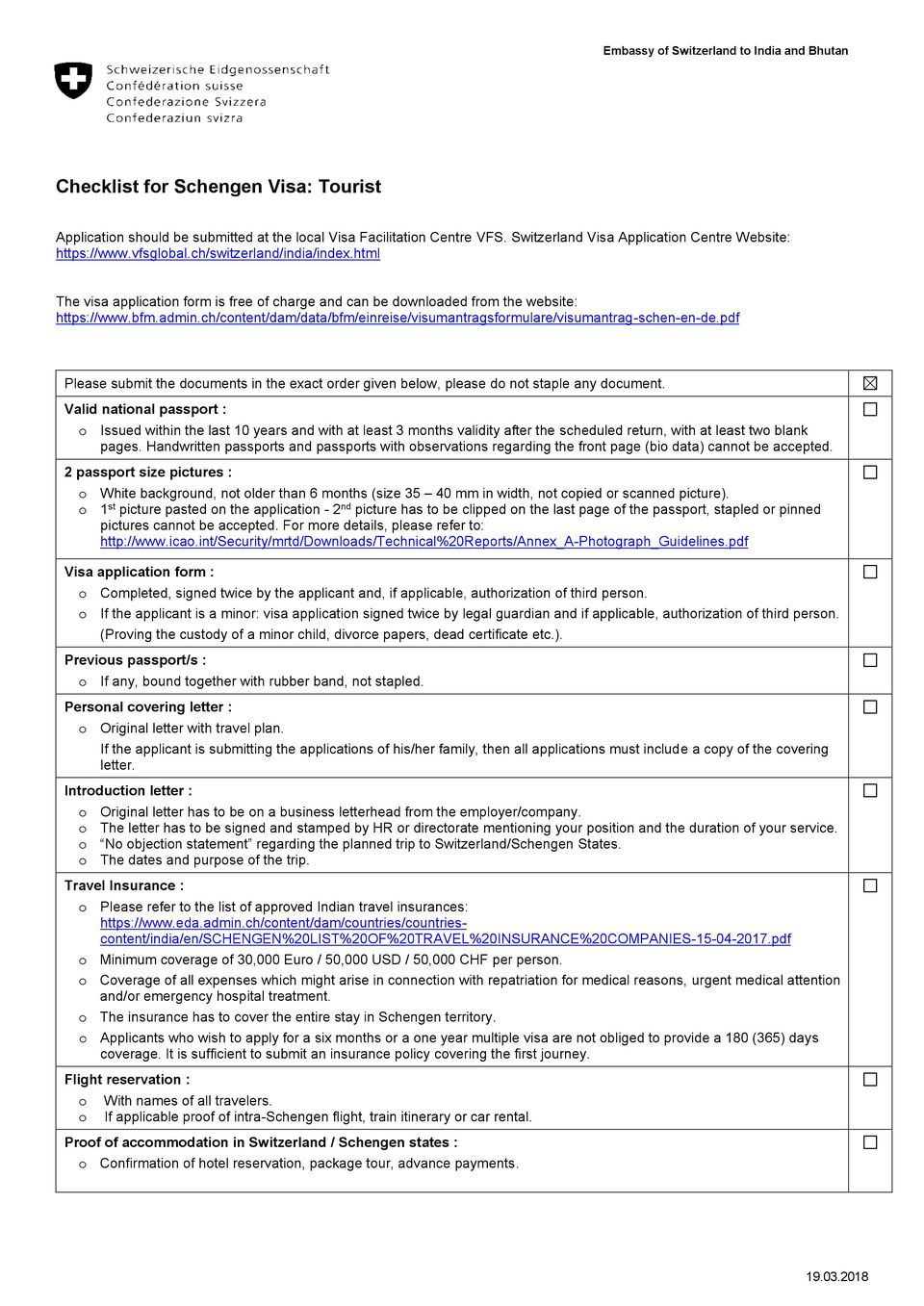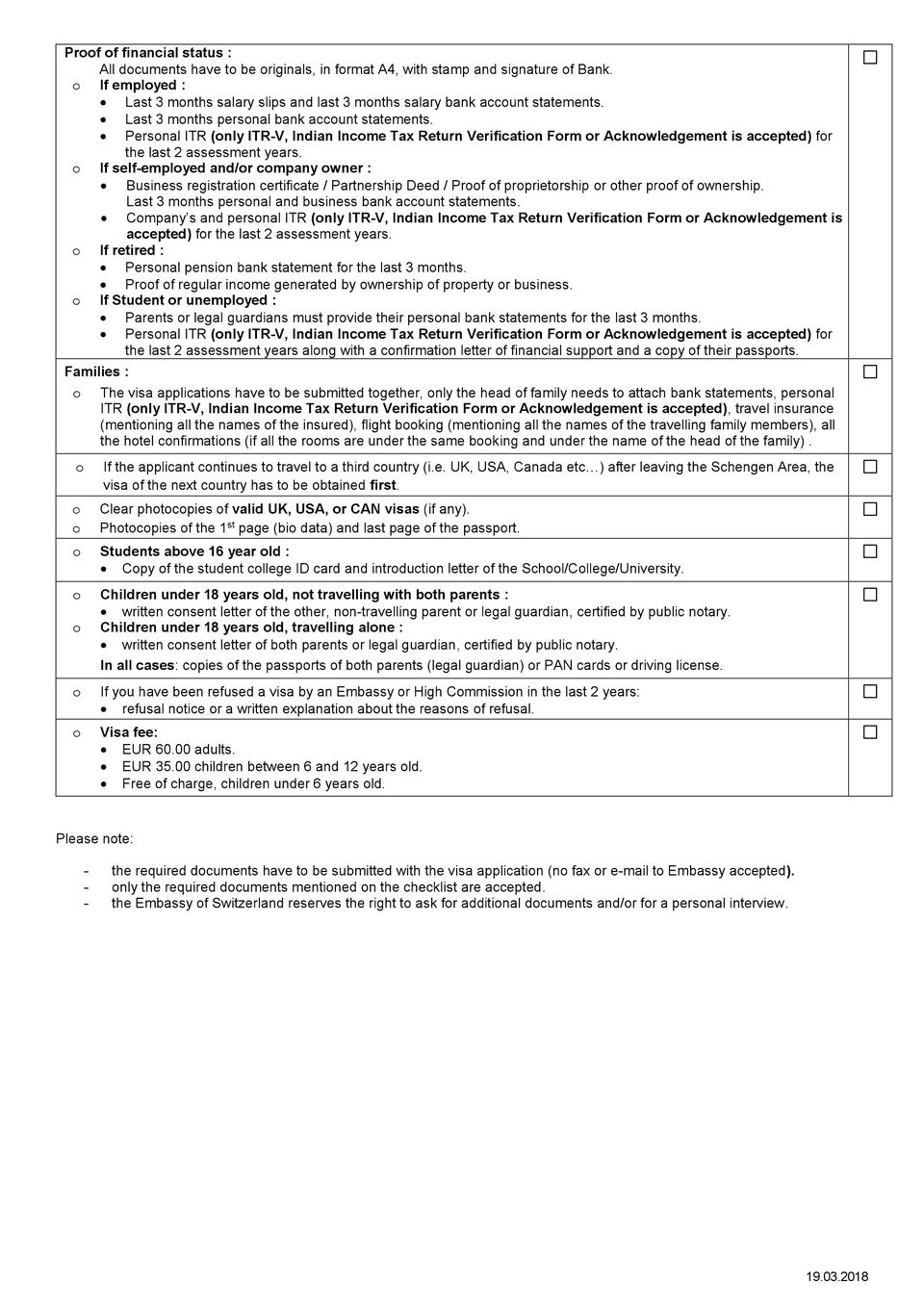 Once, all documents are collected, book an appointment with Vfsglobal.com for document verification/submission and for biometrics.
You will get an emailed response once the docs are submitted to respective embassy. In case, any further documents are needed, embassy may contact you through email/phone.
Key Documents ::
Personal Covering Letter:-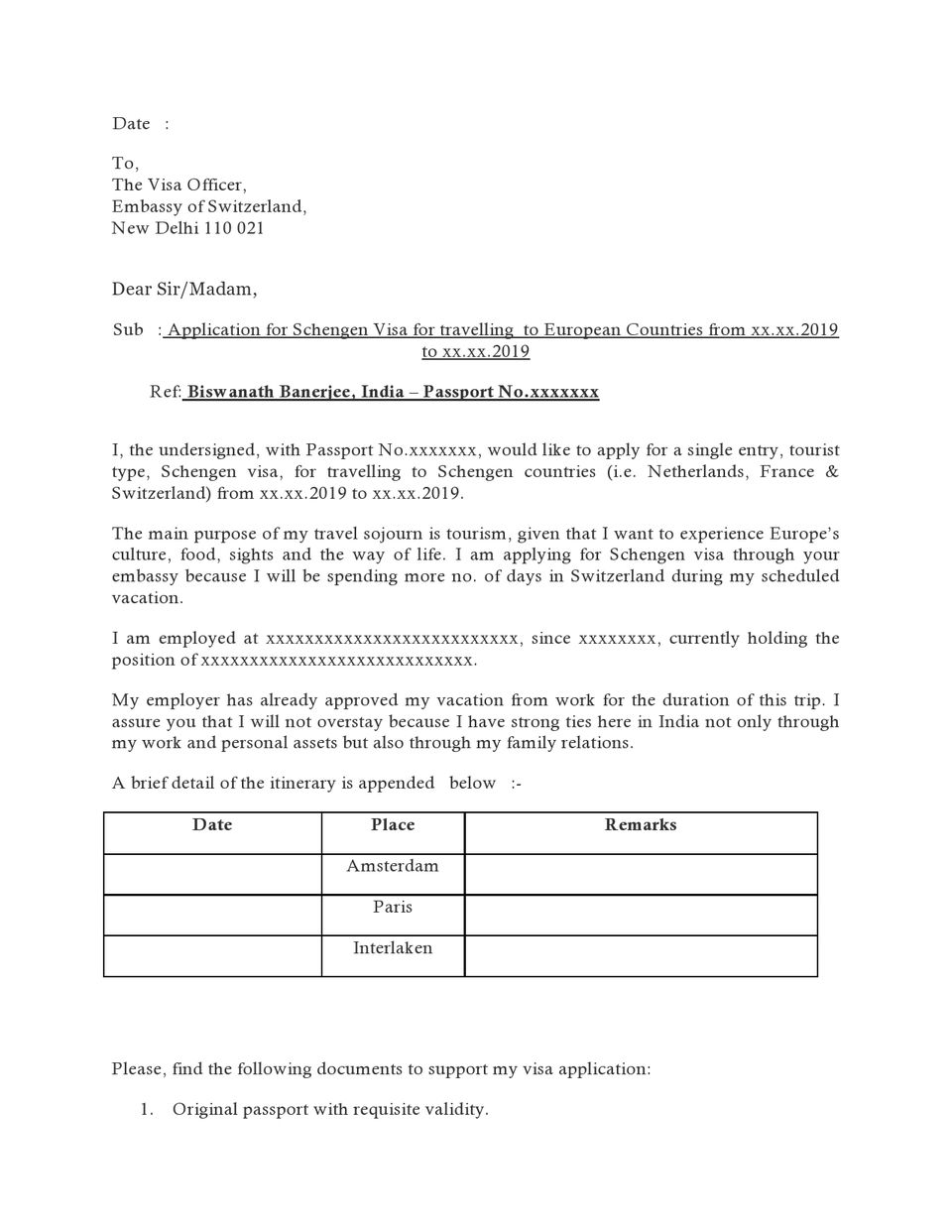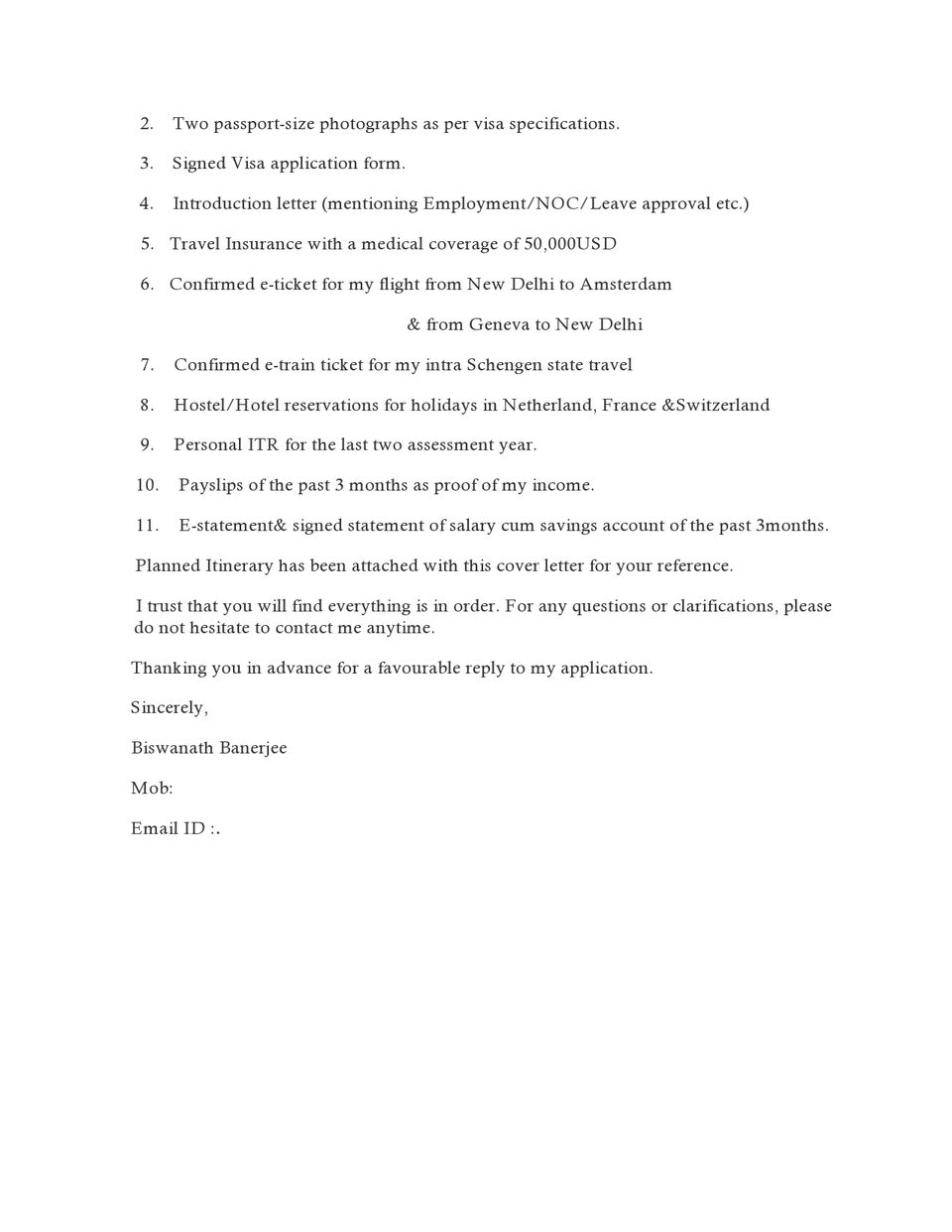 No Objection Certificate ::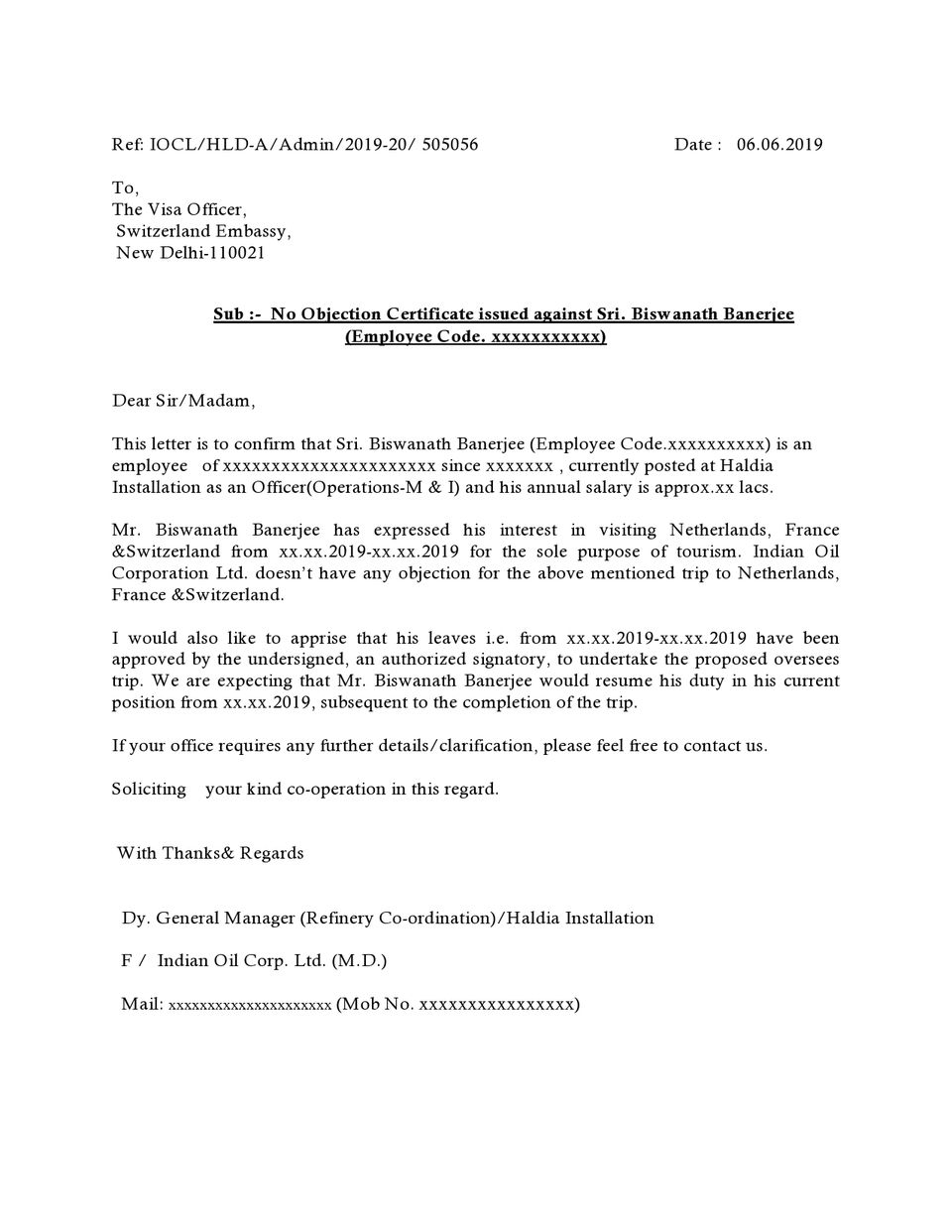 Travel Itinerary Format ::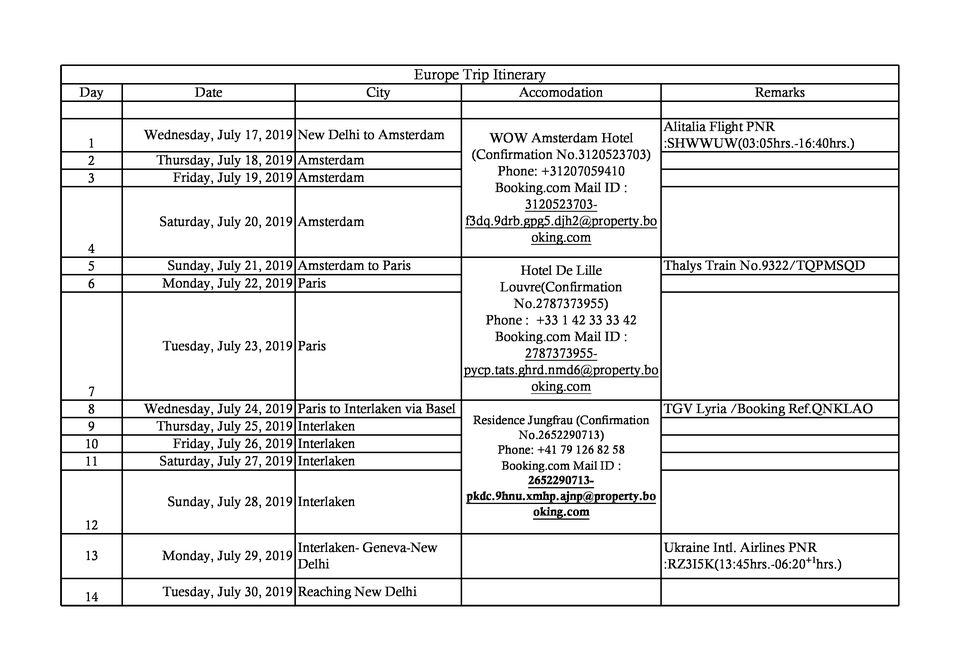 Visa Fees : Approx. 4500 Rs.
Account Balance :
a. Maintain sufficient fund balance in your savings account for 3 months, a statement of which to be submitted to Embassy to showcase your financial healthiness.
As a general thumb rule,
A/C balance = No. of days of travel* (8000-10000) Rs.
If your savings account doesn't have sufficient fund balance, FD's may be liquidated.
Sudden deposition of chunk amount of money into the account will be seen as an attempt to inflate the fund balance.
It is better to submit the bank account statements stamped by the concerned bank.
5. Fine Tuning the itinerary ::
Once the visa is approved, you can certainly modify your itinerary. So, we researched further and modified the itinerary to certain extent , obviously, modifying the hotel accommodations accordingly.
So, the detailed itinerary is attached below :-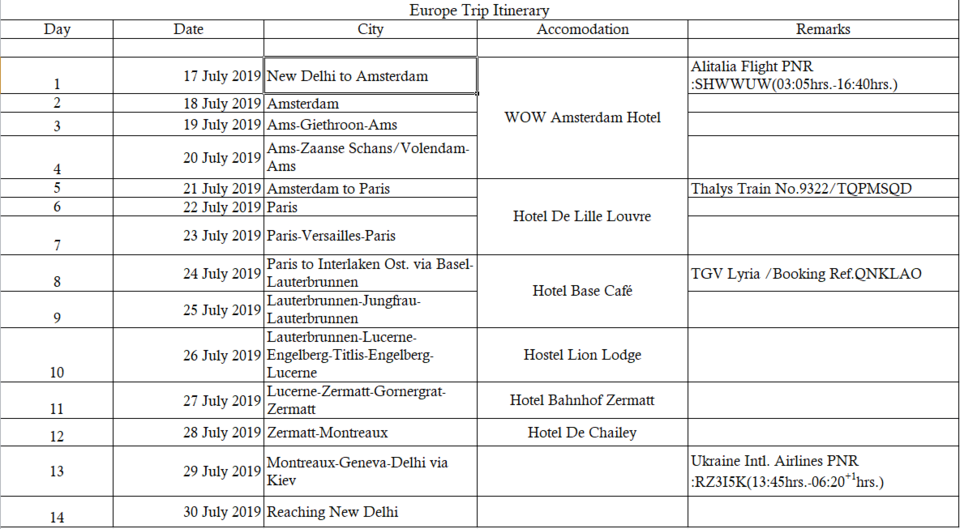 6. Arranging Foreign Currency and Sim Card :-
We made a sample calculation on the probable expenditures in the trip. As because, we travelled to countries where two different currencies (Euro & CHF) are used, we segregated our expenses accordingly.
We decided to keep 200 EURO and 200 CHF in hand ,just to take care any unforeseen scenario, from www.bookmyforex.com .
It is pertinent to mention that europe is plastic money friendly country. So, better to put max. amount of money in a travel/forex card rather than carrying hard cash.
During this trip, we used ICICI Bank multicurrency forex card(CHF & EURO) , which can be bought and refilled online.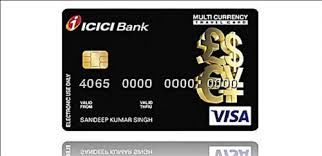 Matrix International sim card was bought with 1GB data pack and 100 min talktime. (All hotels/hostels /major train stations are equipped with wi-fi.)
7. Day wise trip details :-
DAY 01 ::
@2:30 am, I am standing in a long queue at one of the immigration counters of Delhi Airport along with two of my friends with a spirited body & mind - devouring every moment in the path of fulfilling one of the most sought after travel goals- "ZNMD before 30 " :) :)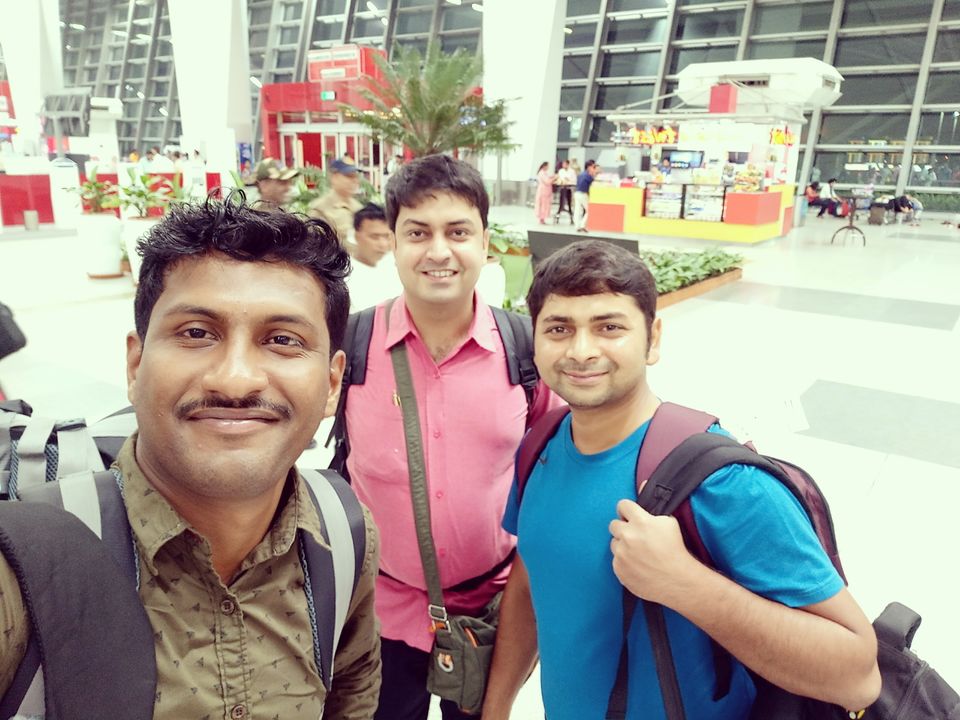 The immigration officer didn't ask any question and stamped my passport after giving an expressionless look at my face :)
So, we boarded our alitalia flight to Rome -Fiumicino Airport(0400hrs.-0830 hrs.) with exhilaration running through the body and why won't it be ? Planning, planning and planning for last 3 months and finally, this was the moment to savour.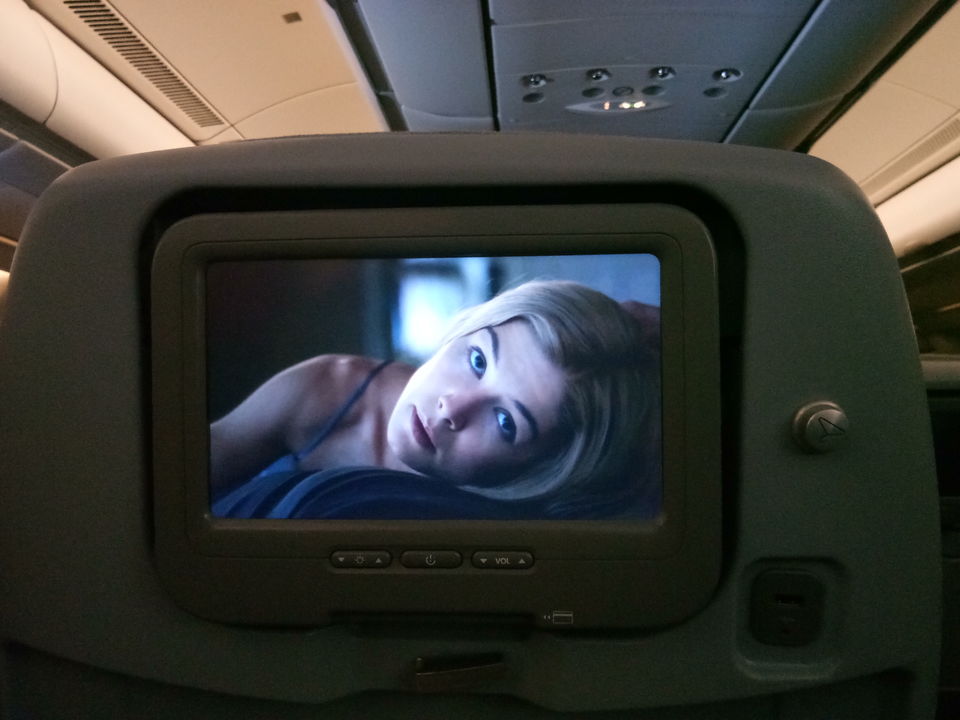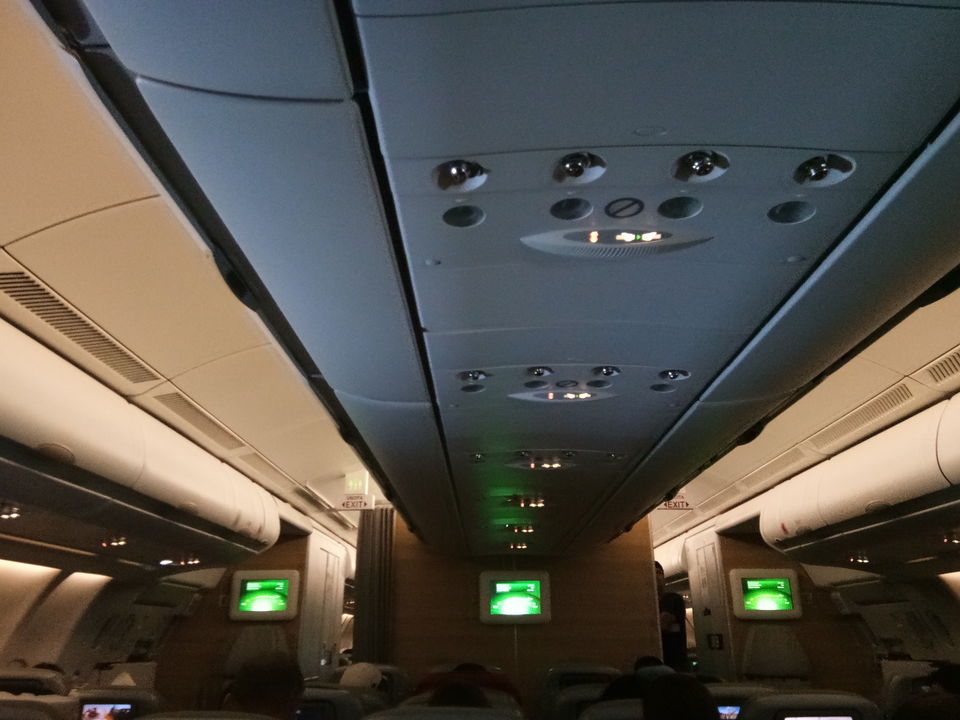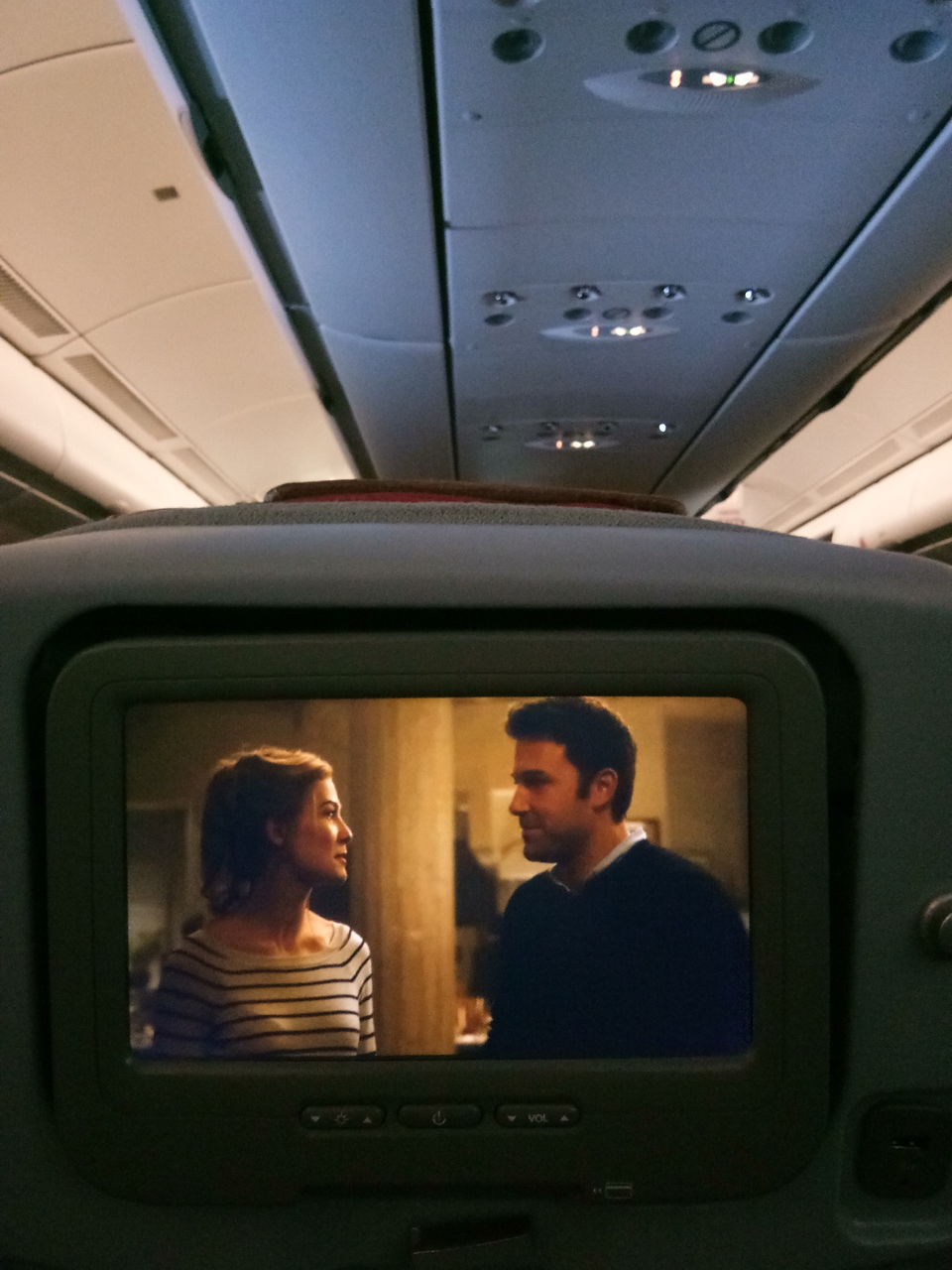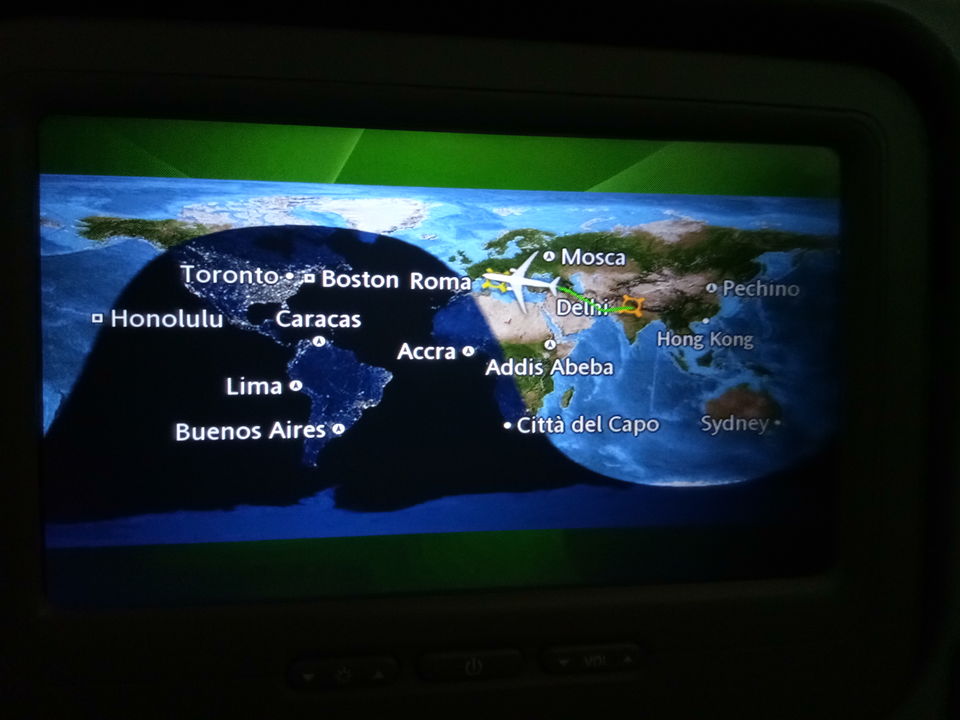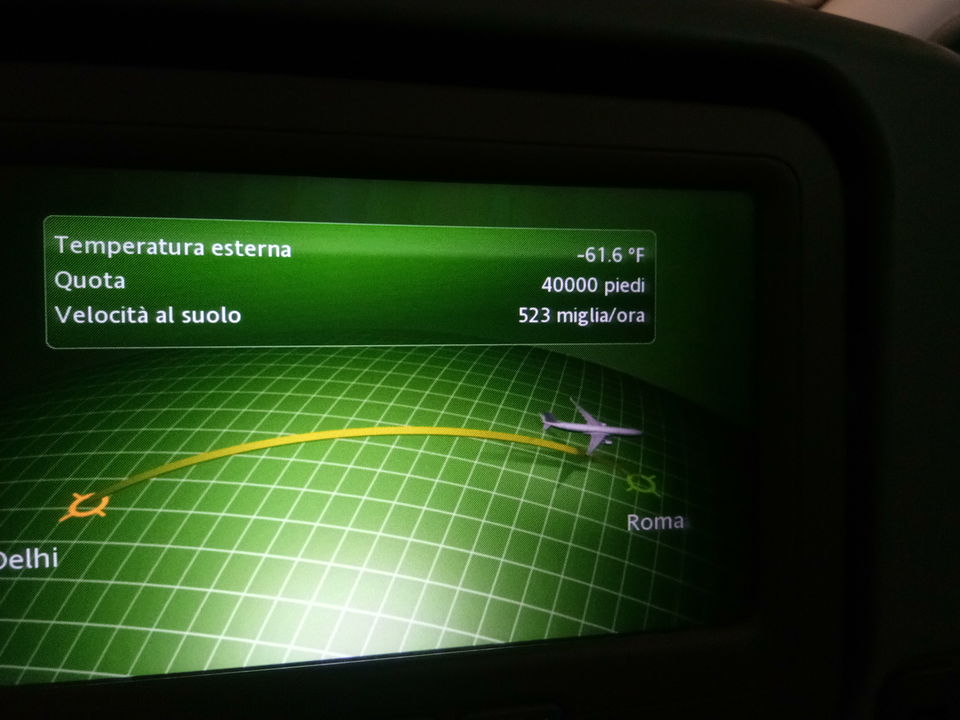 Ironically, in the flight, I watched a movie named 'Gone Girl'(Cast- Ben Affleck,Rosamund Pyke) when the title could have been 'Gone Boy' ('Gone' from the claustrophobic corporate life).
Alitalia flight touched down Fiumicino Airport around 0830 hrs. (local time ). As our next flight to Amsterdam was at 1400 hrs.,after completing our 'in transit' visa formalities(mere passport stamping by Rome immigration officials after checking our onward flight ticket to Amsterdam), we went straight to the tourist information counter to collate information to visit the 'Famous Colosseum' - an impromptu decision taken by us much in line with our desire not to leave a single second wasted in the ongoing Euro Escapade.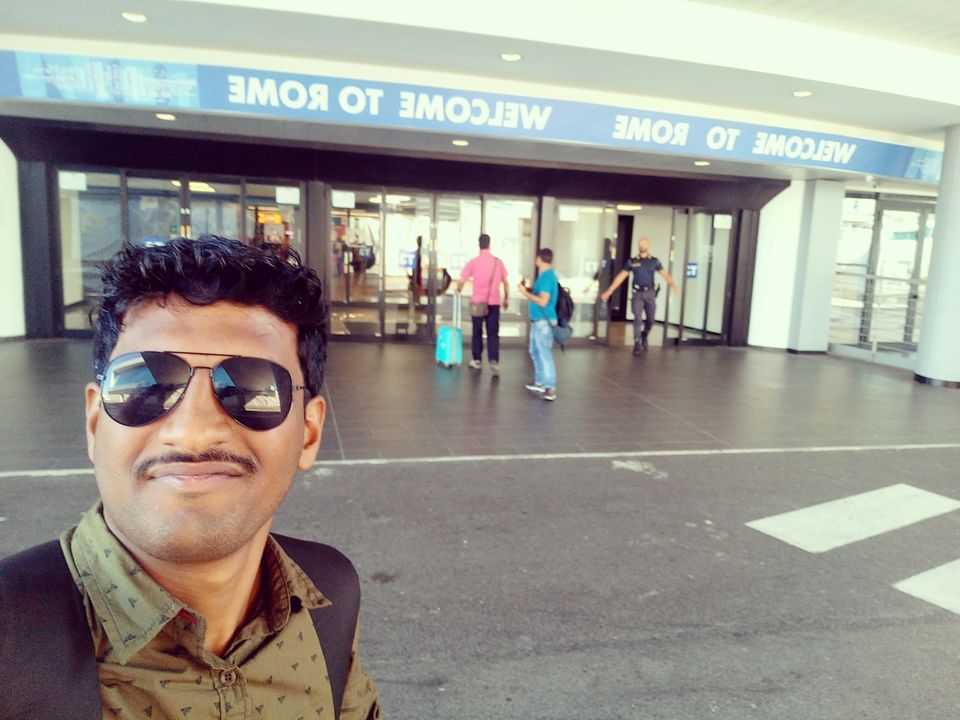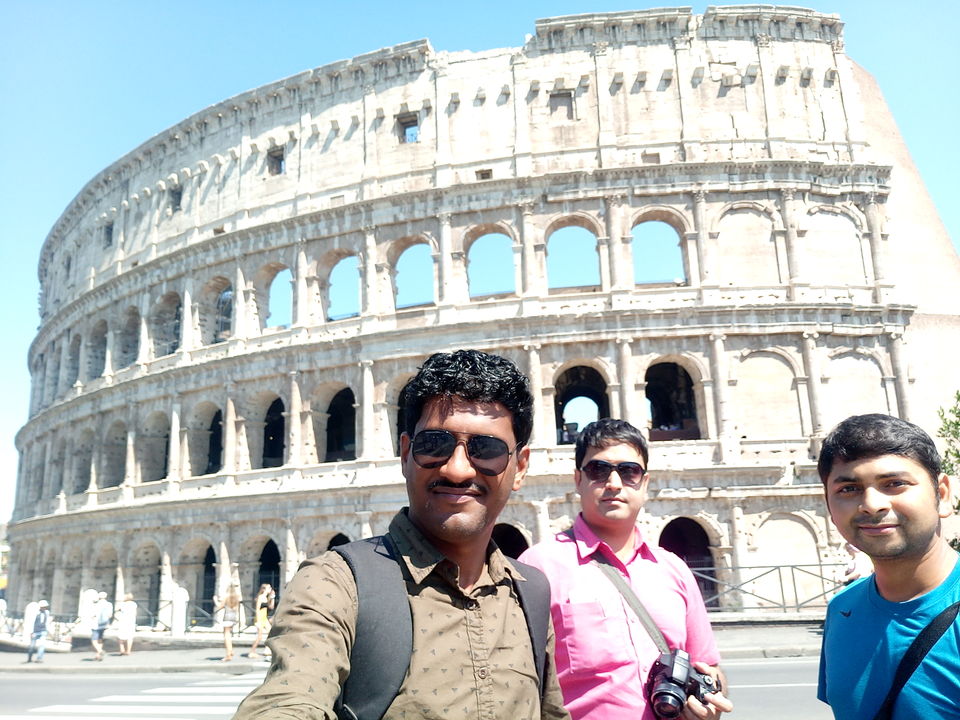 So, we booked a round trip to Colosseum from Airport in a shared BMW SUV at a cost of €25 per person. With 120 kmph in the speedometer, marching past the hustling and bustling city lanes ,reminiscent of Grand Roman Empire , we reached the famous or infamous Colosseum within 45 mins.