This post was originally published on our blog - Beyond The Wall. Visit the blog for more such reads, budget tips, and travel hacks.

For a budget traveler who is either confined by finance or choice of traveling style, Maldives doesn't sound like an economical destination to travel to. Ritzy overwater villas, fancy food, expensive commute – everything just adds up to say a quick 'NO' to this paradise. But who doesn't want to go to this 'Shangri-La', especially when there are enough claims to suggest that it might drown soon. Our love for marine life, clear- blue waters, and a post on budget Maldives by a fellow travel blogger encouraged us to explore this little drop of heaven.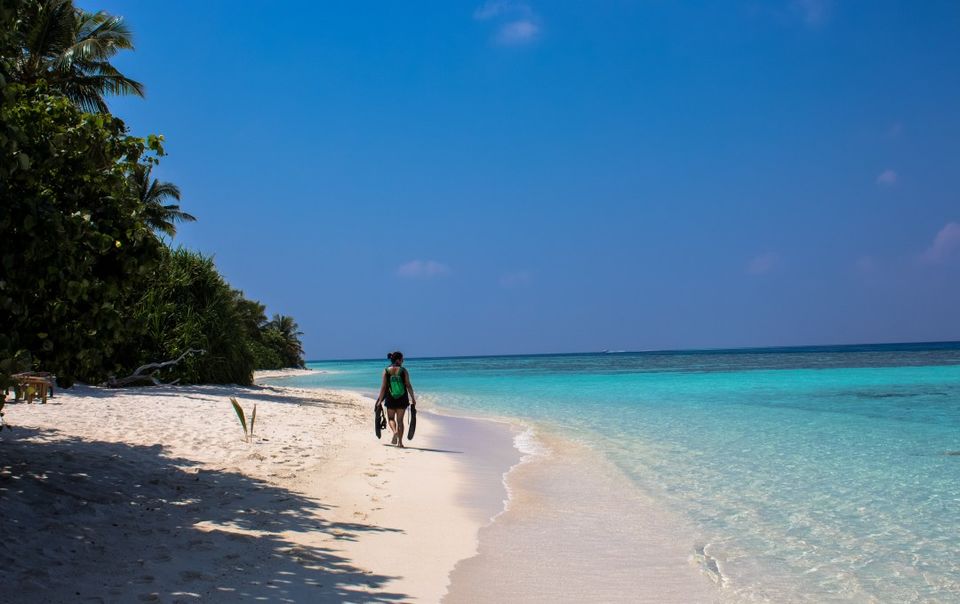 Maldives is a collection of 1200 tiny to large (well, not exactly!) islands with around 300 islands inhabited by people. We were surprised to know that 100 of these inhabited islands are occupied by resorts exclusively. These islands are spread at various distances from the International Airport in Male, ranging from close (30 minutes) to extremely far rides (a domestic flight and ferry away!). This means, once you reach your island via a boat/seaplane – bye bye for a while, my friend! Hence, your choice of guesthouse/ resort will come to define your experience in Maldives.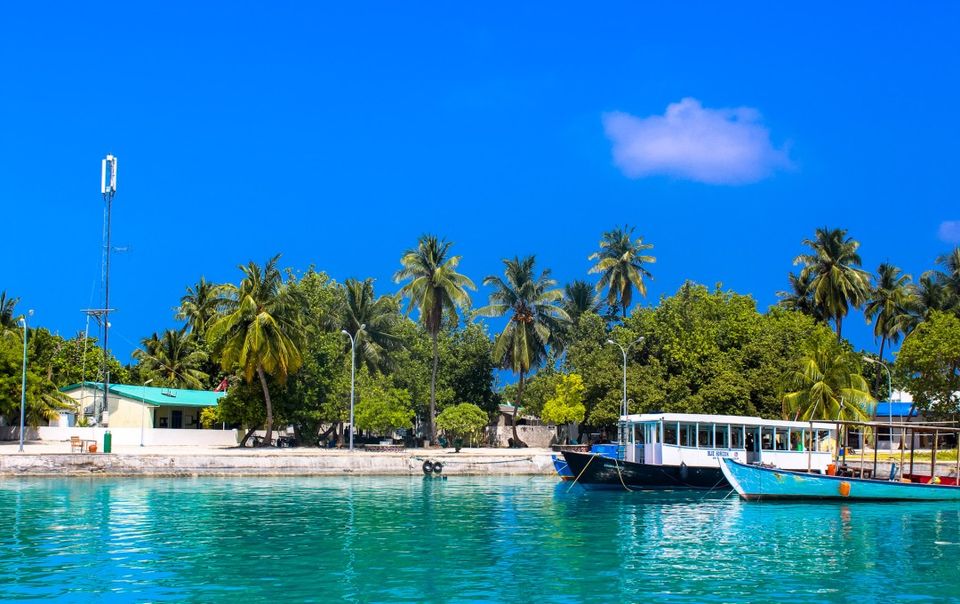 Obvious choice for us was to select a local island – one, to keep us under budget but more importantly to explore local Maldivian life that is rarely written about. To stay in a safety net, we chose to stay in an affordable luxury guest house placed on the tiny local island of Vaavu Thinadhoo, a little south to Male. Plumeria Guest House was the perfect balance of luxury and comfort we were hoping to find in this exorbitantly priced country.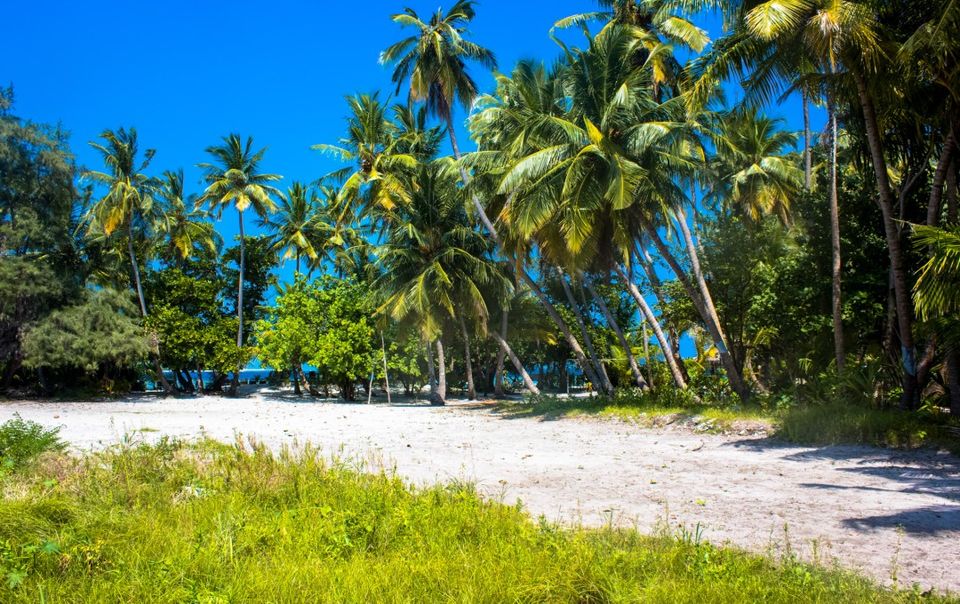 GETTING HERE
Plumeria is situated on one of the closer islands from Male and takes about 6 hours to reach via a public ferry and 90 minutes using a speedboat. A speedboat ride is definitely the most convenient even though it costs 15 times that of the public ferry. We took Plumeria's private speed boat to reach Thinadhoo that literally flies through water. Like any other fancy resort in Maldives, Plumeria's staff will find you at the airport and usher you to the boat.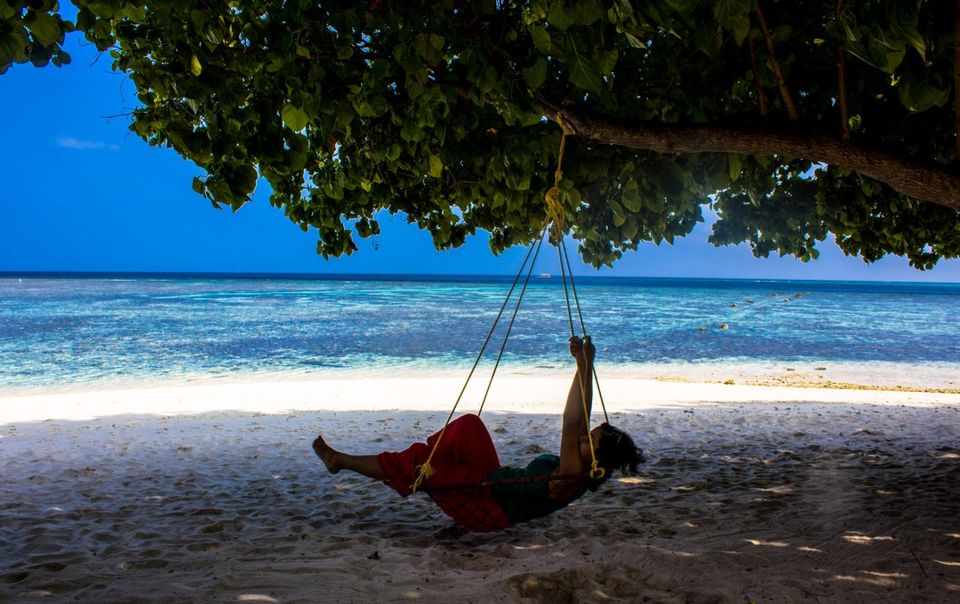 Tip #1:
Select your stay based on its distance from the Airport. Stays in the far south or far North can only be accessed via a seaplane that will send your budgets over the roof. If you want to catch the public ferry, book flights on days when the public ferry operates to your island. The ferry calendar is available here.
STAY
With options of choosing from sea view rooms to garden/village view rooms, Plumeria has something for everyone. The rooms are spacious, clean, and very well maintained. A fully equipped coffee bar, drinking water,basic amenities like clean towels, toiletries, bath robes and slippers are provided in plenty with the room. The rooms are cleaned every day and sometimes twice on request. The staff surprises you with special notes, towel art, chocolates on the bed and more. There was nothing in the room that put us off at any point of time – if this is not luxury, then what is!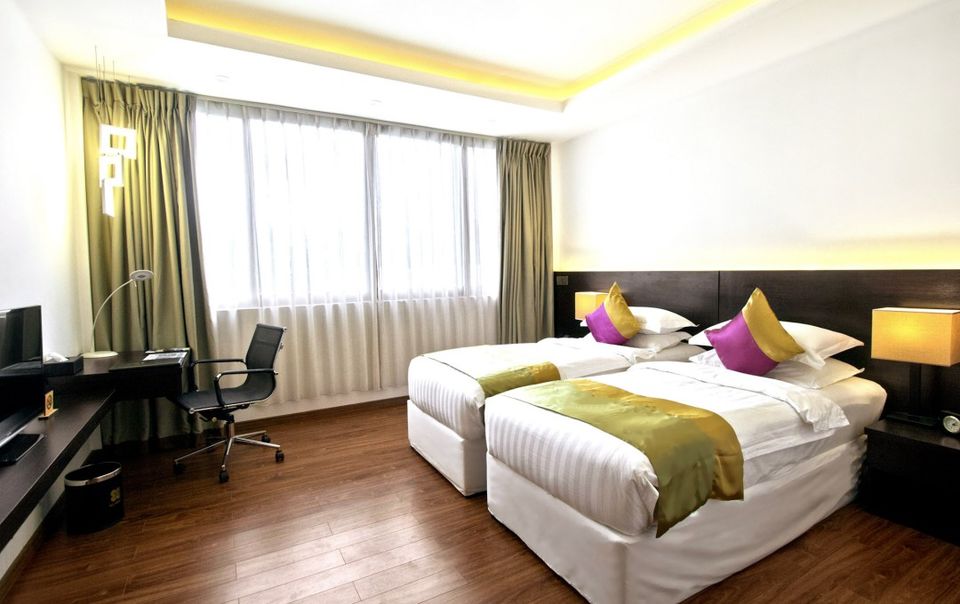 Tip #2:
Guest Houses and affordable luxury stays in Maldives is a recent phenomenon. The go-to place for guest house booking is this website, wherein you can directly book full board all-inclusive packages. They also offer the best prices!
FOOD
The fruits, the juices, and the tropical mocktails (Yes, Alcohol is banned in Maldives, except on private resorts) stole my heart away. Plumeria host guests from multiple countries across the globe. We were super impressed by the way they accommodate everyone's taste and comfort into their food. To put this in perspective, you should know that our island had no other restaurant or eating joint apart from Plumeria's kitchen. The only other options were to snack on crackers from a nearby store or wait for the upcoming Bangladeshi food joint to set up a functional kitchen. Thankfully, we didn't need to explore those options.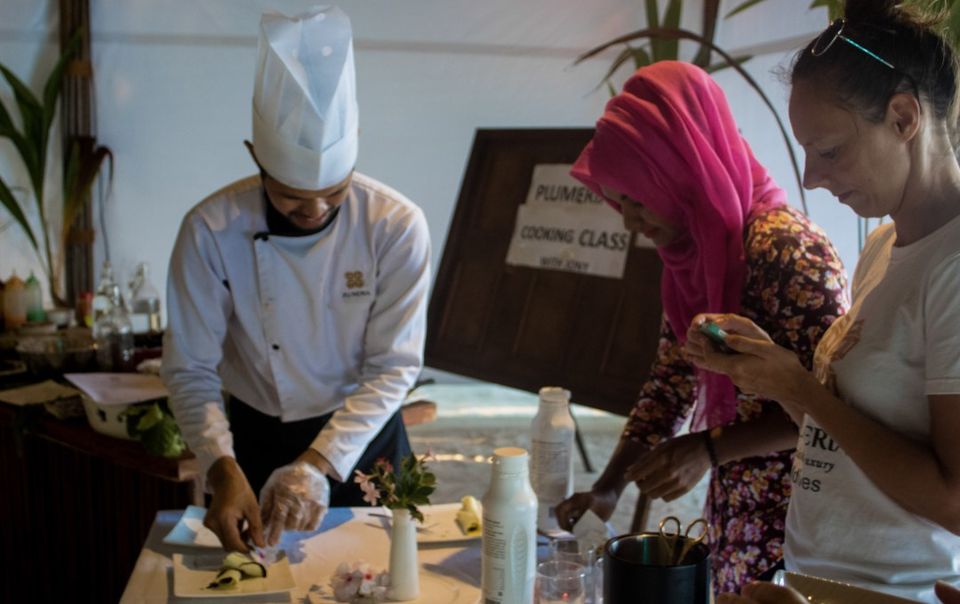 Plumeria served us pompous buffets consisting of more than 12 items to choose from, each time. Chicken, beef, seafood, lamb, lots of veggies, and a LOT of desserts! Cherry on the top – if you feel like eating something special, just tell the chef. Jony, our chef, was kind enough to cook on-demand dishes for us. Cherry on top of the cherry is that the food is served right next to the ocean every single meal. Oh, did we not mention that they cooked a special meal for Christmas – a fresh king Mackerel that smelled like the ocean (ah!), a huge roast turkey, king prawns, an assortment of a dozen salads, curries and desserts. Well, you get the drift...
Our chef, Jony, deserves a special mention for cooking dishes particularly to our taste!
Tip #3:
It'll be wise for you to carry along your favourite munchies before you head to the island because chances are that the island won't even have a grocery store.
BEACH
What snow is to Antarctica and perhaps coffee to Colombia, crystal clear waters and marine life is to Maldives. Do not come back from Maldives without exploring its opulent waters. Every island in Maldives is surrounded by an in-house reef. As you walk towards the white sandy beaches, you will soon hit the poky reef that is home to thousands of marvellous fish species and rare water creatures.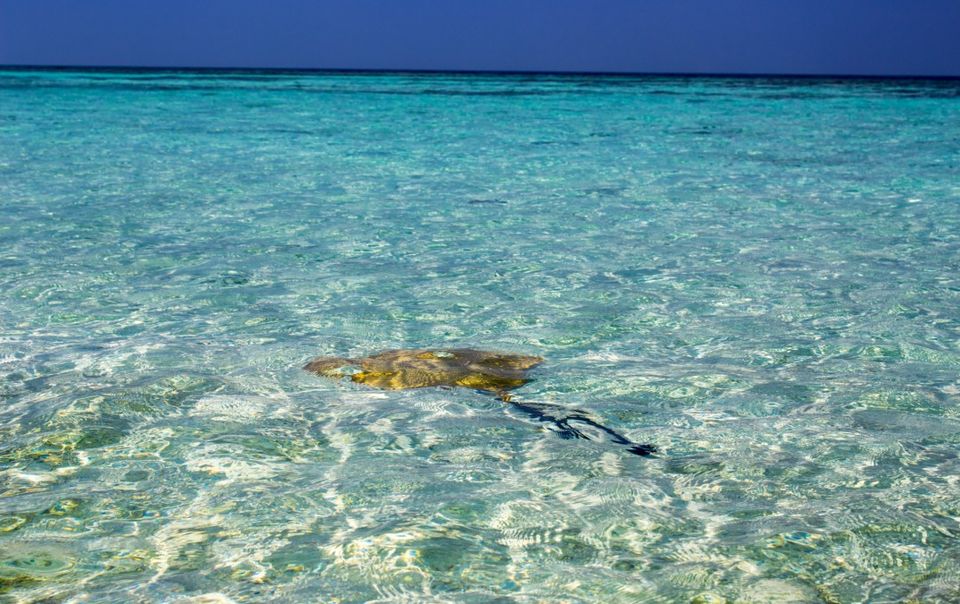 Water babies that we are, we swam and snorkeled for around 6 to 7 hours a day and made it a point to say hello to all the lovely water buddies including a giant sting ray that kept stalking us. If you love your Nemos and Dorys, there's an entire colony of those here. For those who prefer to find an aloof corner by the beach and watch the glory from a distance, Maldivian beaches are just for you – you can have as much space to yourself as you would like.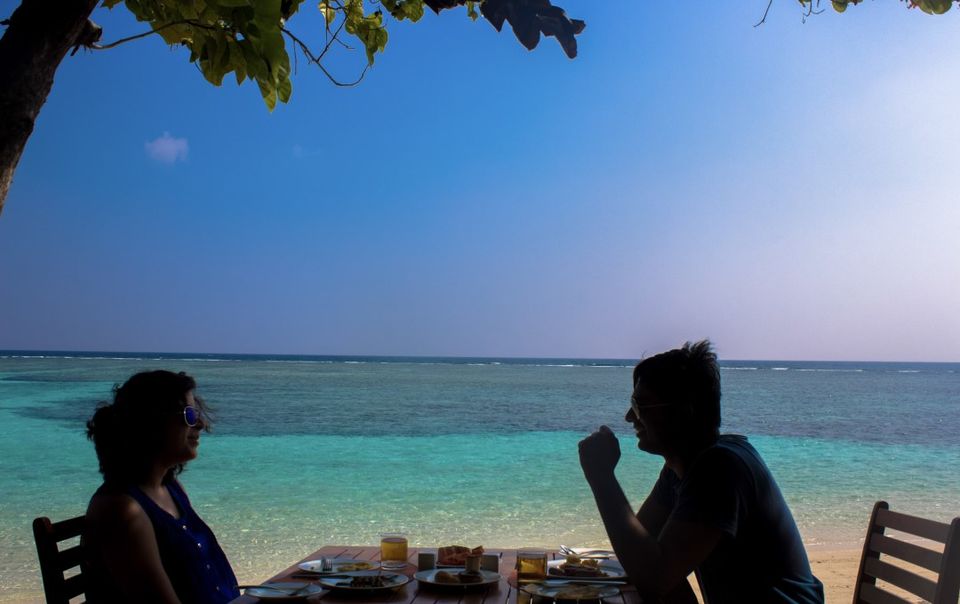 Since Maldives is a conservative country, it is prohibited to wear bikinis for women (or men) on the local islands. Plumeria has a vast section of the island that's reserved for tourists called 'The Bikini Beach'. It is an unsaid understanding between the tourists and the locals to give space to each other. This cordial arrangement allows travelers to explore the beach at their own comfort while at the same time be respectful to the locals, who are very friendly and welcoming.
Tip #4:
It may seem from all the pictures on the web that Maldives is all about white sandy beaches. While it is true for some parts of the beaches, you're most likely to spend your time in the reefs which is rough to walk on. Carry beach shoes to avoid injuries (we have so many!)
EXPERIENCES/ ACTIVITIES
Besides snorkeling around the house reef, there are plenty of activities that any resort arranges on daily basis. Excursions to sandbanks, snorkeling trips to faraway islands, Dolphin cruise, sunset excursion etc. Plumeria also offers tons of activities for its guests. They have a fully equipped diving centre that organises both snorkeling and diving trips. We took our first diving course in the Indian Ocean and our coach, Katie couldn't have been nicer.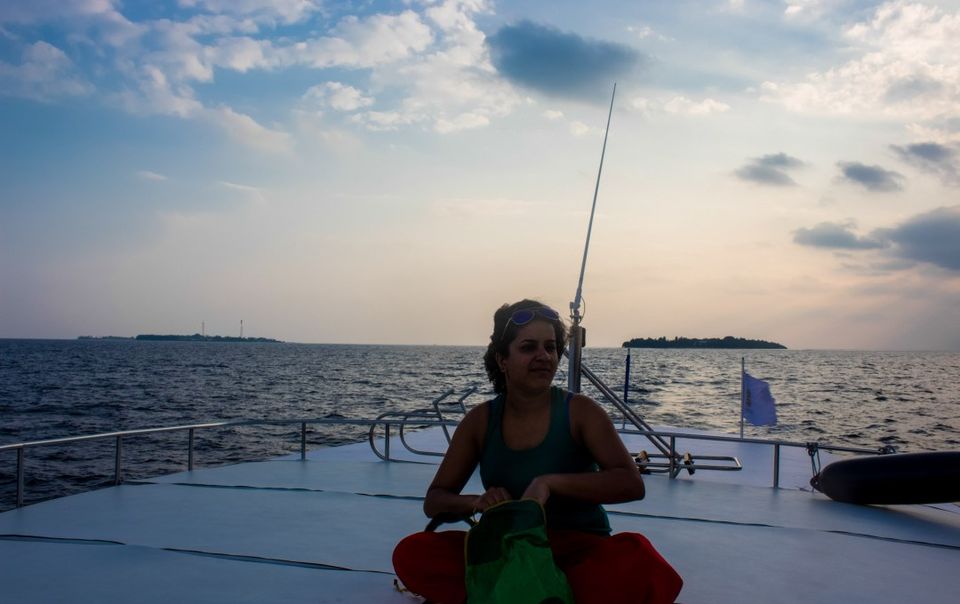 Our personal favorite excursion was to a snorkeling site that harbours giant sharks as big as 2 metres. The boat takes you to the shark site in the night where a guide or two use head lamps to throw light under water. Multiple varieties of sharks ranging from the whale shark to nurse-tip sharks swim right next to you.
Tip #5:
Most islands in Maldives have their own in-house reefs brimming with exquisite marine life. Unless your hosts promise to take you to see a specific kind of fish, save some bucks and snorkel in the reefs around your island.
Overall, our experience at Plumeria was extremely satisfying and we wouldn't think twice to head back there again. The entire staff were so courteous and hospitable that it made our farewell a tad bit teary-eyed (We're talking of Divya here!)
BUDGETS
Here's our breakup of the overall cost we spent on our trip to Maldives. Well, this doesn't really qualify as budget travel but let's treat Maldives as an exception, shall we?
WE SPENT A TOTAL OF INR 1, 18, 000, i.e INR 59,000 per person.
- The cost includes a scuba dive course, night snorkeling with sharks, dolphin cruise, souvenirs, all meals, flights, ferry transfers, and an extremely luxurious stay!
- We took a full-board package at Plumeria which included meals of all days.
- Our flight was slightly costly because of the peak season. MEGA airlines now operates flights to Delhi and Mumbai directly from Maldives. Expect to spend in the range of INR 12,000-16,000 per person.
- If you are under a budget of INR 40,000, there are plenty of guesthouses that come at much cheaper prices. We were in a mood to spoil ourselves, yet ended up spending very little.
It's no exaggeration to say that we definitely left a portion of our hearts in Maldives – this is one country we would love to come back to again and again, largely for its underwater world and aloofness from the hustle and bustle of daily life.
KEY FACTS:
- Plumeria provides a fully functional, high speed internet connection to satiate your wi-fi hunger.
- They have a restaurant, a cafe, a snooker table, a tiny swimming pool, a private beach, and an indoor game collection.
- The islands do not have ATMs to withdraw money from. It's best to carry some cash for small expenses. US Dollars are accepted widely in Maldives.
- If you do have your own snorkeling equipment, carry it to avoid renting from your resort. You will save a small amount, if not much.
- Male is quite a crowded city. Even though we spent a day exploring the city, we wouldn't have missed much had we stayed back on the island. If you are short of days, we'd suggest to skip the city and just be on your island.
- Avoid Maafushi even though most budget options might be there. Overtourism has taken over the island and authentic experiences are no longer a possibility there.
- Visa to Maldives is on arrival and free for all tourists. The entire process literally took 30 seconds. A luxury for an Indian passport, neh?
Love what you read? Head over to our blog, Beyond The Wall, to read more about other destinations around the globe.
Follow our travels through pictures on Instagram