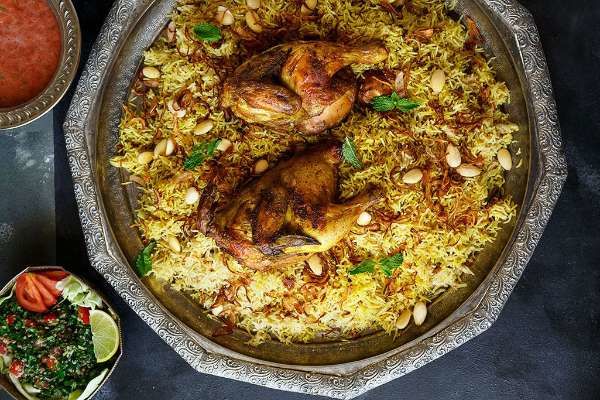 Though one needs to obtain a license to drink from the privacy of your own home in UAE, fortunately, the same doesn't hold true to trying these authentic eats of the Emirati world.
Hummus, Falafel, and Kebabs have made it on the menu of every Middle Eastern restaurant in the world. Though they are tempting, for obvious reasons we are going to leave that behind and leap into the unknown.
Remember, while sugar-laden breakfast cereals are popular in many cultures, In many parts of the world, breakfast is a warm, savory meal.
1) Ghuzi (National Dish)
Also called Khuzi is a solid chew made from whole-roasted lamb or mutton and is often served on kebab skewers with vegetables and hazelnuts over rice. It is easily one of the most popular dishes in Dubai because it is considered a whole meal in itself. It's also the national dish of the United Arab Emirates, which means any trip to the area without Ghuzi is an incomplete one. Once you're ready to venture into more unfamiliar ground, start by trying Khuzi or Ghuzi. Restaurants in Dubai serve authentic versions of this dish in single or to-share portions so you can enjoy the complete meal either by yourself or with your fellow travelers.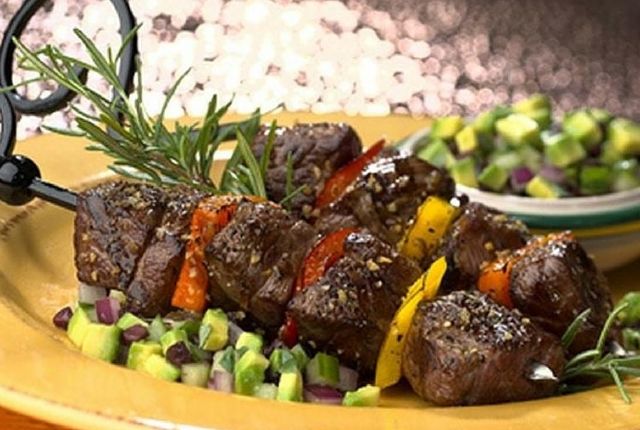 2) Al Harees
Al Harees is one of the most traditional foods in Dubai. This popular local dish is a combination of wheat, meat and just a pinch of salt, prepared to a porridge like consistency. It is generally served during Ramadan, Eid, Wedding, and special occasions. Even though Harees was once a traditional dish made at Arab homes, nowadays one can find it on the menu of Arabic restaurants in the Middle East countries. It is served either alone as a main dish or as a side dish with all the other goodies. The "Harees" grain is wheat berries in English and can be made with either lamb or chicken.
3) Shawarma
If you like juicy, tender, well-seasoned meat you are in for a real treat, because whether you are looking for a tasty lunch, a delicious dinner or a late night snack, you can't go wrong with a Shawarma. Made from marinated meat that has been slow roasted on a vertical spit for many hours – the meat can be anything from lamb, beef or chicken to goat, turkey or a combination of any of these. Once cooked, the meat is carved off in thin, wide strips and stuffed inside a flatbread along with a variety of vegetables, such as lettuce, cucumber, tomatoes, onion, pickles, and parsley.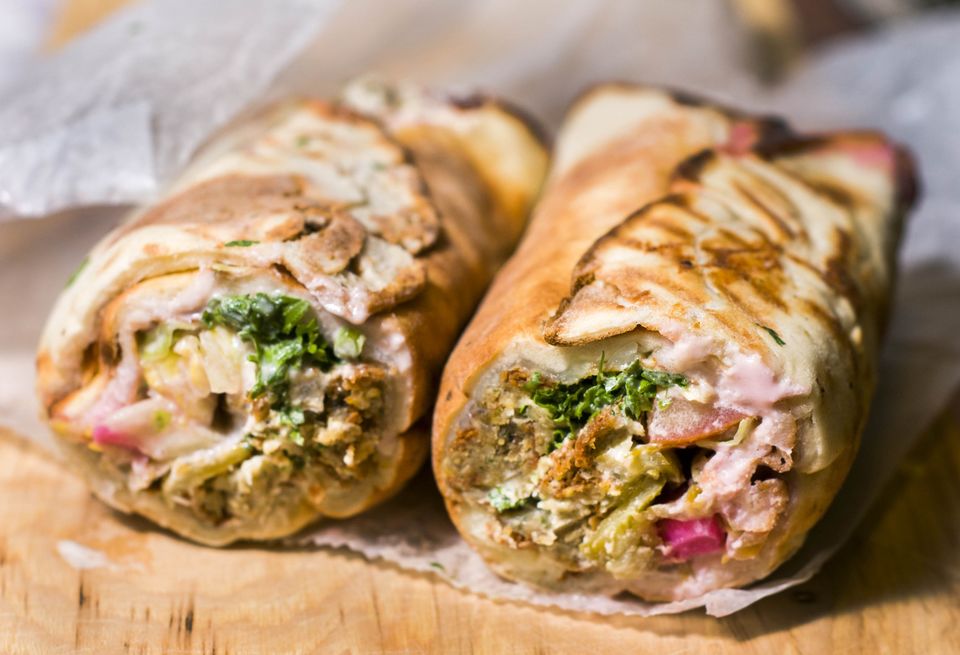 Kabsa- it's a rice-based dish made by combining rice and meat (chicken, lamb, camel, beef etc. There are many kinds of kabsa and each kind has a uniqueness about it. The spices used in kabsa are largely responsible for its taste; these are generally black pepper, cloves, cardamom, saffron, black lime, bay leaves and nutmeg. The main ingredient that accompanies the spices is the meat.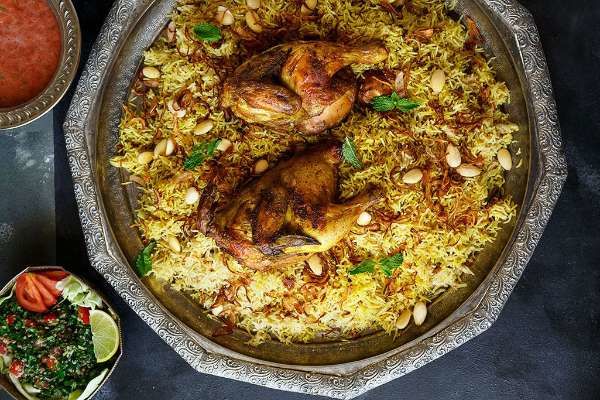 Knafeh is a super cheesy pastry and a specialty of the Levant region and an absolute treat for anyone with a sweet tooth. Made with thin noodle-like pastry, or alternatively, fine semolina dough, soaked in sweet, sugar-based syrup, and typically layered with cheese, or with other ingredients such as clotted cream or nuts, depending on the region. It is popular in the Arab world particularly in Palestine, Egypt, and Yemen. In addition, variants are found in Turkey, Greece and the Balkans.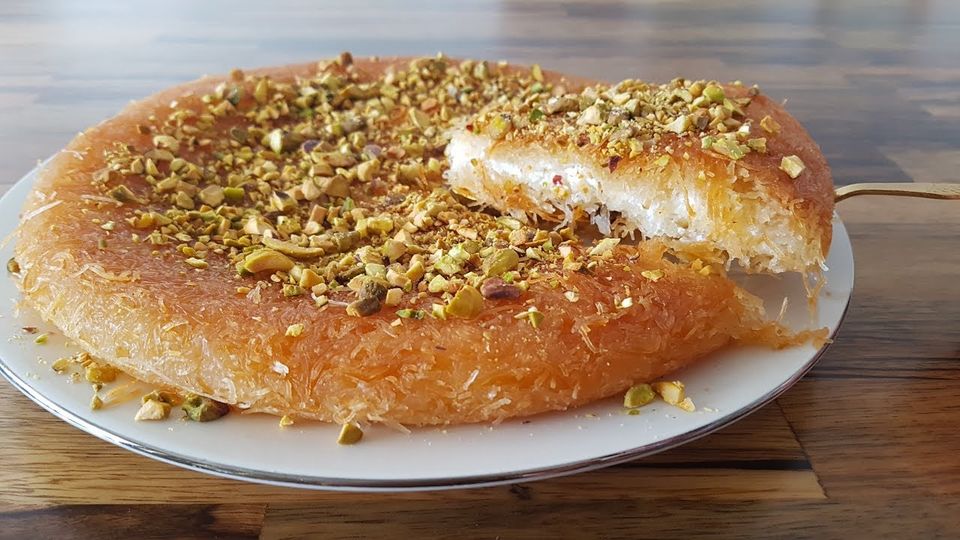 6) Fatteh
Another traditional Levantine dish of crumbled, toasted pita covered in warm chickpeas and cool, tangy yogurt sauce. It's easy to prepare, often vegetarian makes good use of ingredients, and is a satisfying snack, starter, or breakfast. The word fatteh is Arabic for "crushed" or "crumbs" and is the perfect use for leftover pita.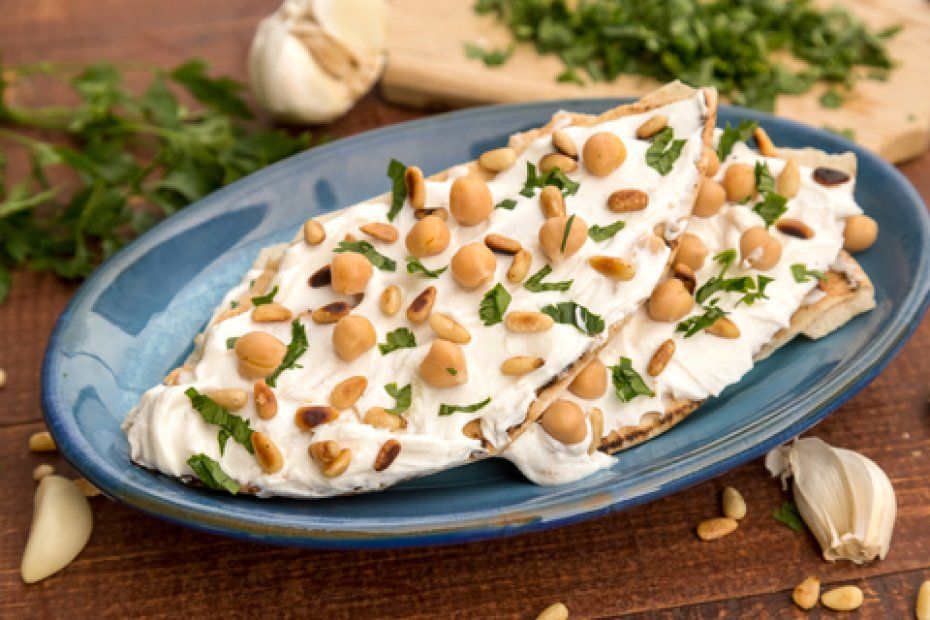 Vegetarians take a breather, Tabouleh is an authentic Arabic vegetarian fare specially designed to satisfy your palate. Tabbouleh is a popular light vegetarian side dish made with a mix of crushed wheat, onions, tomatoes, cucumber and onions garnished with lemon juice and fresh mint. It's one of the traditional dishes to order as an appetizer along with your main course and is a preferred dish among vegetarian travelers.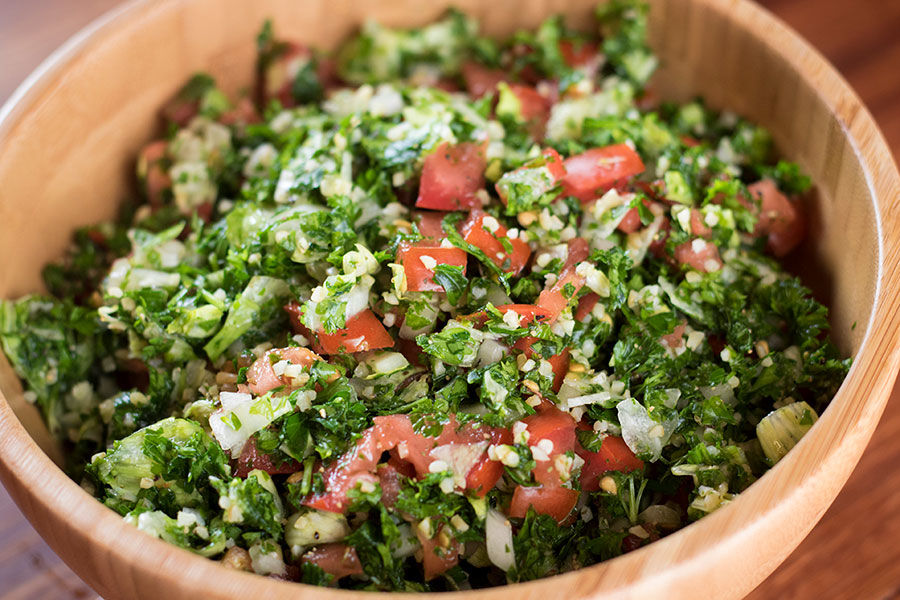 8) Manakish
Manakish is almost the Middle Eastern equivalent of homemade flatbread pizzas. After the dough has been rolled flat, it is pressed by the fingertips to sculpt little dips for the topping to sit in. Classic manakish are typical with one of three toppings: minced lamb, cheese, or a mixture of zatar spice and olive oil. They are often served warm as breakfast with homemade Labneh or feta cheese, which compliment the earthy bitterness of Zatar spice. Olives and fresh garden vegetables–tomatoes, cucumbers, and radish– are usually a part of the meal.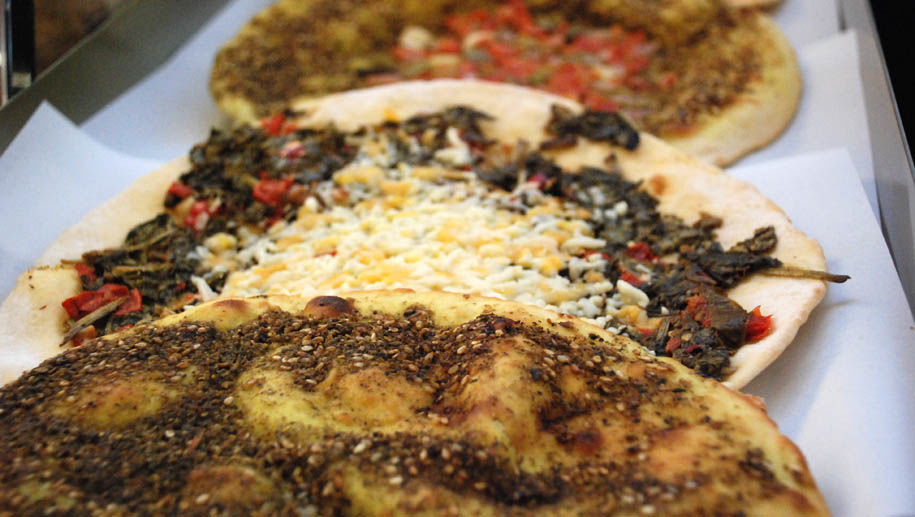 Dates (Arabic: تمر - Tamr) have been a staple food of the Middle East for thousands of years. It's not surprising that one-fifth of the world's harvest of these fruits is grown here. In the Emirates, more than 100 varieties of dates are represented, such diversity cannot be found anywhere else in the world. These juicy fruits have a bunch of useful properties, they satisfy hunger and are insanely delicious. Fresh and dried dates are glazed in chocolate, poured with honey, jam and syrup and sometimes they are stuffed with nuts too. In Dubai, you can try dates in a special date supermarket, shopping malls, and cafes.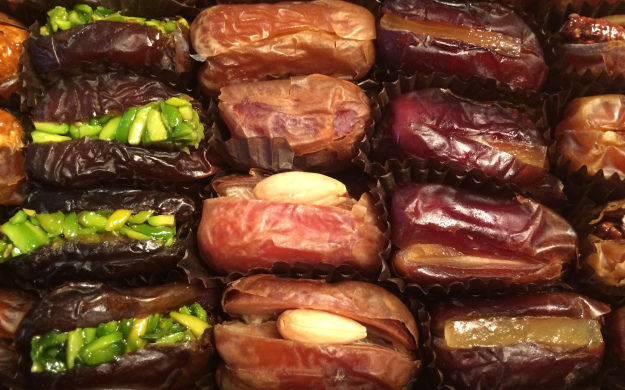 10) Baklava
Baklava is a Mediterranean dessert made with Phyllo dough, nuts, butter, and sugar. After baking to perfection, a sweet syrup is immediately poured over the pieces allowing the syrup to be absorbed into the layers. A layer of chopped nuts—typically walnuts or pistachios and sometimes hazelnuts is placed on top, Baklava used to be baked only on special occasions and usually by the rich who could afford such a luxury. Things have changed over the years. Now, you can order baklava anytime and you do not have to be a millionaire to enjoy the great taste.