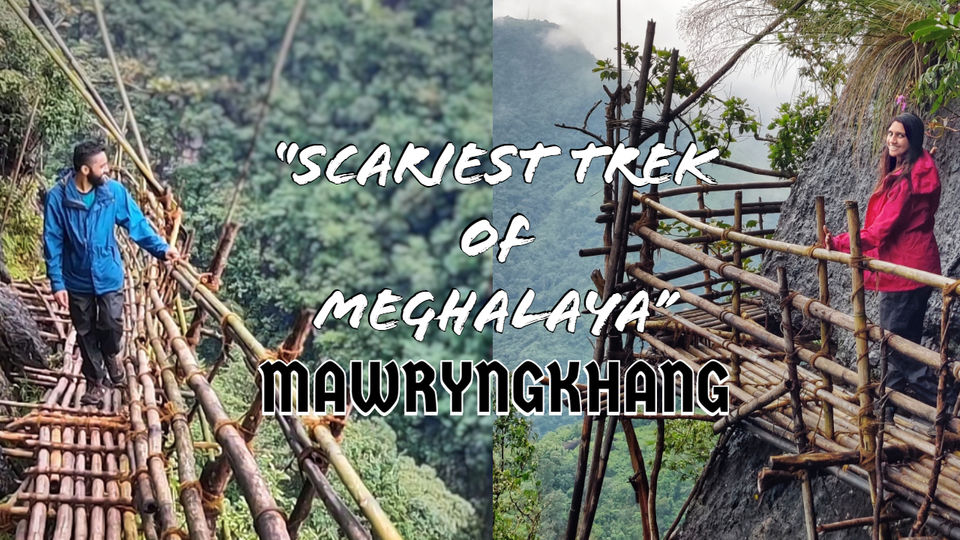 Our Crave to Travel landed us into a thrilling adventure termed as the "Scariest Trek of Meghalaya" - MAWRYNGKHANG TREK!!
You can click below if you want to watch the nail-biting movie of our trek on Youtube ->


* Or if you prefer reading then continue with the blog :)
This trek is fast gaining popularity owing to its one of a kind experience of ascending rocky mountains, millimeters away from deep gorge just on the edge of thousand feet cliff, on merely bamboo logs!!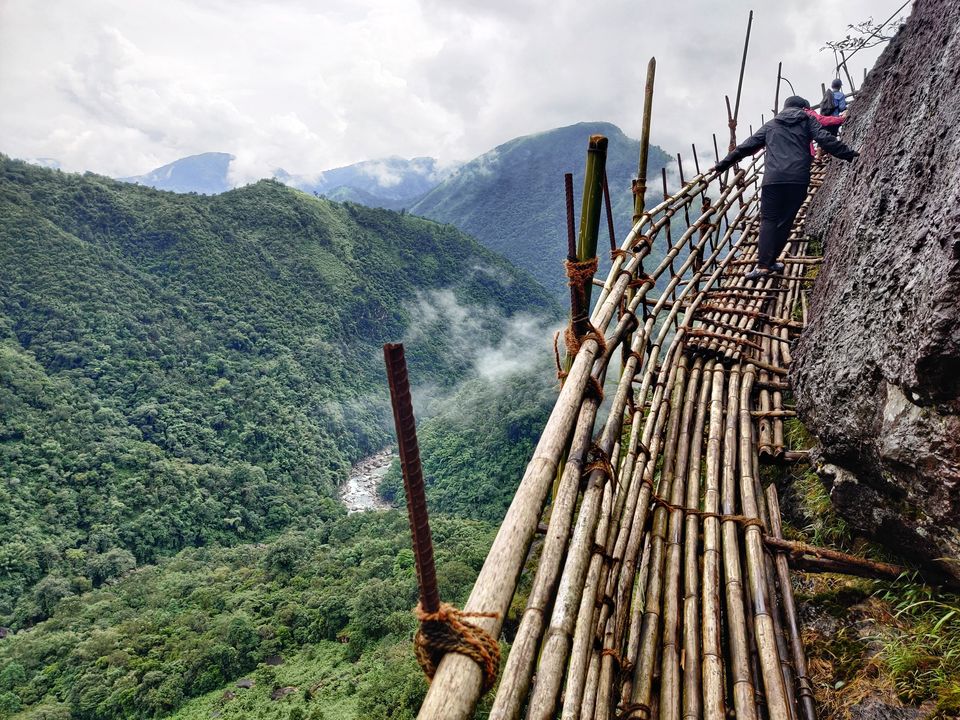 HOW TO REACH
From Shillong, its a mere 2 hours drive to this place. From the main highway NH206 that goes towards Dawki and Mawlynnong after leaving from Shillong, take a right turn towards Wakhen village from Laitkynsew.
Public transport can get you only until this turn, after which you can get a taxi to cover the rest of 15kms through Wahkhen road upto Mawryngkhang trek start point.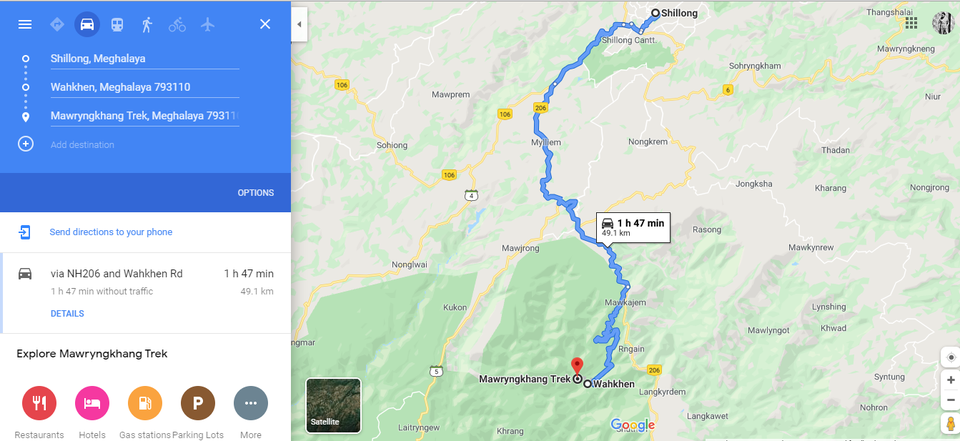 PRO TIPS
If prepared for and planned properly, this could be an amazing, out-of-world experience for those seeking a date with raw and thrilling facet of nature crafted by the skilled villagers of this area.
Pro tip 1: GET A GUIDE
Hire a guide for just 200Rs. to help you traverse the trails with relative ease along with a source of information and stories to keep you entertained during the trek (not that you would need it since trek is quite 'involving' :D)
Pro Tip 2: DRINK AMPLE WATER
Fresh Water sources are available during trek, so you can start with just a liter of bottle and then fill it along the way to quench your thirst as you climb along.
Pro Tip 3: KEEP UP THE ENERGY
Carry glucose, chocolates and dry-fruits to keep you energized during the complete trek. There are no food stalls midway, so best to pack a small meal if walking makes you hungry!
Pro Tip 4: BE SAFE - PACK MEDS
Moreover some first-aid should be kept as it gets slippery, specially during rains (which can be anytime owing to ever-changing weather of Meghalaya).
Pro Tip 5 : WHAT TO WEAR
Another thing to take care of is leeches and insects found commonly while walking through forest trails, so it's recommended to wear clothes that can cover your ankles and arms. This solves another purpose of keeping you safe from getting scratched or bruised from rough surfaces of rocky trails.
CLOTHES -
Quick-dry full sleeves tshirt and trek pants from Decathalon along with a rain-coat (even if it's sunny at time of start of trek, it can get rainy at any time, so better to stuff it in your bag!) are bang on to take on this trek.
ACCESSORIES (optional but helpful) -
Torch : It gets dark early in these parts, so you never know when it might come into use).
Water-proof mobile and bag cover : To evade the unpredictable rains.
Camera : Who wouldn't want to boast conquering this scary as hell trek and create a blog/vlog with the amazing and picturesque landscapes! :D
SHOES -
A good pair of trekking shoes with ample good grip would help you tackle path with more aplomb. Forclaz 500 is a good option which worked for me pretty well.
Also it's better to apply a layer of odomos and/or dettol or eucalyptus lotion to ward off any insects or prevent bites.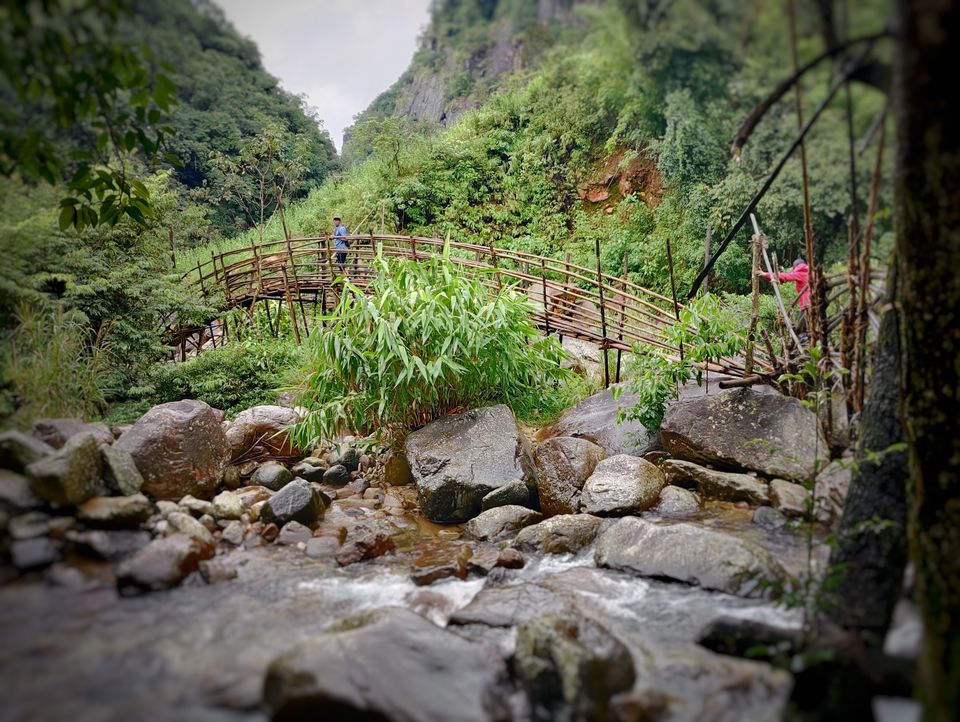 TITULAR SIGNIFICANCE
Mawryngkhang is also crowned as KING of ROCKS, owing to back-story of this place.

Mawryngkhang fell in love with a girl from another kingdom Mawpator. A battle ensued between the two where Mawpator injured Mawryngkhang, but despite that, Mawryngkhang succeeded in beheading Mawpator whose head fell down in river gorge below.
So today, Mawryngkhang stands tall as the famous rock, The king of rocks!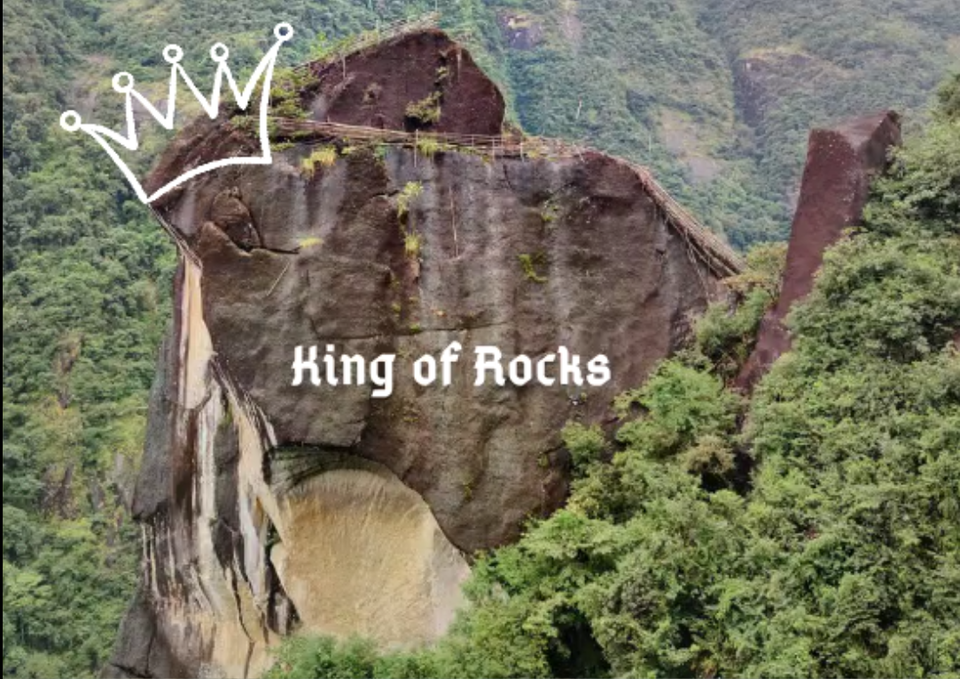 CAUTION
It's a 3-4 hours trek, and requires good level of fitness to traverse the path. Moreover no person with fear of heights should even try to attempt this trek as the view under your feet is that, which could unnerve even those with prior trek experience.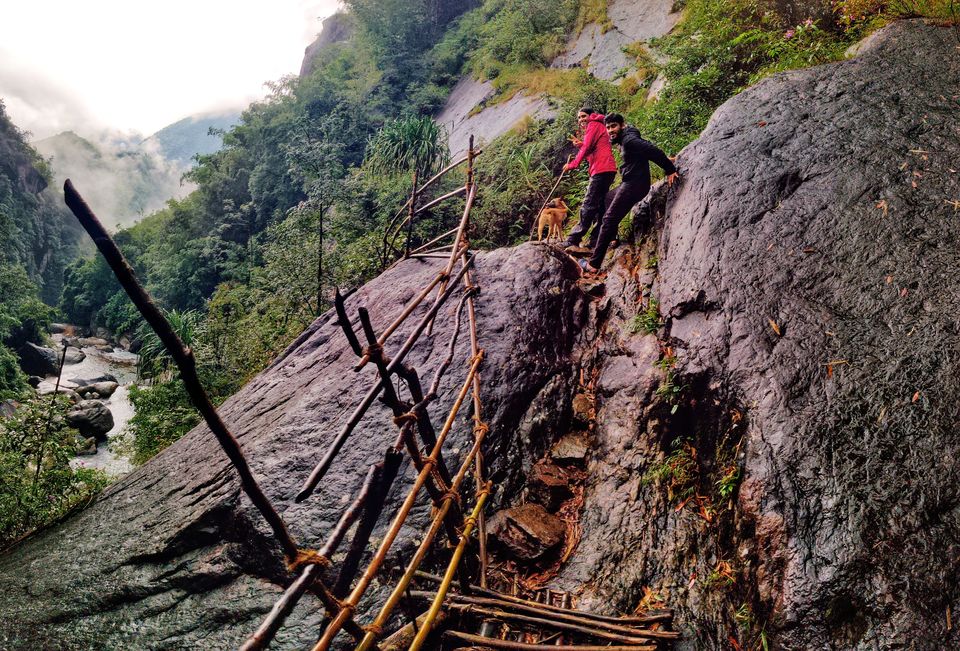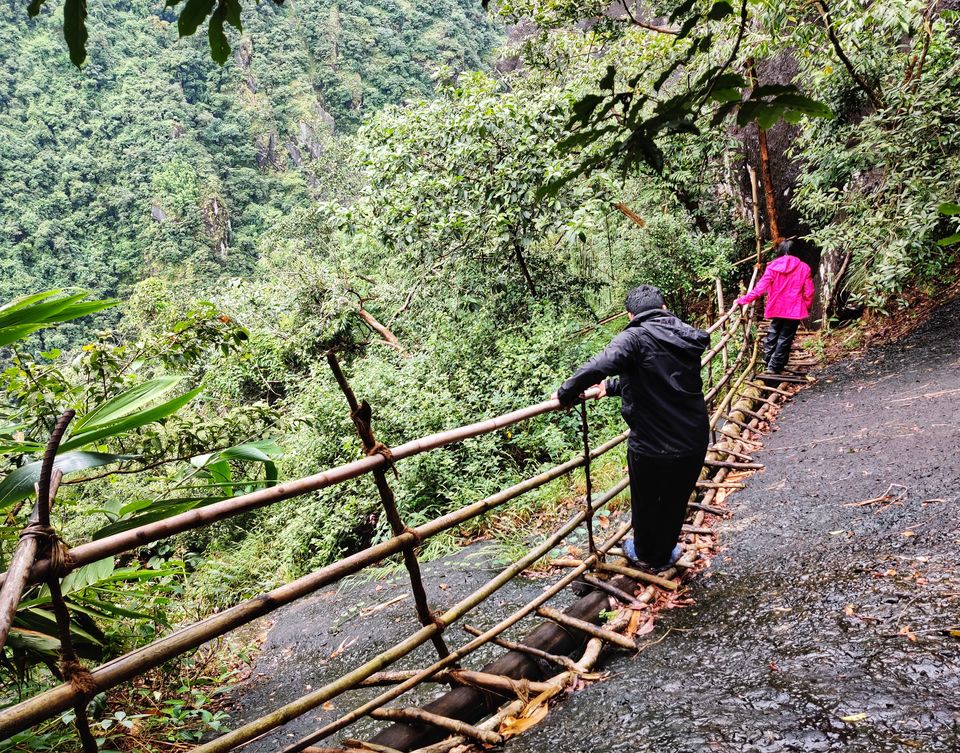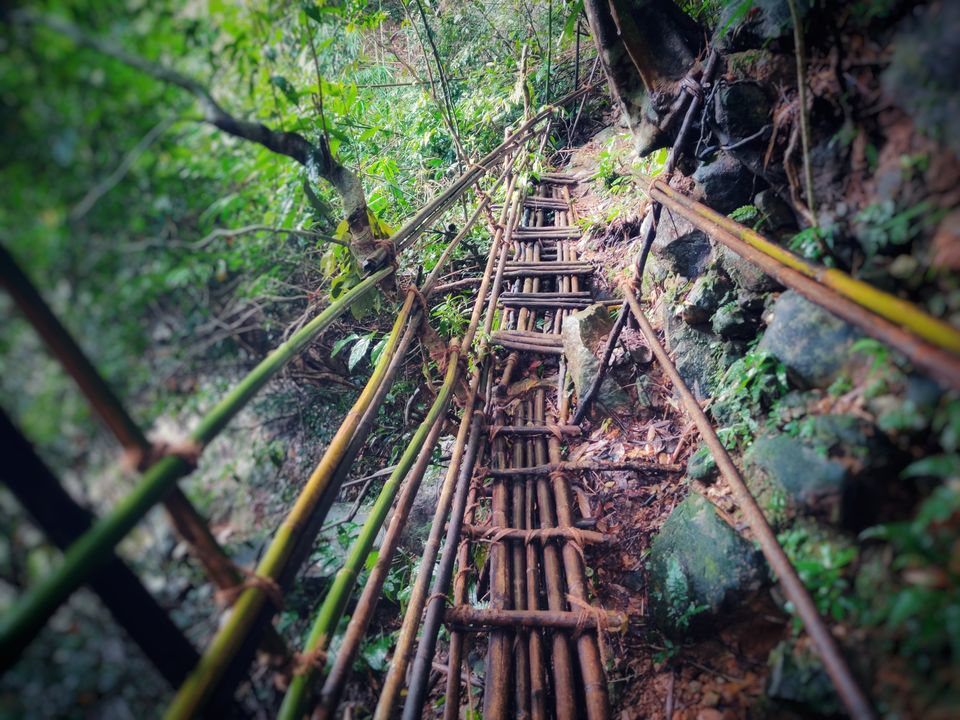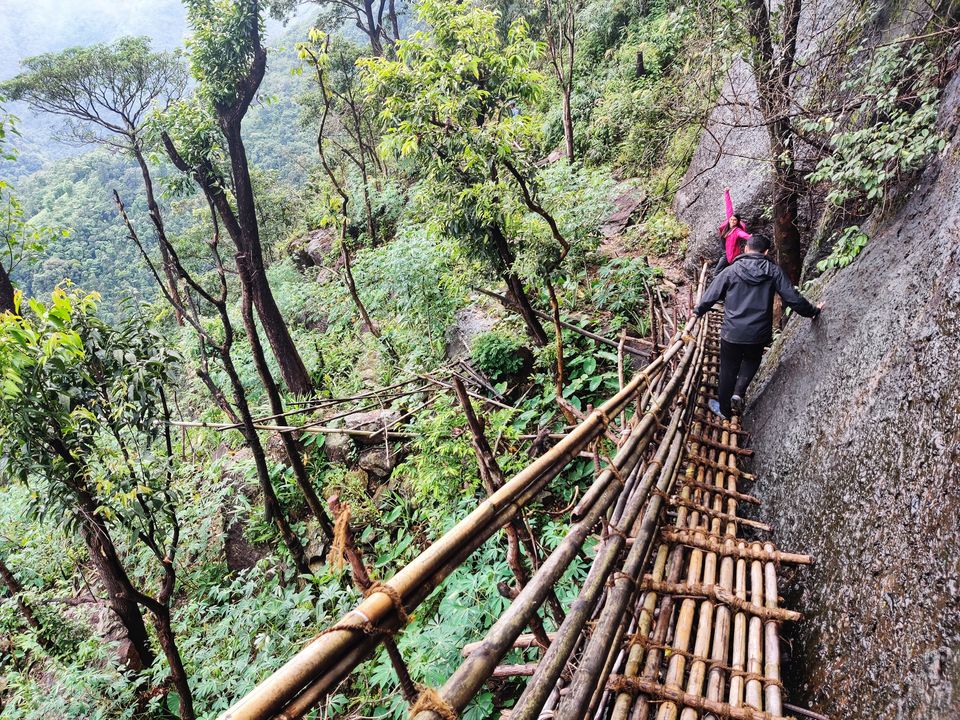 THE ADVENTURE
After a focused climb of 1.5 hours through slippery rocks and spacing feet carefully over tied bamboos, we managed to get a first glimpse of Mawryngkhang rock.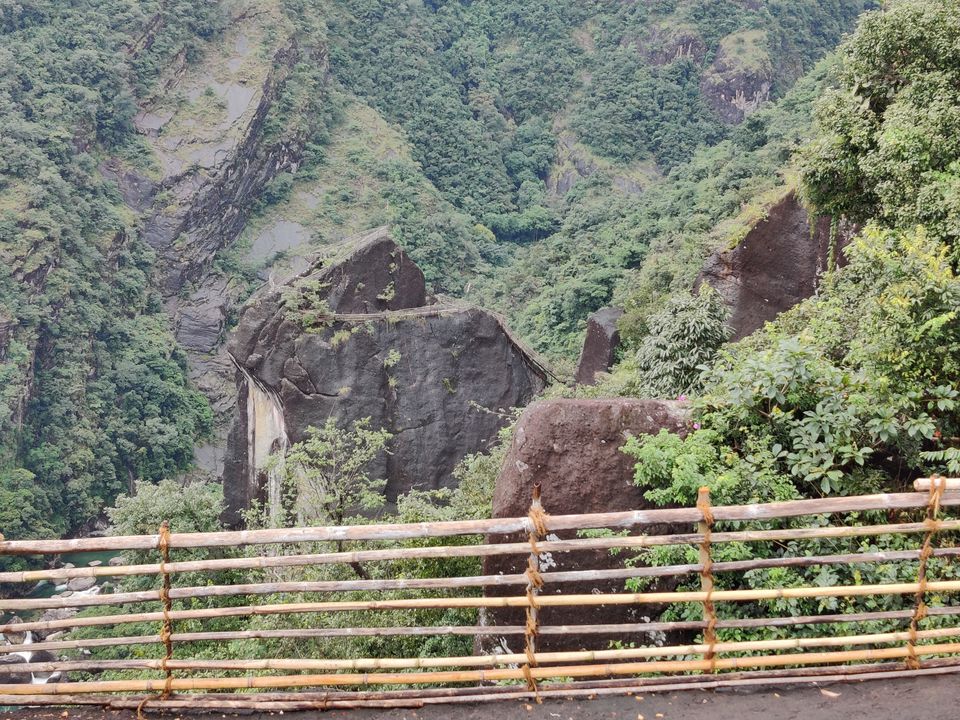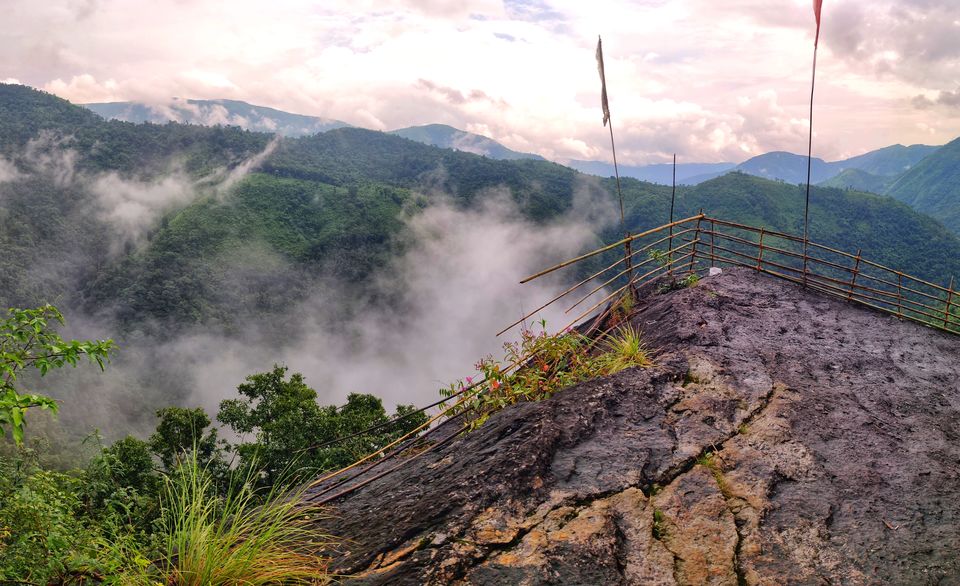 From the viewpoint, it seems a mere 15-20 min trek to top of rock, but the steep climb poses a rock-solid challenge to traverse the path passing through the edge of cliff as indicated by arrows.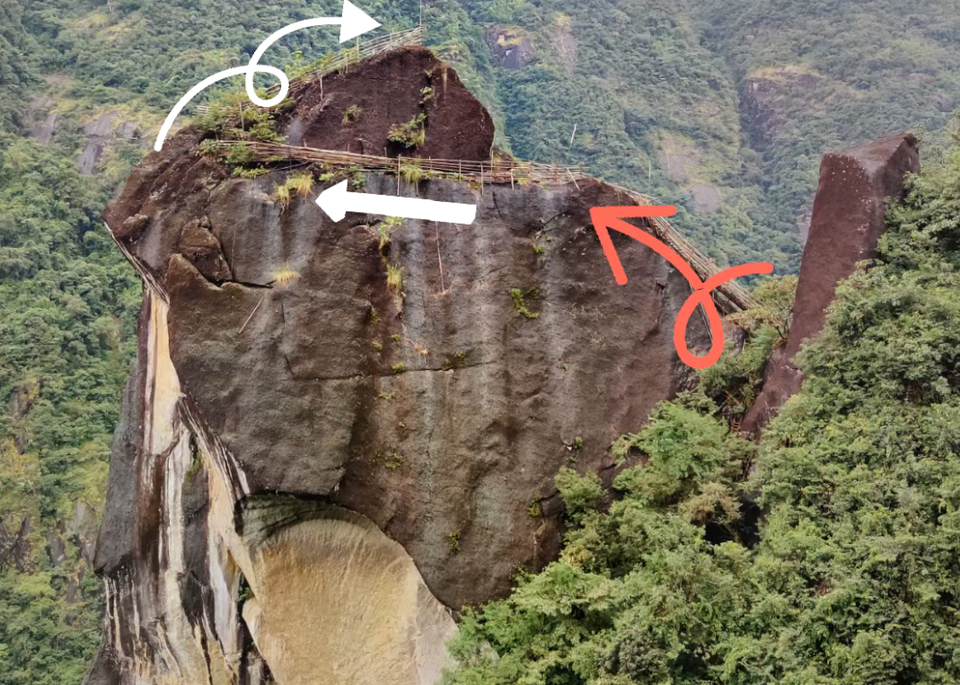 You have to negotiate treacherous ladders, squeeze between rocks and climb a never-ending near-vertical stair to get to the peak.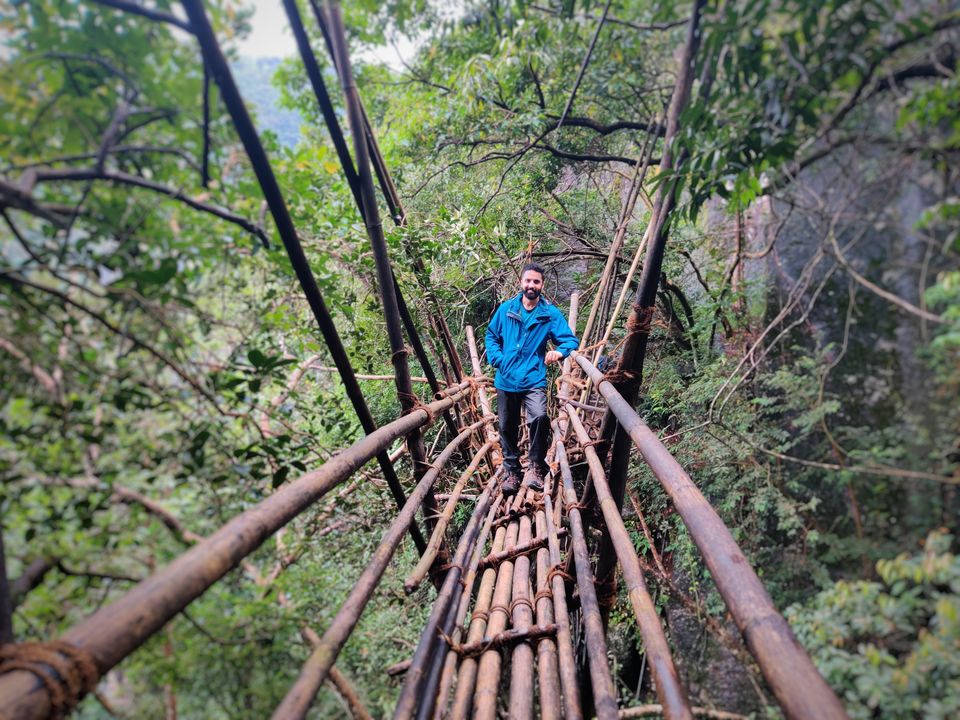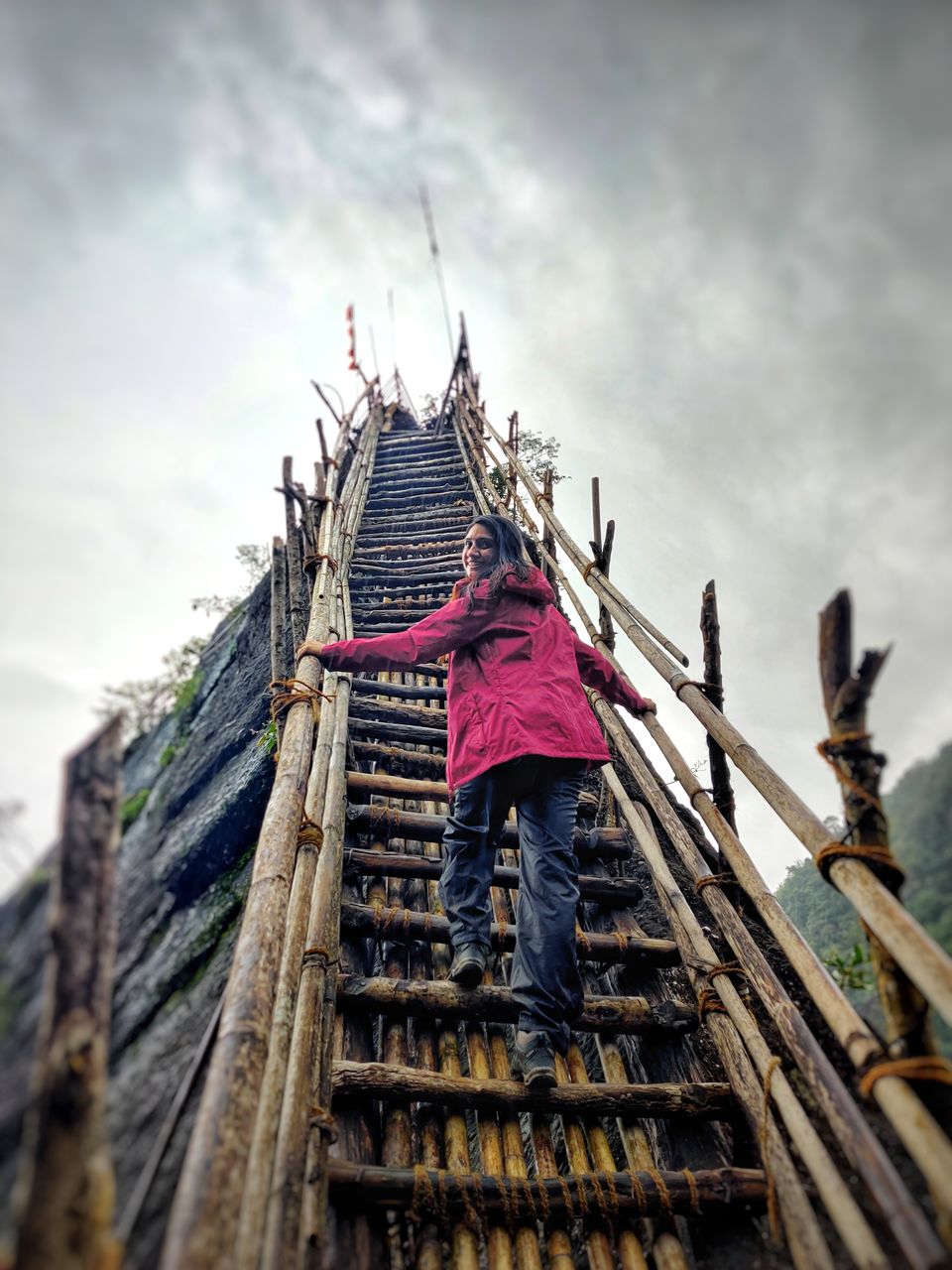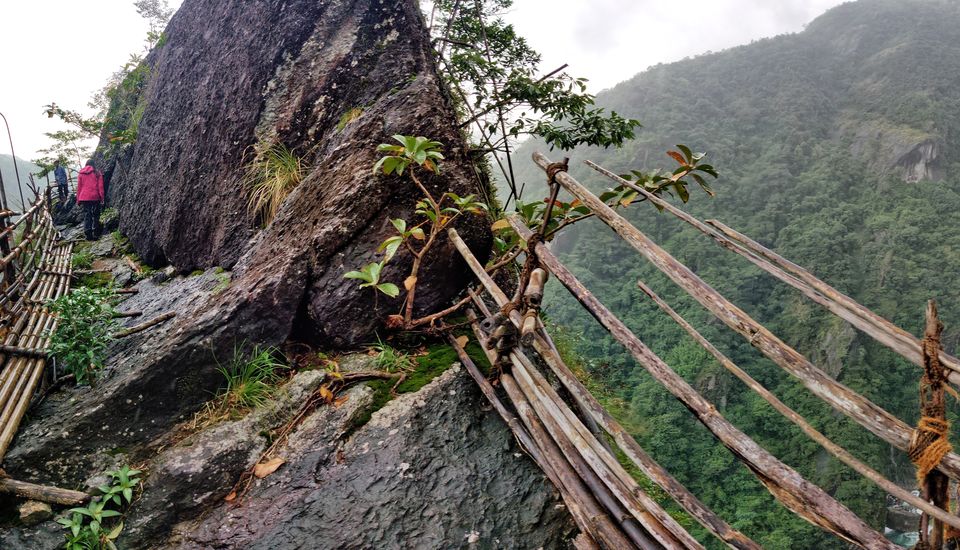 However, the sense of achievement on reaching the top of rock, was sublime , specially when u look below from the peak, at the trail you had covered to reach there.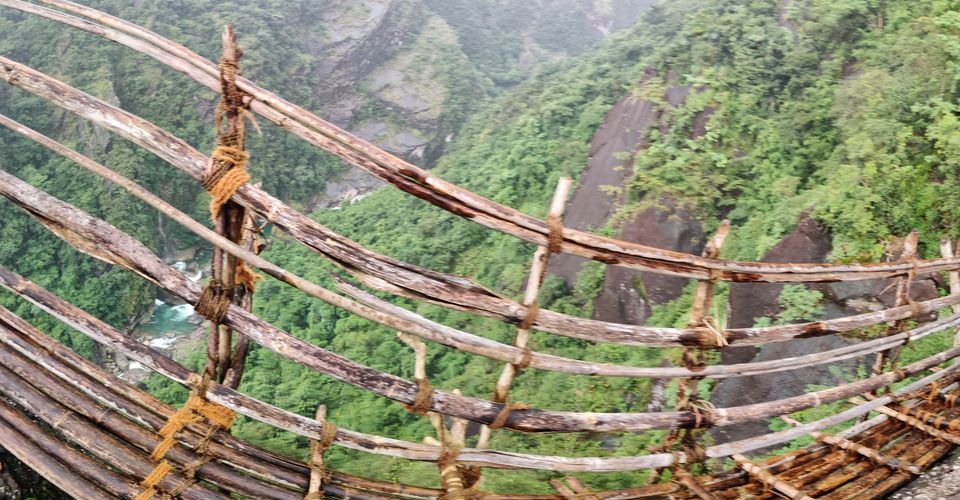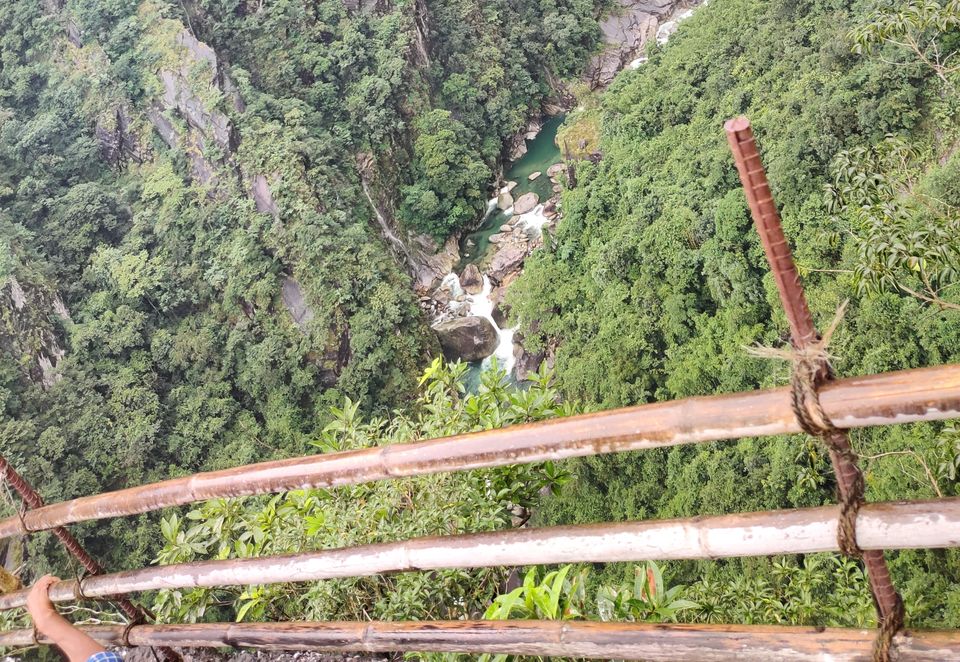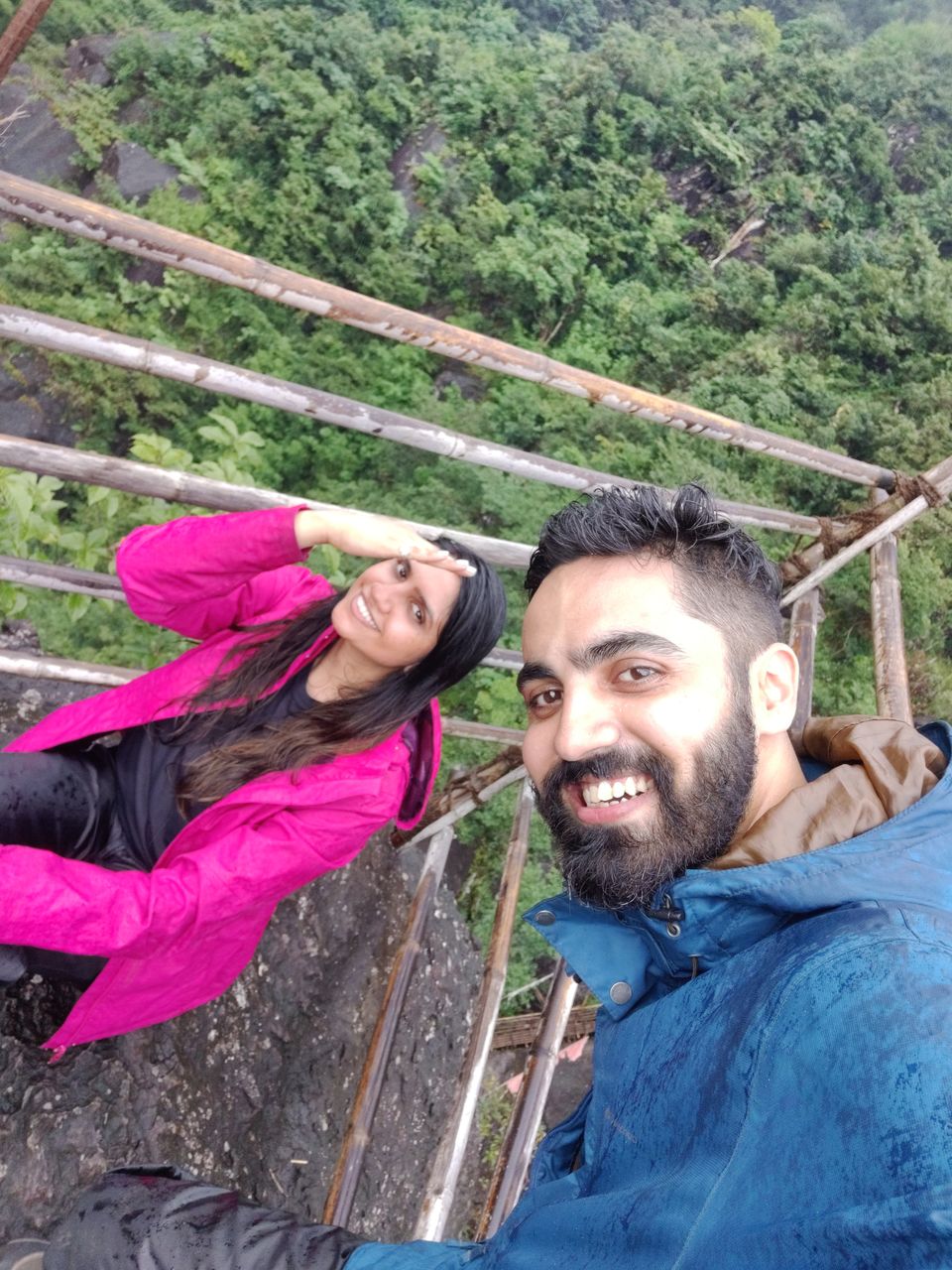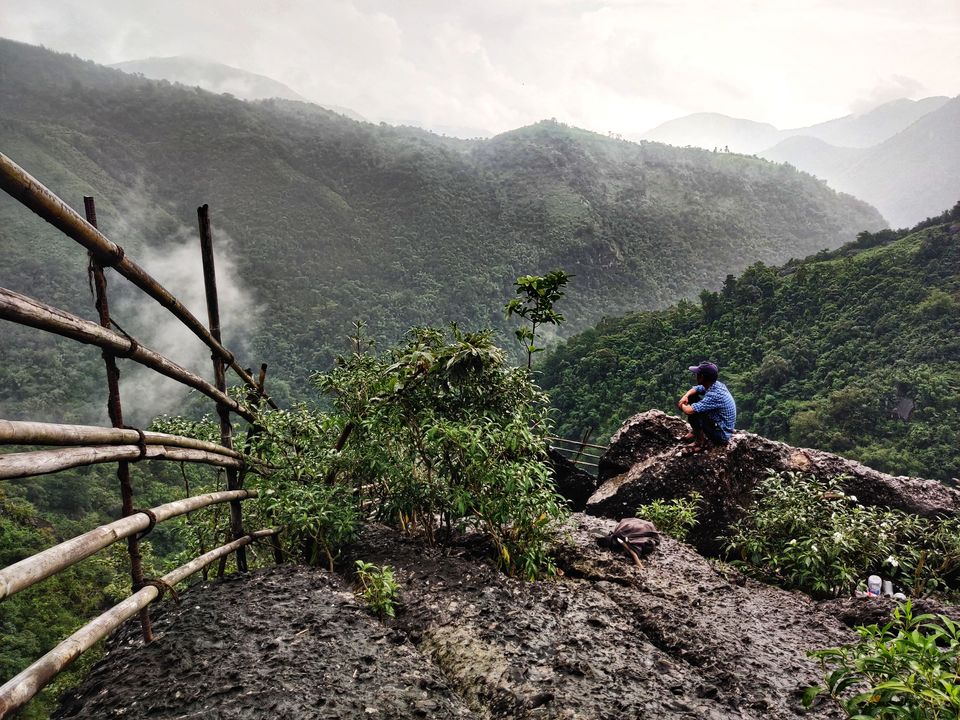 It's almost impossible to translate the elevation of this place through pics or videos, you have to come here and experience the king of rock's grandeur in person!
After this adrenaline pumping expedition we were yearning to unwind, so we hopped into the pristine river to rejuvenate ourselves, and called it a day!