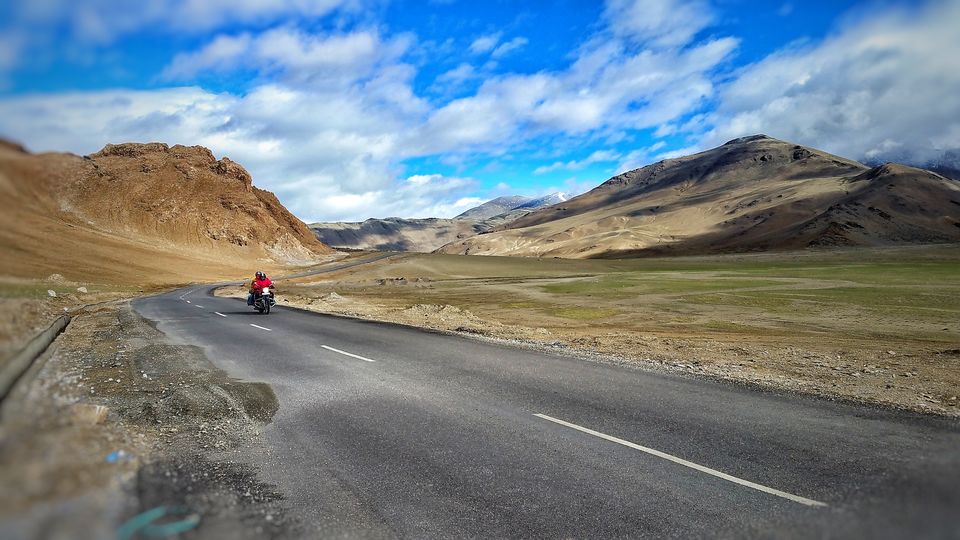 Finally I could go, on a much awaited trip to Leh Ladakh. I had been planning for this for quite a few months now, and now it was time to leave for one hell of a ride. I had to go for work a night before and then I had to meet up with a friend. After the meeting, when I reached home, I realized that there wasn't enough time left to take a nap since we had to leave in an hour. So I quickly packed my bag, tied it to my ride and left Gurugram around 1700 hours.
Delhi is famous for its amazing ways of creating traffic at any time any where and I was the recipient of such an amazing way which fueled my anxiety. When we finally crossed Delhi, around 1830 hours, I was able to breathe a sigh of relief.
Our next stop was Shimla and we were all geared up to take on this new challenge. We reached Chandigarh at around 2230 hrs however since we were so excited about this trip, we decided that we will not stop any where in between till we are satisfied and bone tired. Hence, our Day 1 destination remained a mystery.
It had been around 40 hours since I had got a full night sleep, I started experiencing dizziness while sitting at the back. But my resolve to continue my trip, kept me going.
But, who can win a battle against sleep? My sleep had taken out all its arms and guns to fight against my eyes and my eyes were happily losing. So we decided to stop at a place 10 kms from Shimla, to dine and rest.
After giving my eyes the much needed rest, we continued our journey. We started again knowing how dangerous it is to drive on mountains that late.
As soon as we crossed Shimla, we were welcomed by fog and clouds. Nothing was even minutely visible from where we were. We had this torch which one of our friend gave us for bad times and I was pretty sure the bad times had arrived. The torch enabled us to cross Fagu and we somehow managed to reach Narkanda by 0400 hrs. It was a thrilling experience because every feet brought a new surprise with itself; it brought with itself a new challenge that we had to overcome. Speaking of challenges, around 0630 hrs, rain decided to greet us and so we had to put off Rampur in this particular stretch, so we decided to stop for the day and take a much needed break.
After 5 hours of rest, we took off towards our next destination which is Reckong Peo. Taking a break now was not an option as we were pretty much behind schedule.
Driving in that god forsaken weather with those hairpin turns were just plain scary, but then we knew that we had to manage it because our destination beckoning us and so with that determination we reached Reckong Peo at 1630 hrs. During this period, our bike's front suspension got damaged and so we got that fixed, while enjoying tea and bread jam. A lot of friendly acquaintances along the way advised us to go to Pooh as reaching Naku would be difficult considering the fact that it was already late and we had a good chance of getting into a shooting stones plot. So we filled up the tanks of our bikes and started to leave Peo. However while leaving Peo, policemen stopped us and warned us about the falling boulders that may occur but who doesn't like adventure on their first road trip.(Don't listen to me; do not try it). It was dark and we kept vigil for any stones that might fall from the mountains. Every meter that we crossed brought us relief. Equation of motion(in case there is a big stone falling from the mountain) and a continuous watch with a torch on the mountain, helped us cross that 10 km dangerous stretch.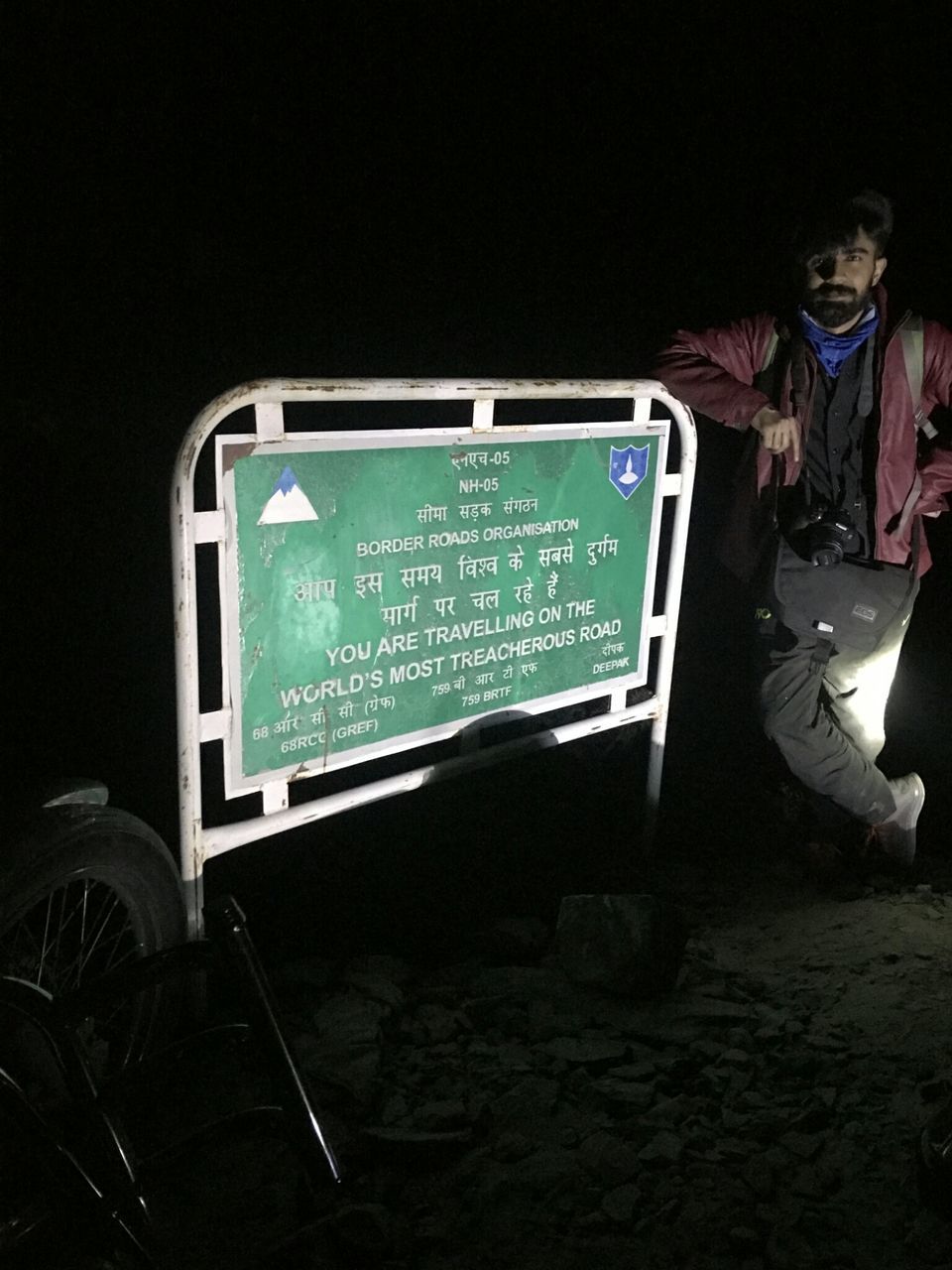 We reached Pooh at 2130 hrs and learned that there were no rooms available anywhere.
This is where we made a mistake, by deciding to leave for Naku. It was dark and was gradually becoming colder every passing minute. We were in the middle of no where with no phone signals.
Miraculously we saw some tents near the road. Even though we knew it was risky option, but we still decided to ask for help, you see beggars cant be choosers. Somehow they turned out to be nice people who guided us to Naku. We managed to reach Naku at 2230 hrs after such a tiring trip. We were able to secure some food, we pitched our tents and went off to sleep.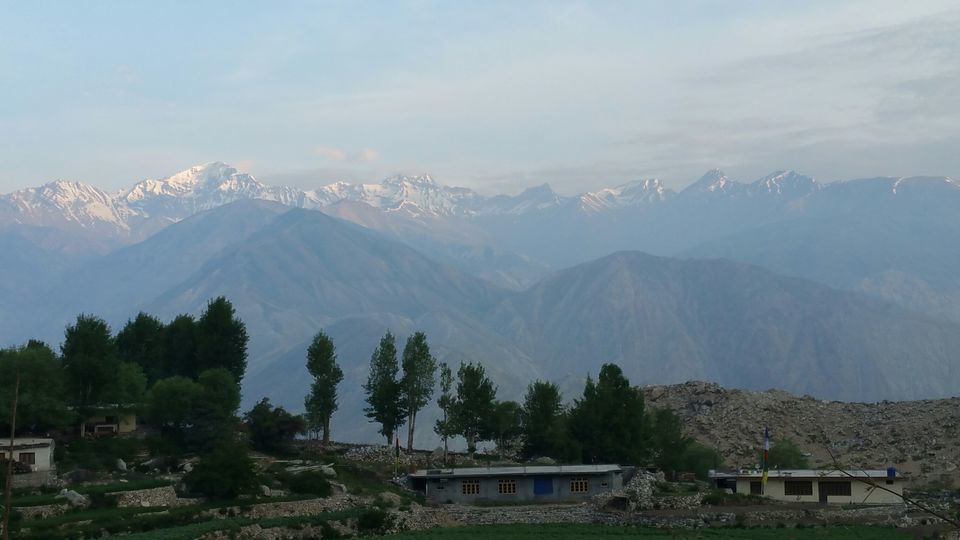 This was the day I was looking forward to in the whole trip. We were about to witness one of the most beautiful valleys of India. We were bone tired, but we couldn't just leave it at that, we took a short walk to Naku lake and reached the top of the village to enjoy the beauty of Naku. The exhilirating view was just a treat to the eyes. We left Naku at 0800 hrs and the next destination was Kaza where we planned on having a brunch.
Riding in Spiti was altogether a different experience.
We somehow managed to lose one of our sleeping bags along the way(now I am going to start counting everything that is going wrong). We reached Kaza and then got on with our brunch. In Kaza we learned that there has been a shortage of fuel for the past two days(one). Well that was news to us but we decided to forge ahead. While having the sumptuous meal we met a few interesting people from Banaras who motivated us to go to Langza. We had not planned on doing so but decided to go through with it.
Weather again started creating issues for us and made us doubt our decision(two). But once a decision made we stuck to it, so pulled on our raincoats and continued moving.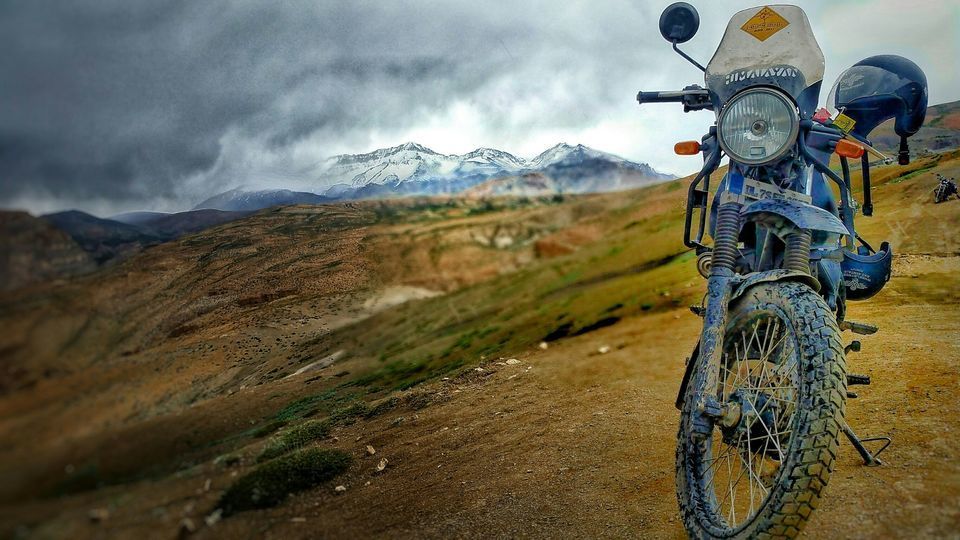 Once we reached Langza, it felt as if I had reached home. It was an epitome of calmness. That Buddha statue surrounded by beautiful mountains made me realize the correctness of our decision.
Clouds were getting darker and winds were doing their work of becoming more cooler and faster, it also started to rain(three). But at that time, nobody dared to take away their eyes from that view. All I could think of was how lucky we are that there is shortage of fuel and we could come here.
I am that kind of person who looks for different places and different experiences, but for this place I can make an exception. I can come here n number of times and would still not grow tired of it. We stayed there for an hour or so and then came back to Kaza.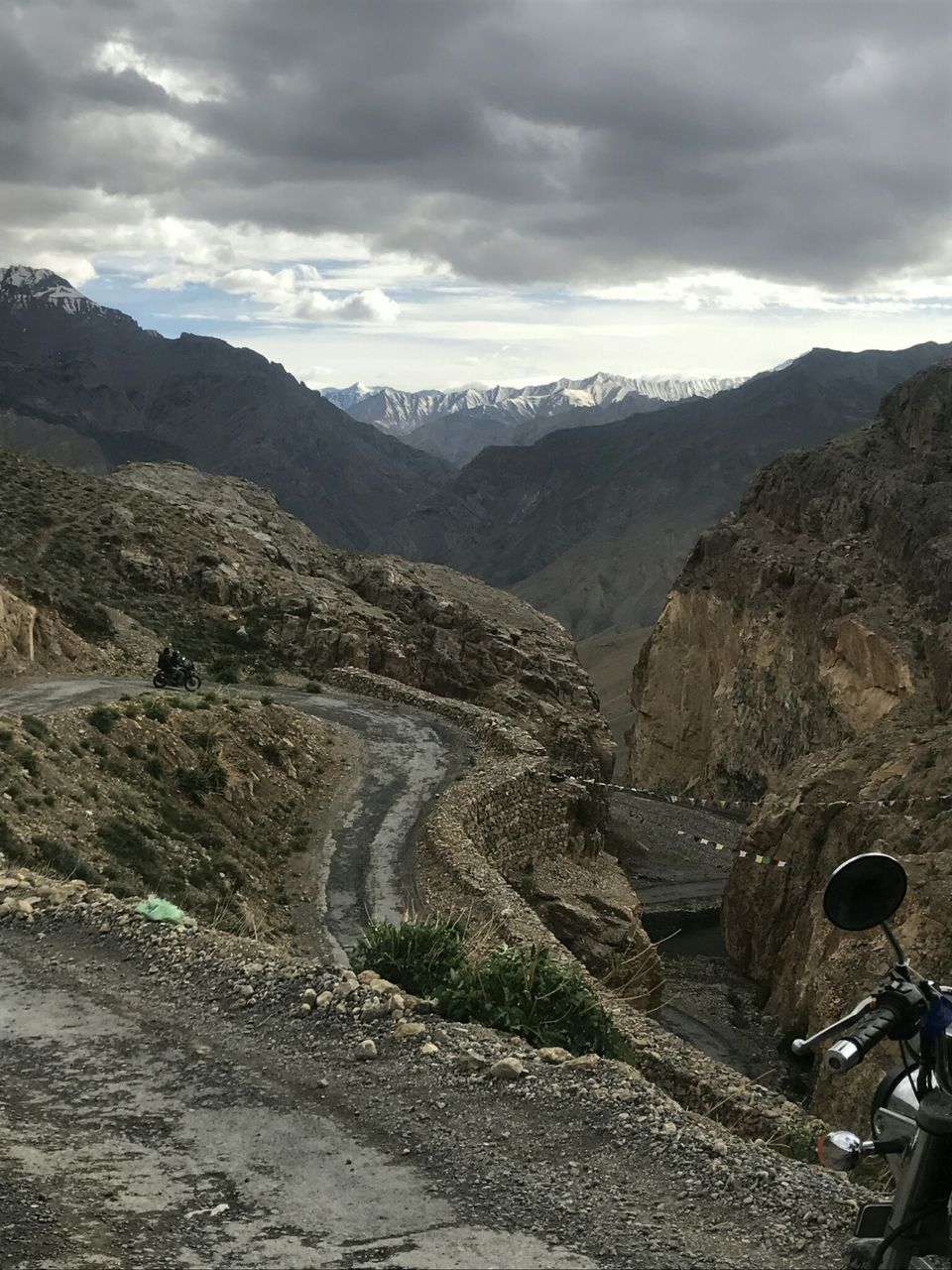 We slept for a while, and woke up at night for dinner. At dinner we met one of those guys who took us to Langza. Since they were stuck for the past three days, they had decided to load their bikes on a truck which was taking them to Manali. We also got to know that one of the bridges in Spiti was broken and the army would require a day to repair it. They asked us to accompany them. However for us it was a difficult choice, since we had started facing shortage of funds.
We decided that it wasn't viable to stay another day in Kaza with the hope that petrol might arrive someday and so we loaded our bike in that truck. That night, I witnessed the marvel of milky way. The whole sky seemed like a black dress adorned with millions of diamonds. We partied till 0200 hrs and it suddenly dawned on us that we are supposed to leave with the truck at 0400 hrs. Sleep was not an option here and so I decided to take some rest.
I left Kaza at 0430 hrs and while travelling I realized that I have forgotten my friend's DSLR camera back in Kaza(four; great). We somehow got in touch with our friends from Banaras and decided to meet at Chataru.
On reaching Losar, we were accompanied by two more travelers. However, since we paid comparatively less the driver, driver asked us to go back in the truck and since we denied, he dropped us there only(And if that isn't number five, I don't know what is). Here I experienced my first hitch-hiking ride. I hadn't gotten over my hangover plus our current ride which was a tempo traveler had loud music blaring like anything ( I am almost convinces that the driver may be high on cannabis). Anyways, what I ended up was with a severe headache. This driver had probably played too many NFS games, he had a different level of driving skills. I was being thrown left to right to left like a rag doll in the tempo. But we managed the whole trip and reached Chataru at 1000 hrs. We were out of funds now, since my friend had burned his wallet and my wallet was conveniently tucked in the DSLR bag that I had forgotten.
We had some rest and around 1400 hrs, I received my treasure i.e. the DSLR bag. I must have said thank you a thousand times. After my treasure tucked away nicely we had our brunch.
Now the truck which was coming separately when reached, had damaged our bikes; the bike headlight was broken to pieces(I'm kind of losing count of the times our luck was against us). This time we decided to travel with our bikes in the truck. We reached a Nala (a water stream with rapid flowing water) where a Mahindra Scorpio was stuck. The rear tyre of the Scorpio had burst due to the effects of chilled water(someone probably had sadder luck than we did). Many ropes were broken while pulling that SUV out. We waited for 3 hrs( someone probably had sadder luck than we did). Finally around 1800 hrs, they somehow managed to take scorpio out and all the cars from our side crossed that Nala. From other side, cars started crossing that Nala. Two crossed and third one again got stuck at the same place. My patience started to wear off. So we decided to borrow fuel from other bikes in that truck and leave that place. We borrowed and with the help of Raghav Juyal aka Crockroax and his gang, we were able to lift our bike. We had borrowed enough fuel to take us to Tandi where the next petrol station is. We left at 1930 hrs, crossed the Nala and went ahead with a broken headlight. I checked my wallet and realized that I proudly possess only Rs 150. After lot of hassle we managed to reach Khoksar. There was no ATM and we had to wait till morning for some cash. There we met a delightful and generous person named Anil. He graciously offered us space at his home. We stayed the night there and accepted their hospitality.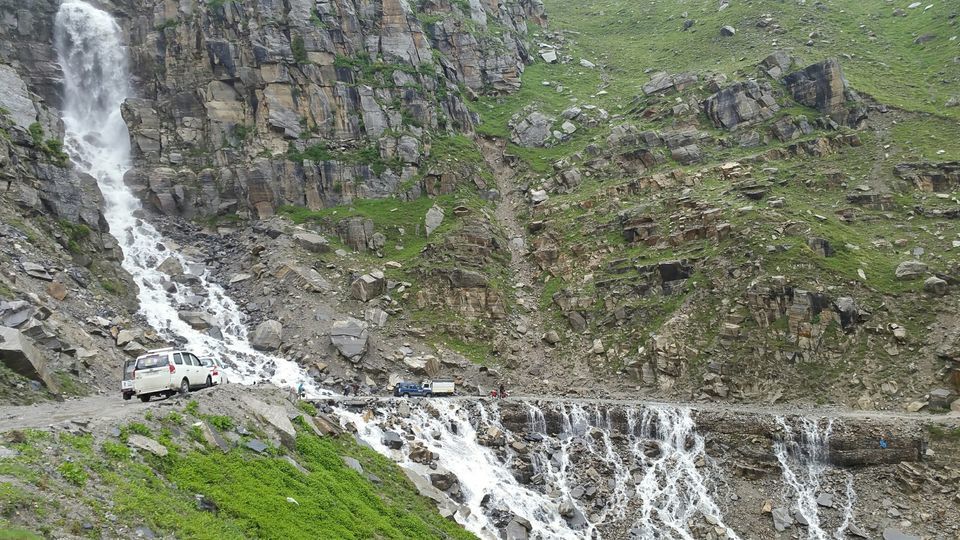 Today we planned on leaving early around 6 am in the morning. Anil Bhaiya contacted his friends in Gondhla (where the next available ATM is) and informed us that ATM would be operational by 0930 hrs. So we changed our plans and left at 9 am. It was raining heavily but we bid adieu to beloved Anil bhaiya and left. He had warned us about a cloud burst a day before at Zing Zing Bar and advised us to be careful. We were able to take out some cash at Gondhla and bought some fuel. We got every possible storage thing(fuel cans, water bottles) filled with petrol so that shortage of fuel doesn't haunt us in future. We were able to get our bike fixed at Keylong as well before we left for Sarchu.
On reaching Baralacha la, we were greeted by cold breezes that were bent upon massacring our faces; it was becoming difficult to move forward. The sudden increase in altitude combined with changed weather and less than satisfactory condition of the bike, initially, made it difficult for us to move. But we pushed ourselves and reached Zing Zing Bar.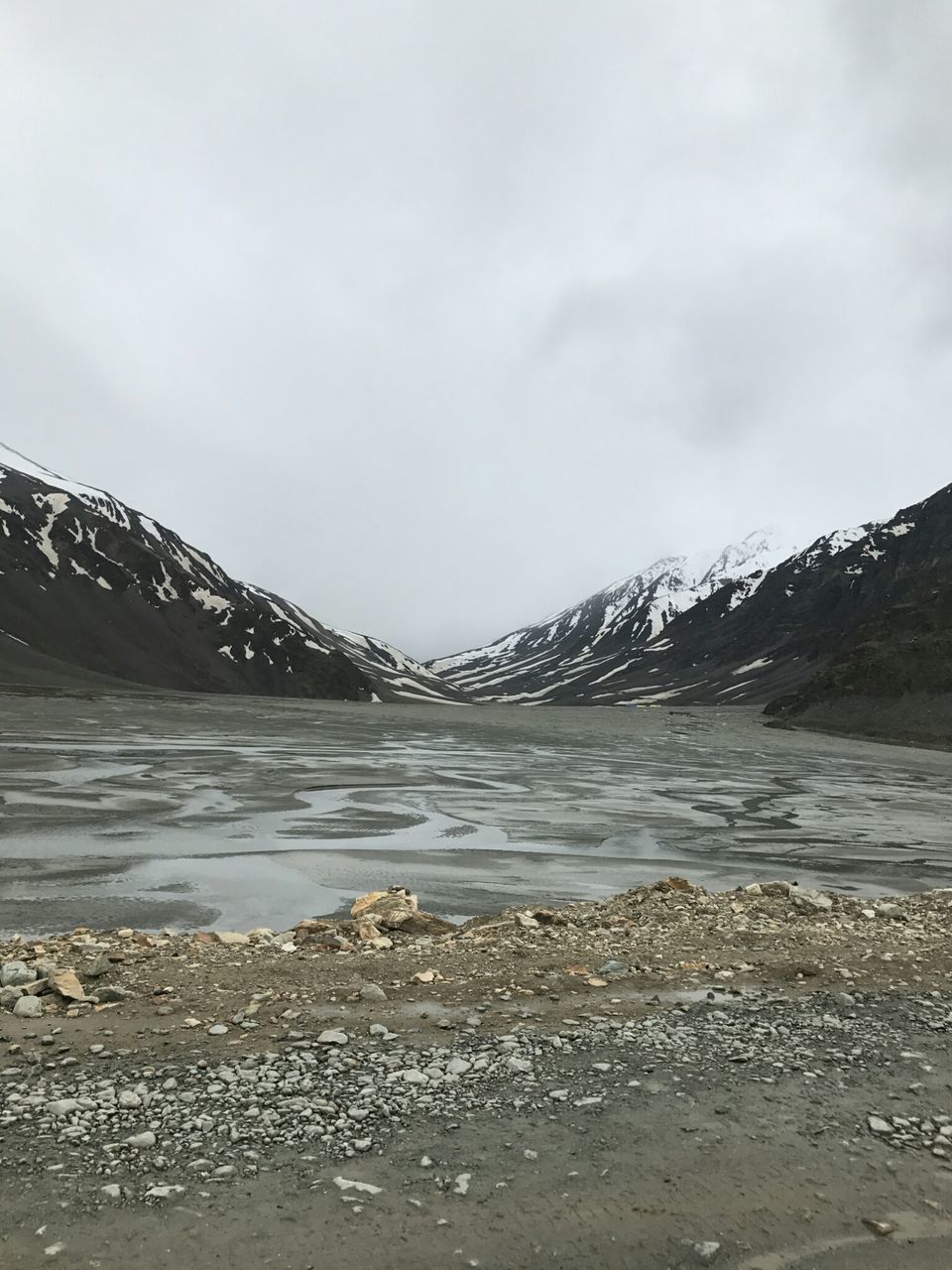 Here also we encountered another Nala where many cars were stuck (refreshing one day old memories). For a few minutes our bike had also gotten stuck. The bike was heating up incessantly and pushing the bike out of the Nala was one of the toughest thing in the whole trip. After crossing that Nala, I lay down on the road with exhaustion, feeling extremely numb. But at the back of my mind I could hear myself motivating me to get up and move on since we had already lost two days due to fuel shortage. So I collected myself and left for Sarchu.
Since we were able to reach Sarchu before dawn, we decided to head for Pang. We reached Pang at 2300 hrs. I can say it with utmost conviction that this day was the most tiring day of the whole trip. We had some dinner and slept like a log with a body which seemed almost paralyzed with exhaustion.
To be continued...
Which is your most adventurous trip?
Tell me in the comments section below.
For more offbeat travel itineraries, join me on Facebook, Twitter & Instagram.
Frequent Searches Leading To This Page:-
Ladakh Weekend Getaway Packages at Affordable Price, Best Tour Packages for Ladakh, Ladakh Tour Package for Couple, Best Travel Packages for Ladakh, Best Ladakh Trip Packages, Ladakh Holiday Tour Packages