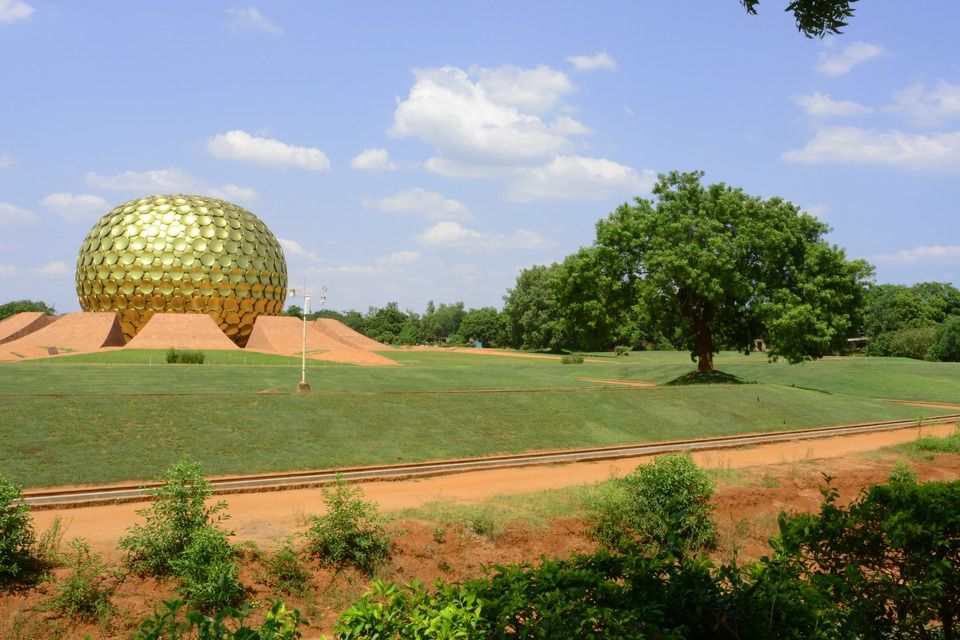 "Eat, Pray, Love"
If this is the mantra you live by then you should definitely visit Pondicherry. Elizabeth Gilbert travelled across Italy, India & Indonesia to experience the pleasure of delicious food, peaceful soul & true love but all you have to do is head towards this town called "PONDICHERRY" and that is exactly what I did.
As usual I ended up booking a single ticket for Chennai & a room for "One" in Pondy. The things went on as usual but then one fine day I got a call from one of my friend and she started enquiring about my trip. I informed her of the things I had in mind & guess what before the call ended I had a company for travel.
We decided that we would spend half a day in Chennai & then head to Pondy. Days went by searching for right accommodation, right restaurants, reading blogs, looking out for places to visit and suddenly three day trip seemed like a three week trip. That is what I love about pre-planning the trip since, each time you read about that place, you are somehow magically transported to the place you want to visit.
The trip began with flight to Chennai. Usually, I love to read or listen to music while on flight but thanks to my friend, flight journey was spent gossiping & catching up on the happenings of our life. And it was not all that bad anyways
Changing the way I commute was not the only change I experienced during this trip. It was for the first time that I was travelling with a friend & here is what it means to travel with your best friend:
It means you will never be bored: One thing is for certain that you can never get bored. The moment the trip starts feeling drag, she will immediately rescue the situation by passing some hilarious comment or cracking some stupid joke.
It means you will make new friends: On our first day in Pondy we were out looking for a Scooty & we made two new friends. The four of us spent the entire day together & it was an amazing experience and the upside was that the guy knew Tamil so voila communicating with the locals was no longer a problem.
It means being patient: I am an early riser & the moment I wake up, I need to go out and explore places. Trust me waiting up for someone is not my thing & I do go bonkers sometimes if I have to wait too much. But this time I had to wait till the time she got up & got ready. I agree it was difficult & a little irritating on day 1 but then I realised that I need to calm down. After all everything was worth the wait.
It means being responsible: Since, I was the one who had planned the entire trip, I felt personally responsible for everything that happened. I wanted to be certain that everyone is enjoying the trip & things happen as per the plan.
It means accepting each others differences: One of the main reasons to visit Pondy was FOOD. Being a foodie, I had plans to taste as many delicacies as I could & experiment with different kind of sea food & French cuisine. However, the moment we landed in Chennai, my friend who is a vegetarian declared that she would not be sharing a dinner table with me if I eat non-veg. I was surprised at first but eventually both of us accepted that our choice in food would be different & we ended up eating our favorite cuisine - Separately.
It means having a model to try your photography skill: Yes, I was glad to have someone to pose while I try my hand at my new DSLR. I made her pose several times till the time I get a perfect click. Though, she was tired & at times irritated still she helped me with the shoot. Love you for it Pooja!!!
It means learning from each other: Both of us had our different skill sets. Though I was the trip planner, she was excellent at haggling. She helped us get good deals with the rick & cab drivers.
It means not having to worry about things you forgot to pack: Worry not if you have forgotten your Kajal, toothpaste, sandal or any of your accessories since your best friend is always there to help you out with whatever you need.
It means getting Lost & still feeling secure: At one point when we were travelling to Paradise Island in evening, thanks to great navigation skill of my friend, we lost our way. We ended up travelling to dark, unknown, secluded and spooky villages but we just kept following Google Maps & finally reached our destination through a wrong & long route. But the important point is - we reached. Now when I look back, I feel that the place would have scared me to death had I been alone and having company help me feel secure.
Finally it means less expenditure: Yes, sharing all the expenses is the best part isn't it?? :D :D The trip costed less than what it would have costed had I travelled alone and we were able to explore more and better options.
On and on the trip seemed beneficial for both of us & I hope my friend would agree.
Pondy is surely and amazing place if you have to spend time relaxing, eating & finding peace. But here are a few pointers that I would like my fellow travellers to note if they are travelling to Pondy for the first time:
Opt for local transportation: Travelling by Government licenced cab from Chennai airport till our hotel in Mahabalipuram & by A/c bus from Mahabalipuram till Pondicherry seemed like an efficient & economical way to travel. Above all it was safe & also convenient.
Hire a Scooty: Scooters are easily available for hire on per day basis. Make sure that you reach early and book a scooty first thing in the morning as they are sold out fast. It would help you save lot of travelling time & cost. The roads are perfect to drive your vehicle.
Hire a Guide: Do hire a guide when you visit important places. It helps you appreciate the place and have a more fulfilling experience. Like when we visited the Mahabalipuram Sea shore temple, the guide helped us explain why the temple was called the "Seven Pagodas". As the story goes, the temple was believed to be one of the temple from collection of seven temples that King Narashima built. It was just a belief until another temple was discovered when the Tsunami hit the coastal line of Pondicherry in 2004. It is fascinating how some story that was believed to be just folk lore had an actual existence. It is amazing how fiction suddenly becomes a reality.
Stay in a Guest house: In Pondicherry, we opted for a homestay in Adaahar Guest house. We booked it via Airbnb & it turned out to be a good & affordable option. The guest house was amazingly spacious, clean and had a gorgeous terrace to hangout. People in the guest house were very warm & the host was very helpful. She helped us out with little map of the important places to visit & also with bike hiring.
Pre-book for a visit to Maitri Mandir: The Maitri Mandir in Auroville asharam is one of the main attraction in Pondy. However, you need to book a day prior or have to reach before 8am if you need to visit the asharam from inside. We kind off missed this experience since we were not aware of this booking system but I have this thing planned for my next visit. The temple is worth a visit.
Be alert, be careful & ask for help (Especially solo women travellers): Although, the locals are very good & very helpful, always be on cautious. Travellers from other state have messed up the safety to some extent for solo travellers however, help is always round the corner. Be alert.
Trip to Paradise Island: This one is like a must-do. The beach is actually an island. The boat ride to island starts at 7:30-8. Me and my friend reached a bit early and were lucky enough to find the beach entirely to ourselves. We were also lucky to have a chat with an old navy officer who was training a few kids for national level competition. We saw them practicing for boat rowing competition & the enthusiasm & energy of the kids was unbelievable.
Eat at Bakers Street: Enjoy French delicacies at Bakers Street near French colony. It had delicious Escargot, Quiche & Croissants. Also try Le Cafe, Villa Shanti & Le Dupleix. You have to like absolutely eat when in Pondicherry.
Sit back & relax: Above all, just sit back and relax. Pondy is a slow & peaceful town. You need to slow down, sit back, relax and enjoy every place you visit.
Yes, enjoying the place is the most important thing. Enjoy it alone or with friends but enjoy & explore. As promised in my first post "And this is How It Began!!" I am sharing a few pics taken by my DSLR. Do let me know if they are good enough. Keep smiling & Keep travelling!!!