Welcome to Rajasthan, the jewel in India's glorious crown! A state of evocative experiences, unmatched sights and sounds, colours and cultures, history and heritage. The colours of Rajasthan are a sight to savour. The kaleidoscopic display of fiery red turbans, canary yellow saris and emerald green lehengas greet you as you step foot in this majestic state. Inviting you with camels plodding over soft sands of Thar, Rajasthan itinerary beckons you to come and explore its myriad sights. The glimmering lakes, carved temples and decorated havelis present a glimpse into the glorious past of this state of Maharajas and Rajputs! Rajasthan is a state that will surprise you at every turn and each place you visit, will capture your heart.

With so many reasons to visit, is it any question that this place serves as the perfect destination to introduce your kids to the wonderfully rich past of their country? A Rajasthan itinerary is an ideal way to bond with your loved ones and have a memorable time.
Getting around
You can travel across Rajasthan by air, train or road, and each option is enjoyable. The major airports are in Jaipur, Udaipur and Jodhpur. Trains connect almost all cities in the state. Highways are in excellent condition and the scenery of the rugged Aravalis and golden Thar Desert, sprinkled with green forests, make for enjoyable drives.
If you wish to drive around the state you can hire a self-drive car from every major city. You can also hire taxis for the same. Prices start at ₹8/km, exclusive of fuel charges, toll charges and other miscellaneous expenses.
What to expect from your Rajasthan itinerary

Enthralling, mystical and historical Jaipur is the perfect place to start your sojourn in Rajasthan. Jaipur is the perfect mix of chaotic streets intermingled with towering palaces. City Palace is the beating heart of the city while Amber Fort, the star attraction of Jaipur, stands menacingly on the edges. This lively city is best explored on a cycle rickshaw or in an auto!
What to see
1. Start your journey with a visit to the enchanting City Palace and learn all about the history of the Maharajas of Jaipur. Entrance fees is ₹35 and opening time is from 9.30am to 5pm.
2. Jal Mahal is a palace built in the middle of Maansarovar Lake. Surrounded by water hyacinths, and adorned with quintessential Rajput architectural styles, the palace is a sight to behold. Entrance is free, however, and now that this is a luxury resort, you can stay for tea and enjoy the views.
3. Spend the evening shopping for some amazing block-print cloth pieces at Anokhi Museum of Hand Printing.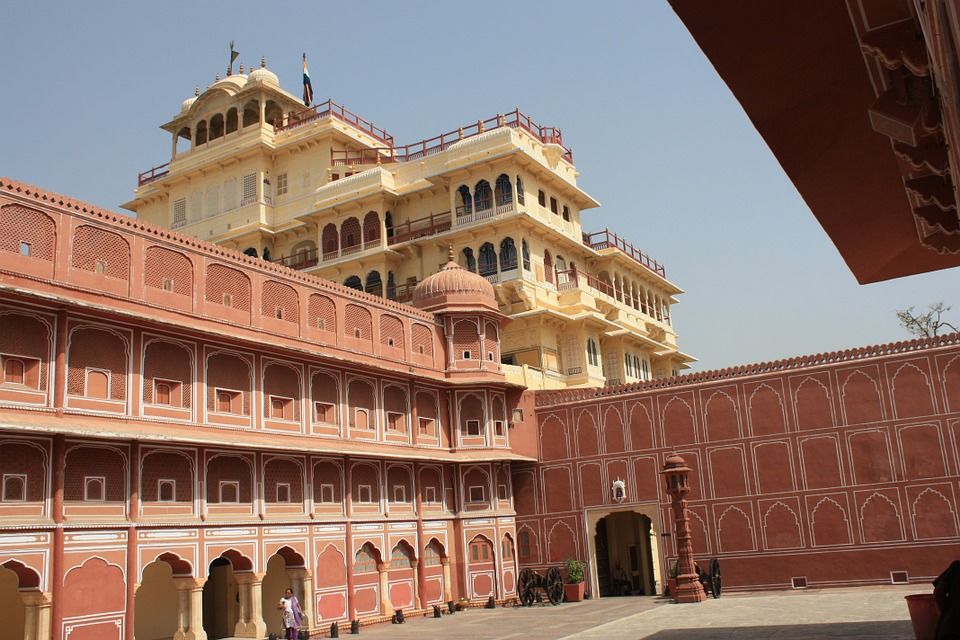 Bikaner is a dust-swirling town where you go for a true Arabian Nights experience. It has the charm of a village, but the facilities of a city. Mostly unexplored by tourists and still far from the hustle of overbearing crowds, Bikaner is a bustling, vibrant city with enough to keep you amused for a day or two. Start early morning from Jaipur and reach Bikaner by lunch.
What to see
1. Start your Bikaner exploration with a visit to the Bikaner Camel Research Centre and learn about the various breeds of camels! Also, try the camel milk ice-cream here. Open from 2pm to 6pm, entrance to this place is ₹30. Camera fees is ₹50 and a ride on a camel costs ₹50 per person.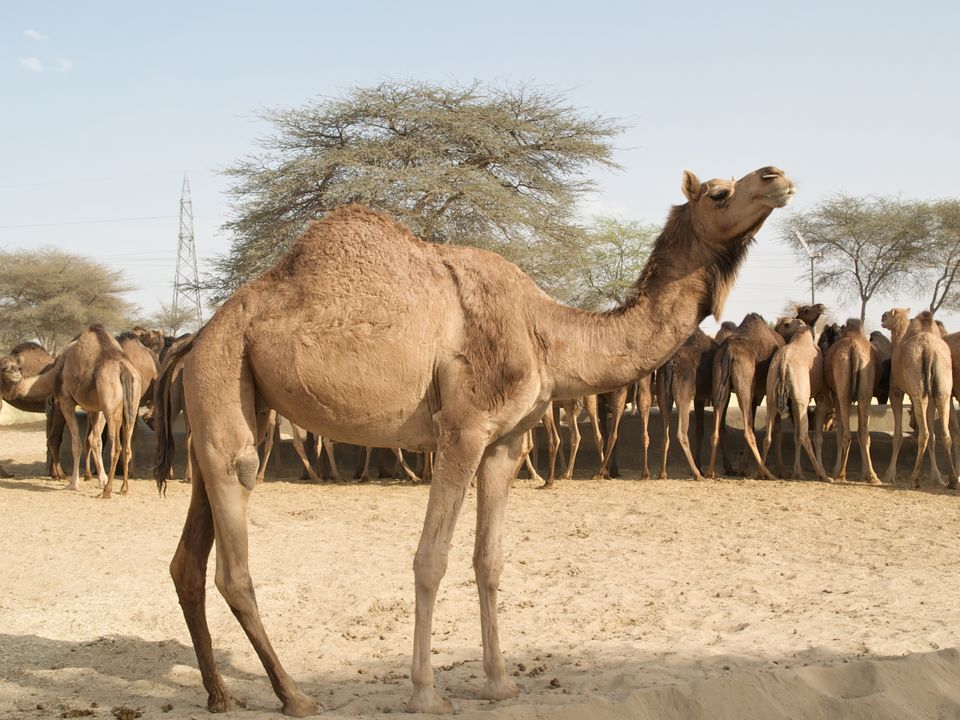 Jaisalmer, Rajasthan's Golden City, evokes the imagery of the exotic camel ruled villages and ancient trade routes. Shrouded in the golden hue of the adjacent Thar Desert and the high-rise fort, Jaisalmer truly is a city that will leave you reliving the bygone era. It is not just the Jaisalmer Fort that is built using the golden-honey sandstone, but every haveli in town, big or small, is made from the same material, washing the entire city with a mellowed, yellowed tinge. Here you feel like you are forever in the 'sepia' filter! Reach Jaisalmer by lunch, and start your siesta with the city after some rest.
What to see
1. Start your exploration of Jaisalmer with a visit to Gadisar Lake. A 650-years-old lake, it is still the major source of water for the city. Entry is free, but the boat rides are chargeable at ₹10, ₹50 and ₹100 for a row boat, a paddle boat and a shikara respectively. You can visit the lake from 8am to 8pm.
2. Explore the narrow streets with renovated houses and havelis, all sporting intricately carved front doors and windows.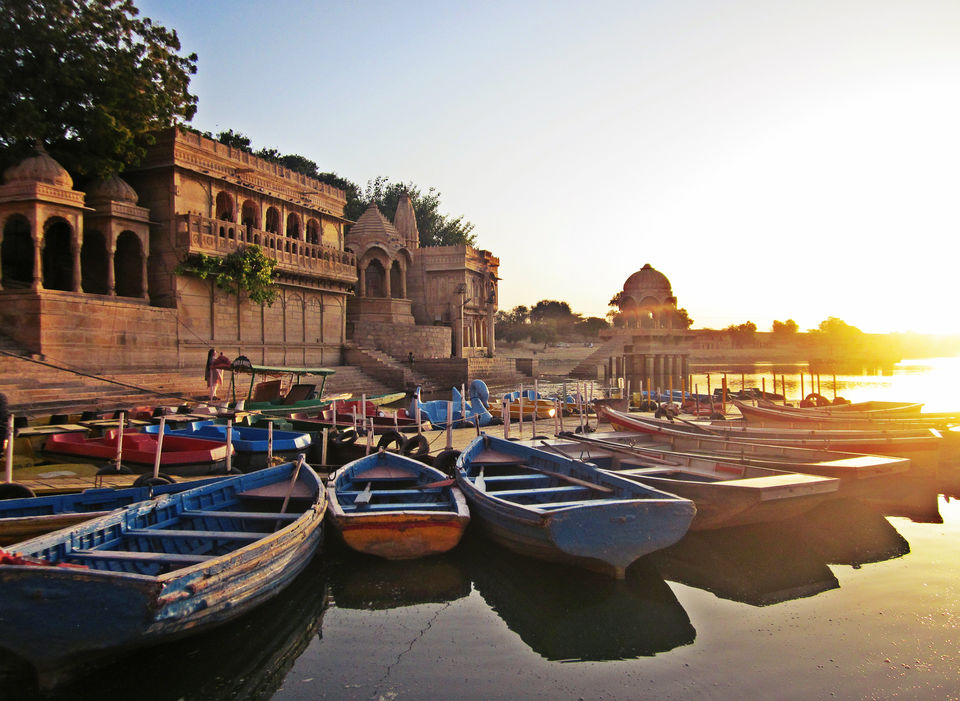 A sea of blue rooftops, Jodhpur is magnificent. The second largest city in Rajasthan, the blue city takes your breath away with every corner. The domineering Mehrangarh Fort sits atop the city and frames the city skyline with pride. At the base of the fort lie blue houses in all shapes and sizes in a tangle of winding, glittering, medieval streets. Jodhpur is endearing and intimidating at the same time and no Rajasthan itinerary is complete without visiting this rare gem!
What to see
1. Start with a visit to Jodhpur's robust Mehrangarh Fort. A magnificent spectacle and an architectural masterpiece, the fort gives you a glimpse into the luxe lifestyle of the kings and queens of bygone eras. The timings to visit the fort are between 9am to 5pm. The entrance fees is ₹100. Still camera fees is also ₹100 while video camera fees is ₹200.
2. Visit five uniquely different areas of the fort, Moti Mahal (pearl-coloured), Sheesh Mahal (hall of mirrors), Phool Mahal (hall of flowers), Zenana Deodi (the queen's chambers) and Chamunda Mataji Temple (the temple of the queen's favourite goddess).
3. Jaswant Thada, royal cenotaphs built in marble are just a kilometre walk from the fort. You can visit the picturesque location by paying a mere ₹30 as entrance fees. Camera fees is ₹25 and it is open from 8am to 6pm.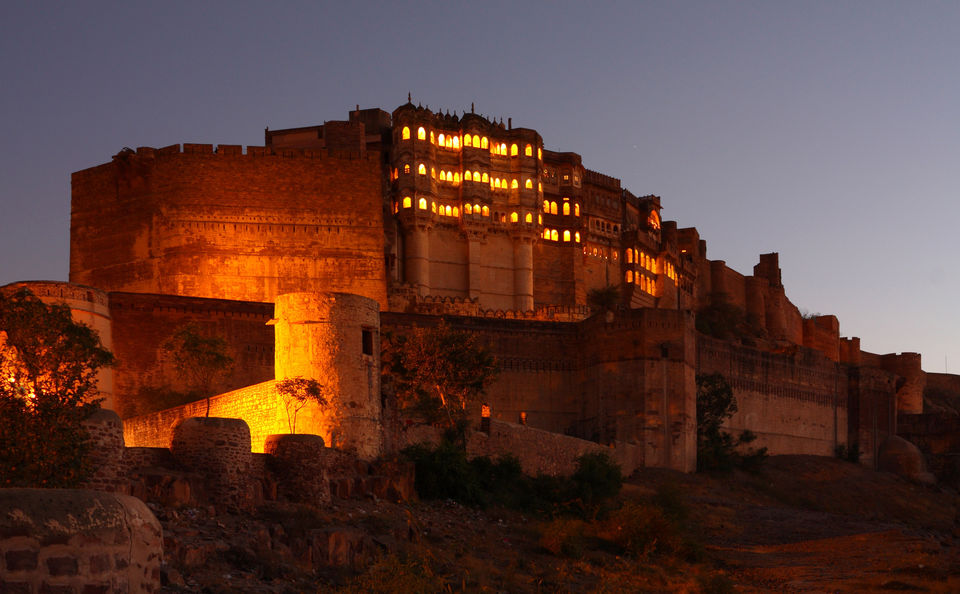 Lakes, palaces, forts, temples and romantic backdrops frame the beautiful city of Udaipur. The tranquility of boat rides in its many lakes, the colourful ancient bazaars, the old-world feel of its hotels and homestays and spectacular countryside makes Udaipur one of the most beautiful destination in Rajasthan. A favourite among travellers from India and abroad, Udaipur has served as a backdrop for many films as well, from Ye Jawani Hai Deewani to the James Bond film, Octopussy.
What to see
1. No visit to Udaipur is complete without a visit to the City Palace. The white marbled structure rises above the shimmering Lake Pichola and is one of the best places for an unobtrusive view of the white city. The entrance fee is ₹250 and the camera fee is another ₹250.
2. Inside the City Palace complex are many small and big palaces, museums and gardens, all encompassing a rich blend of Rajasthani, Mughal, medieval, European and Chinese architecture. Do visit the Amar Vilas, Badi Mahal, Krishna Vilas, Durbar Hall, Manak Mahal, Peacock Square and Sheesh Mahal among others.
3. Head down to Lake Pichola and spend a leisurely evening on its banks. You can also take a boat ride on the lake and admire the many havelis, now converted into hotels, on its banks. The cost of a regular boat ride is ₹325 per person. However, you can also take a private boat tour for up to six people, which costs around ₹3,000.
4. After you are done with Lake Pichola, head to 1559AD, a beautiful rooftop restaurant on the edges of the lake and have a tasty dinner while you enjoy the lit up lake and the palaces all around.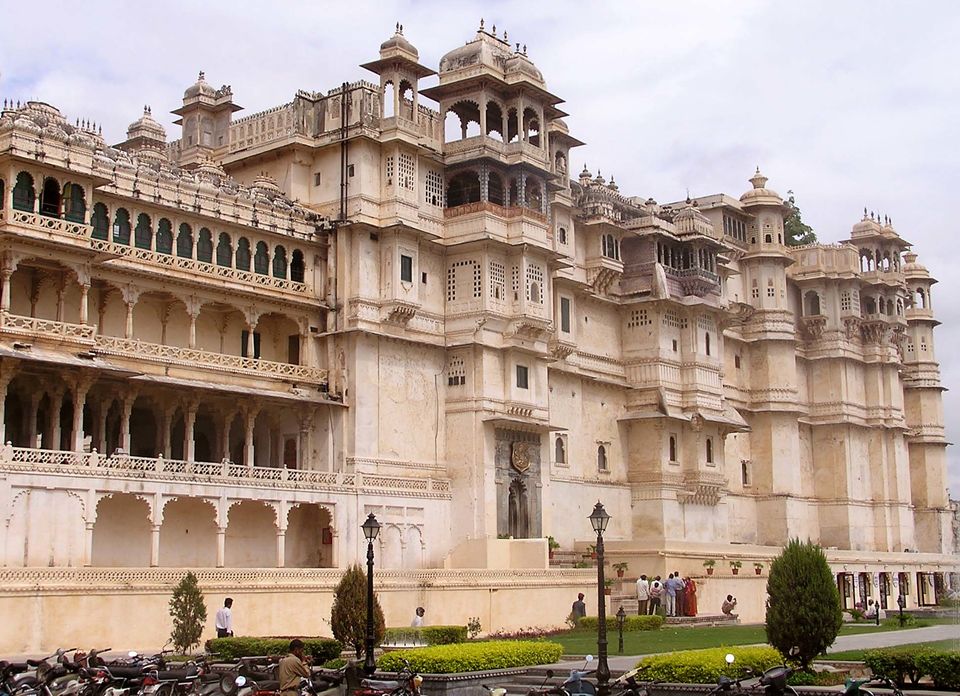 Start your second day early and continue your journey through Jaipur. Today visit Jaipur's most admirable fort, Amber and roam around the city exploring unending sights.
What to see
1. Start your day by a visit to Jaipur's star attraction, Amber Fort. Entrance fee is ₹10 and camera fee is ₹50 for still and ₹100 for video camera. It is open from 9.30am to 4.30pm, all days.
2. Visit Jantar Mantar, a UNESCO World Heritage Site and the largest astronomical observatory in Northern India. Entrance is free.
3. A five-storey high red sandstone structure complete with over 950 windows is the formidable Hawa Mahal. The pink monument is a gem in Jaipur's cityscape. Entrance fees is ₹5 and you can visit it between 9.30am to 4.30pm.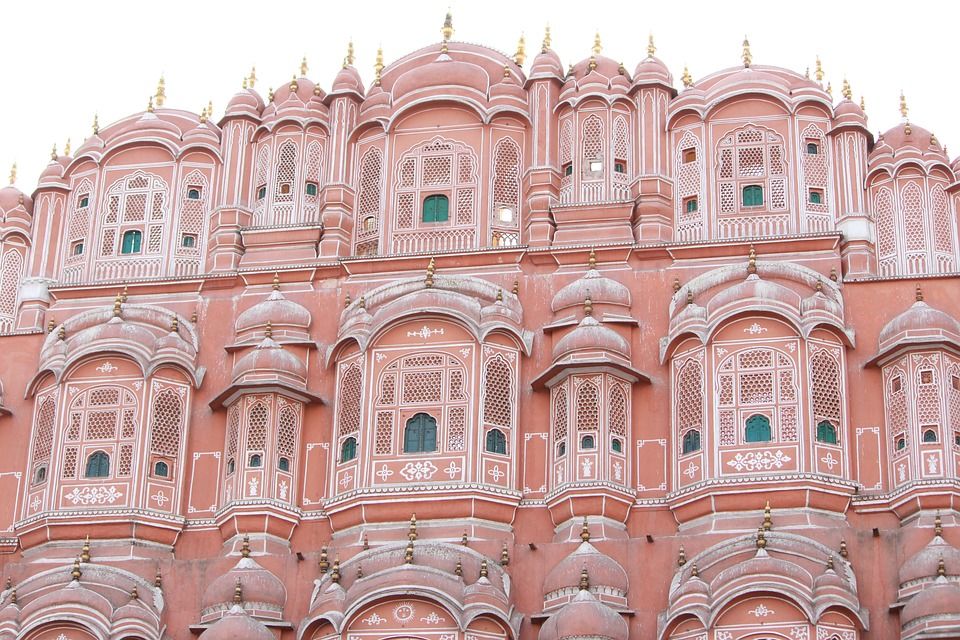 Shop here: Johari Bazar (for jewellery), Nehru Bazar (for some gorgeous juttis) and Bapu Bazar for everything else.
Eat here: Chokhi Dhani for the most authentic and traditional Rajasthani meal; Ambrosia for some multi-cuisine fine dining; Natraj for some lip-smacking thalis; Anokhi Cafe for some organic sandwiches and home-baked cakes.
Sleep here: Jaipur has some amazing options to chose from. Check out The Lalit for unmatched luxury or Umaid Bhawan for a heritage stay. For more options, check here.
Start your second day early and spend it visiting the famous sights that make Bikaner a must-visit Rajasthan city.
What to see
1. Visit one of India's oldest forts, Junagadh Fort, one of very few that was never beseeched. It houses a museum as well where you can learn about the life of Bikaner's royal family. Entrance fees is ₹50 for adults and ₹30 for students carrying valid student id proof. You can visit the fort between 10am to 4.30pm.
2. Visit Laxmi Niwas Palace, the former residential palace of the former king of erstwhile Bikaner state. Now converted into a luxury hotel, Laxmi Niwas Palace is a true example of Indo-Saracenic architecture.
3. For those looking for some adventurous spiritual learnings, head to Karni Mata temple, a mere 32km from Bikaner. This is a temple where the goddess is worshipped right alongside thousands of rats!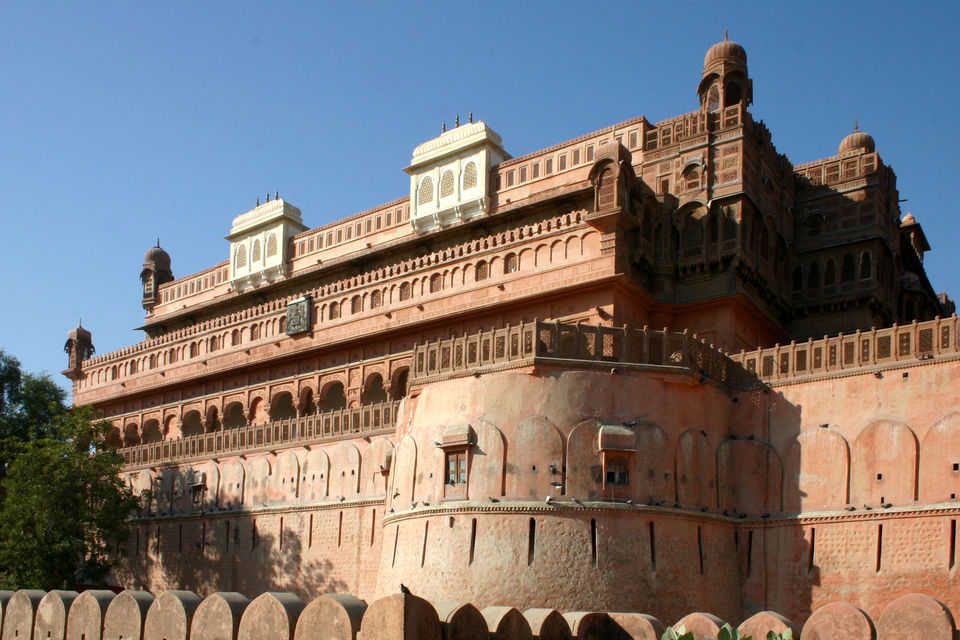 Eat here: Bhujia Bazar for some unmatched street food, Heeralal's for a multi-cuisine experience, Chappan Bhog for the best rajkachori in town (according to most foodies) and Cafe Indra for some good old pizza, burgers and coffee!
Sleep here: Experience the best of luxury at Narendra Bhawan or enjoy some pampering at Vesta Bikaner Palace. For more options, check here.
Start your second day in Jaisalmer with an early morning visit to the Sam Sand Dunes. End the day with dinner at one of the many cafes inside the Jaisalmer Fort.
What to see
1. Visit the Sam Sand Dunes and witness the sun rise among the massive desert dunes. Go for an early morning sand dune safari today. You can opt for a camel or a jeep safari. Safaris generally begin at 5am, and include a pick up and drop off at the hotel. A camel safari starts from ₹850/person and a jeep safari costs around ₹1250/person.
2. Come back and go straight to the Jaisalmer Fort. The fort is unlike any other in Rajasthan, with numerous families, businesses and restaurants still inside the fort. It almost feels like another city in there. Entrance fees is ₹50 and closing time is 5pm.
3. Visit one or all of the seven Jain temples, located inside the fort itself. There is no entrance fee, but you are expected to pay a small amount inside the temples. Closing time is 5pm.
4. Visit Patwa-ki-Haveli, a complex of five houses built in the 19th century. The havelis today evoke the richness and grandeur of the century and each room demands your attention as you walk by. Entrance fees is ₹50 and closing time is 6pm.

Eat here: Desert Boy's Dhani for a good Rajasthani meal and some traditional performances accompanying your dinner; 1st Gate Home Fusion for a rooftop restaurant and stunning views of the city; Saffrom for a multi-cuisine, fine-dining experience.
Sleep here: Check out Heritage House for a decent family stay or stay at Suryagarh for a real royal experience. For more options, check here.
On day two, explore the city at length. Visit the numerous lanes near the clock tower and hunt for the best bandhej (English translation) in the city. Also some adventurous activities can instantly enhance your day!
What to see
1. Start your day with a visit to the nearby Bishnoi Villages. Gorgeously-clad womenfolk and charming men in pretty head gear make for some compelling conversations.
2. Get your blood pumping as you zip out of Mehrangarh Fort, through the sea of blue houses and land in the old quarter of Brahmpuri. There are six different types of zip lining available, with the shortest being 70m and the longest being 300m. Flying fox offers zip lining in Jodhpur starting from ₹1,600 for children and ₹1,900 for adults.
3. For those looking for even more adrenaline-filled fun, paragliding in Jodhpur is a must do. Sky Ventures offers tandem paragliding, where you get a chance to see the dunes of Thar from high in the sky! It costs around ₹2,990 per person.

Shop here: National Handloom (for the best quality rugs and handicrafts), Thar Handloom (for premium quality, traditional cloth and sarees), Suncity Spices (for spice mixes for everything, from biryanis to meats) and Bishnoi Village Art (for sourcing authentic and reasonably-priced traditional handicrafts and textiles).
Eat here: Indique is a candlelit rooftop restaurant at the Pal Haveli serving amazing Indian delicacies and superb views of the fort, Clock Tower and Umaid Bhawan. Jhankar Choti Haveli is a traveller's favourite and famous for whipping up yummylicious vegetarian delights. Cafe Frespresso at Clock Tower for some vegan-friendly and gluten-free organic delights!
Sleep here: The Ajit Bhawan Palace is a great place for some luxury and pampering, whereas the Kothi Heritage offers a comfortable stay at a reasonable price. For more options, check here.
The next morning, begin your day with a visit to one of the many gardens in Udaipur. Proceed towards the old city and shop to your heart's content here.
What to see
1. Start your day at Saheliyon ki Badi. It has fountains and kiosks, a lotus pool and marble elephants and is a perfect place to just chill under the shade of trees for a while. The entrance fees is a mere ₹5 and the park is open from 9am to 7pm.
2. Visit Jagdish temple, an iconic structure visible from almost all corners of the Old City. The temple walls and the shikara or tower are decorated with carvings of Vishnu, scenes from Lord Krishna's life and figurines of nymphs or apsaras.
3. Proceed towards the Old City lanes and explore the narrow bazars for some amazing leheriya dupattas and sarees. Also among many shops, you can find intricately designed gota patti lehengas and amazing leather jootis (footwear) and bags.
4. Head to the Sajjan Garh fort for the most beautiful sunset views. Perched on top of a distant hill like a fairytale castle, this melancholy palace may seem in a neglected state, but the views of the city from here are unmatched.
5. End the day at Sukhadia circle. The illuminated, three-tired fountain in the middle of this circle is now a popular landmark. Enjoy street food such as dabeli and pao bhaji at one of the many stalls around Sukhadia circle.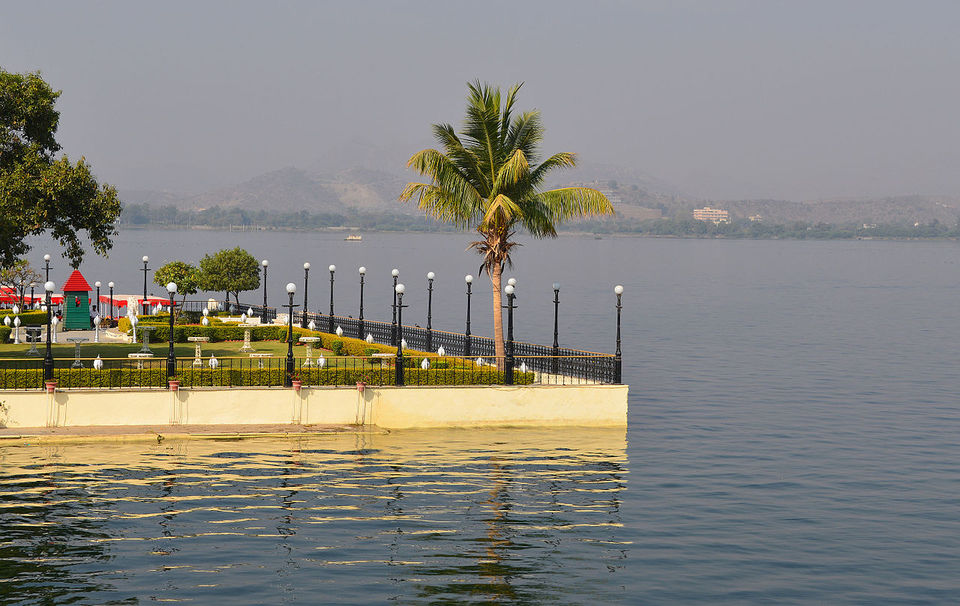 Shop here: Bambino Arts for granite etched portraits and artwork, Hathipole for juttis, Jagdish Chowk near the Jagdish temple for traditional kurtis and leather bags.
Eat here: 1559 AD near Lake Pichola for some amazing views accompanied with delicious food, Apni Dhani for traditional Rajasthani meal at affordable prices, Ambrai for a romantic dinner date sans the kids and O'Zen for decent coffee, cold beer and amazing street views!
Sleep here: Udaipur is known for its palatial resorts as well as cozy homestays. Check out Karohi Haveli for a heritage stay or go all out and splurge for a luxe stay at The Oberoi Udaivilas. For more options, check here.
When to go
Rajasthan is a desert state, so summer months here get really hot and it's unadvisable to book a Rajasthan itinerary during this time of the year. However, winters here are pleasant with chilly nights and sunny days! This is actually one of the most perfect vacation destinations in the months of December and January.
How to reach
It's easy to reach Rajasthan from all major cities in the country.
By Air: Flights from Delhi to Jaipur start from ₹2,100 per person, one way. Flights from Udaipur to Delhi start from ₹2,500 per person, one way.
By Train: There are around nine trains from Delhi to Jaipur and the average price of the ticket is ₹800 per person . There are three trains from Udaipur to Delhi and the average price of the ticket is ₹1,500 per person. You can book your tickets online on IRCTC.
By Road: There are many state transport buses running between all major towns of Rajasthan and Delhi. Multiple private operators also run on this route. Alternatively, you can drive to Jaipur via NH8.
How did you enjoy your Rajasthan itinerary? Share your experience on Tripoto and help other travellers plan their next vacation.
Frequent Searches Leading To This Page:-
rajasthan tour package, rajasthan holiday packages, budget rajasthan tour packages, rajasthan tour, places to visit in rajasthan during summer, rajasthan tour packages from delhi, tour packages for rajasthan