Very soon we are going to be greeted by 2018. We all have plans and many people go for holidays. Since ages Astrology has given answers to many questions which are not explainable otherwise.
Haven't you observed that holidaying sometimes becomes a pain instead of pleasure because of the destination chosen.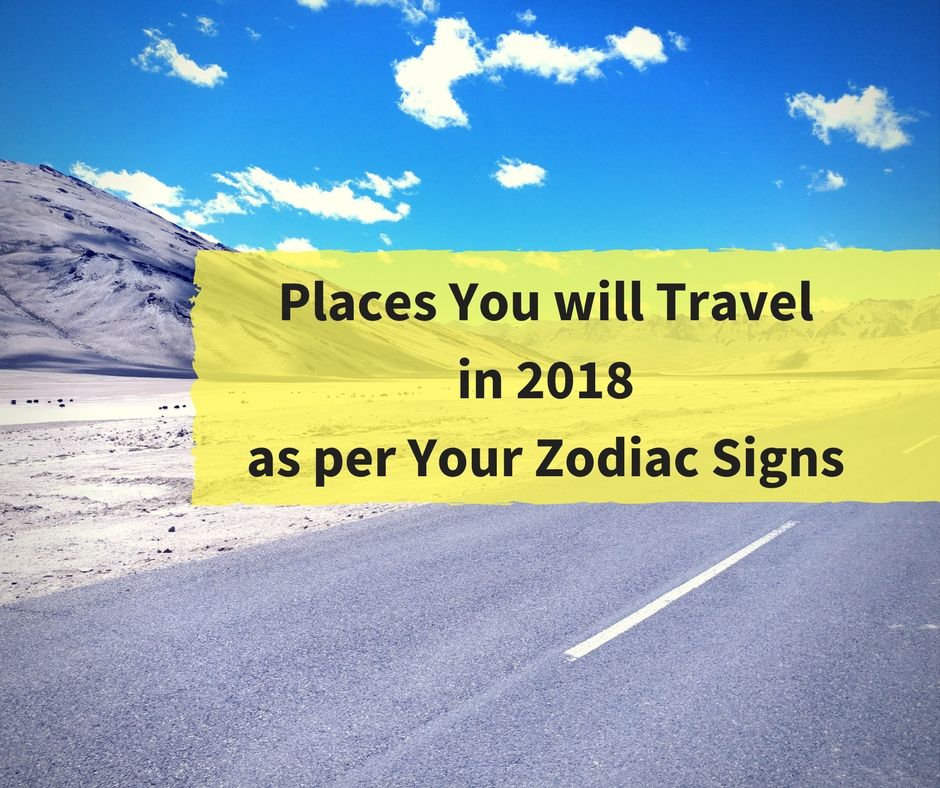 Every rising sign has some peculiarities and connects with a certain part of nature. This is why some people are too emotional and some are not so. Some are very practical and some are very knowledgeable but not practical.
So, before going for a journey, read about where you should be going according to your rising sign which is also called your ascendant or the lagna. This is not your Janma Rashi which is the placement of moon at the time of your birth.
Aries
You should try places like Goa, Hilly areas where you can do rock climbing, river rafting etc so that your challenging spirit meets with the challenges you have been craving for.
You can also try places like North east of India. Internationally, you can go to New Zealand, Denmark, and Tibet, etc., where you can enjoy the most.
Taurus
Taurus is an earthy sign and also the sign of people with elite taste. The pleasantries of Udaipur, Jaisalmer or the beautiful valleys of the South India will be surely enjoyed by you in this time. 
 London, Paris, Vienna, etc., are the places you should look forward to internationally.

Gemini
This dual and airy sign is famous for its long talks and making friends with people around. You should go to places like Mumbai, Chennai beaches and resorts around them where you can enjoy the wind, night life, and people.
You can go to Sydney, Miami for international destinations. Singapore, Mauritius are the other places you will like.
Cancer
This home loving sign should definitely go to a small hilly area called Pachmarhi in Madhaya Pradesh. You will surely like the place and it has many temples too of deity of your ascendant lord moon, Lord Shiva is the deity for Moon and Pachmari has many famous temples of lord Shiva.
You can try Mandavgarh near Indore which is again a very small and cozy place. The forts and viewpoints will surely make you happy. Internationally you can go to small countries like Finland, Sweden, and Norway, etc.
Leo
You like history, grandeur, royalty and thus the palaces of the south awaits you. 
You can also go to Jaipur, Agra to feel the history and also you can try Ajanta Ellora caves. Internationally you can visit the Great Wall of China.
Virgo
Virgos are an earthy sign with duality. They like finer details of things and places and going to places like Shimla, Manali, Srinagar, Mysore, etc., will be good for you. 
You can try Japan, China, South Korea in international destinations.
Libra
Librans should go to places like Munnar, Ooty, Kozhikode, Rameshwaram, Kanyakumari etc. 
A trip to Delhi, Gandhinagar, etc., will also be good keeping in mind the traits you show off to others. You can try Greece, Spain, and Cyprus for international destination.
Scorpio
You can visit places like village Kodini in Kerela and see twins around you.
Shani Singnapore - the place where there is no door in homes and other mystical places of India and try to solve the mysteries. Internationally you can go to Scotland, Scandinavia, etc.
Sagittarius
You are a traveler by birth so you should visit places like entire west India coastline. Internationally you can go for Europe, Middle Eastern countries.
Capricorn
You like to work a lot and learn a lot at the same time. Leisure and learning goes hand in hand with you, you should go to Varanasi, Omkareshwar, Maheshwar, and Ujjain where you can learn and have leisure at the same time. 
Internationally you can go to Vatican, Athens, Berlin etc.
Aquarius
Your thirst for knowledge is never ending. Visit historical places like Chittorgarh, Vijaynagar, New Delhi or religious places like Dwarka.
Internatioanlly Bermuda triangle may help quench your thirst for knowledge and mystery.
Pisces
Imaginative and expressive sign needs their own space and speed. The lush greeneries of south or far north east, the beaches of Trivandrum, Andamans are the places you should go. Internationally you can visit the Netherlands, Greenland, Germany etc.
The predictions are based on your zodiac signs and in case you're interested to know other aspects of your future, I recommend checking online Janam Kundali software by AstroVidhi.
So, where exactly you are packing next for?