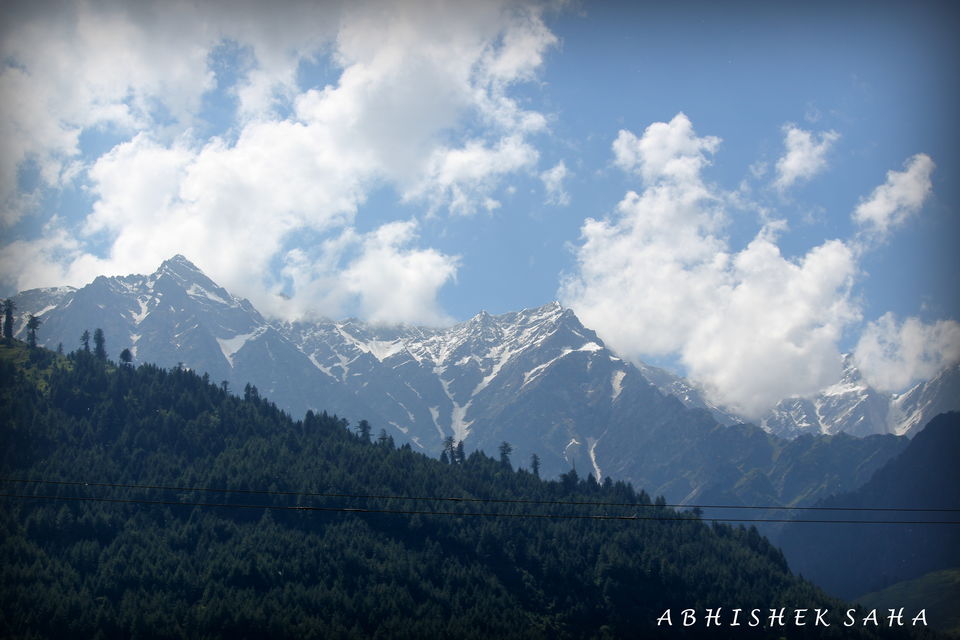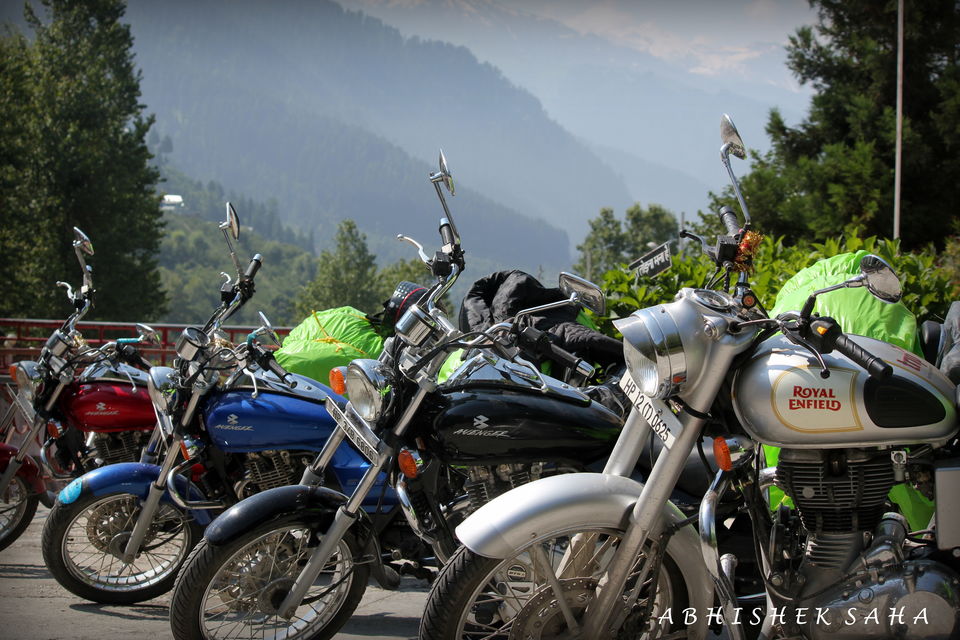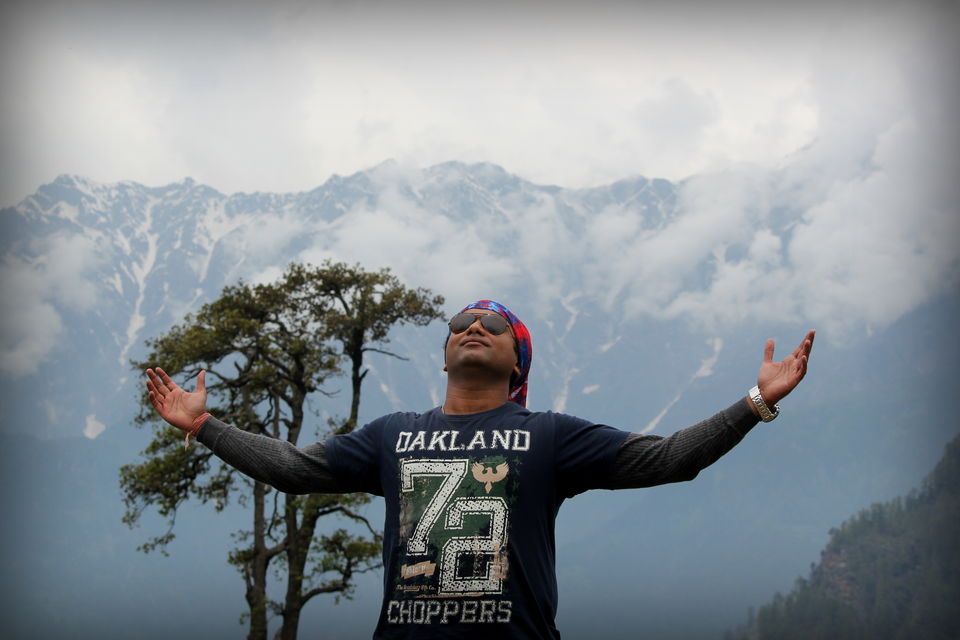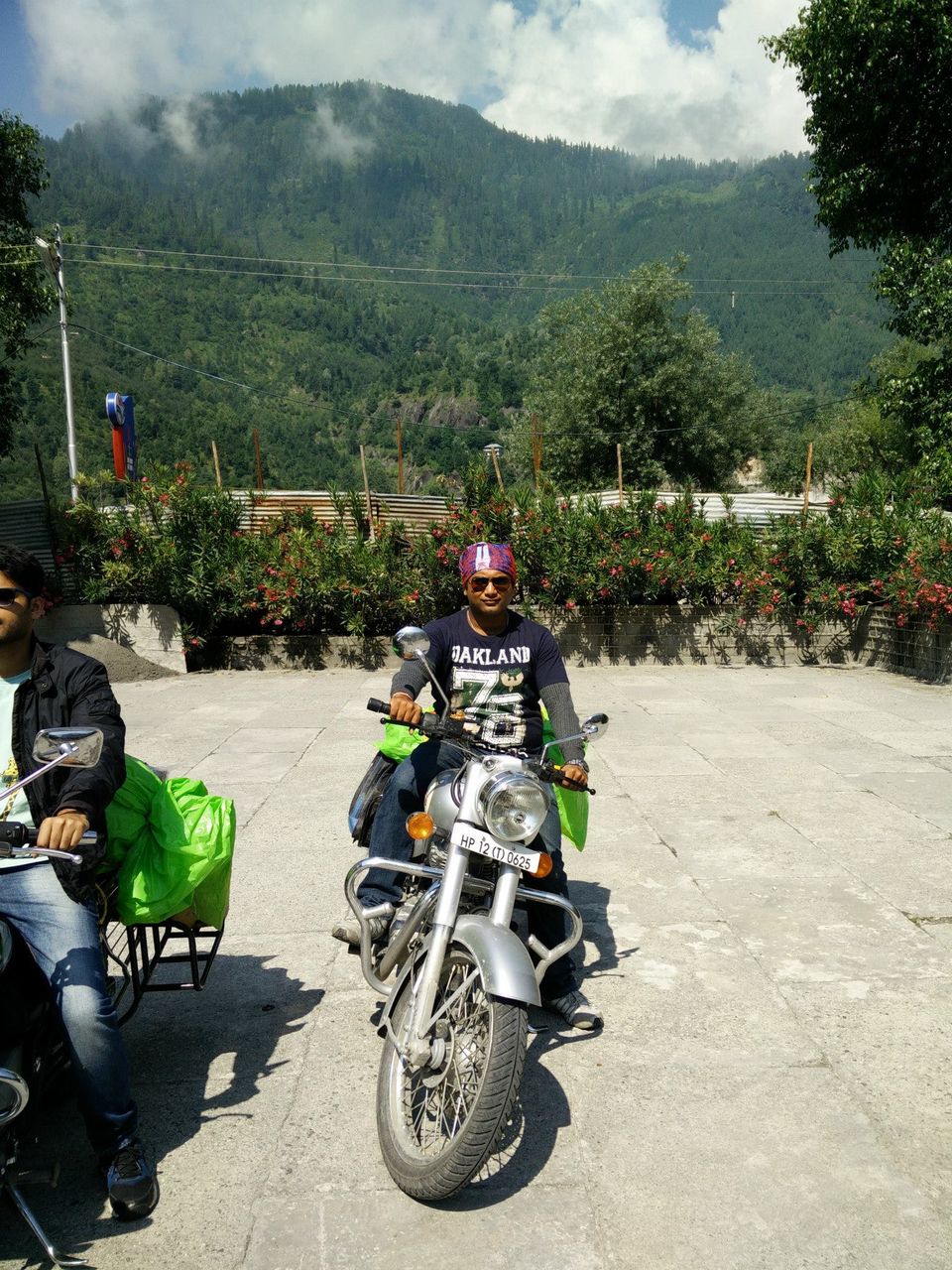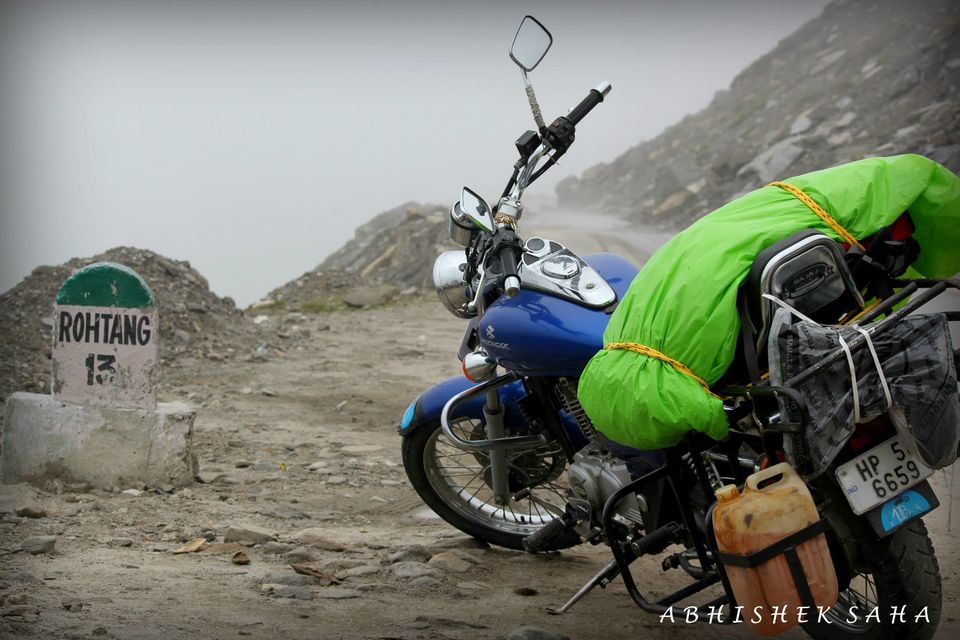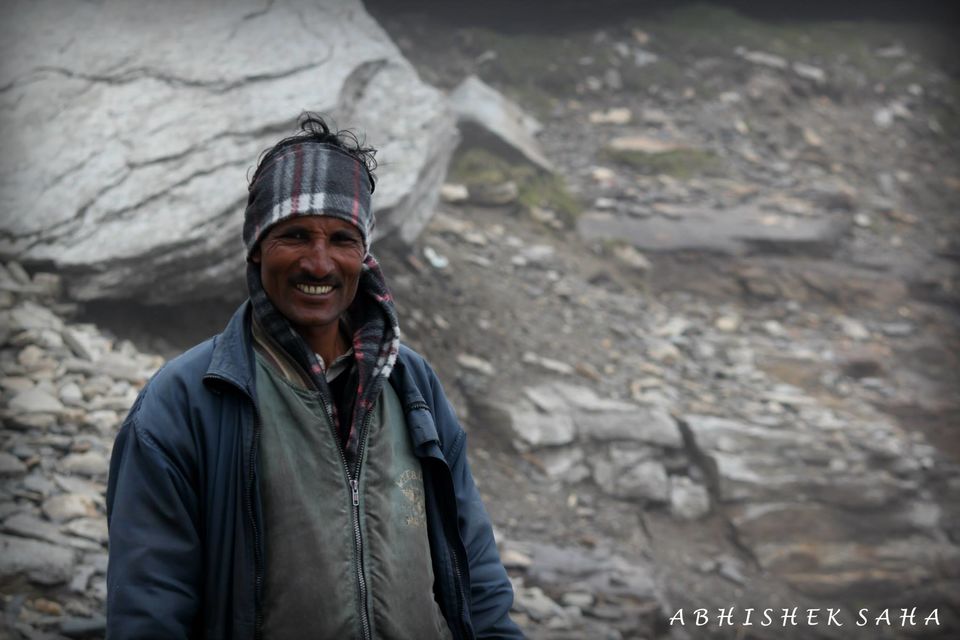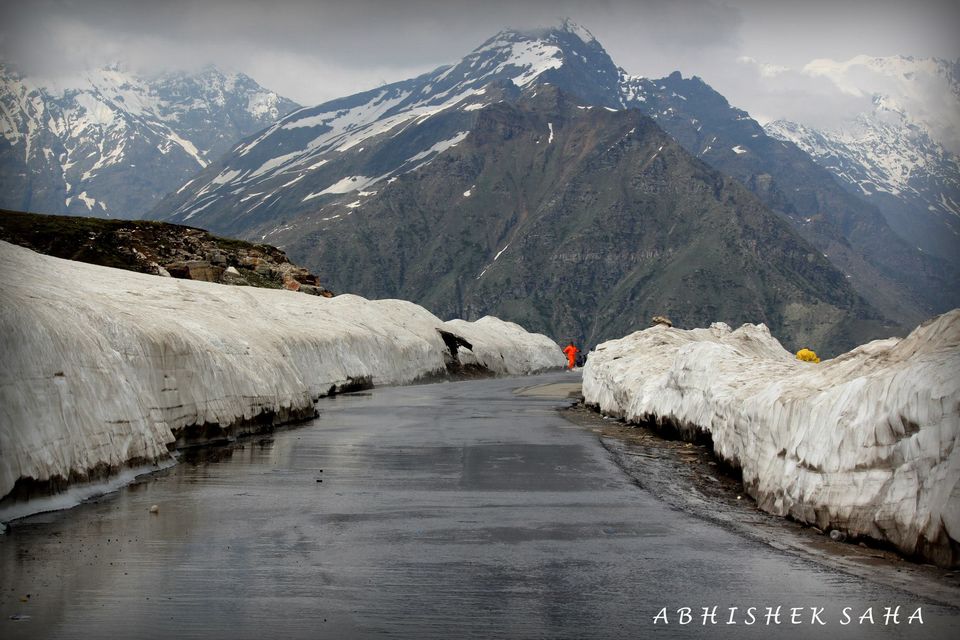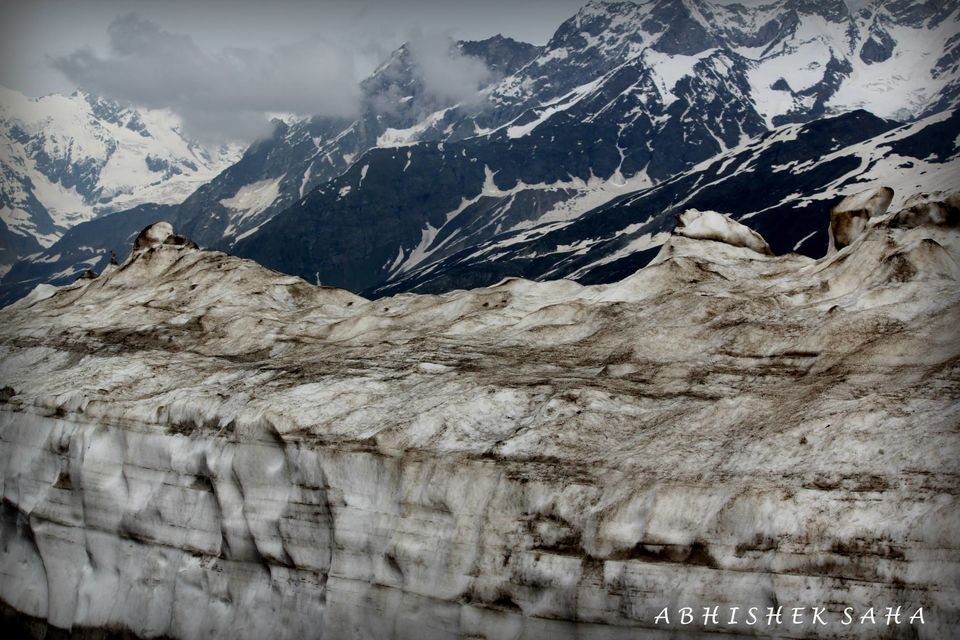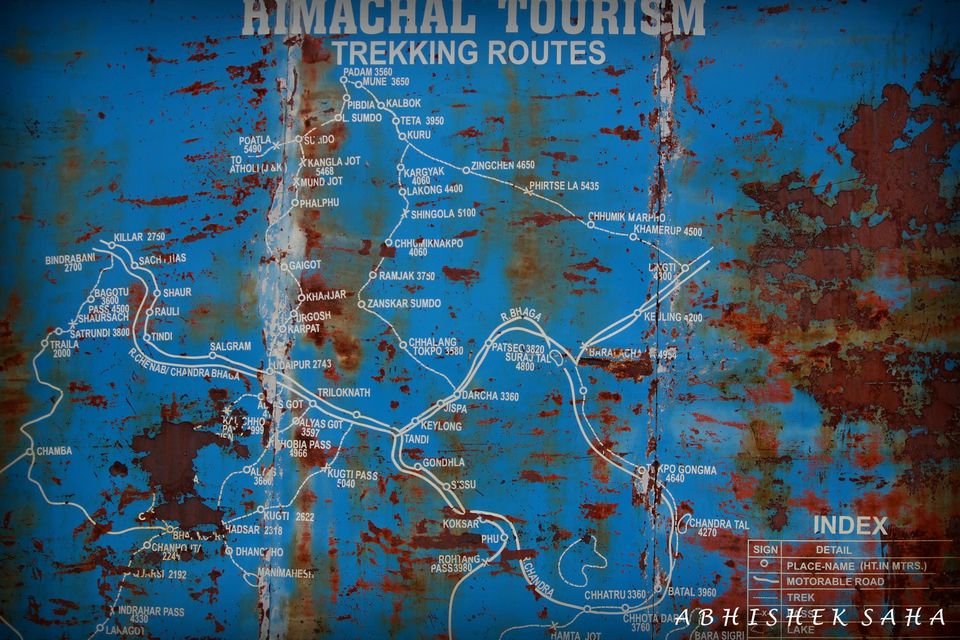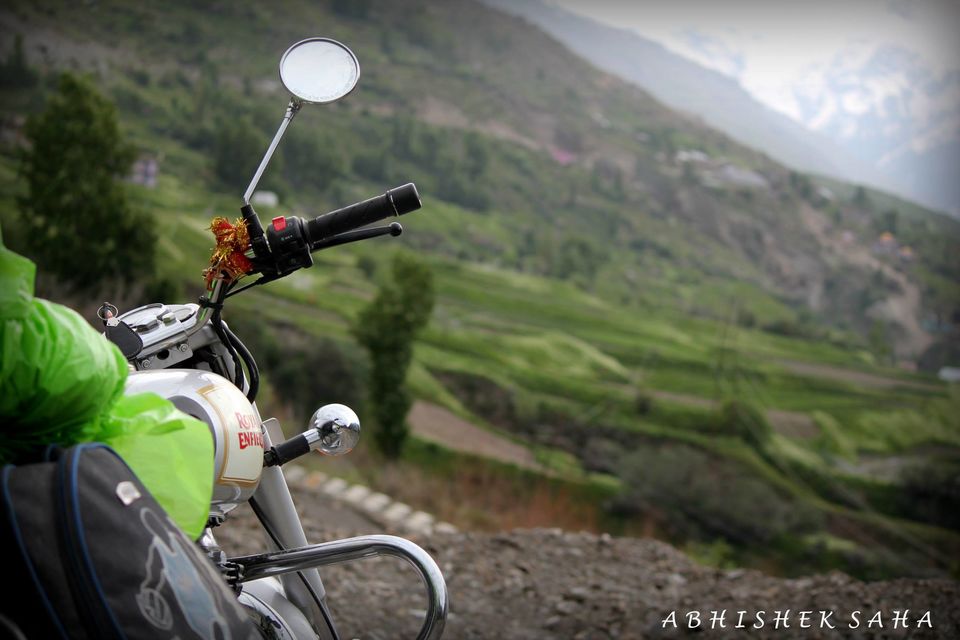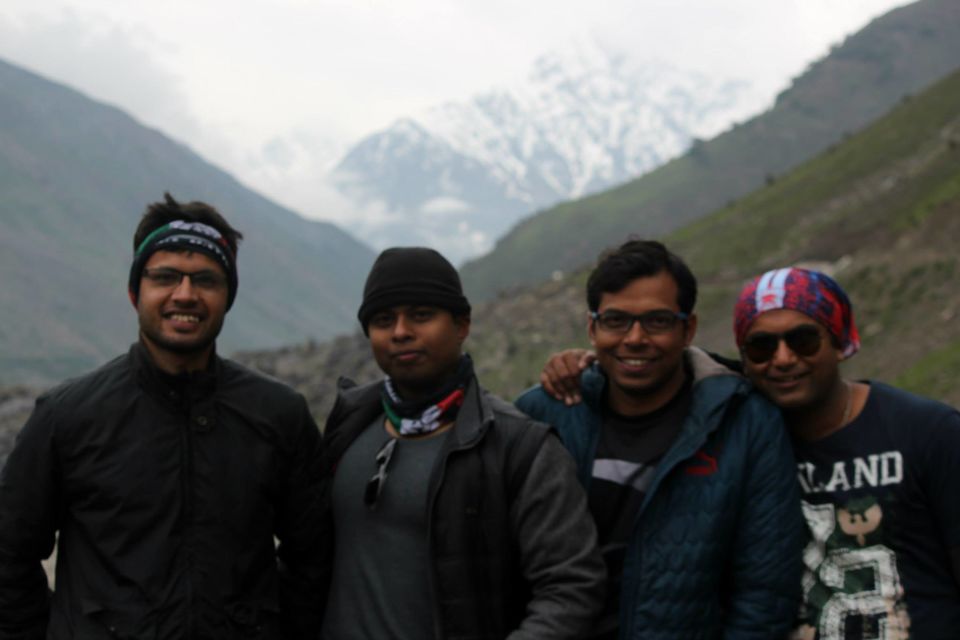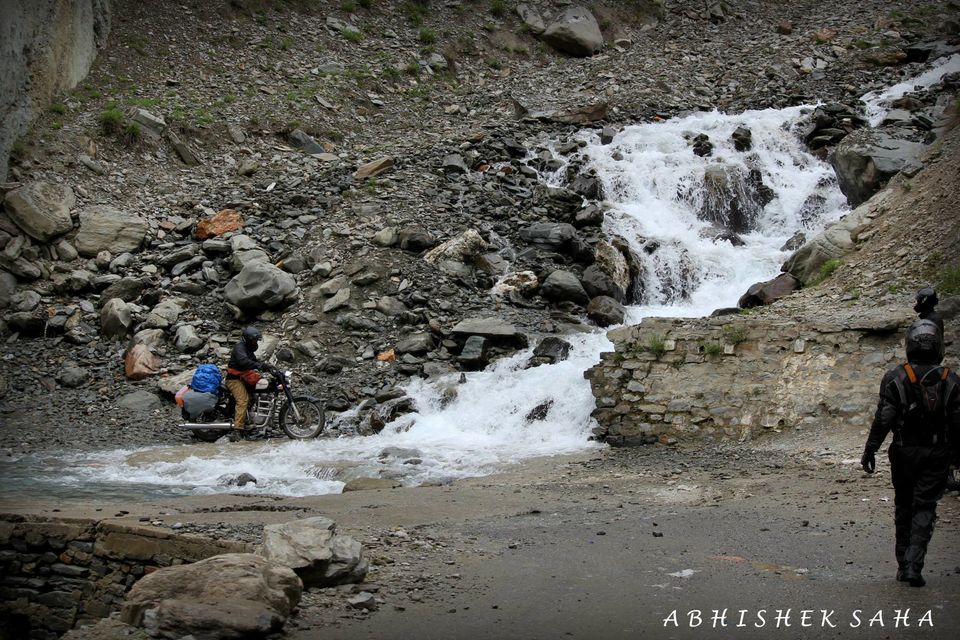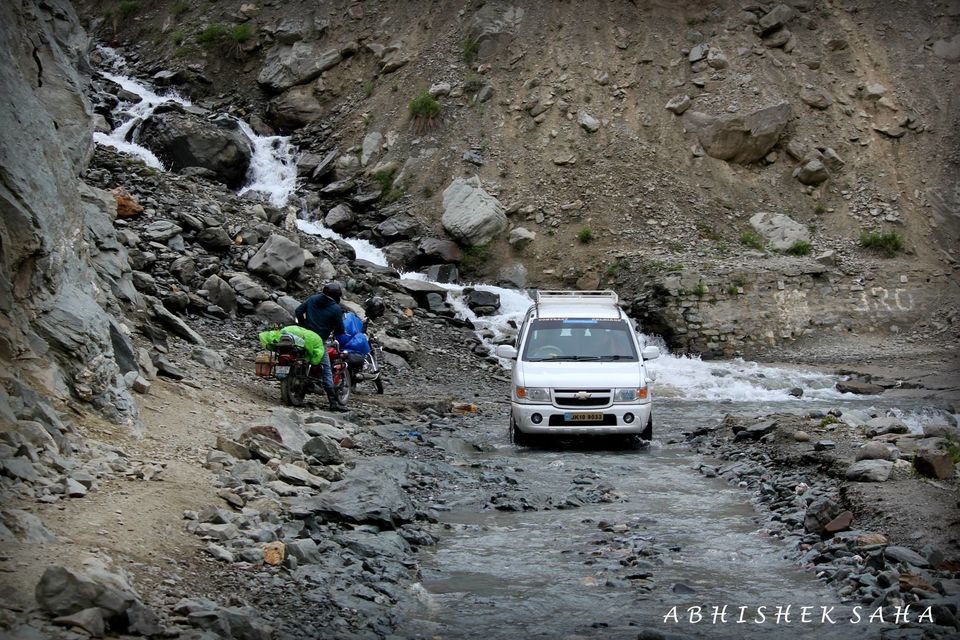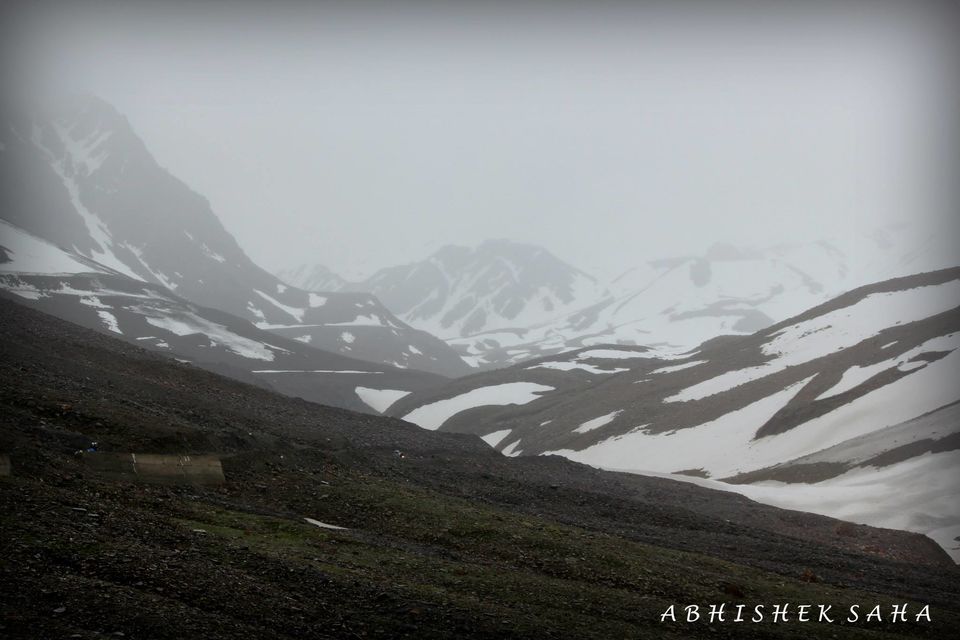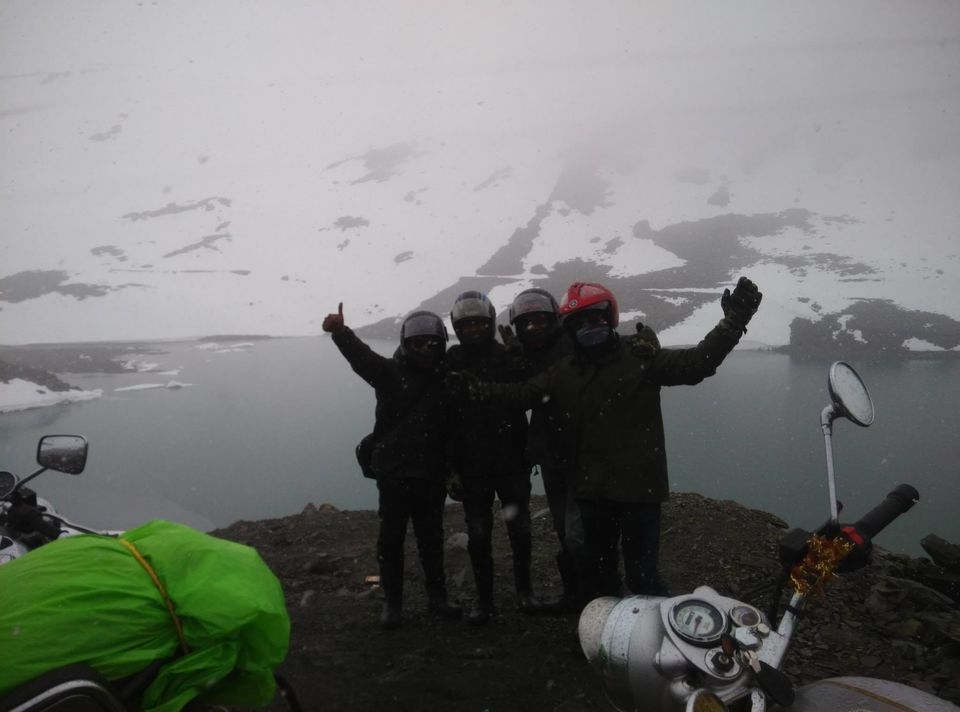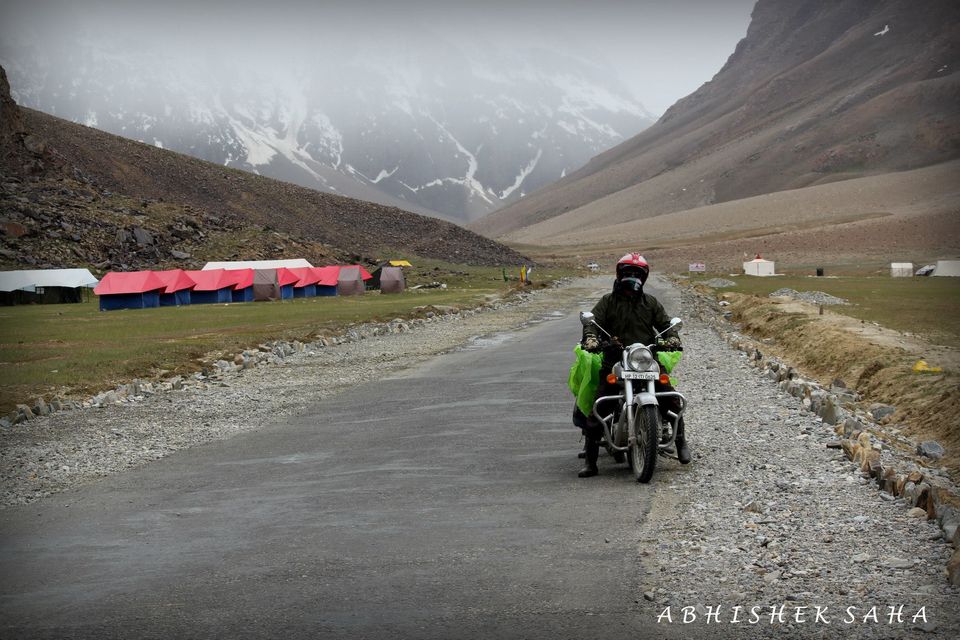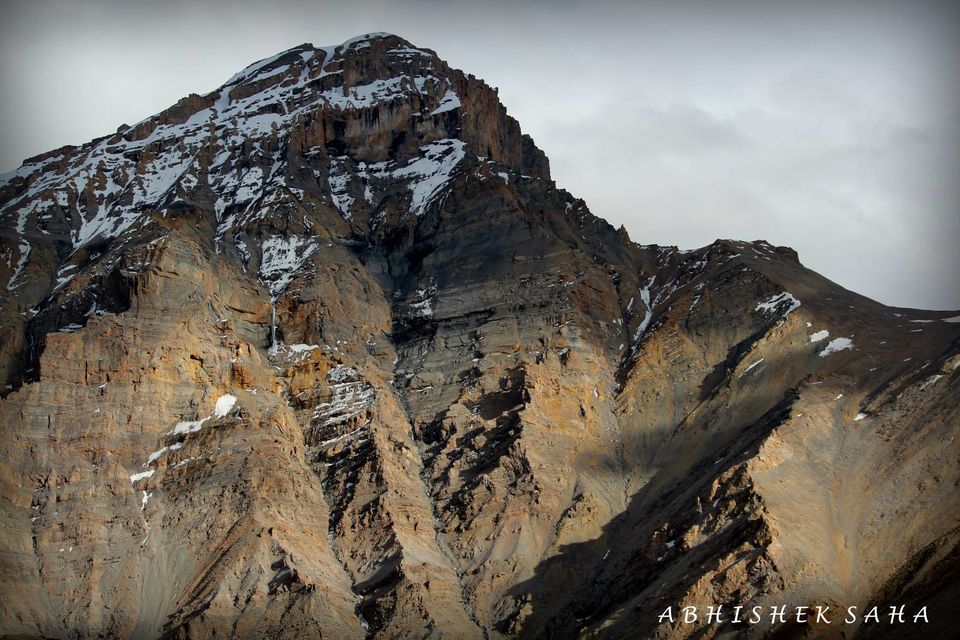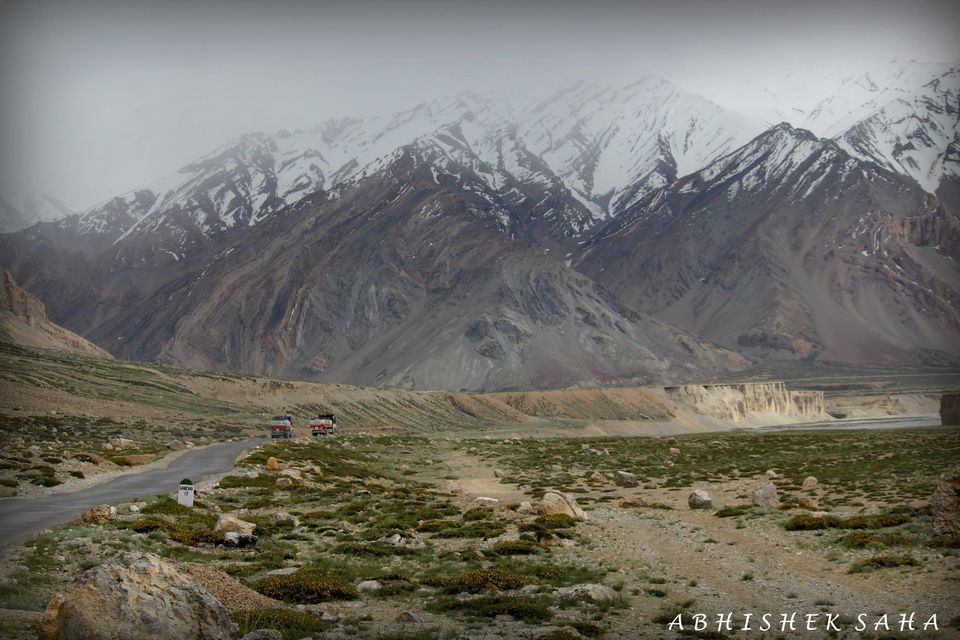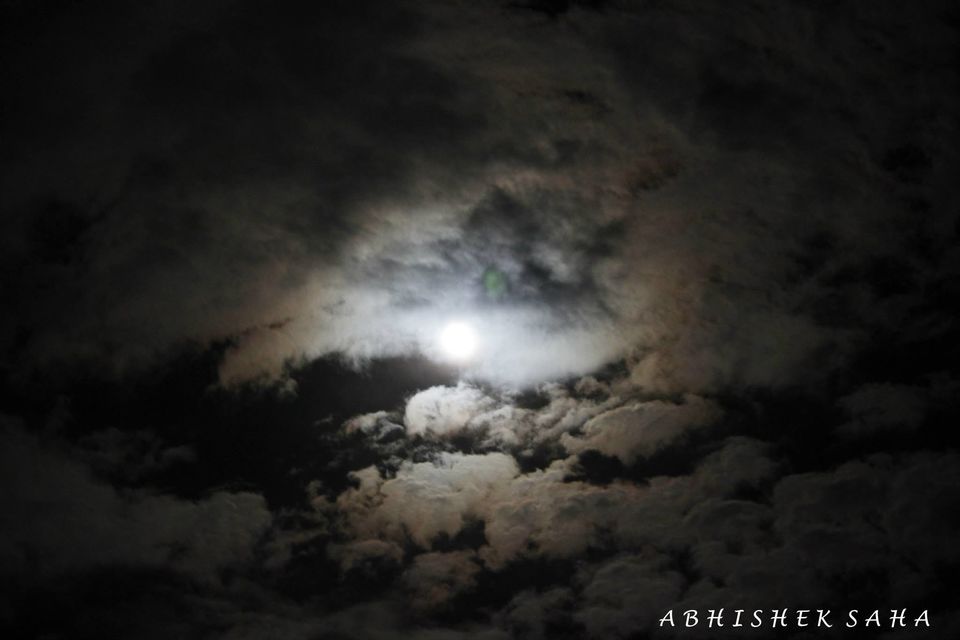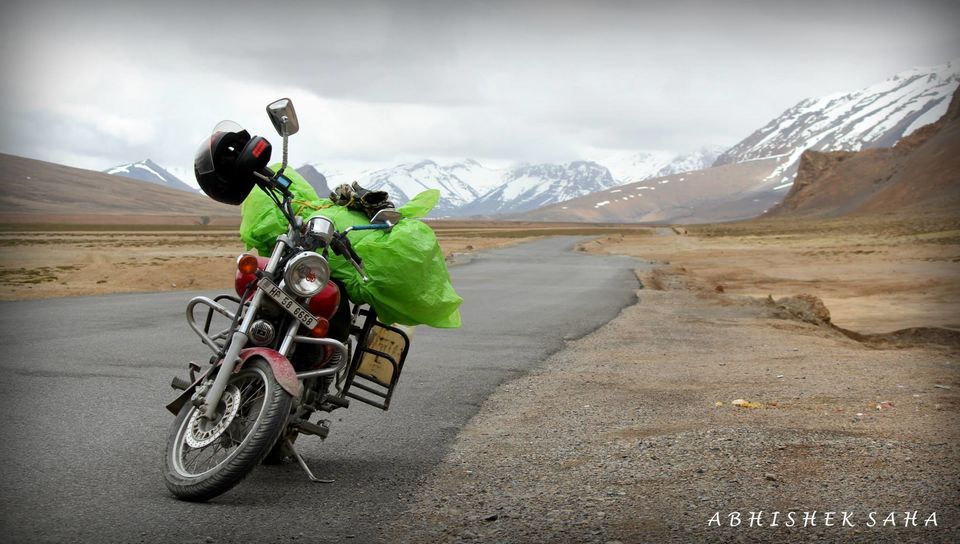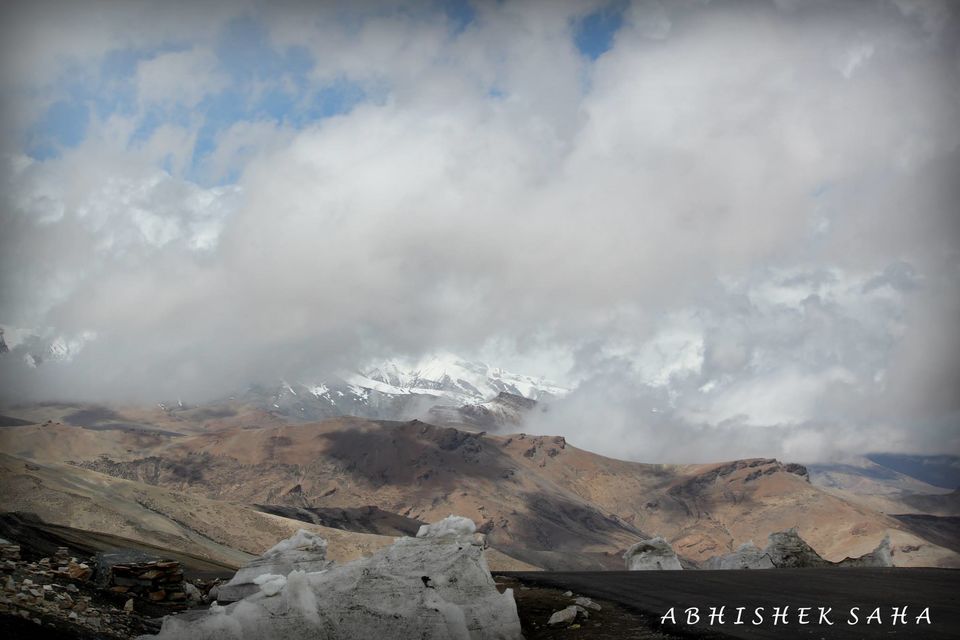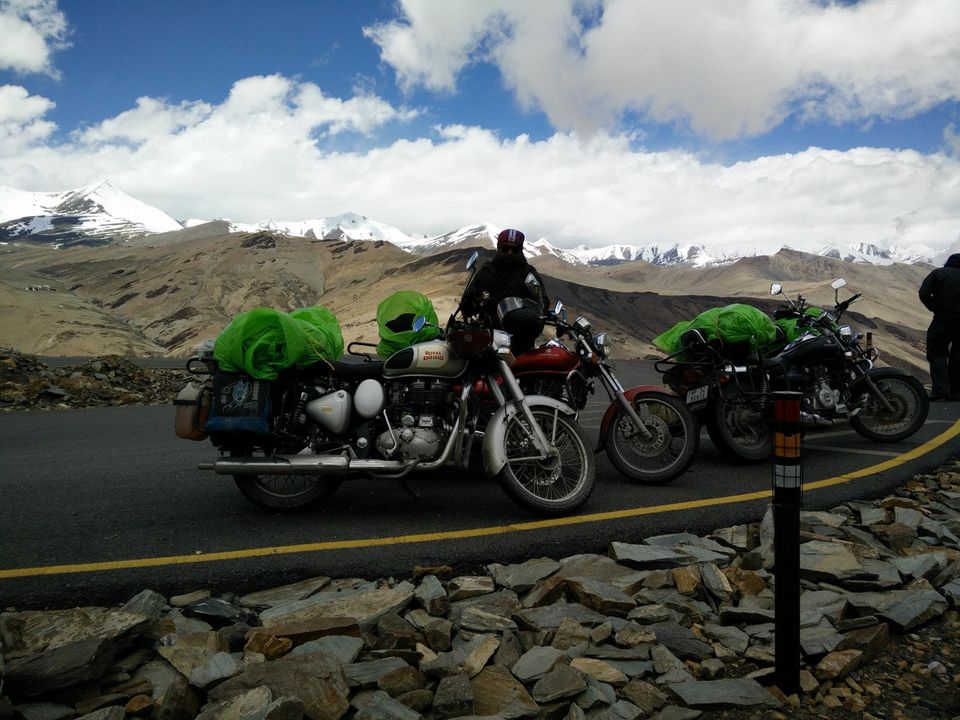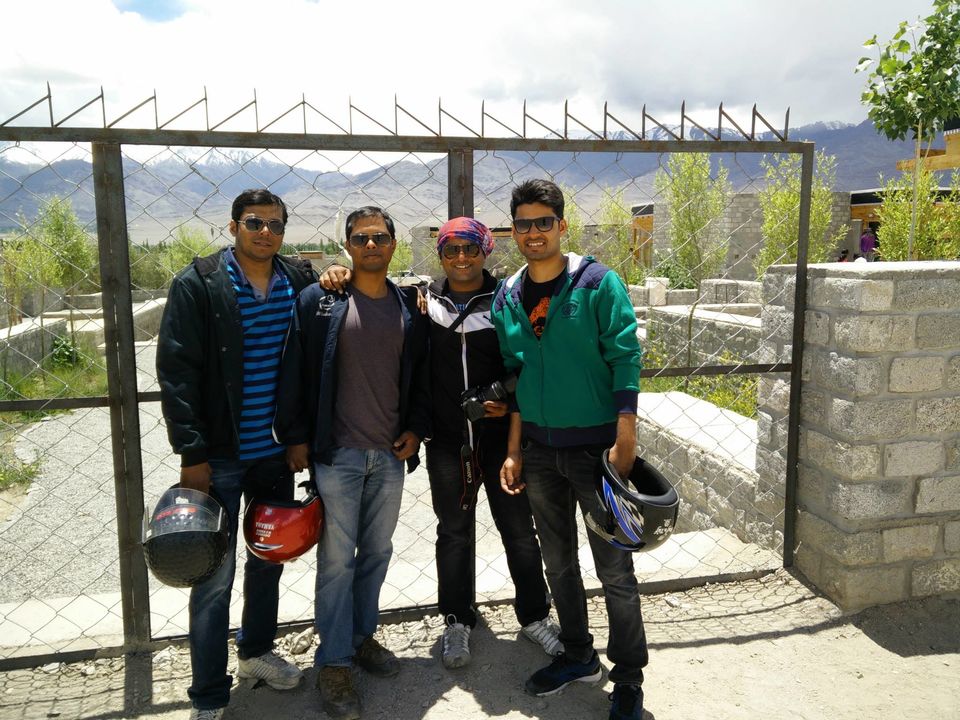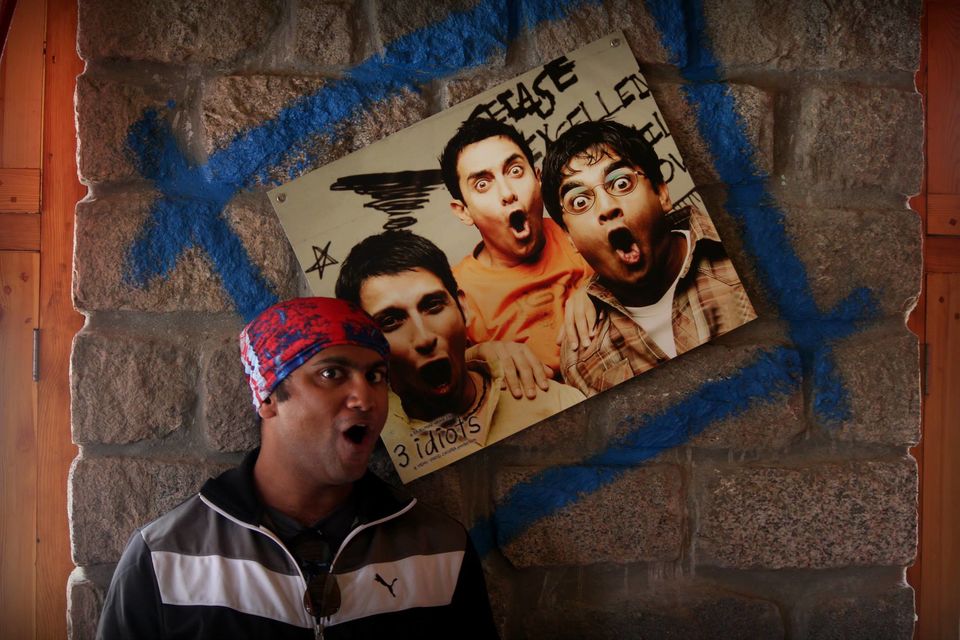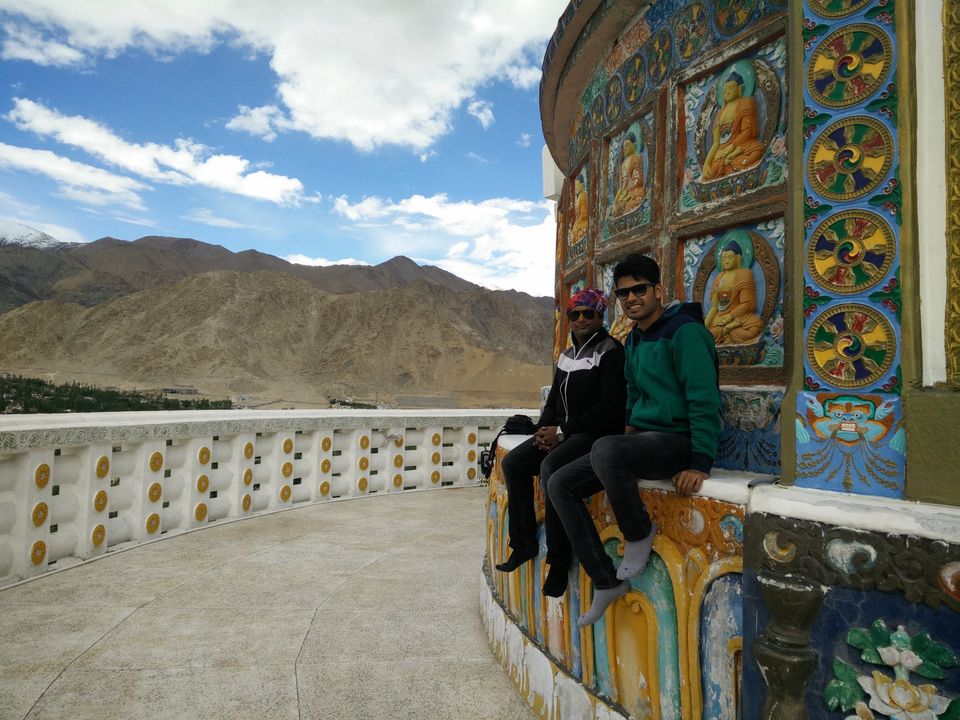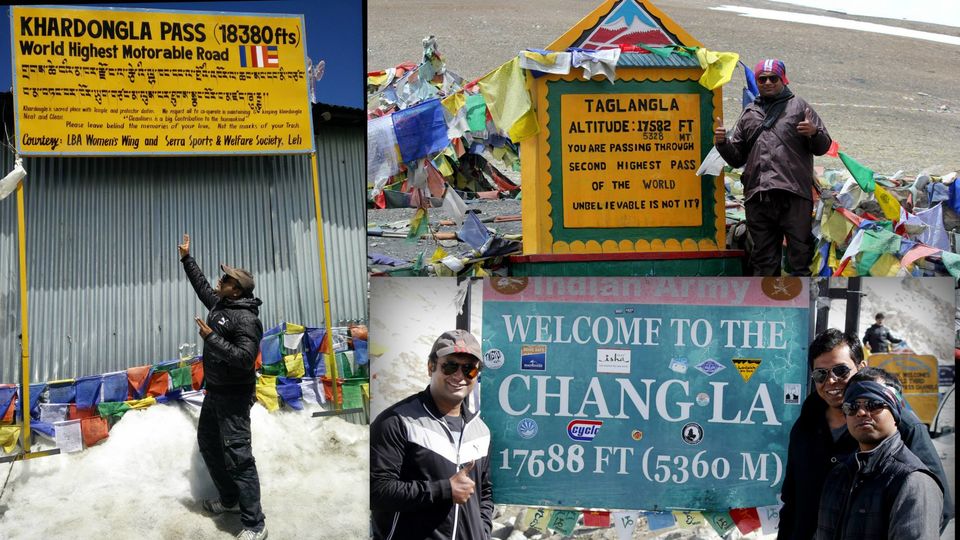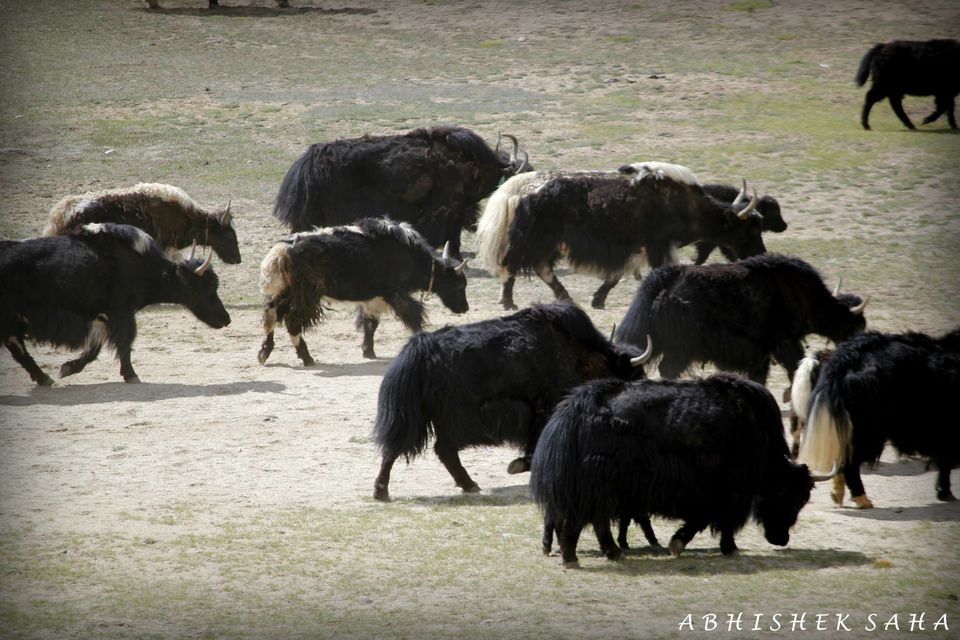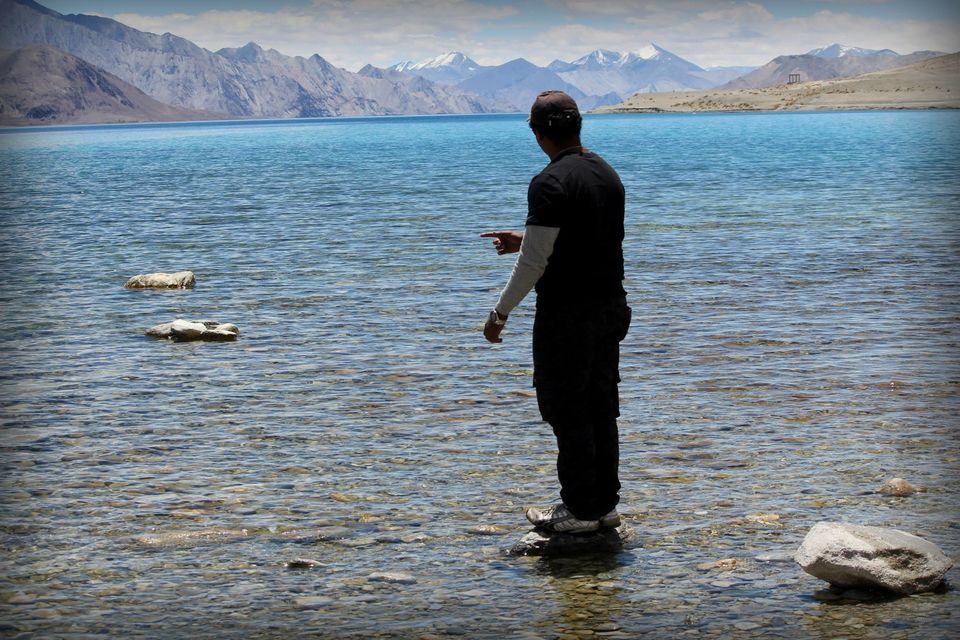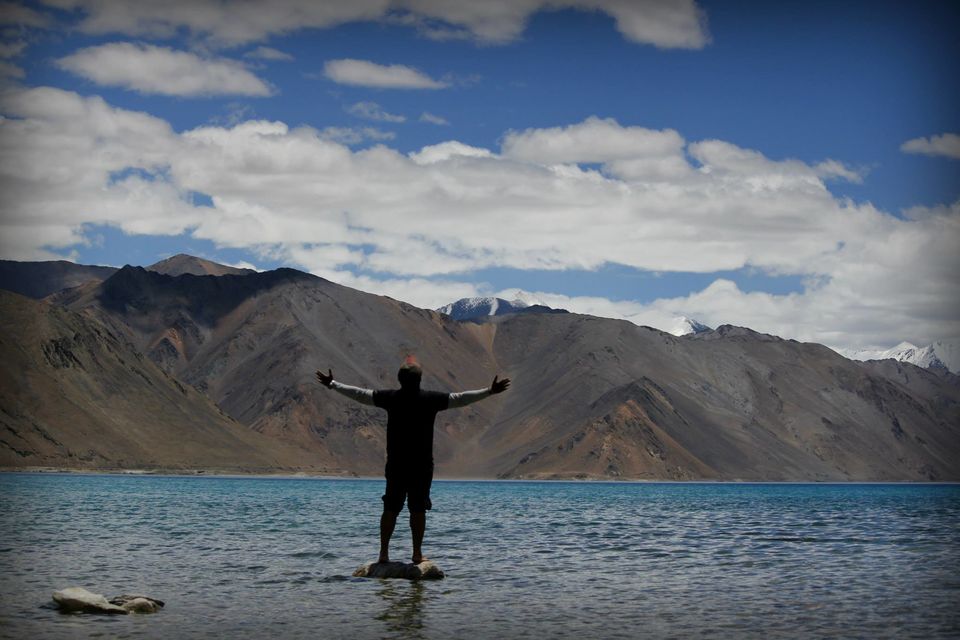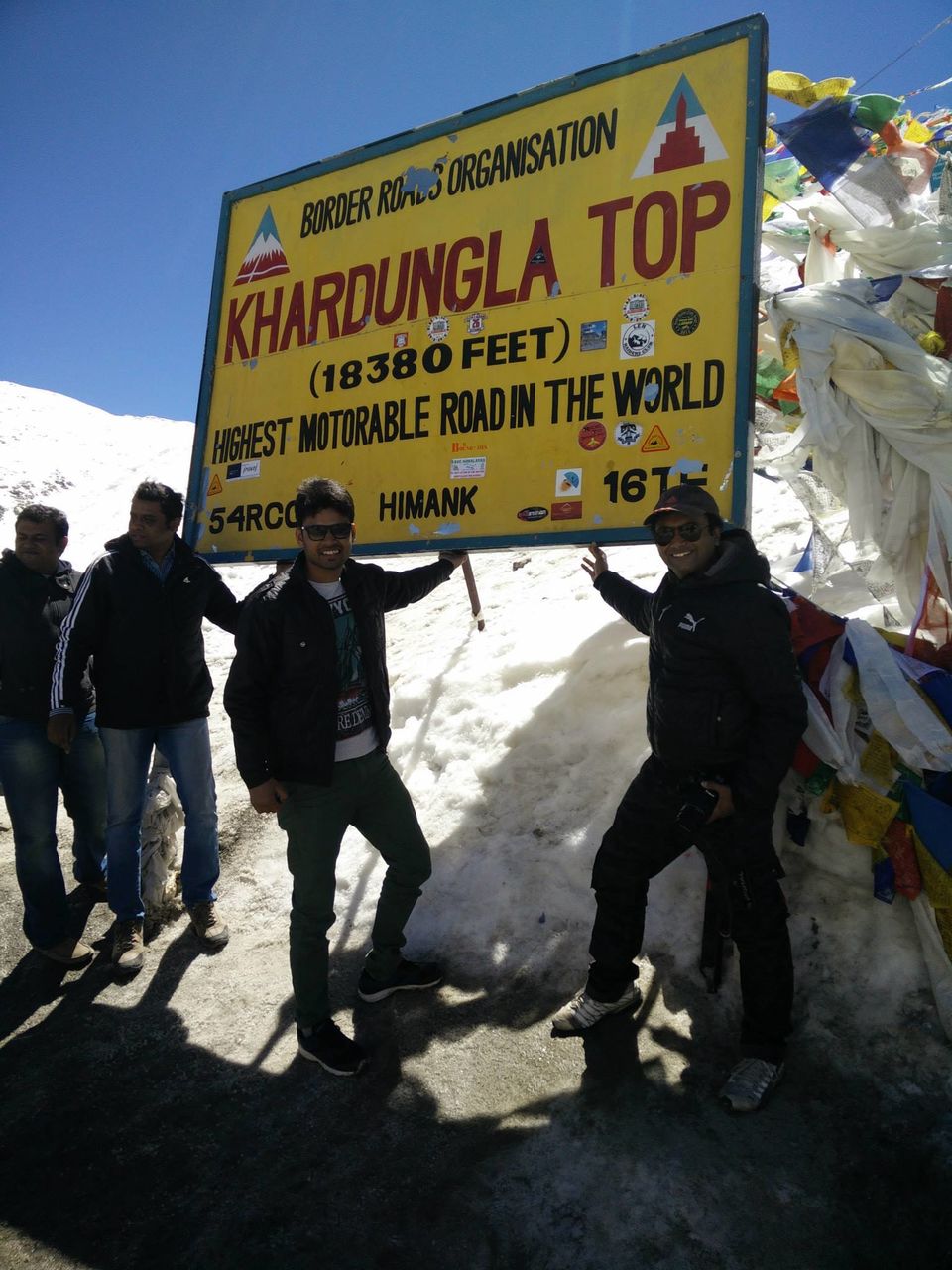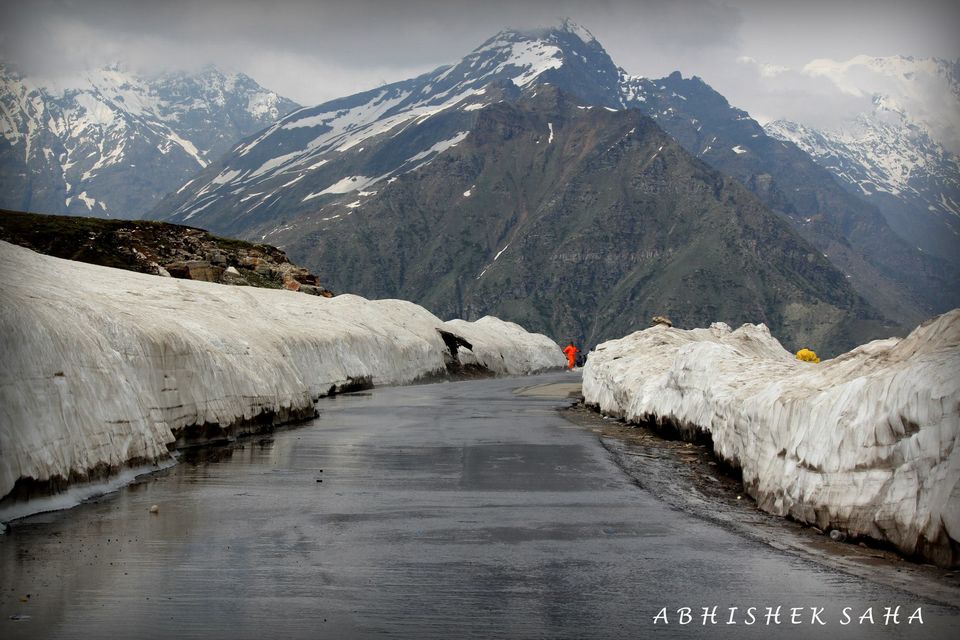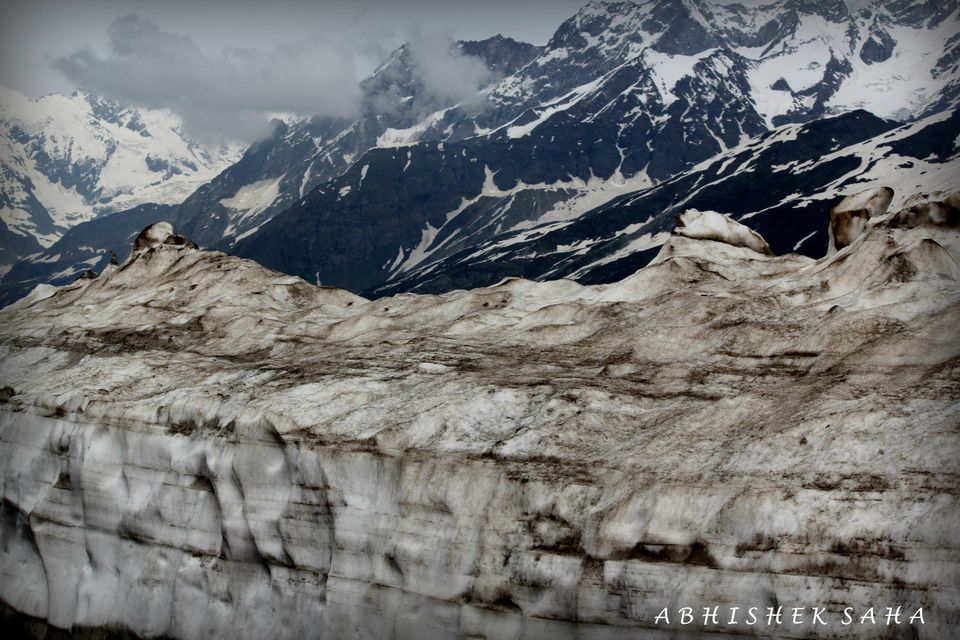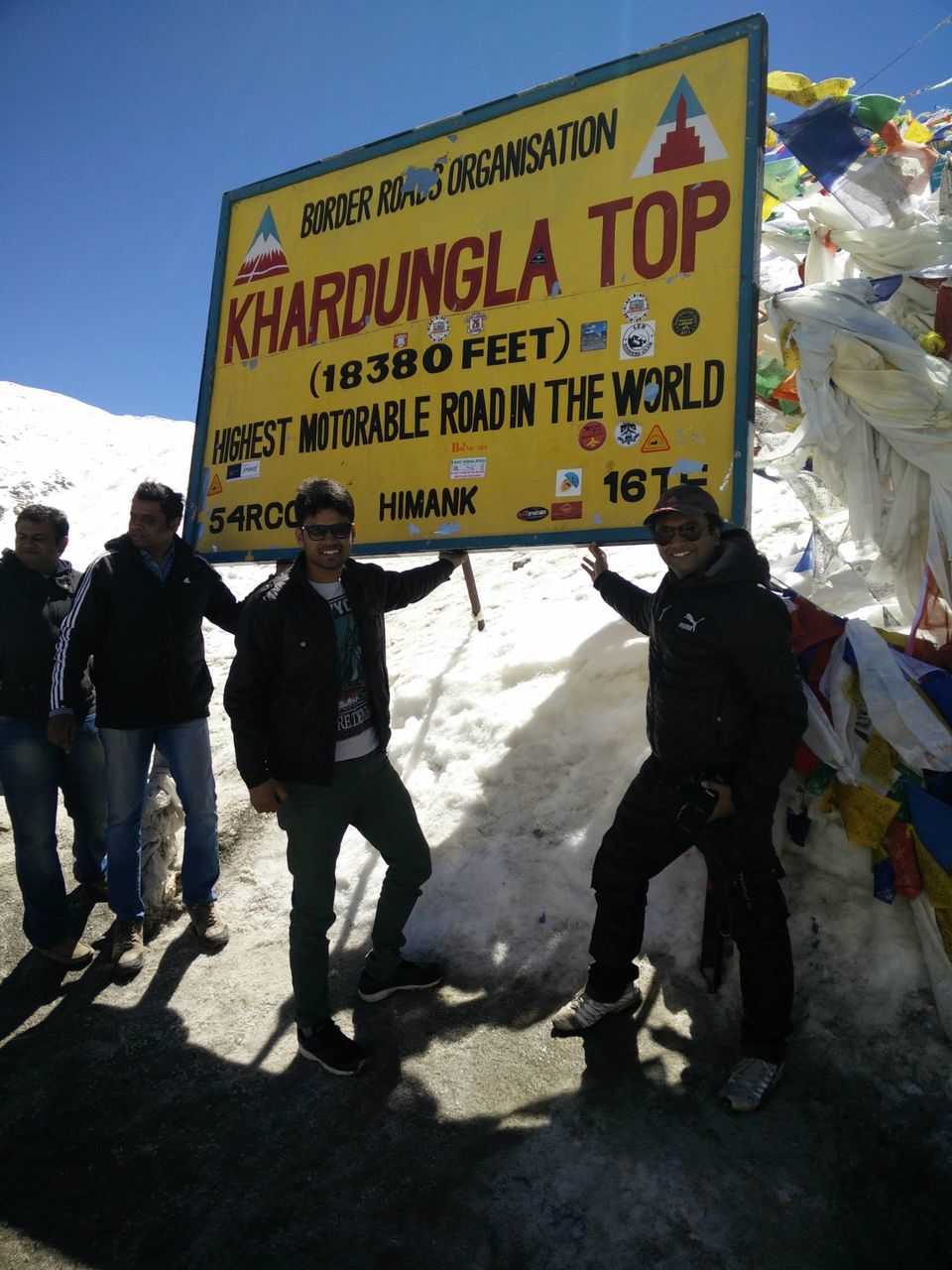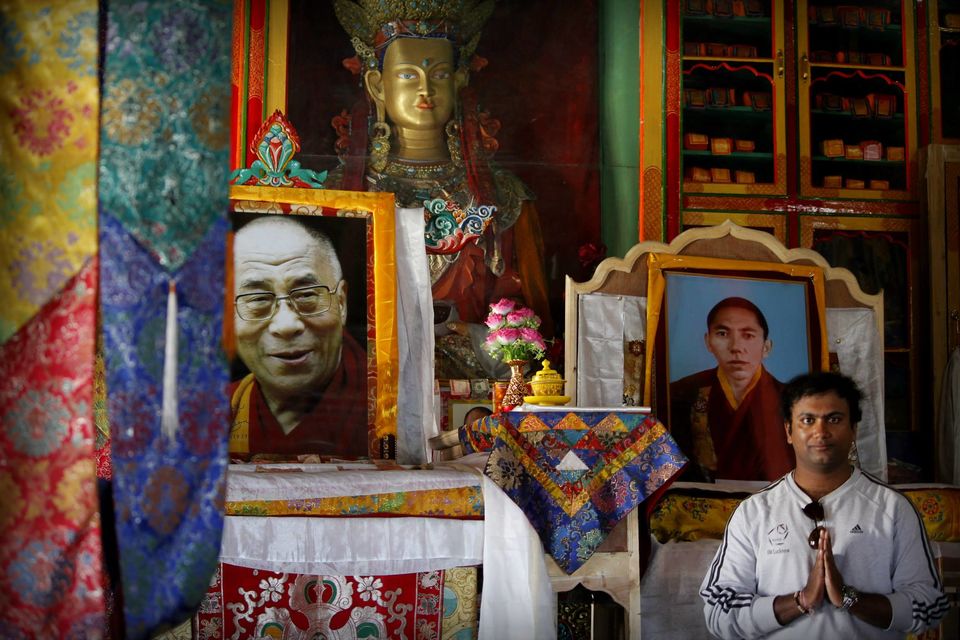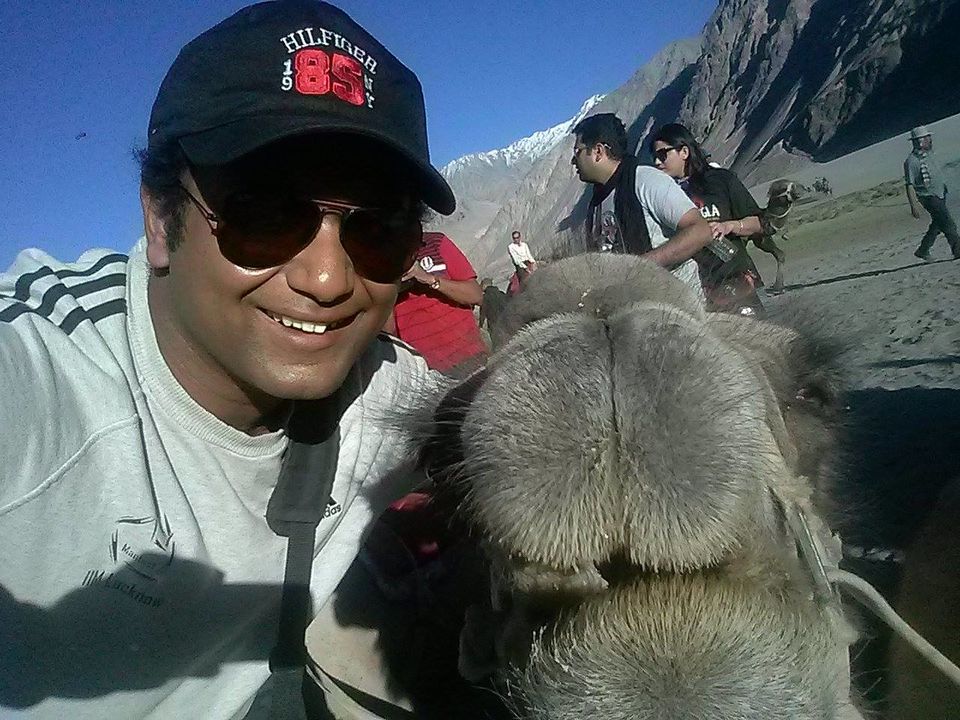 The Manali - Leh bike trip through the Himalayan mountain range is considered one of the toughest biking in India. From sun kissed roads to immediate snow blizzard situations, from crossing the highest motorable passes in the world to cold deserts, from high water streams threatening to derail you to meeting fellow drivers who would gladly help you cross them, you experience it all. But most importantly, you experience that freedom and sense of achievement once you conquer this route.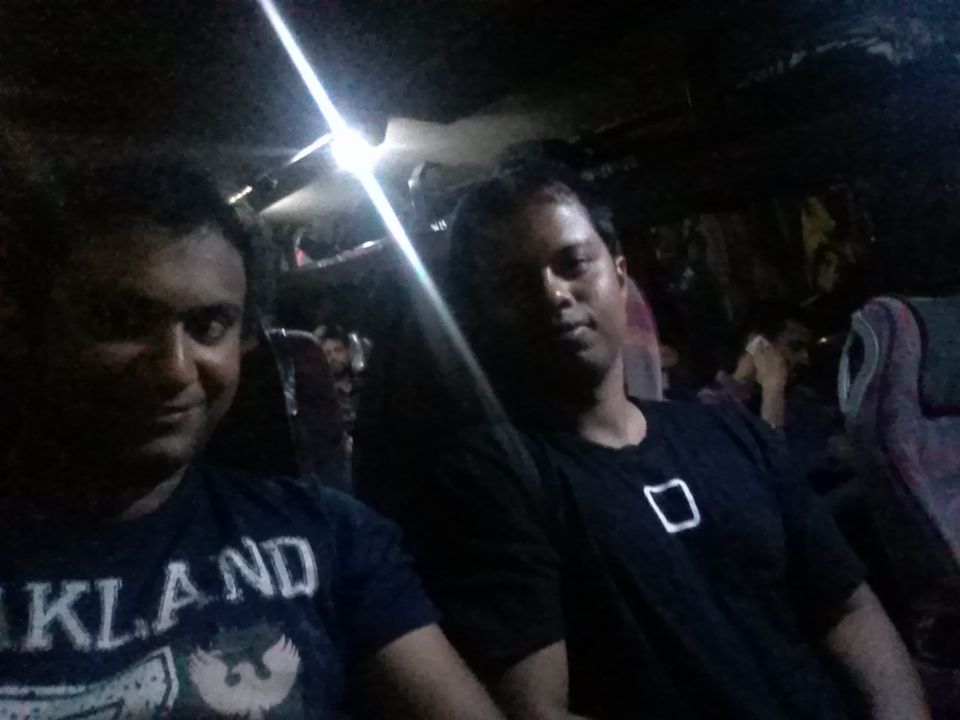 Our journey started from ISBT Delhi on the night of 26th of June. A superb Volvo bus operated by Himachal Pradesh Road Transport organization was there to take us to Manali. While it left on time from Kashmere Gate, a puncture at the Karnal highway pushed us back by 90 mins. We stopped for late late dinner at 1 am and by morning were just into the mountains. The initial delay cost us as we reached Manali late on 27th June at about 2pm.
Day 1: Manali
Searching for bikesIn Manali, we were put up at the superb DRDO guest house inside the beautiful campus called SASE. A view of the mountains and Manali-Rohtang road on one side, whereas the other had a waterfall to admire. You could spend days just at that lush green campus but we were actually behind our schedule. We quickly had lunch at a riverside restaurant and set out on our quest to hire bikes for Leh. We had not booked it from before (which in hindsight was a mistake) as we wanted to check and test the bikes before hiring. But that is what cost us. There were lots of bike operators and garages in and around Mall Road but most bikes (almost all the good ones) were already rented out. The reason was the National Green Tribunal verdict regarding vehicular movement and tourism on the Rohtang Pass. Due to the highly depleting situation of the pass, the verdict was that all cars going or passing through Rohtang Pass required to obtain a permit the day before. Moreover, there was an upper limit on the number of cars plying everyday. Since this verdict didn't apply to motorbikes, there was a huge demand amongst tourists. We went from agent-to-agent, garage-to-garage and after a 4 hour search, finally managed to hire bikes from VOH on Mall Road.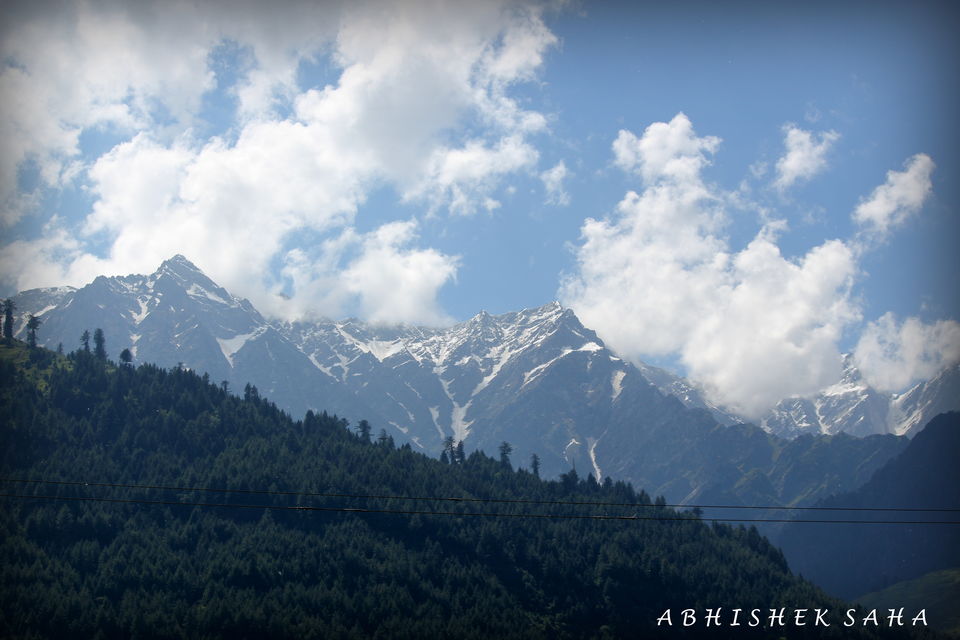 But there was a catch. The bikes weren't ready for that day and would need servicing for trip to Leh. It was our first mountain bike trip and we wanted to have properly serviced new bikes. Hence we agreed to wait a day.
Day 2: Manali
Sightseeing in ManaliNext day in Manali, we woke up late and had a chilled out breakfast in the SASE campus. Then we headed to Mall Road for some shopping for the bike trip. Kallol needed a new backpack, while others required bandanas, raincoats, ropes and plastic sheets to cover the backpacks. Also, chocolates, biscuits and some medicines. We also hiked up the waterfall to soak in the atmosphere. Most importantly, it helped us acclimatize to the weather. By evening we had got our bikes - a Bullet and 3 Avengers and we were set for the road trip. Some thukpa, ice cream and apple cedar near Mall Road and we dozed off for some beauty sleep for the tough day ahead.
Day 3: Manali to Rohtang to Keylong
Biking to RohtangA beautiful sunny Monday greeted us for our start. It was time for preparing by tying the backpacks (which is a tedious task) and filling up on extra fuel in jars. Loads of photos, selfies and we were good to go. The first stretch was a 52 km, 3 hour climb to Rohtang Pass. The road initially is decent. Mostly paved well and not too many bad patches. Quite a lot of traffic considering it was a Monday but being on a bike gives you the advantage of space. The climb is gradual and slowly the snow clad portions set in. We missed a cut midway and mistakenly reached Solang Valley only to be returned back. But it was just a 3km detour so it didn't cost us much time. On the way we stopped for Maggi and Tea (both of which were expensive) and photos. There was a point around 13 kms before Rohtang where tourists were paragliding. I am sure it must have been an awesome experience from there. The road starts breaking when the snow sets in and SUVs in front were literally one side on road and one side on gravel about 2 ft below.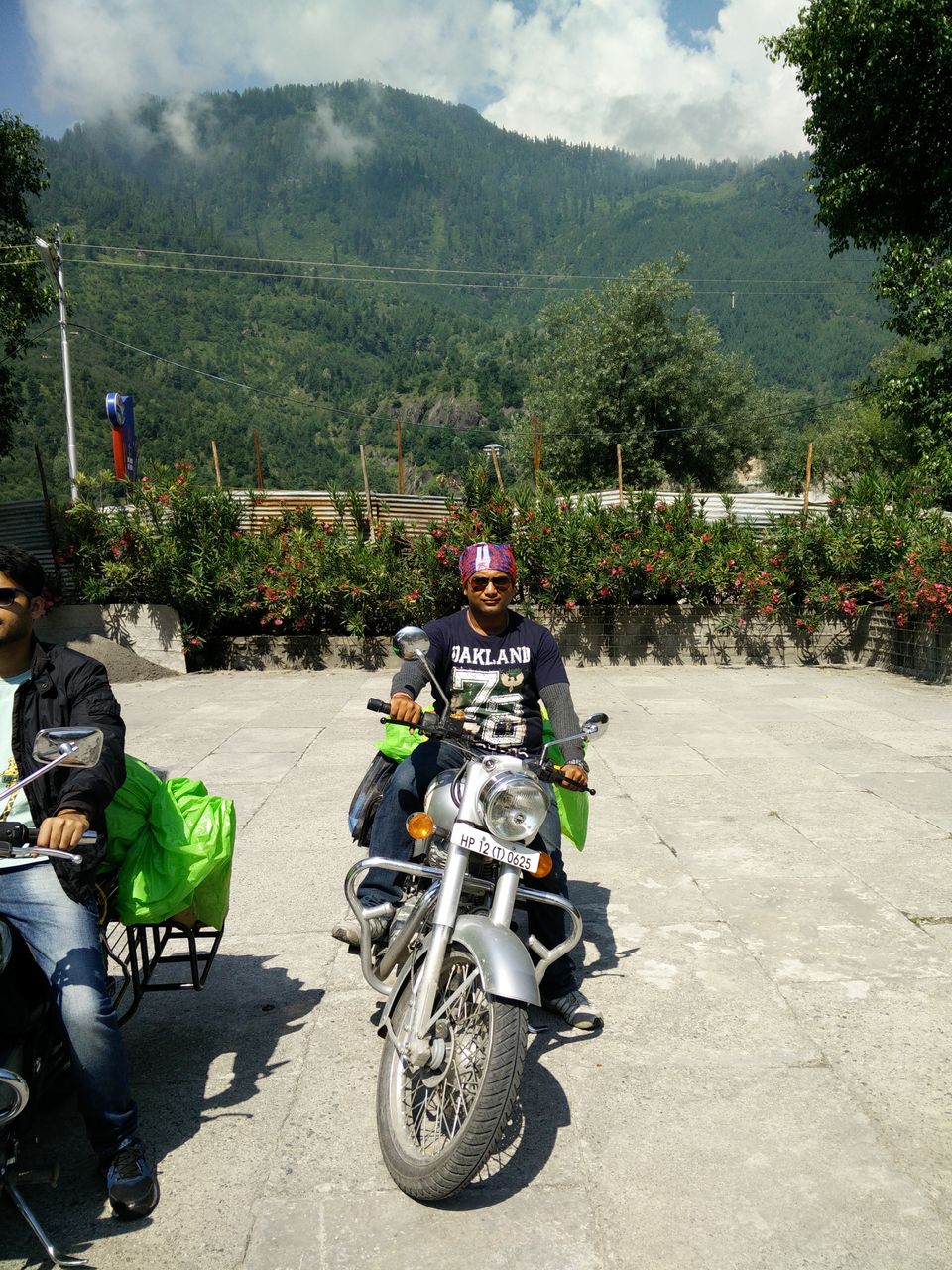 It was about 1pm when we reached Rohtang Pass. The popularity of the spot could be gauged from the numerous stalls lined all along the road. Tourists seen driving ATBs (which have now been banned) and riding yaks and skating on tires. We had another round of maggi and moved on towards Keylong.
Rohtang to Keylong
The road ahead is a descent but not too steep. While the tourists' traffic reduced, the roads did too. The stretch turned out to be extremely bad. There were multiple stretches where we drove on stones and gravel. By evening we crossed Koksar which is the first army checkpost. They registered our information and guided us towards Sissu. It was almost dusk when we reached Keylong, a small quiet town which was to be our pitstop for the day. A quick bike service to get the chains oiled and carrier tightened and we found a decent hotel to stop for the night. The good thing was our phones were working for calls back home. We refueled our bikes at Tandi (which is the only fuel station between Manali and Leh) and ourselves with biscuits and chocolates.
Day 4: Keylong to Baralacha to Sarchu to Pang
Climbing towards Baralacha PassThe next day we got up for an early start. We had to cover 190 kms to reach Pang through the ill famed Baralacha. At about 7am we left Keylong towards Jispa. We got phone signals till Darcha which was an army check post. Thereafter, the road was decent cut only at the water streams, which gave us some amazing experiences. The first water stream was easy but the 2nd one was literally on the edge. There was a Sumo which was stuck as the tires couldn't find traction in the water. Travelling groups had stopped on both sides to help cross the vehicles and multiple people came to rescue. We witnessed such stupendous solidarity and respect that we usually don't get to see much in other parts of the country. There were biker groups from Bangalore, Hyderabad, Chandigarh etc. who came up and helped us cross the stream. These groups then guided us towards Baralacha Pass.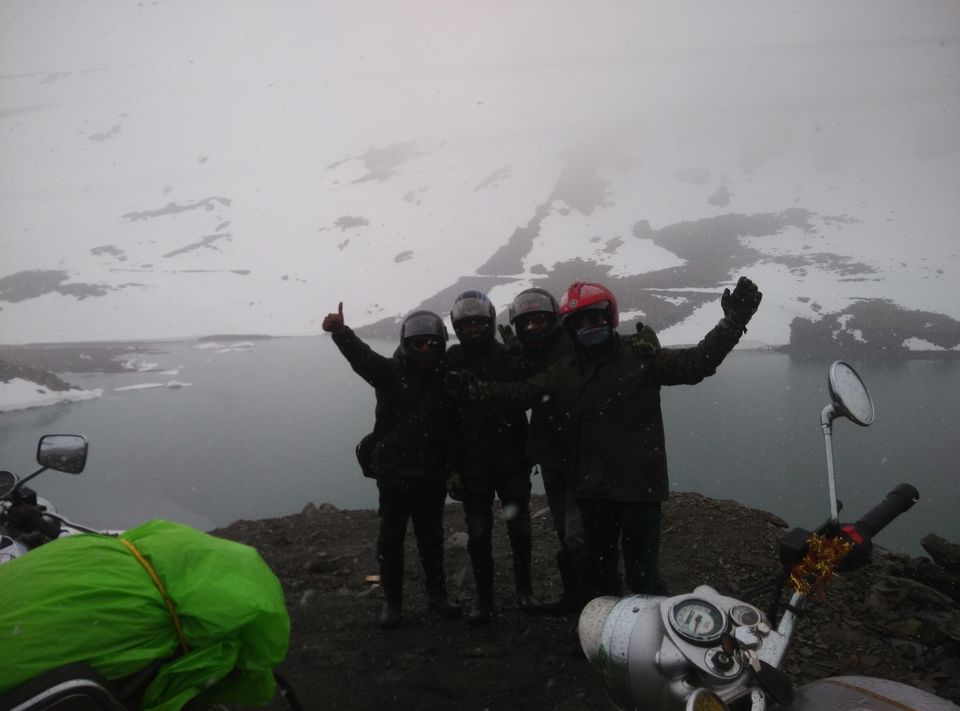 The weather towards Baralacha Pass had started playing truant. First it started raining prompting us to immediately switch to our raincoats. Then it started snowing. So much so that at Suraj Tal (just before Baralacha) where we stopped for photos, I didn't even have the courage to take my camera out of the bag for photos. The visibility was down to 20-30% as the visor was wet and I could somehow see through the shades. We slowed down to less than 15 kmph and started driving on the mountain side of the road. It was slippery and broken but we couldn't stop since the air was thin and one could get dizzy. By the time we crossed the pass and stopped at a camp at Baralacha Point, we were freezing. The gloves were wet and we needed energy induction. Some ORS water, maggi and tea helped us regain composure. The camp owner told us that Pang was still 100kms away but the road onwards through Sarchu was smooth.
Baralacha to Sarchu border onwards to PangSarchu is the border point of Himachal Pradesh and Jammu & Kashmir. It has military camps and checkposts. Many groups prefer to stay at Sarchu (which also happens to be midway between Manali and Leh) as it has many stay options (camps / hotels etc.) We had reached by 2pm so we decided to continue towards Pang. After the lush green plains, we reached Gata Loops where the road gains 600 mts in 2kms of stretch. A superb experience though a bit scary. Once on top, the descent was okayish. It was all fine till about 7pm when we were about 20 kms before Pang and the night set in. The road was badly broken and our bikes were on headlights. With low visibility and depleted roads, we were literally clinging on the last ounce of our energy. I almost skid twice and cursed myself for being so late. At about 8:30pm when the light at the end of the tunnel was about to go off, we saw a milestone "Pang - 2 kms". About 2 bridges away we saw some lamps where we stopped to realize those were camps. Literally at the end of our energy points, we just parked our bikes in front of a randomly chosen camp and labored in. The aunty was kind to give us a full tent for ourselves. We had dinner and without changing, just slept off in our trip clothes. Pang is about 4600mts above sea level and the air was a bit thin. If it wasn't cold enough, it started raining in the middle of the night. I don't know how much I slept that night but thanked god that the worst part of the journey was over.
Day 5: Pang to Tanglang La to Leh

Moore Plains to Tanglang LaThe morning after that treacherous day was surprisingly sunny. We wearily got ready, had some maggi and parathas and packed the bags. The sun beating upon us was sucking the energy out and one of us started feeling sick. Medicines and ORS water came to rescue and we set out at about 9am towards Leh. 30 kms later we reached the Moore Plains, arguably the most beautiful part of the journey. Mountains on both sides and a straight, smooth road through. Picture perfect! This was to continue for about an hour and we stopped many times for photographs. Then suddenly it started to snow at 5000 mts and we had to rush into another camp. Praveen needed some rest but we couldn't wait too long as Tanglang La had to be crossed early. The ascent towards TangLang La was surprisingly smooth. The roads were better and weather had become sunny. At about noon, we reached the top to a beautiful view. The mile stone read "2nd highest motorable pass in the world". 10 mins for some photographs but we started feeling dizzy. So we started onwards.
Tanglang La to Leh
Tanglang La to Leh passed through Rumtse and Upshi. The road was good and it was a sheer pleasure to drive. The turns were picturesque and slowly our bikes were performing better. We reached Rumtse, a small town at lunch time so we decided to halt a bit. We found a small shop which was actually a house doubling up as a restaurant. Praveen and I slept for about 15 mins while we waited for lunch. JP had gone ahead, unaware that we had stopped for meal. After a sumptuous lunch, we caught up on him when he was lying on the roadside at a lush green garden. We told him to take out some time for lunch while we dozed off at that garden. A quick power nap and we were all charged up for the final leg of the bike trip. At about 4pm, we reached Upshi which is about 49 kms from Leh and the army camp checked us in. The phones started to work there and mom was relieved I was safe. From Upshi to Leh, is a smooth delightful drive. The army managed stretch made sure the road was perfect and the clouds made for a scenic journey. We reached Leh at 6pm and checked in to our DRDO guest house in another beautiful campus - DIHAR situated just beside the Leh airport. The rooms were clean and the mountains behind the campus made for stunning scenes during the night. A long and difficult journey deserved a good night's rest.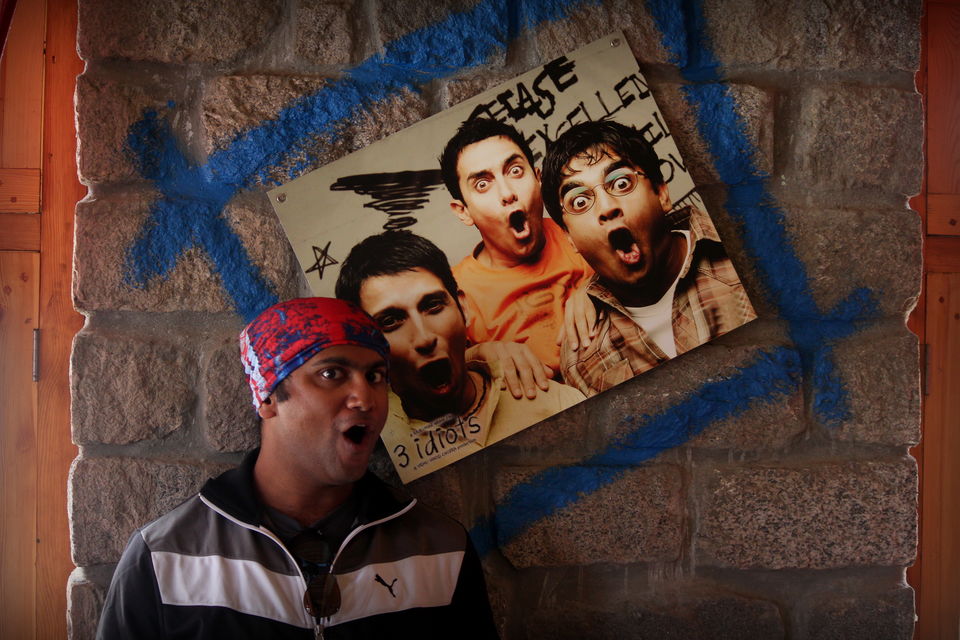 Day 6: Leh sightseeingNext day in Leh, we set out sightseeing in the town. Our first stop was the Thiksay monastery. About 10-15kms back towards Manali, Thiksay is a small establishment. The monastery is large and the climb was steep. But the view from the top made up for all the hard work. Next up was the Rancho School. Made famous by the famous Bollywood movie "3 Idiots", Rancho school is an all residential school. Tourists don't get to enter the campus, but there is a café right beside where you can relive the moments through posters. Locals say that before the movie came out, no one knew about the school but now its a famous tourist point. We then drove to the Shey Palace, a monastery plus king's house. This was quiet and peaceful. It housed a huge Buddha face and was full of wall hangings of kings. There we also bought those Ladakhi flags for our bikes. Then we proceeded towards Shanti Stupa on the other side of the town. We crossed Main Bazaar and Changspa Road on the way to the top. Another popular tourist destination, this was similar to the Stupa at Pokahara, Nepal which I had visited in last December. There were different stages of god's life on the 4 sides of the stupa and many temples on the way. The evening sun made for excellent scenes from the top. Simply superb! We went to Changspa Road next to book our cabs for the next days to Pangong and Nubra since we were informed that our bikes would not be allowed to those places (due to restrictions imposed by Leh vehicle unions). Changspa Road was a revelation for us. European cafes, backpacking crowd and loads of tour operators. It is the place to be. We decided to check out a steak house and try fish and chips for dinner.
Day 7: Changla Pass and PangongWe got up early for the trip to Pangong. It was 150 kms and we had to come back the same day. The driver picked us up at 6:30am and we started towards Karu. After the police checkpost there, the route exits the Manali Leh highway. The first point on the way is the ChangLa pass, which is the 3rd highest motorable pass in the world. Lots of photographs and traffic there. Apparently, 5 years back no one knew that Pangong existed. But success of "3 Idiots" had made it a highly popular tourist spot. The road was not too good though. It took 5 hrs to reach Pangong Lake. But it was definitely worth it.

The lake itself is huge. As you reach, the restaurants and hotels are to the right and the road moves on along the lake which is to the left. The absolutely clean blue water is what catches your eye first. The blue sky, clouds, snow clad mountains and then the lake below will give you a feel of a painting. We took off our shoes and went a bit inside the lake. Absolutely stunning. There were lots of people taking photographs with Yak and flag behind. We had thukpas at one of the restaurants on the side. Then walked a bit ahead by the lake. The salt sediments along the side made for stunning look of the place. No wonder Aamir Khan and Rajkumar Hirani chose this place for their movie. Its simply stunning. At about 2, we headed back to Leh. By 7, we were at our guest house, so we decided to venture out to Leh township. We bought merchandise and had dinner at the famous Fort Road where we tried streaks and sizzlers.
Day 8: Khardungla Pass and Nubra Valley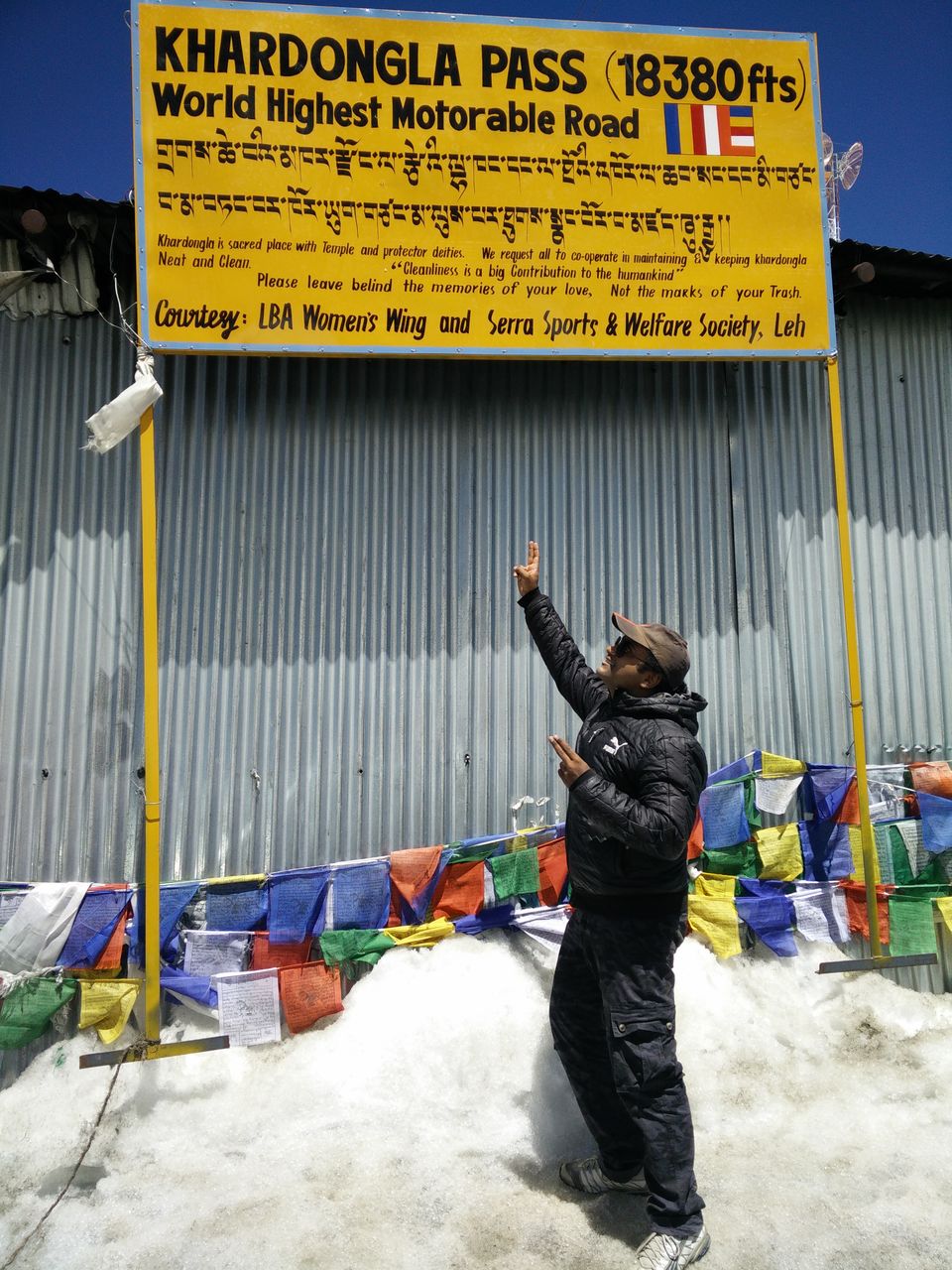 The last visit in Leh was Nubra Valley. We started off from the guest house at 8:30 am towards Khardungla Pass. The road goes through main Leh township and is generally better than the Pangong route. We met an elderly gentleman and a lady, both solo travellers well past 40. Their stories were fascinating, how they had been to so many places travelling alone. How he had taken a shared taxi from Jammu to Srinagar to Leh and in that age was looking forward to treks. Inspiring. When we reached Khardungla Pass, there was huge battalion of people posing with the sign board. The highest motorable pass in the world indeed has its fans. Although they say that you shouldn't wait there for more than 25 mins, bikers happily had maggi, paranthas and tea at the restaurant there.
Nubra Valley
The road onwards was quite decent. We reached Diskit Monastery and temple first. The temple has a huge statue and the entrance was closed to general public. The Diskit Monastery turned out to be beautiful with photos and hangings of Dalai Lama. We had lunch at Diskit market and set out for the dry area of Nubra valley - Hunder Sand Dunes. The dryness and sun was so strong that we chilled out for and hour before venturing into the desert. The sand dunes area had multiple small camps - some showcasing folk dance, some letting you play archery and other games. There was also one where you could wear local clothes and get clicked. The fact that there could be a desert even at this height was fascinating in itself. I had been to Jaisalmer last Diwali to experience desert and the famous camel safari but the camels here were different. They were double humped and somewhat lazier. We took up the 30 min safari. 4 camels tied to each other and dying to rub each other. A fun experience. We camped at a Himalayan hotel for the night chilling beneath the stars. Apparently the camps had wifi but were too damn expensive. A quiet night for the last hectic drive back to Leh the next day.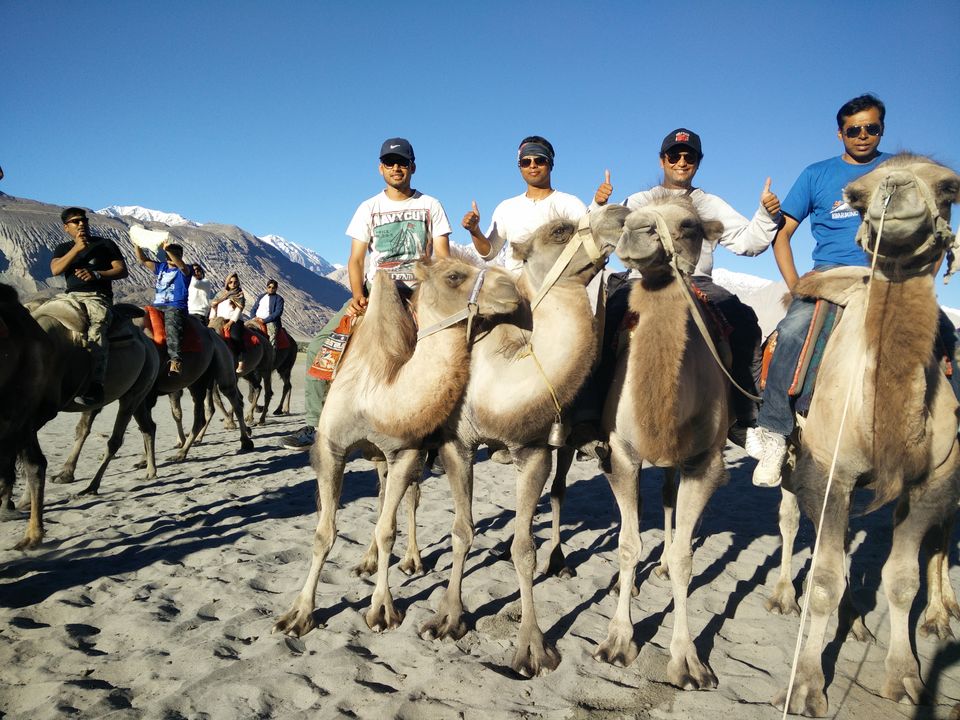 Day 9: Nubra Valley to Leh
We set out for Leh at 8:30 am the next day. There was a film shooting at the sand dunes which according to the locals was by someone from the Kapoor family. The drive back was pretty smooth till just before the Khardungla Pass. About a km before the pass, the Army had blocked the road to conduct the rescue of a truck which had fallen off the road due to a landslide a few days back. Two huge rope trucks were deployed to pull the fallen vehicle back. But after about an hour of trying the truck had just managed some 10-20 feet. Meanwhile vehicles piled up on both sides and some tourist became unwell due to the height and lack of oxygen. Thankfully we were allowed passage and we crossed Khardungla Pass to reach Leh at 3pm. Our last visit was to the Fort Road where we had lovely Tibetan delicacies. We then visited the German bakery for apple crumbles to round off the visit on a sweet note.The flight back the next day from Leh to Delhi marked the end to an adventurous, exciting trip which would last in memory for the lifetime. A well planned, well executed plan which started months back culminated on 6th July. Leh, I would be back to get Leh'ed. :-)