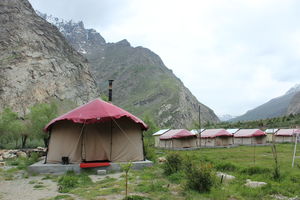 Places to stay near
Manali to Jispa
Explore Hamta - A village homestay!
Pause@Manali Cottage Room
Cosy Swiss Tents Next to River Side
Ride At Hill - Nihal Cottages
Reviews of
Manali to Jispa
•
2
An early morning start takes us to Jispa, a 6 hour ride away. We are camping in Jispa in beautiful Swiss tents surrounded by mountains on all sides. The Bhaga River flowing by calls for a small picnic in the late afternoon. Stay: Camps site. Swiss Tents with attached toilets Inclusions: Breakfast | Dinner | Picnic Experiences: Swiss Tent stay, River side Picnic
Beautiful tents by the riverside.
Attractions near
Manali to Jispa