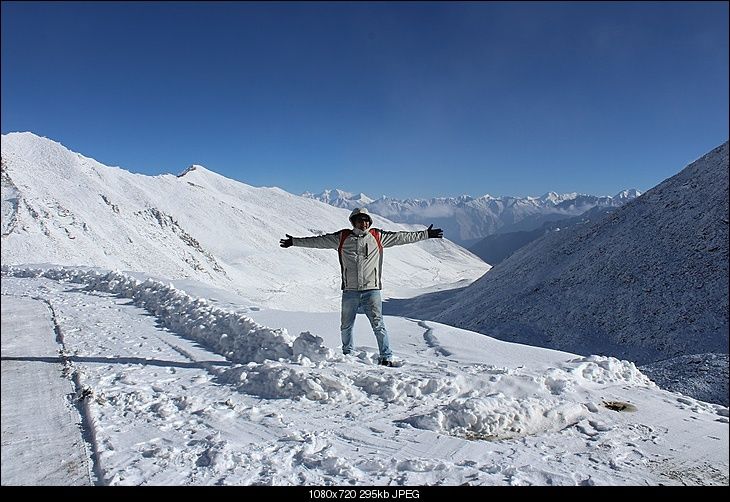 My obsession with mountains!
Well! let me be specific, my Obsession with the Himalayas is well known to my family and friends.
2003 Entire Sikkim by Hired Taxi,
2004 Dharmshala – Maclodganj by Santro,
2005 Pin Parvati Trek,
2006 Bhrigu Lake Trek,
2007 Dehradun, Mussoorie and Nainital by Santro,
2008 Kasol, Malana & Kheerganga Trek,
2009 Leh by Hired Sumo,
2011 Leh by Royal Enfield,
2013 Spiti by hired Sumo
... & many one or two-days trips to Manali and Shimla but nothing after 2013. This situation was making me restless. Moreover, all the blogs, Travelogues, The Himalayan club page at FB was making me jealous.
I got married in 2013. I wanted to plan a honeymoon trip to the Himalayas but someone gifted us a 3 night/4 days trips to Goa and all my plans for "honeymoon in the Himalayas" got ruined. Three years of my married life passed, we had many trips but nothing to the north.
And then, during July 2016 something happened.
I got a call from the Himalayas.
Well, not actually a call, it was a WhatsApp message.
I got a message on WhatsApp from one of my London-based friends. He wanted me, to help him, to plan a self-drive trip to Leh by a one-month-old Duster AWD. They were two guys, one based in London and another one based at Ahmedabad. As per my NRI friend, both of them were toying the idea to visit Leh from last almost 10 years. Ahmedabad based friend had purchased a Duster AWD and that was the perfect a reason to visit Leh.
It's always fun to plan a trip/travel. We started discussing where-how-when-why of "his" trip to Leh.
Out of the blue, my NRI friend asked me..." why don't you join us?" Oops, interesting question! All of my friends know that I am a hardcore travel buff. I have been to Leh thrice, roamed half of India by own bike or car, in love with the Himalayas and crazy for road travels. I was a perfect companion for them. I said... "chalo". I am coming.
Wait a Minute!
Well, it was not that smooth. My marriage was just three years old. We had our baby daughter back in Dec2014. No, I can't take decisions by saying " ha chalo". I had to inform (take permission) from wife and parents. I was confident about parent's go ahead, they knew me and my travel pattern. I was worried about wife's reactions. I explained her the entire plan, to my astonishment, she said yes. I called up my NRI friends and confirmed that I am coming.
One guy was in London, another at Ahmedabad and me at Anand. All three of us knew that it wasn't possible for us to meet face to face and discuss our plan. Hence, we created a WhatsApp group named "Chalo Ladakh". We started discussing our plan. We inquired around. Every expert said no for Ladakh in October, there are always chances of roadblocks due to early snowfall. I was so much irritated by everyone's negative advice. I talked to the great HVkumar. I asked HVK that… "Is going to Ladakh during October is taboo? He answered calmly…"Yes indeed it's a taboo, but not impossible".
Why No to Ladakh in October:
• By end of September, winter starts in this area, in case of early snowfall all the high passes on Manali-Leh and Leh-Srinagar highways get blocked.
• Hotels, camps, dhabas start closing business from September end on Manali – Leh Highway.
• Every year during the first week of October, Raid De Himalaya gets organized on this route. Officials of this Rally blocks the road for free passage of participant vehicles. (Our date and time for starting from Manali was same as Raid's plan).
• The temperature of this region drops to subzero after September, which makes it more difficult.
• No rescue operation after September by Indian Army.
Our Plan:
Dates : 06-10-2016 to 16-10-2016
Day 1 : Ahmedabad to Jaipur
Day 2 : Jaipur to Delhi.
Day 3 : Delhi to Mandi
Day 4 : Mandi to Manali-Palchan
Day 5 : Palchan to Jispa
Day 6 : Jispa to Leh
Day 7 : Local Sightseeing
Day 8 : Leh to Nubra
Day 9 : Nubra to Pangong to Leh
Day 10: Leh to Kargil or Drass
Day 11: Kargil to Banihal
Day 12 : Banihal to Ludhiana
Day 13 : Ludhiana to KishanGarh
Day 14 : KishanGarh to Ahmedabad
Day 1: Anand-Ahmedabad to Jaipur.
Our NRI friend was directly coming from London. Instead of landing at Ahmedabad, I asked him to land at Delhi, so he can save his two days of A'bad – Delhi journey. Another friend and owner of our ride had some personal commitment. He also chooses to travel Delhi by air.
My job was to drive A"bad – Delhi alone, pick them up from Delhi airport and start immediately towards Mandi. I started driving from A'bad at 1300 with all the luggage by brand new Duster AWD. Alone? Boring? Tiring? Never! It was raining cats and dogs. October rain was in full swing. It was fun driving on nicely maintained Ahmedabad-Palanpur-Sirohi highway.
My Plan was to have a night stay at the outskirt of Jaipur & start early morning to Delhi, to reach Delhi Airport at 1000. Ahmedabad – Jaipur road via Sirohi was in excellent condition with occasional cows and camels on road. With some very small stops for tea and smokes, I reached Hotel Hiwayking, Jaipur around 2130. Some of my Jaipur based friends were already waiting for me at the hotel.
PS : No Photographs during Ahmedabad - Jaipur.
It was dark. Army men were surprised to see a tourist vehicle this late and ready to approach Zoji La in dark. In charge of that CP denied allowing us to go ahead. We asked him to talk to COsir at Drass War memorial. He called up his CO, CO confirmed that he advised three guys with black Duster to go ahead.
CP in-charge wrote down our name and cell phone number. He gave us his personal number and asked to call him in case of any kind of issue. He told us to ask Army CP in-charge at Sonamarg to call him once we reach Sonamarg. He was genuinely worried about us.
We shared their tea and said goodbye to him. He wished us good luck.
We were approaching Zoji La.
We started from that check post.
We were very much scared and tensed. I normally love this kind of things, it was an adventure in it's purest form. Crossing Zoji la in dark. We were confident about ourselves as far as driving was concerned but we were scared of stone pelting and all.
IOCL oil tankers were coming from Sonamarg side. Almost all of them with broken windshield We asked one or two of them about road conditions, they said till Zoji la road is good after that, it is in very bad condition. All tanker drivers advised us to take care & drive slowly after Zoji la.
We kept moving ahead. We met a group of motorcycles from KA before Zoji la. They wanted to stay at Drass but Army advised them to keep moving just like us. They were tired and they wanted to stay for a night at Sonamarg.
After an hour of driving, we reached Zoji La top. After all, a photograph with that yellow board is a must. I tried to find that yellow milestone with name and altitude of Zoji La. I couldn't find it. Those Bikers were there clicking around